Trains from Preston to Manchester
There are frequent trains from Preston to Manchester, with departures several times a day, seven days a week. Direct service takes from 35-45min, while services with at least one connection take about 1h.
Preston to Manchester Train Time: Daily Departures
From Monday to Friday, first services generally depart at around 04:00, with last services at about 23:45. On Saturdays, service equally begins around 04:00 but finishes earlier at around 22:30. On Sundays, trains normally depart from 08:00, with service ending at around 22:00. Times and schedules on this route are subject to change, but generally, trains depart every 20-30min, although this can reduce to once per hour, depending on the time of day.
How long is the journey by train from Preston to Manchester?
Most direct services to Manchester Oxford Road take about 35-45min, while non-stop services to Manchester Deansgate Station or Manchester Piccadilly Station take around 50min. Trains to Manchester Victoria with at least one change in Bolton take roughly 1 hour. All services from Bamber Bridge Station necessitate at least one change, commonly in Preston Station (for trains heading to Manchester Oxford Road). Less frequently, there are services to Manchester Victoria connecting at Blackburn Station. Services connecting in Preston and Blackburn normally take about 1h 15min. However, sometimes services with a change at Blackburn can take about 1h 50min to reach their destination, due to longer waiting times between connections.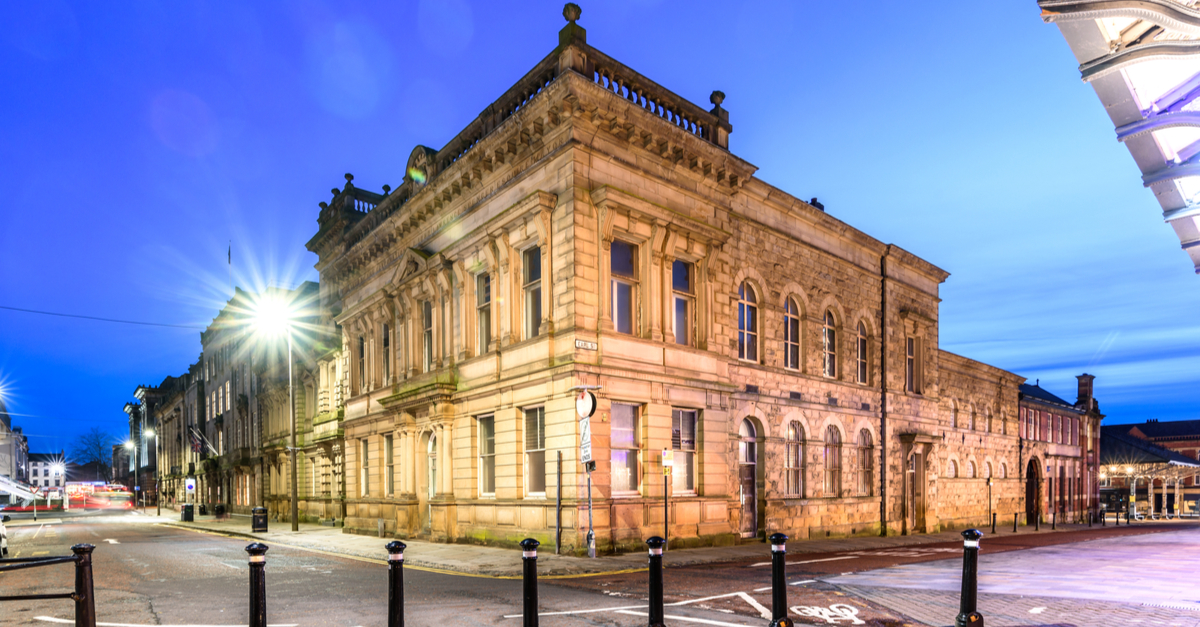 Preston Town Hall. Source: Shutterstock
What are the departure and arrival stations for trains from Preston to Manchester?
Departure train stations: Most trains depart from Preston Railway Station, although some leave from Bamber Bridge Station. Preston Railway Station is close to Fishergate High Street, a short walk from Fishergate Shopping Centre and St. George's Shopping Centre, about 5-10min away. Preston Station has accessible toilets and seating areas, baby-changing facilities and bike storage. There is step-free access throughout, and wheelchairs are available on request. Bamber Bridge Station is located about 4 miles (6.5km) from Preston Station, with regular daily train connections operated by Northern Rail. There aren't any facilities at Bamber Bridge except for a ticket machine and a seating area.
Arrival train stations:Most trains arrive at Manchester Deansgate and Manchester Oxford Road. Both stations are located in the city centre and only a 10-min walk from each other. Deansgate is the most central location, just a short distance from John Rylands Library. There are also some services to Manchester Victoria and Piccadilly, although these are less frequent. Piccadilly Station is roughly 1 mile (1.6 km) from the city centre, a short 7-min train or 15-min bus ride, while Victoria Station is 2 miles (3.2km) from Deansgate, about 15min by train or 20min by bus. All these stations offer accessible toilets, seating areas and food and drink outlets.
Which train companies travel from Preston to Manchester?
Northern Rail and TransPennine Express are the main providers on this route, with direct and one-connection trains available from Preston to Manchester. Both companies operate similar schedules, departure times, and first and last trains.
Night trains Preston
Although there aren't any trains running from Preston to Manchester throughout the night, the first trains depart early in the morning, from 03:30-04:00. Last trains normally depart around 23:45 and arrive in Manchester around 01:00.
Northern Rail trains from Preston to Manchester
Northern Rail trains usually leave from Preston Railway Station, with most direct services heading to Deansgate and Oxford Road and one-connection services heading to Victoria. Trains are frequent, usually at roughly 30-min intervals.
TransPennine Express trains from Preston to Manchester
TransPennine Express trains to Manchester Oxford Road normally depart from Bamber Street Station and connect in either Preston or Blackburn. There are also some direct services a few times a day from Preston Railway Station.
Trains from Preston to Manchester: A sustainable way to travel
In addition to being efficient and affordable, trains are the most environmentally-friendly way to travel. Offset your carbon footprint by opting for a train journey instead of travelling by car or bus. In addition to reducing carbon emissions, train journeys are also quite enjoyable; you will find yourself with lots of free time that you would otherwise spend in traffic or driving to read a book or watch an episode of your favourite series. If you get tired of sitting in your seat, you can walk around to the refreshments carriage and stretch your legs. If you're willing to splash out on a First-Class ticket, you can also enjoy more comfortable seats, free Wi-Fi and catering services. With frequent trains servicing this route, it is an efficient and practical way to get around. You can find affordable fares for trains from Preston to Manchester right here with Omio.
Train Preston to Manchester: Services on Board
Northern Rail and TransPennine Express trains offer similar conditions, including Standard-and First-Class cabins, with First-Class services including free Wi-Fi and catering on most journeys. Luggage racks are available throughout the train, as well as overhead racks for smaller items. With both rail companies, you can take your pet or bike on board. However, there are certain requirements, including making a reservation for your bike (due to limited availability) and bringing a maximum of two animals per passenger. Both providers have a dedicated assistance service for the elderly and passengers with disabilities or reduced mobility. You can book this directly with your provider in advance of your journey.
How to find cheap train tickets from Preston to Manchester?
In general, travelling outside peak hours is the best tip to save money on train fares. This usually means travelling from 10:00-15:00 and after 19:00. Very early and late departures tend to be more affordable, too. Additionally, you can find good deals on your train tickets to Manchester by keeping your dates flexible and booking in advance. Avoid travelling at weekends and around major holidays and look instead for midweek journeys. For more inspiration on where to go in the UK, visit our online magazine, The Window Seat.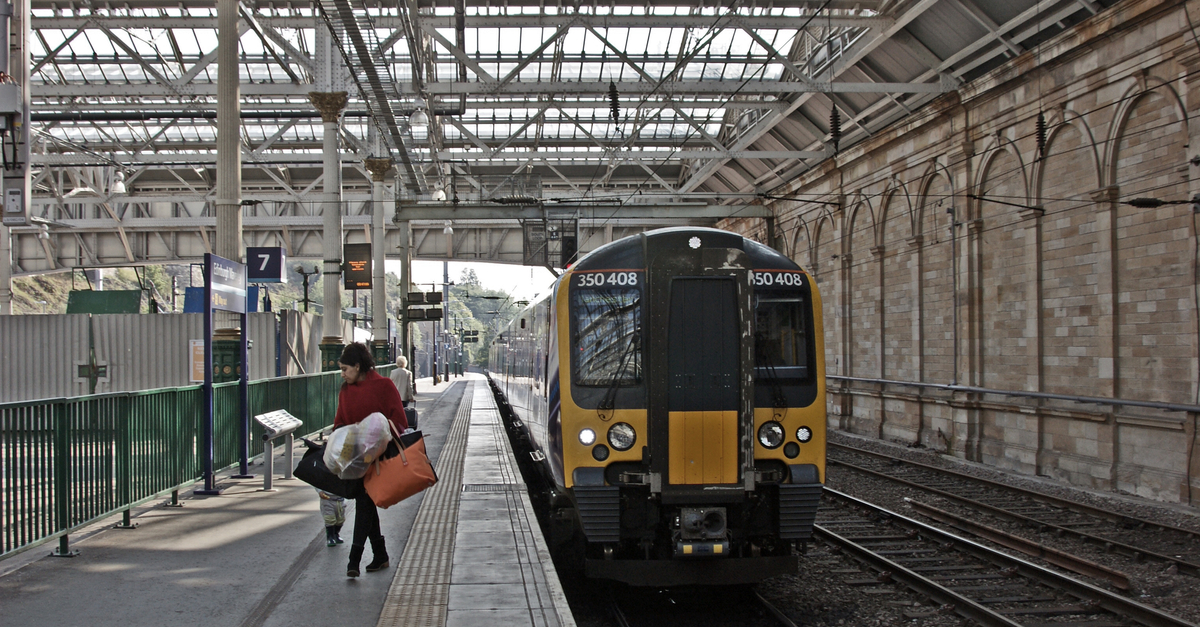 woman on a train to Manchester. Source: Shutterstock
To Manchester by train—travel tips
Manchester is a diverse and vibrant city with plenty of options for entertainment, nightlife, international cuisine and culture for you to enjoy. If you want to have fun on a night out, head to the Northern Quarter; it's the Bohemian part of the city and full of bars and restaurants. The area around Oxford Road is also popular with locals and visitors alike. Booklovers should not miss the opportunity to visit some of the most renowned libraries in the city, including The Portico, the John Rylands Library and the Manchester Central Library. If you're looking for a bit of culture, there are several museums in the city, such as the Science and Industry Museum, the Manchester Museum and the Manchester Art Gallery. Manchester Cathedral is another important point of interest. Football enthusiasts might want to pay a visit to the Etihad Stadium, home of Manchester City FC, Old Trafford Stadium, home to Manchester United or the National Football Museum. Manchester is also home to several events and festivals throughout the year:
Manchester Food and Drink Festival, in September and October;
Manchester Christmas Markets, in November and December;
Parklife Music Festival, in June;
Manchester Pride, in August;
Manchester Literature Festival, in October and November.