Trains From Newcastle to Manchester
A train from Newcastle to Manchester covers approximately 105 miles (170 km) to connect the two cities. Fortunately, most trains that service this route are comfortable, high speed and affordable. The journey between the two cities takes a median of 2h 52min. On average, there are about 60 trains a day that service this popular route, with roughly 36 of them being direct. However, there might be a slight drop in this number on the weekends and public holidays.
Newcastle to Manchester Train Time: Daily Departures
Every day, there are nearly 60 trains that travel from Newcastle to Manchester. If you have errands to run early in Manchester, it's best that you board the earliest departure, usually with an exit time of 05:45. There are multiple trains an hour until the last train for this route departs Newcastle at around 21:54. The time of departures may vary a lot, especially on weekends and holidays.
How long is the journey by train from Newcastle to Manchester?
The fastest trains from Newcastle to Manchester usually cover the journey in about 2h 17min. These are generally high-speed, direct trains. Additionally, there are connecting trains that involve one stopover along the way, in York, and they can get you to Manchester in about 2h 26min. The average travel time from Newcastle to Manchester mainly depends on whether you board a direct or indirect service.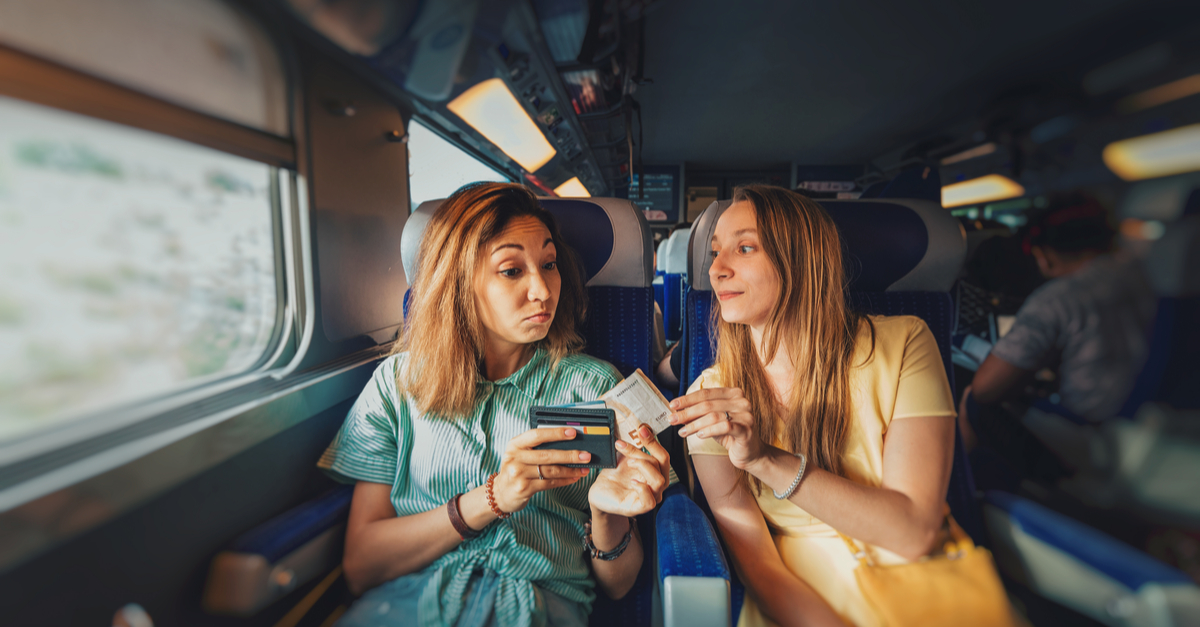 friends on a train from Newcastle. Source: Shutterstock
What are the departure and arrival stations for trains from Newcastle to Manchester?
Departure train station: All the outgoing journeys from Newcastle depart from Newcastle Central station, which is located on Neville Street. It will only take you about 10min to walk to the railway station. There is also a taxi rank and bus station nearby. Some of the amenities you'll find in this station include a cash machine, payphones, Wi-Fi, toilets and baby-changing facilities, amongst many others. You can grab a latte while reading our online travel magazine.
Arrival train station:If you're travelling to Manchester by train, you can choose whether to alight at Manchester Victoria or Manchester Piccadilly; both arrival stations are located in the city centre. Manchester Piccadilly train station is just a roughly 5min walk from the main bus stop. On the other hand, if you alight at Manchester Victoria train station, you'll find a Metro station and bus stations directly outside. You'll find several amenities within these terminals, including toilets, foods, drinks, parking spaces and seating.
Which train companies travel from Newcastle to Manchester?
The Newcastle to Manchester route is mostly serviced by TransPennine Express. However, before booking a train from Newcastle-upon-Tyne station to Manchester, it's important to check the different amenities each train offers. This way, you'll be able to enjoy a comfortable trip from Newcastle to Manchester. You should also compare the ticket prices to ensure you get the best deals from Newcastle to Manchester. Some of the trains that service this route are direct services, and they tend to be fast compared to indirect services. Direct services are ideal for you if you're in a hurry or you'd like more convenience in your journey.
Night trains Newcastle
If you're looking for a night train from Newcastle to Manchester, you're better off boarding the last one, which departs at 21:54. With a travel time of around 2h 52min, such a train will get you to Manchester at around 00:46. You could also arrive in Manchester at around 01:34 if you take the slowest train.
TransPennine Express trains from Newcastle to Manchester
TransPennine Express is the major train provider from Newcastle to Manchester. The company has about 16 trains that operate along this route every day, with direct services included. The average travel time from Newcastle to Manchester with TransPennine Express is approximately 2h 21min, while the company has high-speed trains that complete this journey in a little over 2h. TransPennine Express trains come with many amenities, including charging points, free Wi-Fi and a luggage allowance.
Trains from Newcastle to Manchester: Sustainability travel
Travelling by rail is a more sustainable form of travel than traversing the distance by car. Also, TransPennine Express is committed to becoming greener and conserving the environment. For instance, the company has increased its services, capacity on board trains, the number of trains they run and the number of journeys they provide in order for more people to travel by rail instead of cars. The company also has Nova 1 bi-trains, which run on both diesel and electricity, thus reducing carbon emissions.
Trains from Newcastle to Manchester: Services on Board
TransPennine Express offers passengers several onboard services, including free Wi-Fi, food and drinks, power points for charging and onboard entertainment. All trains that operate along this route have luggage racks that are ideal for storing mid-sized and larger bags. Additionally, there are overhead racks on every train where you can store smaller items and cabin bags. The best news for those who own pets is that you can bring your four-legged companion on board free of charge. You're allowed to bring a maximum of two pets, and they should be on a lead throughout the journey. On the other hand, smaller pets should be kept inside a pet carrier. All trains that operate from Newcastle to Manchester also offer travel assistance for elderly and disabled passengers. However, you should notify the provider in advance.
How to find cheap train tickets from Newcastle to Manchester
The best way to find cheap tickets for this route is to book in advance and avoid travelling at the last minute. For instance, booking a week or two earlier will give you access to better prices for train tickets from Newcastle upon Tyne to Manchester. Fortunately, the train tickets for this route usually go on sale several months before the planned departure date. This gives you enough time to compare ticket prices along various train routes and times. Additionally, you can find more cheap train tickets for this route if you're flexible with your departure time. For instance, train tickets during off-peak hours tend to be relatively cheaper. If you travel along this route frequently, you can also purchase a season ticket; this will help you save a lot of money on your journeys.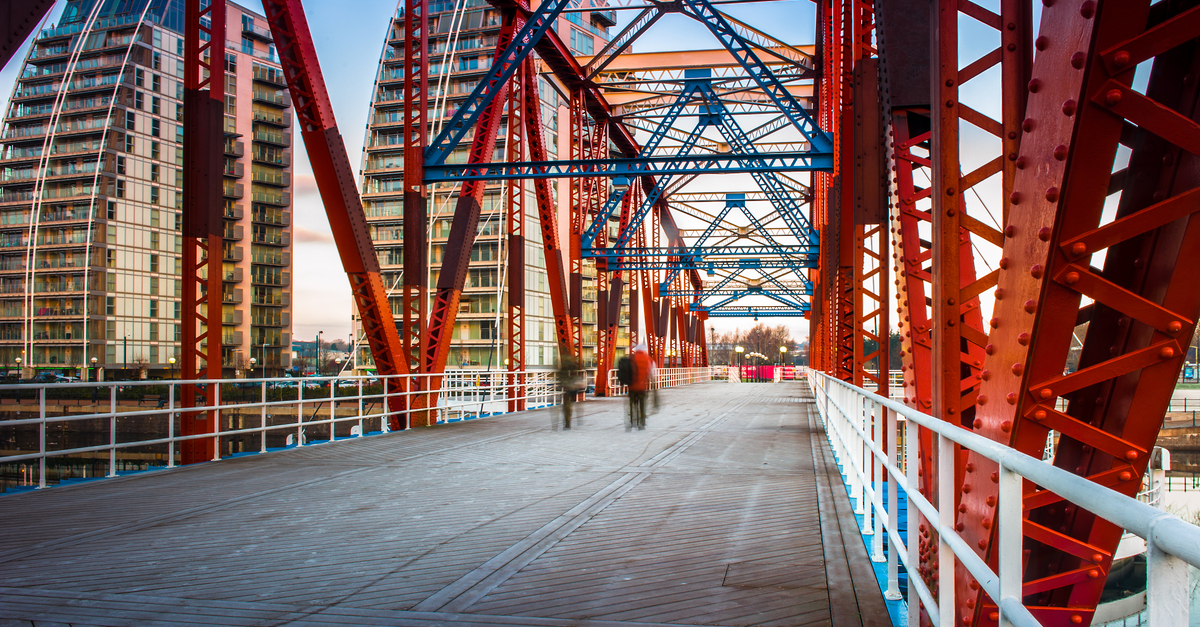 Detroit bridge in Manchester. Source: Shutterstock
To Manchester by train—travel tips
Whether you're seeking to sample the great contemporary cuisine from some of the best restaurants in the country, get acquainted with exceptional art exhibitions or watch the best live theatre the United Kingdom has to offer, Manchester is the ideal place. And this is before mentioning the great culture, nightlife and history the city has to offer as well. Manchester has a very rich history that simply can't be overlooked. For instance, The Smiths and The Stone Roses as we all know them were formed right here in Manchester. The city also has a great architectural and industrial history, which makes it one of the best places on earth to visit. If you're a football fan, then you've certainly come to the right place. The city is home to arguably two of the biggest clubs in the UK. Therefore, you can always take some time from your schedule to catch a football match at Old Trafford or Etihad Stadium. Below are more incredible places you could visit when in Manchester:
John Rylands Library
Manchester Art Gallery
Imperial War Museum North
Greater Manchester Police Museum
Science & Industry Museum
Afflecks