Trains from Manchester to Newcastle
Quite a great deal of time is spent deciding which means to use when travelling from Manchester to Newcastle. Comfort, reliability and security are obvious factors that are taken into consideration. Trains from Manchester to Newcastle have proven to go over and beyond to satisfy commuter needs. The trains are not only fast and efficient, but also comfortable and reliable. Trains on this route run at least once every hour; although, this might be changed on rare occasions due to unavoidable circumstances.
Manchester to Newcastle Train Time: Daily departures
Several trains ply the Manchester to Newcastle route; this is to satisfy the commuter needs. There is generally a train on this route at least once every hour. There are several trains throughout the day, with the first train leaving from Manchester Victoria at around 06:30 and the last train departing around 17:30. The route receives about 16 trains a day between the first and last trains from Manchester to Newcastle.
How long is the journey by train from Manchester to Newcastle?
Travelling can be very pleasant under the right circumstances; for first-class commuters, there is Wi-Fi that can help you get work done on the go, enjoy your favorite YouTuber or just surf the internet. The distance covered by train from Manchester to Newcastle is approximately 105 miles (170 km) long, and the time taken to cover the distance may vary depending on the day of the week and holidays. The average time taken by train to travel from Manchester to Newcastle is roughly 2h 19min.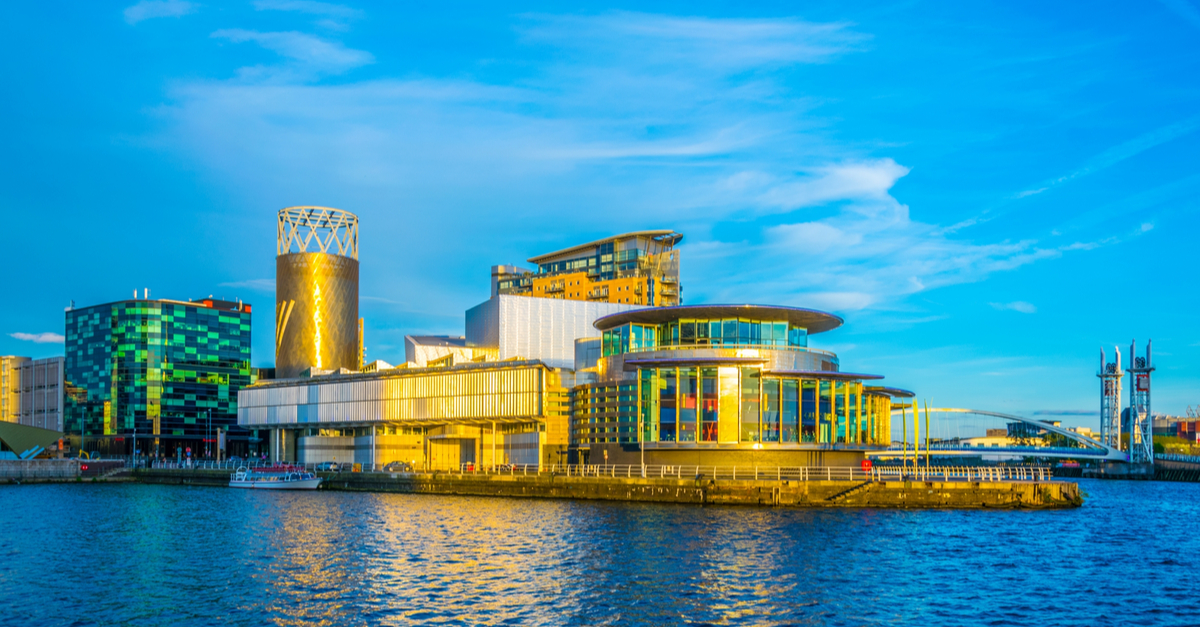 Trains from Manchester to Newcastle: Lowry Theater in Manchester. Source: Shutterstock
What are the departure and arrival stations for trains from Manchester to Newcastle?
Departure train station:In Manchester, the most used station is Manchester Victoria Station. It is the major station used, as it is conveniently located roughly just 11min away from the city centre if you choose to walk. There is also a bus station located conveniently next to the station.
Arrival train station:In Newcastle, the common arrival point used is Newcastle Central Station. It is Newcastle's most used station, and it is located about a 6min walk from the city centre. The station is well equipped with amenities, which include a car park for driving commuters and also toilets and baby-changing facilities.
Which train companies travel from Manchester to Newcastle?
The main company that plies this route is the TransPennine Express. This company boasts of making the journey from Manchester to Newcastle usually in just under 3 hours. This company does not regularly have commuters switch trains and mainly provides train services. However, for some locations such as York, the commuter is required to switch trains. For easy booking that is fast and convenient, you can book your trip on our website. It offers a variety of deals that make booking with us cheap and fun.
Night trains Manchester
TransPennine Express, which services this route, does not have night trains. The last train on this route leaves at around 17:30. There are, however, several routes that run night buses and are available on our website or app for booking.
TransPennine Express trains from Manchester to Newcastle
The trains that ply the Manchester to Newcastle route generally leave Manchester Victoria Station at least once every hour, with the first train from this service leaving at around 06:30 and the last train leaving around 17:30. In between the first and last trains, there are approximately 16 more departures; they operate fast-speed trains that mainly provide direct train services.
Trains from Manchester to Newcastle: Sustainability travel
Part of convenience is the ease of accessibility of the train stations in both Manchester and Newcastle, in addition to trains being relatively cheaper, faster and more convenient. There are several stations you can use to travel from Manchester to Newcastle. We offer easier, simpler and faster online booking services. Don't forget to check our online travel magazine, The Window Seat, for travel tips and tricks!
Trains from Manchester to Newcastle: Services on Board
Most people travelling from Manchester to Newcastle upon Tyne use the services of TransPennine Express trains, of which most of them are direct train services. The company offers a variety of train tickets to suit their customers' travel needs, including both first-class and standard train tickets. They also offer advance booking services, anytime tickets, seasonal tickets, off-peak tickets and other special tickets. The first-class package is accompanied by free food, drinks and snacks on board, in addition to power points and reclining seats. The standard-class package allows for an upgrade to first class on the weekends and bank holidays.
The company offers racks and storage facilities for the travellers' luggage, and there are also luggage assistants to help during the process, to keep the aisle free and spacious. TransPennine Express trains permit their travellers to carry pets (a maximum of two) with no additional fee attached to it. Passengers with disabilities can also bring their guide and hearing dogs on board. Other special luggage, like bicycles, is also allowed on board if there is adequate space. In instances of inadequate space, the company provides bicycle storage options at their major train stations, subject to reservations for space either online or in person at the station. TransPennine Express has a reliable system to support disabled persons, including wheelchair services, to help them get on and off the trains. Disabled and older persons can also be guided during the process of booking and making reservations via online platforms or by calling the Passenger Assist team up until 6 hours before the start of your journey.
How to find cheap train tickets from Manchester to Newcastle
There are several ways initiated by TransPennine Express to access cheap tickets and cut the overall travel cost. There are online booking sites like ours, which work in partnership with TransPennine Express to provide the best and cheapest deals for train tickets. They offer advance ticket booking that has a discount of up to 50%, and the booking can be done up to 24 weeks before the day of departure. The use of connecting trains can also help you save some money but may be less convenient; the trains from Manchester to Newcastle may have a changeover in York.
TransPennine Express has other ticket packages that are cost friendly, for instance, the use of railcards that can also be used to get discounts on train tickets for family, student and season packages. The passengers can also save on the cost by being aware of the dynamics in ticket prices during peak and off-peak hours; for example, travelling during the off-peak hours is relatively cheap compared to travelling during the peak hours.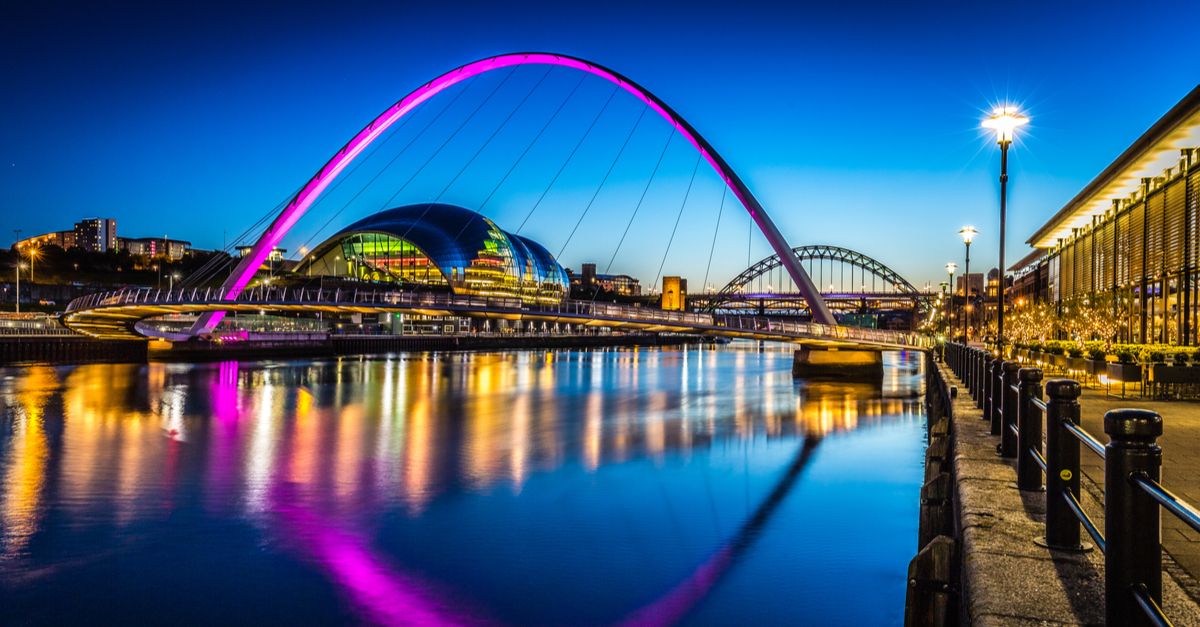 Trains from Manchester to Newcastle: bridges of Newcastle at night. Source: Shutterstock
To Newcastle by train—travel tips
Newcastle upon Tyne is a lively city in England, found on the River Tyne, North England. It is the largest city in North East England, commonly known for its contribution to the manufacture and repair of ships. Other reasons for visiting the city are for its renowned culture, like nightlife and watching football games of Newcastle United Football Club. It has famous landmarks and offers a variety of places and sceneries recommended to every traveller, some of which are:
The Victoria tunnel
St. James' Park
The Quayside
Jesmond Dene
The Discovery Museum
Newcastle Castle
Chinatown
The Grainger town including Grey's monument