Trains from Newcastle to London
You can take trains from Newcastle to London throughout the week, with a regular service operating between the two cities. In total, there are around 217 trains that depart across the week. With trains leaving from early in the morning to relatively late at night, there should be a suitable train time to match your schedule. Journeys take about 2h 10min on average, with there also being some faster trains that you can catch. There are no indirect trains on this route, so you won't have to make any changes during your journey.
Newcastle to London Train Time: Daily Departures
Between Monday and Friday, there are normally about 31 trains that depart daily. These trains tend to depart between about 04:45 and 21:15. On Saturdays, there are around 28 trains that depart between the hours of around 04:45 and 19:00. On Sundays, you can catch one of about 34 trains, with the first train leaving before 08:00 and the last one leaving at around 20:30.
How long is the journey by train from Newcastle to London?
When you take a train from Newcastle to London you will find that the average journey time is about 2 h 10 min. There are also faster trains, with some journeys taking 1 h 47 min. As most of the trains that operate this route are direct, you can sit back and enjoy your trip from the north to the south of England.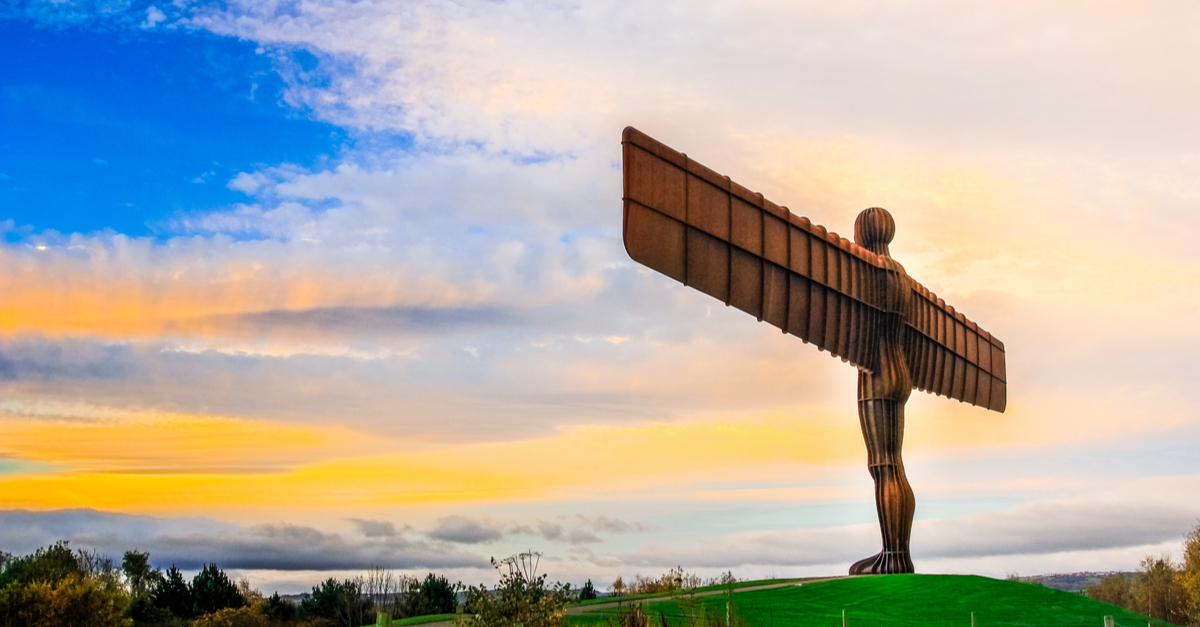 Trains from Newcastle to London: sculpture of the Angel of the North in Newcastle. Source: Shutterstock
What are the departure and arrival stations for trains from Newcastle to London?
Departure train station:Trains leave from Newcastle train station, which is conveniently located in the city centre. You can walk to the station from popular tourist attractions like Newcastle Castle in about 6min. When you're at the station, you can use a selection of facilities, such as a First Class Lounge, cash points, refreshment stalls and toilets.
Arrival train station: You will arrive at London Kings Cross train station, which is located close by to the busy centre of the city. You can reach popular sites in the city, such as the Barbican Centre, in about 15min if you take the Circle, Metropolitan or Northern Line. At the station, there are a variety of shops and restaurants for you to enjoy. There are toilets and waiting areas too.
Which train companies travel from Newcastle to London?
One train company operates trains to London from Newcastle. The provider is LNER, which operates about 155 trains Monday to Friday, around 28 trains on Saturdays and approximately 43 trains on Sundays. Trains take about 2h 10min to reach their destination, with there being some faster trains that complete the route in around 1h 47min. As trains are normally direct on this route, you won't have to transfer along the way.
Night trains Newcastle
There aren't any night trains from Newcastle to London at night. However, you can take trains early in the morning and late in the day. For example, you can take a train that leaves around 04:45 and arrive in London at about 08:09. Alternatively, you can catch a train in the evening at about 09:15, which normally gets to its destination at around 01:15.
LNER trains from Newcastle to London
LNER Newcastle to London trains operate a frequent service every day of the week. About 31 trains leave each day on weekdays, and around 62 depart across the weekend. The first train that leaves Newcastle between Monday and Saturday is at about 04:45, whilst the first departure on Sundays is at around 07:55. The final train departs for London at about 21:15 on weekdays, approximately 19:00 on Saturdays and around 20:30 on Sundays. Trains from Newcastle to London take around 2h 10min on average. You can get faster trains too, though, which usually take under 1h 50min. You'll be pleased to know that trains operating this route are direct, so you can enjoy the journey without having to make a connection.
Trains from Newcastle to London: Sustainability travel
Sustainable travel is important for the future of our environment. Train travel is one of the greenest ways to complete a trip from Newcastle to London. Trains tend to release less carbon dioxide per passenger than other forms of transport such as buses, cars or planes. Not only is there less carbon dioxide pollution, but there is less noise pollution too.
Train Newcastle to London: Services on Board
LNER trains offer some great facilities onboard the trains, such as First Class seating with provides additional legroom and also comfier seats. You can take three items of luggage on board a train from Newcastle to London, with one large item, one medium item and one small item being allowed. Large suitcases cannot be bigger than 80cm x 57cm x30cm. Medium bags must be able to fit into the overhead luggage rack. Smaller bags should be able to fit under your seat. You can also take your bicycle on board, but you will need to make a reservation in advance as there is limited capacity for bikes. Pets are fine to bring on the train too, but you must ensure that they are under your control at all times for the comfort of other passengers. If you have a disability that requires assistance during the journey, you can contact the operator before you depart to request help.
How to find cheap train tickets from Newcastle to London
To get cheap train tickets from Newcastle to London, book as far in advance of the departure date as possible, as train tickets tend to get more expensive the closer to the day of travel. Make sure you have flexibility with your journey as well, as trains might be cheaper a couple of hours on either side of your desired travel time. Using a railcard, such as a two together railcard, is also a great way to get cheaper tickets. If you want more inspiration on cheap destinations to travel to in the United Kingdom, you should have a look at the OmioMagazine.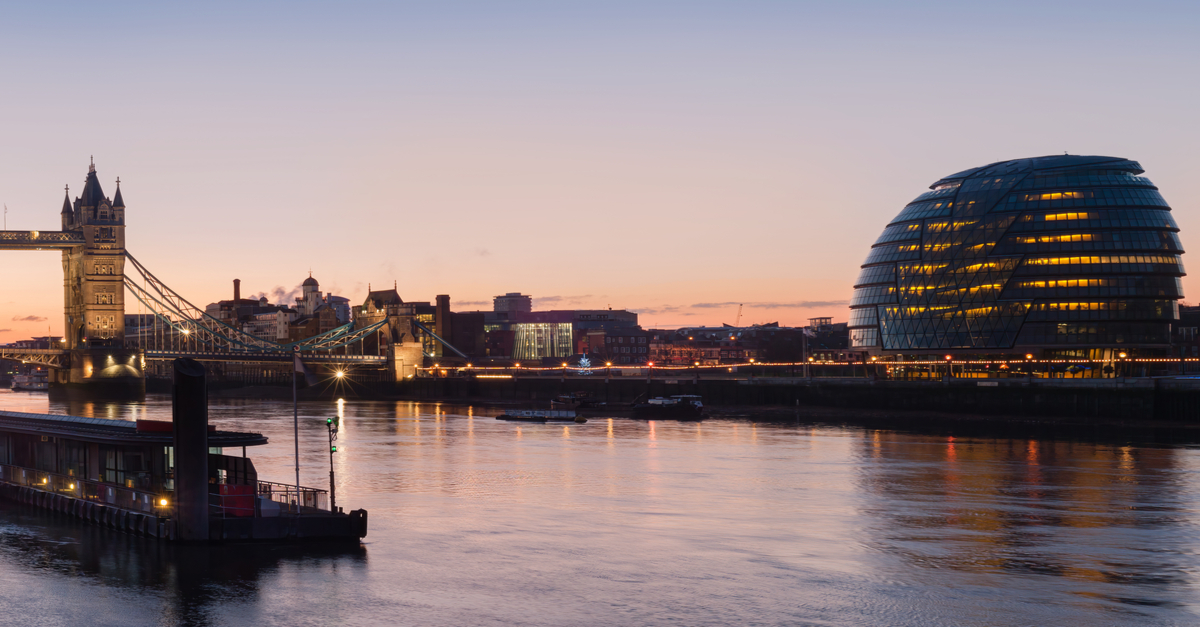 Trains from Newcastle to London: skyline of London at dusk. Source: Shutterstock
To London by train—travel tips
There is loads to do in London, so it's always a good idea to have an itinerary in place before you arrive. One of the most popular places to visit is Buckingham Palace, the Queen's official residence. Close by to this attraction is Hyde Park, a vast green space in the centre of the city. At this park, you can enjoy a coffee, go cycling or relax on the grass. Next up, you can go towards the River Thames, where you'll find great attractions like the Millennium Wheel. This wheel is a fun ride for all the family, which gives you great views across the city. If you want to enjoy something that gets your adrenaline pumping a bit more, you should visit Thorpe Park. This theme park has a great range of rides for people of all ages. Having worked up an appetite, you should head to the centre of London, where you can find a selection of highly-rated restaurants to enjoy lunch. For football lovers, there are a lot of stadiums in the capital that you can visit. Whether it's The Emirates Stadium or Craven Cottage, you'll be able to enjoy a tour of the ground and maybe even catch a game.
Check out London from the top of The Shard
Get spooked at London Dungeons
Go for a stroll on the South Bank
Learn about movies at The British Film Institute
Catch a show at the West End