Trains from Preston to London
Trains from Preston to London cover a distance of 189 miles (305 km) and will take about 2h 43min to complete. There are an average of 25 trains which leave from Preston heading to London each day. The amount might vary depending on the day and time of the year. For example, more trains leave on weekdays than weekends, and on some of the major holidays, you will find fewer trains making the journey.
Preston to London Train Time: Daily Departures
There are about 25 direct trains per day from Preston to London, and about 15 trains that have at least one change, leaving daily. There are two direct trains per hour at peak times between Preston and London. The trains that include a changeover leave every two hours. The train times and services may differ on weekends and holidays compared to weekdays.
How long is the journey by train from Preston to London?
Direct train journies between Preston and London take 2h 16min and will cover 189 miles (305 km). You might prefer to book a train that has a change over in the route. You will find the trains that include a stop take 2h 40min. The travel time might vary depending on the number of stops you make. Mainly you will find the change over for one-stop train rides happens in Crewe.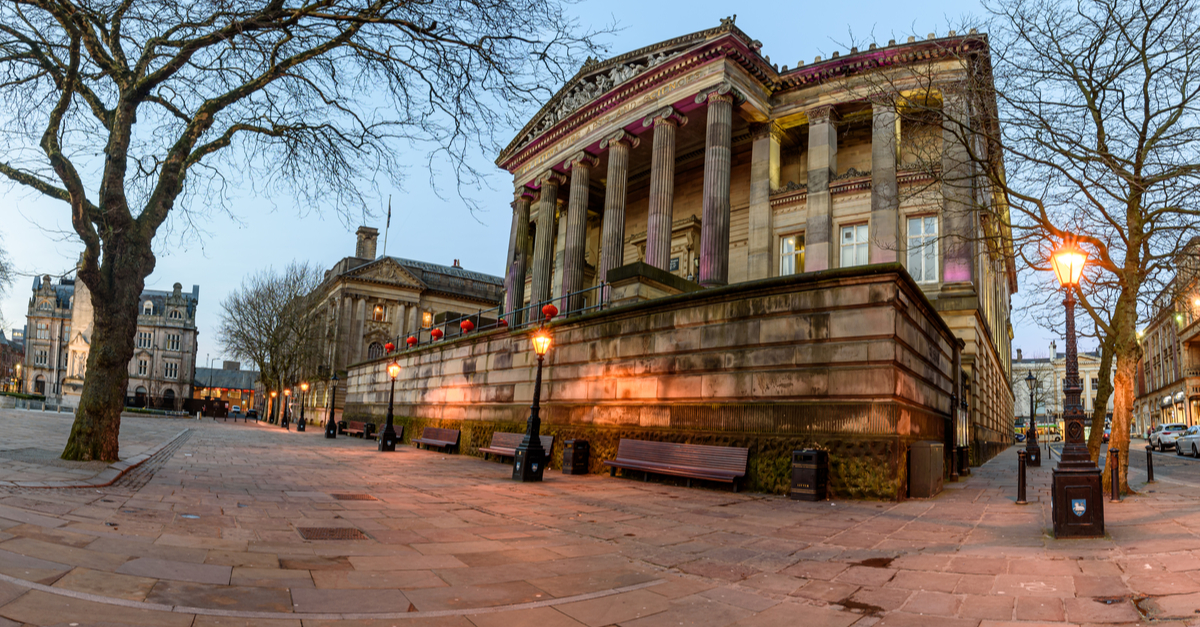 Trains from Preston to London: Harris Museum in Preston. Source: Shutterstock
What are the departure and arrival stations for trains from Preston to London?
Departure train station: All trains to London from Preston leave from Preston Station, which is on Fishergate. Getting to the station from the city centre, you can easily make the journey on foot if you are not carrying too much luggage. You might prefer to catch a bus which will take only 3 min. You might prefer to catch a taxi if you are travelling with larger amounts of luggage.
Arrival train station: Trains running into London from Preston will arrive at London Euston exclusively. Euston is in Camden, which is north of London city centre. There are several ways to reach the city centre from the station, including catching the tube on the Victoria or Northern Lines. You might prefer to catch a bus if the tube system seems confusing. Buses are another option, operated by Eurostar and leave every 15min. Catching a taxi will be the most direct and quickest way to make the trip to the city centre, though it's usually the most expensive option.
Which train companies travel from Preston to London?
When looking for cheap train tickets from Preston to London, you will be travelling by trains on Avanti West Coast Trains. Avanti train services have taken over Virgin Trains and now operate all Virgin's previously covered routes. You can take a direct train or a train that includes at least one stop with Avanti trains. The number of stops will be the only factor determining your travel time variation.
Night trains Preston
You will be able to take a train on Avanti that travels through the night, from Preston to London. The nighttime trains generally do not have a connection along the route. The latest departing train leaves at 8:58 pm. Travelling with Avanti West Coast at night will be a comfortable trip, as you can order dinner to be brought straight to your seat if you fancy a light meal to pass the time.
Avanti West Coast trains from Preston to London
Services offered by Avanti West Coast trains which make travelling by train a convenient hassle-free mode of public transport include live train status tracking. This tool allows you to follow the train's route as it goes. It's also convenient to keep an eye out for any departure delays. If a train is more than 15min delayed, the tracking app will notify you. You can download it on your smartphone. Another service offered by the company available on the app is an updated list of the train timetable. Due to the company's electric trains, you will find your journey smooth and quick.
Trains from Preston to London : Sustainability travel
Avanti West Coast has green travel at the top of their priority list. Taking the train is the most environmentally friendly way of travelling if you are not walking or riding your bike. Trains emit between 66% and 75% less carbon than cars and planes. Trains are also the leaders in reducing the amount of energy consumed. The amount of space needed to operate the service and the level of contribution to noise pollution than any other means of transport.
Train Preston to London: Services on Board
When travelling to London from Preston on Avanti West Coast, you will have the option to upgrade your seats from the standard seating category to the near tier up called the standard premium. The highest class of tickets available on these trains is a first-class ticket. This ticket includes complimentary food and drinks which access to the first-class lounge. Onboard you are allowed three bags. One is carry-on, and the others must go in the luggage storage cabin. You will be allowed to travel with cats, dogs, rabbits and other furry friends on Avanti West Coast trains. Remember that travelling with your dog during busy periods such as early mornings can be stressful for your pet. You are allowed to bring your bike onto the train. You will need to make a reservation when you book your train ticket in advance to ensure there is available space. Travellers with a disability will be well looked after when travelling on Avanti West Coast Trains. The trains and bathrooms onboard are designed for wheelchair access. Staff members will assist with on and off platforms for you to access the trains. You might also need to request a travel assistant for the duration of your trip, which you can easily do before you travel.
How to find cheap train tickets from Preston to London?
If you're planning on taking a train from Preston to London and you're travelling on a budget, the easiest way to ensure you get the cheapest tickets is to book as far in advance as possible. Ticket prices increase the closer you get to the departure dates. Searching for tickets with flexible dates is another way to pick up cheap tickets. Companies offer different deals on different days, and being flexible gives you a chance to take advantage of the cheaper offers. Typically, trains with changeovers en route are less expensive than direct trains, so choose carefully. Check out the Omio Magazine to pick up extra tips on travelling efficiently.
Trains from Preston to London: friends in London. Source: Shutterstock
To London by train—travel tips
The real question when considering a trip to London is why wouldn't you go? Visiting the diverse city of London means overloading your senses with architecture, food, culture, fashion, history, football, nightlife, bars and world-class living. One of the favourite activities for newcomers to London is to tour the Tower of London. An architectural odyssey, the tower is also home to the world's largest diamond and will transport you into a time of medieval grandeur. London is famous for its fish and chips wrapped in newspapers. Stroll the streets, try this traditional delight, or book a table at the famous Poppies Fish & Chips. Here you can also indulge in other treats such as Yorkshire pudding and a variety of homemade pies. Take a stroll along with the South Bank and catch a ride on the London eye to get a birds-eye view of the entire city. A truly magical sight, especially at night when the cities energy bustles with activity and twinkling lights.
Shakespeare's Globe theatre
St Paul's Cathedral
Borough Market
The Vault Cocktail Bar
Le Gavroche