Trains from London to York
There are multiple trains an hour running from London to York, starting at around 6:15 a.m. and finishing at around 11:00 p.m. There are usually around two trips per hour, roughly 30min apart. The trips usually take between around 1h 30min and 2h 30min.
London to York Train Time: Daily Departures
Trains to York from London run roughly twice an hour from 7:00 a.m. to 9:00 p.m. After that trains run once an hour from 9:00 p.m. to 11:00 p.m. Between 7:00 a.m. and 9:00 p.m. trains usually run roughly 30min apart. Occasionally there is a third train running during the hour, such as at 4:48 p.m. and 6:48 p.m. The first train from London to York departs at around 6:15 a.m. and the last train departs at around 11:00 p.m.
How long is the journey by train from London to York?
The journey from London to York usually takes between 1h 30min and 2h 30min, depending on the journey you choose. These trips usually don't include any changes so even on longer trips you stay on the same train the whole time. Remember to factor in the time it will take to get to the departure station and from the arrival station to your final destination in York.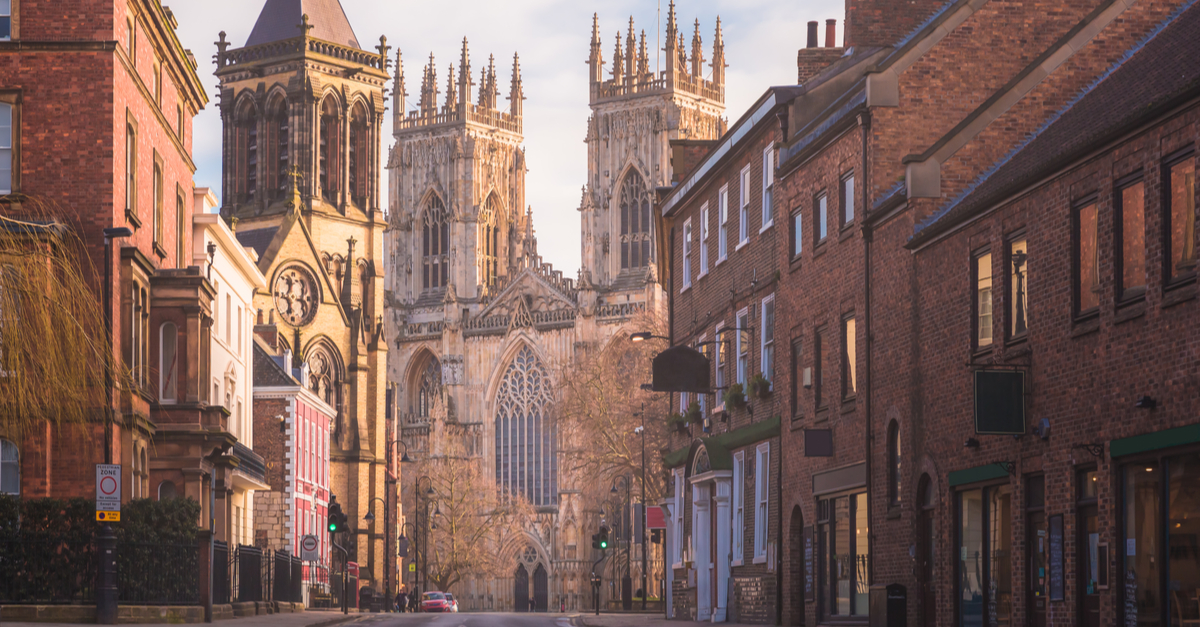 New York Street Old Town Cathedral. Source: Shutterstock
What is/are the departure and arrival stations for trains from London to York?
Departure train station: The main departure station is London King's Cross Station. It is roughly 13min from London's city centre by car and roughly 21min by public transport. The station has multiple ATMs available on the concourse. In addition to toilets and baby changing facilities throughout the station, there are also showers near the entrance to platforms nine to eleven. You can find trolleys for your luggage by the entrances to platforms one through nine.
Arrival train station: The arrival station is usually the York Railway Station. It takes around 15min to reach the city centre by walking from the station and roughly 7min driving from the station. There are places to get food at the station when you've arrived as well as ATM machines located throughout the station. It also has step free access to all its platforms and there are wheelchairs available if needed.
Which train companies travel from London to York?
There are three train companies travelling from London to York. London North Eastern Railway operates the majority of the trains, particularly those running later at night. Hull Trains operates a few trains each day and Grand Central operates around four trains each day. London North Eastern Railway and Grand Central Trains tend to take roughly the same amount of time to reach their destination, while Hull Trains tend to take a bit longer and include a change. All providers have a first-class option.
London North Eastern Railway trains from London to York
London North Eastern Railway trains run from London to York between 6:15 a.m. and 11:00 p.m. They usually have two trains running per hour, occasionally three, particularly during peak travel times. The trains usually take between 1h 30min and 2h to reach their destination without any changes.
Grand Central trains from London to York
Trains run by Grand Central between London and York usually run around four times each day. One in the morning at around 11:30 a.m., one at around 12:30 p.m., one in the afternoon at around 4:45 p.m. and one in the evening at around 7:30 p.m. They usually take around 1h 50min to reach York from London and have no changes.
Hull Trains trains from London to York
There is usually one train from Hull Trains travelling to York from London. It is usually a late train, departing at around 8:30 p.m. It usually takes around 2h 45min to reach York with one change at Selby Station with a roughly 10min changeover.
Train London to York: Services on Board
All the providers of trains to York from London have first-class options on their trains. First Class may include complimentary food and drink, wider seats with extra legroom, as well as tables at your seat. They all usually offer food that can be ordered at a service counter or delivered to your seat directly. The food ranges from snacks like chips to meals like a range of sandwiches. They also all offer both hot and cold drinks, including alcoholic drinks. All providers have free Wi-Fi onboard.
London North Eastern Railway, Grand Central and Hull Trains all allow you to bring bicycles on their trains so long as you book a spot for them ahead of time. Grand Central considers foldable bikes the same as normal luggage and they can be brought onboard without a reservation. Spaces may be subject to availability. Hull Trains have at seat technology with both pin plug and USB sockets available at your seat so you can easily keep your phone or laptop charged. They also provide kids packs to help keep younger travellers entertained throughout the journey. Grand Central trains allow three items of luggage with any ticket, which can be two large items and one small item. London North Eastern Railway and Hull Trains allow one large item and two smaller items.
How to find cheap train tickets from London to York?
Tickets from London to York for journey's in the evening tend to be cheaper than those in the morning and middle of the day. Booking ahead of time often helps you find a cheaper ticket, though bear in mind that some train companies don't open tickets until close to the departure date. If you can be flexible in your travel arrangements you may be able to find cheaper tickets on a particular day that is less popular. Prices are similar across the different providers and differ mostly on departure time, though Grand Central tends to be the cheapest and Hull Trains tends to be the most expensive. On certain trips, First Class, extra luggage and flexible tickets that can be used on different journeys may all cost extra.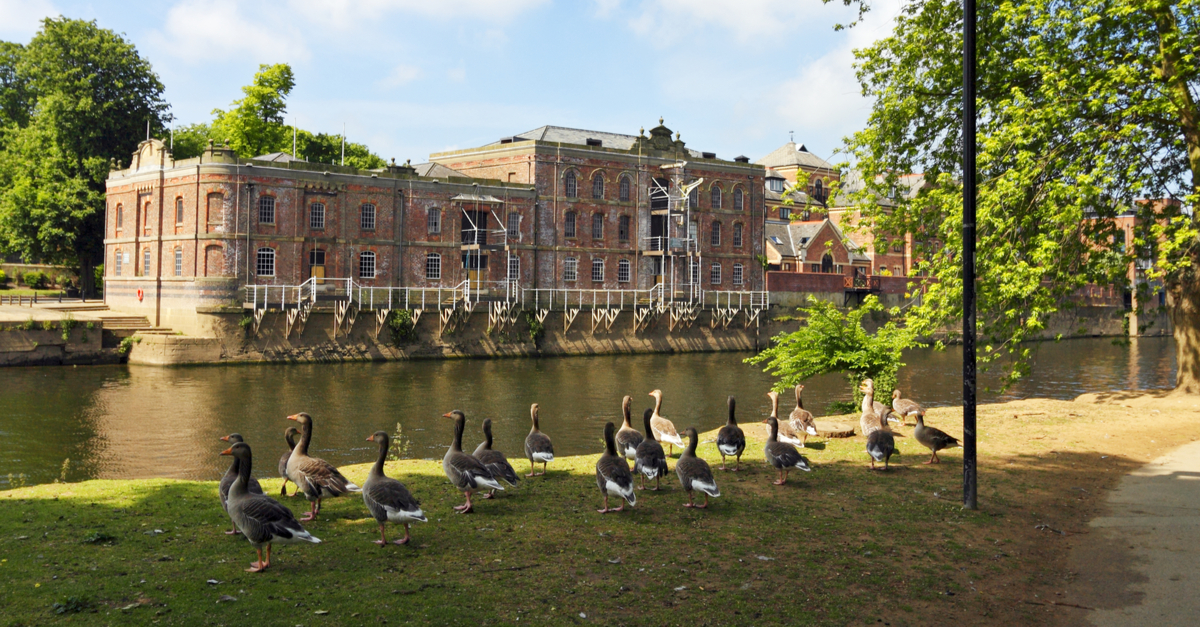 York River Park. Source: Shutterstock
To York by train—travel tips
With plenty to do and see for kids and adults alike, York is a beautiful city full of life and history. The National Railway Museum could be especially interesting to visit after travelling to the city by train. It can be reached from the city centre by a dedicated shuttle bus and has a wide array of exhibitions showcasing the history and engineering of England's train services.
The Shambles is one of York's most interesting attractions. A street dating as far back as medieval times, it has a wide array of specialised shops, perfect for getting unique gifts. Consider visiting the York Maze theme park for a fun-filled day out with plenty of rides, attractions and the largest maize maze in Europe. You can grab a quick and satisfying meal at The Taylor Made Kitchen for some classic British street food or sit down at one of the city's many Italian restaurants noted for their authenticity and charm. A city full of history there are many walking tours available, in particular, The Deathly Dark Ghost Tour of York is a highly rated, entertaining tour for those interested in the city's supernatural history.