Trains from York to London
On any given weekday, there are about 40 trains from York to London. Around three trains depart every hour, on average, with the earliest around 4:30 and the latest around 22:30. Weekend trains can be less frequent, but you've still got at least 20 journeys departing per day. The fastest direct journey is about 1h 45min, and most direct journeys take around 2h or so.
York to London Train Time: Daily Departures
Though exact timings of York to London departures differ each day, you've usually got about three trains leaving every hour. On weekdays, you can catch a train from as early as roughly 04:30 and hop on the last one around 22:30. On Saturdays and Sundays, services can be limited to one or two departures every hour, but there's usually regular service between 08:00 and 20:00. You may find more indirect journeys take place on the weekend, with a higher overall duration.
How long is the journey by train from York to London?
The quickest train journey from York to London takes about 1h 45min. Most direct trips, however, take about 2 hours. If taking an indirect journey, this can involve a waiting time of up to several hours, in intermediate stations like Doncaster or Derby. If booking a late-night journey with a transfer, make sure you check alternative connections, should your train experience any delay.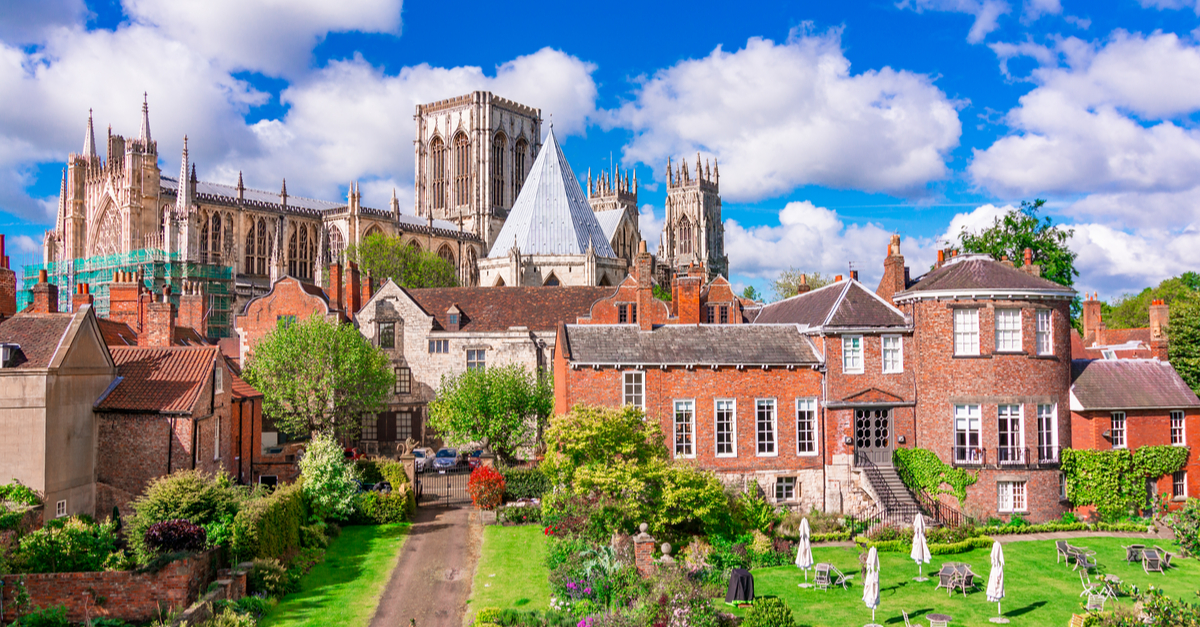 Trains from York to London: cathedral in York. Source: Shutterstock
What are the departure and arrival stations for trains from York to London?
Departure train station: You should be departing from York's main train station, York Station. It's close to the city centre, about a 15min walk away from Shambles Market and around 10min by bus from the York Castle Museum. At the station, you can access public Wifi, toilets and baby-changing rooms, bike storage and a car park. The station is step free, and you can access wheelchairs and an induction loop if you need.
Arrival train station: London King's Cross Station will be your arrival point. From there, you can easily access Central London locations. For example, the British Museum is an approximately 20min walk away, while Piccadilly Circus is about 11min away on the Underground. King's Cross Station is also a short walk away from St Pancras International Station, which connects you to destinations like Brussels or Paris. At the station, you've got a large variety of shops, restaurants and facilities, including free Wifi, showers and toilets, baby-changing rooms, car hire and bike hire. King's Cross Station is step free, and you can access induction loops and wheelchairs.
Which train companies travel from York to London?
The main company operating trains between York and London is London North Eastern Railway (LNER), which runs both direct and indirect journeys. Great Central operates around five journeys per day, which tend to be faster than LNER ones. CrossCountry runs a small number of York to London trains on the weekend, but its journeys usually require a change and take longer than LNER or Great Central trips.
Night trains York
The latest train you can catch from York to London leaves around 22:30, though this journey doesn't always operate on weekends. This is typically a direct journey, lasting about 2h 50min, so you're due to arrive at London King's Cross around 01:00 the following morning. On Saturdays and Sundays, trains from York to London tend to stop running around 20:00-21:00. On occasion, there's an indirect journey leaving York around 03:00, totalling about 6h 30min, including a 2h wait in Leeds.
London North Eastern Railway (LNER) trains from York to London
LNER operates about 30 trains a day from York to London on weekdays and about 20 a day, on average, on weekends. Many LNER trains are direct, and at least two renerally run every hour, between 06:00 and 22:30. The quickest journey duration on LNER is about 1h 50min.
Grand Central trains from York to London
Grand Central operates fewer journeys from York to London than LNER, but they tend to be quicker, on average. The company runs about five journeys a day, and the quickest trip is around 1h 45min. There's usually one Grand Central train departing every 2h or so.
Trains from York to London: Sustainability travel
Travelling by train is an excellent alternative to driving, as it involves a lower amount of emissions. To improve your carbon footprint further, you can try cycling to York Railway Station, which has bicycle storage facilities, or consider using public transport, such as buses and the Underground, when travelling to and from the train stations.
Train York to London: Services on Board
On LNER trains, you can travel standard or first class. Passengers can bring on board a large suitcase, a carry-on item and a handbag. You can store your bike on the train, but you must reserve the space in advance. Up to two pets are allowed per passenger, but only if they're on a lead or in a pet carrier. Additionally, there are multiple services that can be booked for accessibility needs, including support on platforms and on trains, wheelchair and mobility scooter storage, access ramps and accessible toilets. If travelling with Grand Central, you must reserve your bike storage 24 hours in advance, and you are allowed two suitcases and a handbag on board. There's also designated buggy and pram storage space on the train. Passengers with disabilities can be assisted by Grand Central staff on and off the train and during changeovers, and there is also ramp access and wheelchair space on board.
How to find cheap train tickets from York to London
With so many departure times and train companies on this route, your best chance at getting a good deal is to book well in advance and stay flexible with your date and time. Try to avoid commute times if possible, and be prepared to change at an intermediate stop if this benefits your budget. You can also pick one of the slower journeys, if it's cheaper on the day. There are more ways to save and enjoy your travels in our magazine, The Window Seat.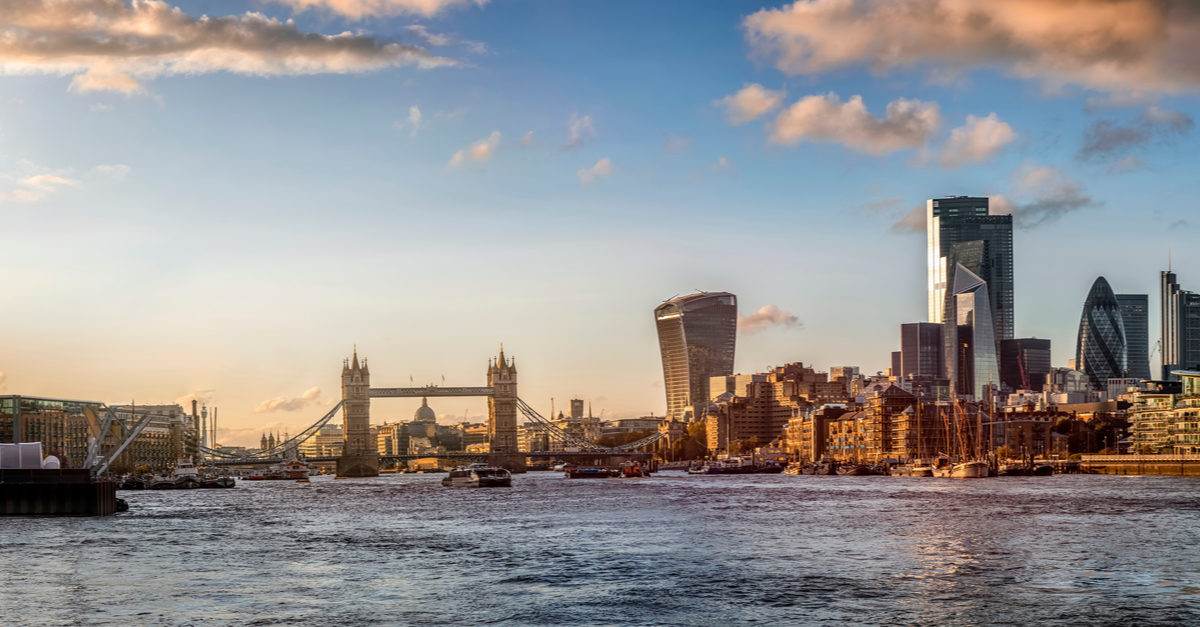 Trains from York to London: river and the city of London. Source: Shutterstock
To London by train—travel tips
London has something for every taste. Firstly, it's the capital of theatre, so get yourself a West End ticket and enjoy the newest musical or award-winning play. Then, you've got some of the world's finest exhibits in its museums: start at the British Museum in Central London and make your way to South Kensington, where you've got the Science Museum, the Natural History Museum and the Victoria and Albert Museum. You can also visit parts of the royal family's home, Buckingham Palace, or take a short train journey to the outskirts to explore Windsor Castle. Should you get tired of the culture, you can enjoy one of London's expansive green spaces, for instance Hyde Park, St James' Park or Hampstead Heath. An international city to its core, London is home to an astonishing number of cuisines, from Middle Eastern to South Asian to various European specialties; a great way to try them out is to attend a local food market, such as Borough Market, outside London Bridge Station
Richmond Park in South West London
A panoramic view from Primrose Hill
The London Dungeon at London Bridge
A stroll on the Southbank
Offline shopping on Oxford Street
Portobello Market near Notting Hill
Exploring Brick Lane in East London