Trains from Faro to Lisboa
If you're planning on taking a train from Faro to Lisboa, you'll be glad to know there are numerous routes operating daily, starting early in the morning and running until early evening. The majority of the routes are direct routes, though you will find a couple of trips a day with one to two changes along the way at stations like Lisboa - Oriente. The routes with two changes en route depart from Bom Joao rather than Faro. If you're taking a direct train from Faro to Lisboa, expect the trip to take between 3h and 3h 30min depending on the train you take.
Faro to Lisboa Train Time: Daily Departures
Trains operating routes from Faro to Lisboa start as early as 07:00 a.m. during the week and run a couple of times per hour from then until around 06:15 p.m. each evening when the last train departs. On a typical day, there are at least 15 trains operating this route. If you're travelling on a Sunday, there are often more trains departing in the morning, with at least 16 running throughout the day. On average, you can expect more than a hundred trains operating this route every week.
How long is the journey by train from Faro to Lisboa?
Your journey time when taking a train from Faro to Lisboa depends on the route you take and the train you're on. If you take one of the faster trains directly to Lisboa from Faro, you can expect a total travel time of around 3h. The slower direct trains tend to take around 3h 30min to complete the route.
If you're taking a train that requires a change along the way, your travel time will depend on how long the stop is, though these usually don't take longer than 5h 40min, and usually between 4h and 4h 30min. The longest route is usually the last evening train, which spends over an hour at the changeover and the total travel time is around 5h 35min.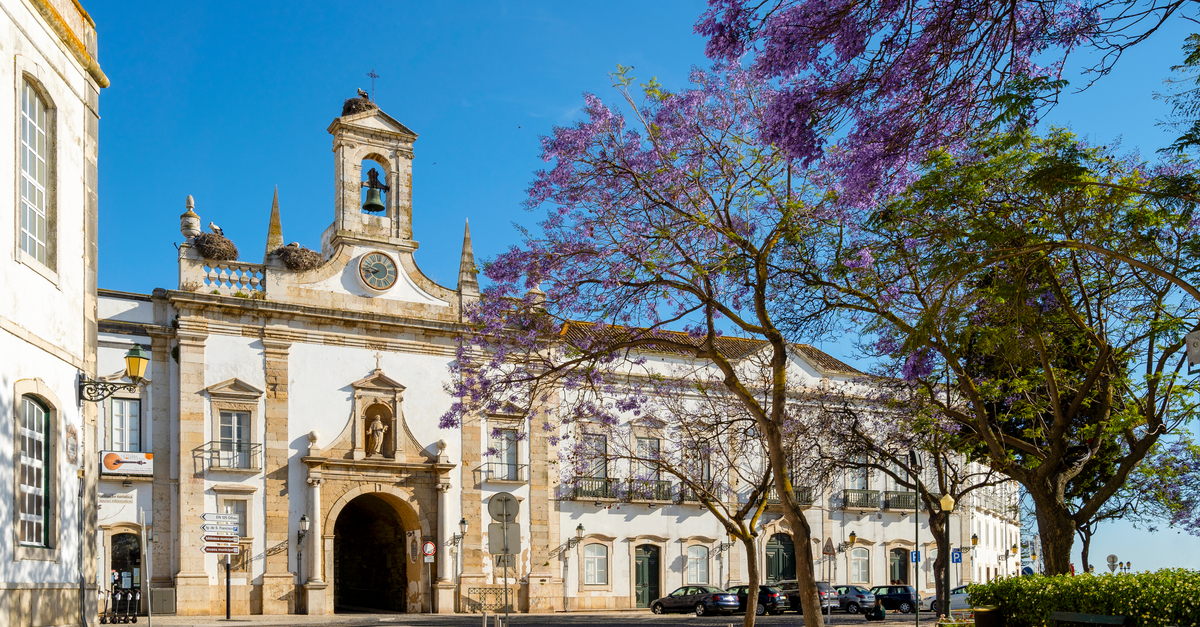 Faro Church Facade. Source: Shutterstock
What is/are the departure and arrival stations for trains from Faro to Lisboa?
Departure train station: The majority of your train trips covering the route from Faro to Lisboa will depart from the main Faro train station. It is the most significant railway junction in the Algarve region and is operated by Comboios de Portugal. To ensure passengers have a comfortable trip, the station provides all the basic amenities and services needed, including waiting rooms, ticket offices, accessible toilets, numerous ATMs, and bars and restaurants to have a drink and a bite to eat at. There are one or two trips per day that leave from Bom Joao, which is a smaller, less frequented station in Faro.
Arrival train station: The arrival station for all journeys between Faro and Lisboa operated by Comboios de Portugal will either be Lisboa - Oriente or Lisboa - Santa Apolonia. Oriente is one of the main transport hubs in Portugal, located in the Parque das Nacoes municipality of Lisboa, while Santa Apolonia is the oldest railway terminus in Portugal, located in the Sao Vincente parish in Lisboa. Both stations offer amenities such as waiting rooms, public phones, ATMs, bars, shops, and car hire options. Oriente also boasts luggage storage facilities and currency exchange services.
Which train companies travel from Faro to Lisboa?
All routes travelling from Faro to Lisboa will be operated by the same company, Comboios de Portugal. Comboios de Portugal is a state-owned company providing Portugal's passenger trains throughout many regions and transports millions of passengers every year. They offer a wide range of services throughout Portugal and even offer international service to countries like Spain and France.
Comboios de Portugal trains from Faro to Lisboa
Comboios de Portugal operates the trains from Faro to Lisboa. They offer a range of services that include international travel to Spain and France, as well as high-speed intercity travel, long-distance regional travel, localised travel, and much more. The service you'll be using for routes from Faro to Lisboa will be AP, which is the fastest option, or the IC, a high-speed long-distance service.
If you're taking a train from Bom Joao, your journey will be a Regional service, which is the local service that stops at all stations en route. All of the AP trains are direct, high-speed offerings that'll get you to Lisboa in 3h. The IC service will either be a direct train or have a changeover at Oriente on the way to Santa Apolonia.
Train Faro to Lisboa: Services on Board
Comboios de Portugal AP and IC trains both offer the option of first-class tickets. These tickets offer you more legroom, comfortable seating, vending machines, foldable tables, a bar car, and a media centre among others. Every passenger is only allowed one piece of luggage, not including handbags, laptop bags, etc.
If you're travelling with pets, you'll be allowed to take two pets on board and they'll travel for free provided they're in a suitable pet carrier. No large animals are allowed. If you're hoping to travel with your bicycle, the AP service only allows for foldable bikes, while IC services allow both, though you may be limited with space. We suggest calling ahead of time and booking a space for your bike.
Night trains Faro
Trains from Faro to Lisboa run until 06:15 p.m. each evening, so there isn't a need for an overnight train. The last train typically arrives in Lisboa before midnight and the longest trip takes no more than 5h 35min. Unfortunately, there are no night train options for this route currently operating.
Traveling by train: Sustainable journey
With the exception of biking or walking, travelling by train is the most eco-friendly way to travel these days. Generally, cars and planes emit close to 70% more carbon than trains do. Travelling these routes by train emit almost three times less CO2 than travelling the route by car and almost four times less than if you travelled by plane. You'll also find energy consumption on trains is much less when talking about noise pollution and space.
How to find cheap train tickets from Faro to Lisboa?
There are a variety of ways to find the best deals for trains from Faro to Lisboa. To start with, the Omio platform offers consolidated information from numerous online sources presented to you on a single results page with the ability to filter by price. The Omio Magazine also offers tips on how to travel efficiently.
Book your trip as far in advance as possible, the closer you get to your date of departure, the pricier the tickets will be. If you search with flexible dates, you can take advantage of different deals that might be happening on different days. Travelling over a weekend is typically more expensive than travelling earlier on in the week.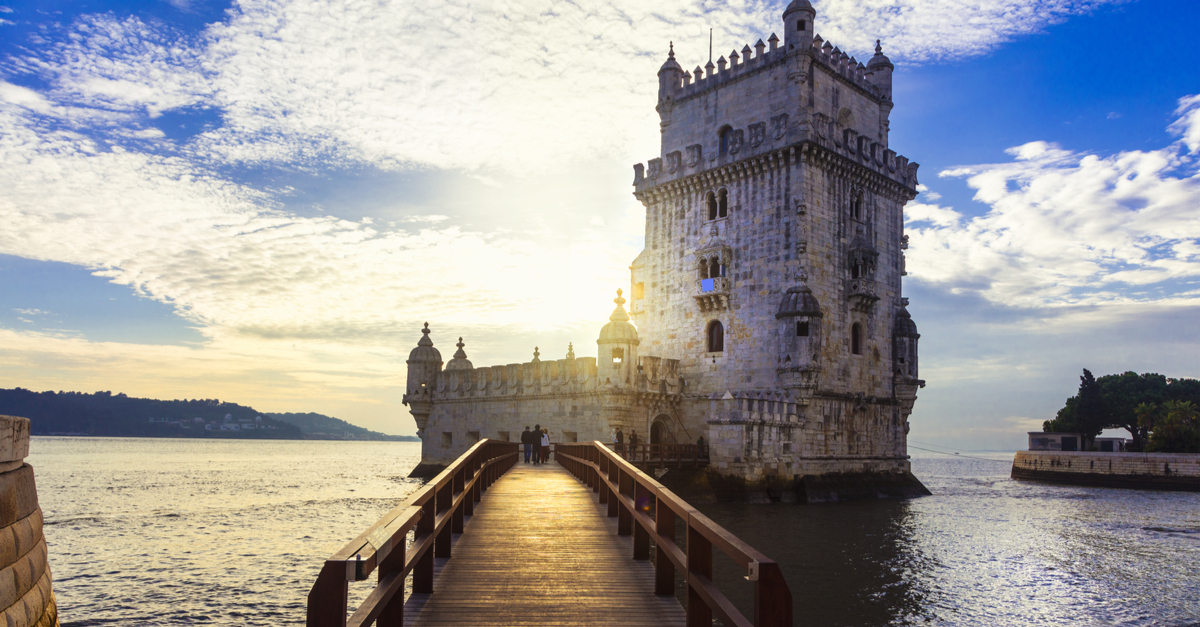 Lisboa Tower Sunset. Source: Shutterstock
To Lisboa by train—travel tips
Lisboa, or as it's more commonly called, Lisboa, is the coastal capital city of Portugal and a popular holiday spot for many travellers from around the world. The city offers guests a wide variety of things to do and places to see throughout the area and offers a plethora of historical sites to peruse. A couple of things worth doing in Lisboa include:
Marvel at the Torre de Belém above the seafront of the Lisboa Quays
Wander through the Alfama District, one of the oldest districts in the city teeming with winding streets and hidden alleys
Ride Tram 28 up the streets and into the Alfama District
Climb St George's Castle
Visit the underwater Lisboa Oceanarium
Hang out on the beach at Caxias
Grab a bite to eat and meet people at Bairro Alto