General Information about the journey from London to Athens
Located more than 3200 kilometres apart, the journey from London to the historic city of Athens is most convenient by plane. Flights are certainly the quickest option, with direct journeys departing from either London Gatwick or London Heathrow airport. Direct flights usually take no longer than 3 hours 40 minutes. Travel by train is also an option for those looking for a more scenic route, although rail journeys can take in excess of 48 hours, with numerous transfers and connections in multiple cities across France, Germany and Serbia.
Travel to Athens
Planning on travelling from London to Athens? Omio has you covered. You'll find several flights throughout the day operated by many companies, these flights often start as early as 6:00 a.m., with regular flights between then and around 11:00 p.m. when the last flight usually takes off. If you're making a direct trip to Athens, you can expect your flight time to be around 3h 40min, while flights with a single layover can take anywhere from 5h 40min to 11h, depending on the length of your stopover. Currently, flight travel is the most convenient way to travel from London to Athens.
About Athens
Athens stands as the capital of Greece, once hailed as a powerful civilization and empire at the heart of Ancient Greece, though not quite the powerhouse it once was, Athens is home to a plethora of historical sites and an unrivalled cultural heritage. Before travelling from London to Athens, there are a few things to keep in mind. Athens is not a cashless city, though many boutiques, restaurants, and stores have card machines, cash is king, so make sure you have some Euros on you while travelling. The best time to visit Athens is during Spring from March to May or in Autumn from September to November. Bars and restaurants are typically open from 7:00 a.m.
Public transport in Athens
Generally, the fastest way to get around Athens is to use the Metro system. The Metro runs every day from 5:00 a.m. until midnight and consists of three lines that connect to the tram, suburban railway, as well as bus routes, with trains running around every 6min during peak hours. Central Athens is connected to the coastal suburbs of Faliro and Voula via the tram, which operates from 5:30 a.m. until 1:00 a.m. on the weekdays and until 2:30 a.m. on Fridays and Saturdays. You'll also be able to use the suburban railway to get around or make use of the extensive bus and trolley network running on a 24-hour basis.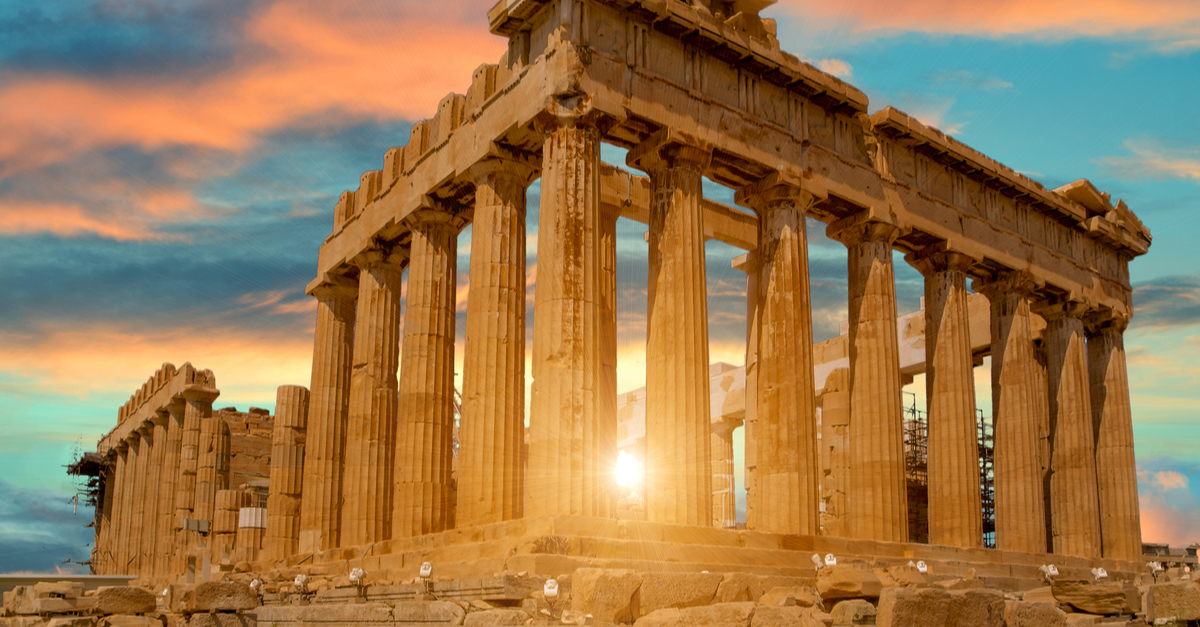 Athens Patheon Sunset. Source: Shutterstock
Important bus & train stations, airports to Athens?
Athens International Airport: Is the largest international airport in Athens and serves the Attica region and the city of Athens. Once arriving at the airport, follow the "Arrivals" airport signs, head to Passport Control, and after picking up your luggage and clearing customs, exit into the Arrivals hall.
If you're travelling by taxi, head to the Arrivals hall exit and book your cab from there. The bus station is located between exits 4 and 5 of the Arrivals hall if you're travelling via bus, and the Metro station is a 15-minute walk from the arrival gate, just follow the signs across the street. If you need to exchange money or draw money from an ATM, you'll find all of these services in the Arrivals section before you exit the building.
Which companies travel to Athens?
If your flight from London to Athens is departing from either London Stansted Airport or London Luton Airport, your flight operator will likely be RyanAir, these flights are typically the cheapest flights and often the fastest. Flights to Athens departing from London Gatwick are often operated by either Wizz Airline UK or by easyJet and these flights are generally less pricey than flights from Heathrow International, although a little slower.
Flights from Heathrow International Airport are operated by numerous airlines, some of the noteworthy ones include Aegean Airlines, British Airways, Alitalia, and Lufthansa. Although flights from London Heathrow are typically more expensive, the airport itself is one of the most well-equipped and busiest airports in the world, providing seamless travel for millions of people.
Eurostar train to Athens
If you're taking the train from London to Athens, Eurostar will be your first point of call. Eurostar offers a wealth of services and very few restrictions on travel. You're allowed a maximum of two bags but there is no weight limit, the only requirement is that you carry the luggage onto the train yourself. There also isn't any food or drink restrictions, so pack whatever you want.
Your journey will start at St Pancras International Station, the hub of Eurostar, and connect to Paris Gare du Nord station, where you will be required to change and switch to a TGV rail service. You will then catch an aLisinski service to Zagreb, followed by a switch to a EuroCity train to Belgrade before making your final change to an Athens rail service to Thessaloniki.
RyanAir flight to Athens
RyanAir provides direct flights from Luton and Stansted airports and typically offers the fastest and cheapest flights from London. RyanAir specifically does not offer connecting flights, they function on a point to point strategy for all of their flights, which they operate in 30 different countries around the world.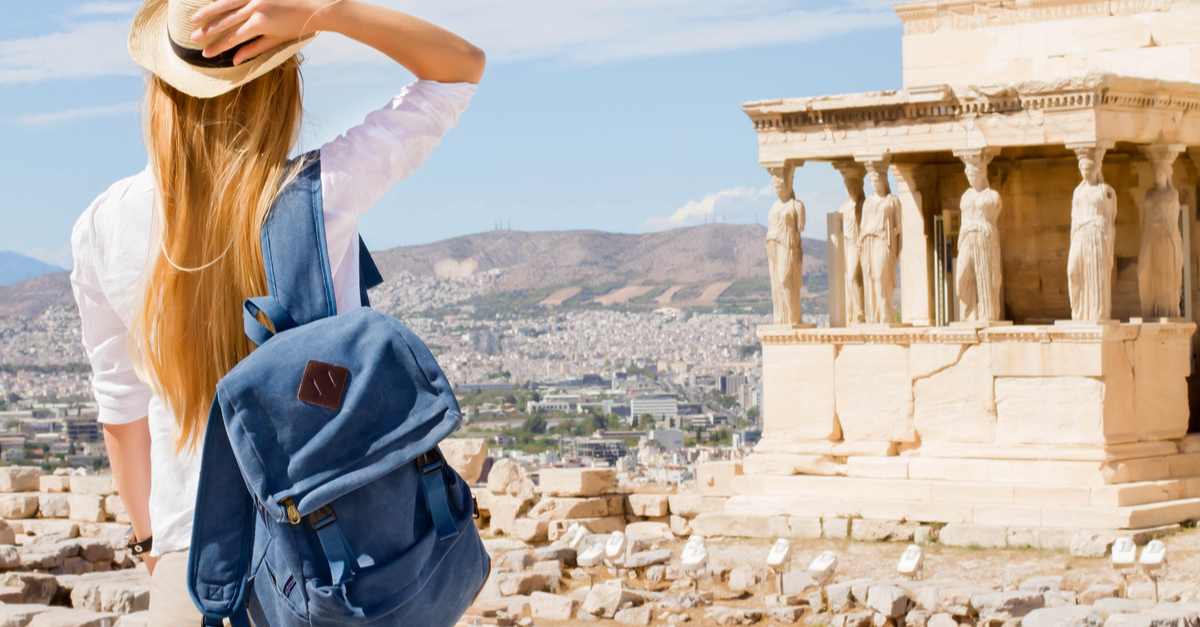 Athens Pantheon. Source: Shutterstock
easyJet flight to Athens
easyJet operates direct flights to Athens from London Gatwick Airport daily and are one of the largest low-cost carriers in Europe, just behind RyanAir. These flights are typically the second cheapest tickets you'll find when travelling these routes, though they are typically around 20min longer than those from Luton, Stansted, or Heathrow.
British Airways flight to Athens
British Airways stands as one of the most popular airlines both in the UK and across the world. They operate flights to Athens out of London Heathrow Airport with either direct routes or with a single layover along the way. These flights are generally more expensive but the quality of service and facilities at the airport tend to outway the minimal cost difference.
How to find cheap tickets to Athens?
If you're trying to save money when booking flights from London to Athens, there are a couple of tips that will go a long way. Firstly, book as far in advance as possible, tickets are usually on sale months before so keep checking. Secondly, be flexible with your dates, there are often deals on random days of the week and often flying in the middle of the week is cheaper. make sure you check the companies bag policy so you aren't surprised by baggage costs, sometimes cheapest isn't always cheapest.
Travel to Athens —travel tips
Athens, Greece is widely considered one of the most popular destinations in the world. It stands as one of the most iconic historical city in the world, having been the host of the once-great Ancient Greece. One of the must-see spots in Athens is, of course, the 5th-century Acropolis. Gain historical benefit by joining in on a private tour. History buffs will have a field day in Athens, take the time to check out the wide variety of museums including the Byzantine Museum, Numismatic Museum, and one of the largest archaeological museums in Greece, the National Archaeological Museum.
Hadrian's Library is a must for those considering themselves historians or scholars as it was built with the original purpose of housing documents and reading rooms. Are you a beach lover? Grab your towels and swimsuits and make your way to the sandy shores of Edem Beach for the day. If you're an avid art fan, make your way through the local streets on a guided street art tour run by locals. Limba Rage Room is a great place to head to if you want to vent and get out some frustration. They offer the chance to smash a variety of household items including bottles, glasses, and TVs.