How to Travel from London to Berlin
Travelling from London to Berlin is most convenient by plane as the two cities are located nearly 690 miles apart. This is a relatively popular journey and most low-cost airlines operate frequent services from all of London's airports, the flight to Berlin lasts just under 2 hours. Travelling by train or bus between the cities is also possible but takes considerably longer with a total journey time close to 11 hours.
Trains from London to Berlin | Buses from London to Berlin | Flights from London to Berlin
London to Berlin Travel Comparison
| | Average Price | Travel Time | Cheapest Time to Book |
| --- | --- | --- | --- |
| | £29 | 18hrs | 8 weeks before |
| | £93 | 9hrs | 8 weeks before |
| | £29 | 1hr 50mins | 1 Month Before |
What is the best way to travel from London to Berlin?
Cheapest way to travel from London to Berlin

Flying from Berlin to London is the cheapest way to travel. Flights from London to Berlin run daily with departures from most of London's major airports. British Airways and Air Berlin both offer direct services from London Heathrow to Berlin Tegel airport daily commencing services at 7:20 a.m. each morning and running at least one service an hour throughout the day. Flights on both airlines usually take no more than 1 hour 50 minutes. Easyjet runs a direct service from London Luton to Berlin Schönefeld daily beginning 6:00 a.m. as well as regular flights from London Gatwick totally a flight time of around 2 hours 5 minutes. It is also the fastest way to get to Berlin as well as the most convenient.
Most popular way to travel from London to Berlin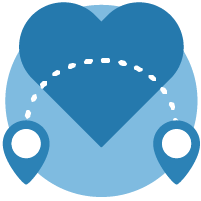 Most travellers that book through Omio chose to fly between London and Berlin, the information for which is above, although some also decide to travel by train. Train journeys between London and Berlin depart London St. Pancras train station and arrive at Berlin Hbf main railway station. Currently there is no direct service to Berlin available from London and the journey requires anywhere between 2-4 changes. Outbound services from London St. Pancras are operated by Eurostar, with connecting services from Brussels and beyond operated by DB Bahn's Intercity-Express (ICE) trains. Eurostar departures from London St. Pancras commence at 6:50 a.m. each day with services running regularly at least once every 2 hours in the mornings and afternoons with a midday break and final departure time of 8:01 p.m. Journeys requiring 2-3 connections taking between 10-12 hours to complete with later departures and more connections increasing journey time to upwards of 17 hours.