How to Travel from London to Prague
Prague and London are two of Europe's great cities, and there are numerous different ways to travel between them. Despite being thousands of kilometres apart, travelling by bus is still a viable option, with some attractive stopover destinations along the way as well as direct routes. However, flying is the fastest way to travel, and has become the main form of transport connecting the UK and Prague, with regular services from London's major airports.


Buses from London to Prague | Flights from London to Prague
London to Prague Travel Comparison
| | Average Price | Travel Time | Cheapest Time to Book |
| --- | --- | --- | --- |
| | £40 | 18:25 hrs | 1 Week Before |
| | £60 | 01:55 hrs | 1 Month Before |
What is the best way to travel from London to Prague?
Cheapest way to travel from London to Prague

Overall, taking the bus is the cheapest way to travel between London and Prague. This is particulaly the case if you wish to leave your booking until the last minute as the price will not increase so dramatically the closer you booking to your date of departure. Direct bus services to Prague depart every day from London's Victoria Coach Station. The major operator on the route is Eurolines, who offer a daily departure from Victoria, leaving in the evening. The journey doesn't have any stops or changes along the way and arrives in the early evening in the Czech capital, with a journey time of about 20 hours. Although, cheap flights to Prague are also available providing you book far enough in advanced.
Fastest way to travel from London to Prague

The fastest way to travel from London to Prague is by taking a flight. Flying is the most popular option, and there is plenty of choice on the route to Prague. Operators include British Airways, easyjet and Ryanair, with departures from Luton, Gatwick, Stansted and Heathrow. Planes leave every hour throughout the week, and the journey takes just 2 hours, making flying the quickest way to travel to the Czech capital.
Most popular way to travel from London to Prague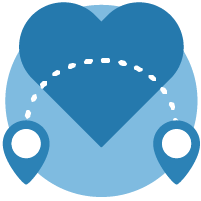 Most travellers making the London to Prague journey who book with Omio choose to travel by plane. Flights depart from a varity of London Airport, including Heathrow, Stansted and Gatwick and arrive at Vaclav Havel.