Trains from London to Prague
If you're travelling from the UK to Prague and leaving from London, you'll typically find only one trip a day departing at around 11:00 a.m. and arriving close to 10:30 p.m. the same day. Your trip will typically take around 22h 30min. The train ride between London and Prague comes with four changes or transfers, so your travel time may vary depending on whether or not there are delays at the various stations.
The quickest train route from London to Prague is via Brussels, using the Eurostar network and then onwards by Deutsche Bahn. The first train leaves just before 7:00 a.m., there is a total of nine departures scheduled throughout the day with the last train leaving around 7:30 p.m. The two-hour direct journey to Brussels is followed by a further 11-hour journey on the high-speed DB trains to Prague. The number of changes can vary from three to seven and can extend the journey by a further 6 hours. There are on average four trains that depart from Brussels to Prague daily.
London to Prague Train Time: Daily Departures
Currently, you'll find roughly seven trains a week travelling from the UK to Prague, departing from London. The train is scheduled to depart at the same time every morning and arrive in Prague at the same time every evening. Scheduled departure times for each train is 11:04 a.m. and the scheduled arrival time each evening in Prague is 10:21 p.m., although there may be delays.
How long is the journey by train from London to Prague?
Trains departing from London when travelling between the UK and Prague typically take between 22h 30min and 23h and require passengers to make a couple of changes or transfers. These changes may end up causing a delay in the total travel time, although they typically run very close to the scheduled times. If you leave London around 11:00 a.m., you can expect to arrive in Prague by 10:30 p.m.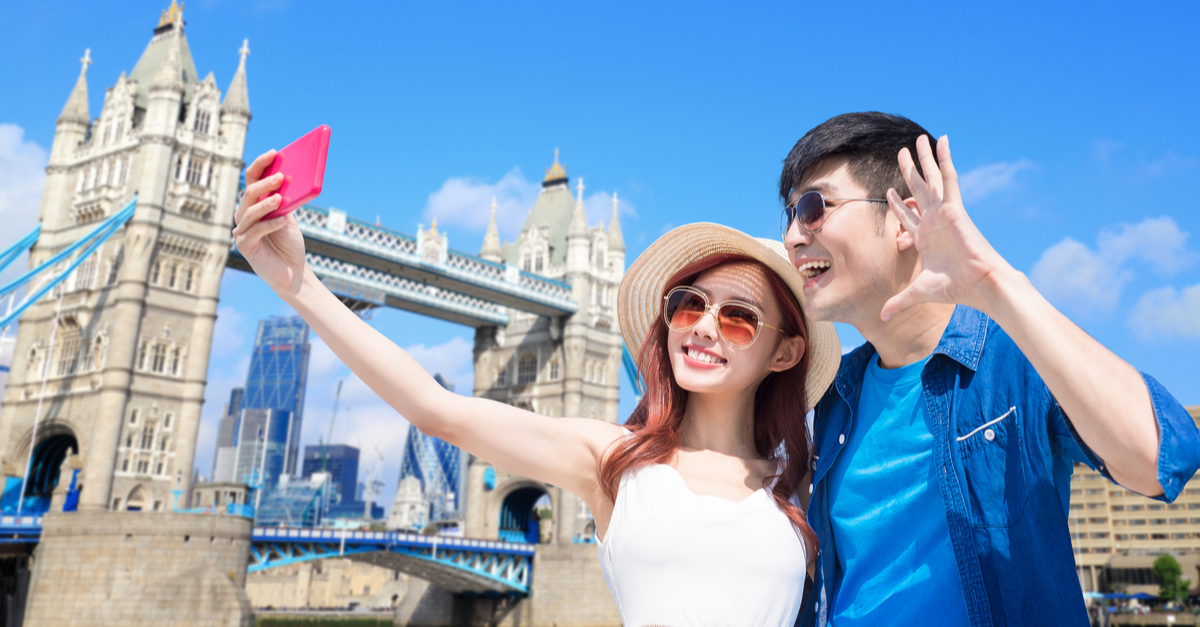 London Tourists. Source: Shutterstock
What is/are the departure and arrival stations for trains from London to Prague?
Departure train station: London St Pancras International Stations is the departure station for the UK to Prague train departing from London. This station is the main Eurostar hub and connects the city with several locations around the UK and Europe. The station is conveniently located near London's King's Cross area and well connected by National Rail, bus services, and the Underground. St Pancras boasts an array of facilities and amenities that include baby changing stations, cash machines, charging spots for your phone and other devices, as well as free Wi-Fi throughout.
Arrival train station: Praha Nadrazi Holesovice is the second train station in Prague and situated just outside of the city centre and only about three stations away from Prague's main railway station, Praha Hlavni Nadrazi. The station is well-serviced by Trams and a journey from the station to Old Town will take around 15min, while a journey to Lesser Town is only about 10min away. Although this station is smaller than the main station, with fewer amenities, they do offer several facilities that include toilets and showers, cash machines, fast food restaurants, luggage storage facilities, and is also accessible for the disabled.
Which train companies travel from London to Prague?
Currently, the only company providing cheap trains from the UK to Prague departing from London is Eurostar. Eurostar provides seamless travel from the city centre to the city centre for an array of destinations at great value fares. They also offer a fast and convenient check-in of around 30min for Standard and Standard Premium passengers, while Business Class passengers only require around 10min for check-in. At the first stop in Brussels, you will be required to transfer to a new train which is run by Deutsche Bahn. Deutsche Bahn is a German railway company headquartered in Berlin and is one of the largest transport companies in the world. Deutsche Bahn also provides a variety of services to those travelling with mobility issues. Contact them at least 24h before to arrange services such as ramps and other devices for getting onto the train, restricted passenger seating, travelling companions, as well as a wide variety of services offered at the stations.
Eurostar trains from London to Prague
Eurostar is currently the only high-speed train that offers uninterrupted routes between the UK and France, the Netherlands, and Belgium and provides access to hundreds of European destinations. They offer three types of tickets, namely, standard, standard premier, and business premier, the most affordable of which is the standard ticket. The advantages of taking a Eurostar train are not having to worry about airport transfers, having no weight restrictions on two large bags, not have any liquid or food restrictions, and also travel in a way that is less impactful on the environment than air travel. The Eurostar train only travels from London to Brussels. To get to Prague from there, you will be required to transfer to a new train run by Deutsche Bahn.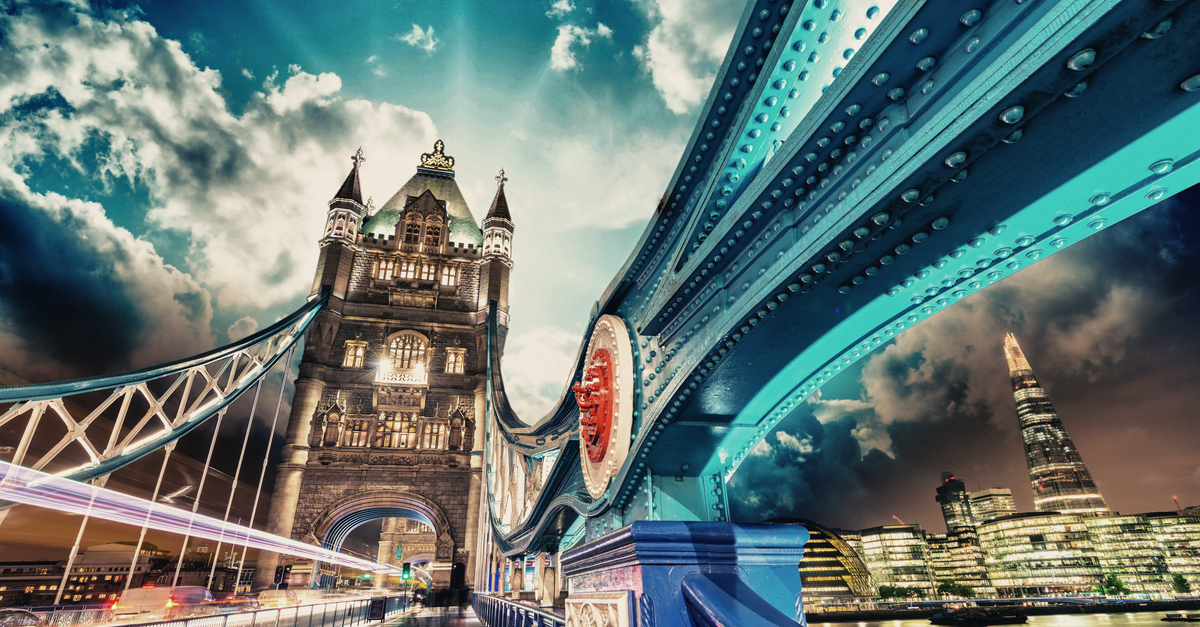 London Tower in Blue. Source: Shutterstock
To Prague by train—travel tips
Pragues history dates back over a thousand years, and as such, the city comes with a wide array of activities to do and things to see with an extensive historical background. The city also offers numerous fun activities, some fine lagers, and traditional Czech cuisine to whet your appetite. One of the most popular sights to see in the city is the Infant Jesus of Prague, located in the Mala Strana in the centre of Prague. Hoards of believers trek to this site every day to pay homage to this shrine of baby Jesus.
The Old Town Square is another popular attraction and has remained relatively untouched throughout the years despite the many invasions Prague and its people have suffered. If you find yourself in the Old Town Square, meander through to the Old Town Hall to watch the pride of Prague, a mechanical clock built in the fifteenth century, make the turn of an hour.
A must-do when in Prague is to head on over to Charles Bridge and walk along the 14th Century bridge, widely considered to be one of the most memorable things to do in the city. You can't leave Prague without visiting its most popular tourist attraction, the Prague Castle located in Hradcany. This castle has traditionally served as the seat of Czech rulers and today stands as the home of the sitting president.
Train London to Prague
One of the most convenient things about via train from London to Prague is that your only luggage restriction, apart from travelling with illegal items such as firearms and other weapons, is that you must be able to carry your luggage by yourself. There is no weight limit or other restriction. The Eurostar train comes with an entire refreshment carriage stocked with champagne, crisps, sandwiches, chocolate, and olives. Once you transfer to the Deutsche Bahn, you'll be able to order food from two onboard restaurants with a variety of meal options available. Your first two transfers will be on ICE trains, which provide free Wi-Fi for first and second class guests.
When looking for the cheapest tickets for UK trains travelling to Prague from London, there are a couple of things to keep in mind. Typically, your midweek trips will work out cheaper than travelling over a weekend. Travelling on a holiday will also oftentimes be more expensive than standard workdays. There are three ticket options when travelling from London to Prague, the most affordable being the standard ticket. We recommend booking a couple of weeks in advance to get the most affordable price and also because standard tickets tend to sell out faster than others.

Eurostar usually starts offering tickets around 140 days before departure, booking tickets as early as possible will make them more affordable. Eurostar also sometimes have special booking offers as well as different loyalty programs provided, Plus Points or Frequent Travellers, which can also help with lowering costs.