How to Travel from London to Barcelona
Located approximately 950 kilometres apart, the journey from London to Barcelona is generally most convenient by air travel. Direct flights offer the quickest journey option, with departures from London Gatwick and Stansted airports taking around just over 2 hours to arrive at Barcelona airport. Flights are operated by several airlines, with departures commencing early morning and running regularly throughout the day. Longer train journeys departing London St. Pancras via Eurostar connections are available, totalling over 36 hours total journey time. Coach and bus services operate daily from London Victoria Coach Station, offering similar journey times to rail options.
Travel from London to Barcelona
Travel from London to Barcelona runs frequently with an option of either trains, coaches, or flights. Depending on your choice of travel, your arriving and departing locations, as well as your duration of travel will differ. Expect a coach to take approximately 25h 45min, a train to take 10h 9min, and a flight to take 2h 10min. Direct options are only available with flights and any coaches or trains will require changes. All travel is easy to find and each provider offers great services, as well as good onboard facilities.
About Barcelona
Barcelona is a great and easy choice of destination, especially for those travelling from the UK or any destination in Europe. The city will always accept euros with very few places accepting other currencies like lbs When planning to visit Barcelona, the best months that provide good weather is May through June. People will see an average temperature of the mid-70s.
If you want to experience the typical Barcelona cuisine, then expect most leading restaurants to be open from 1:00 p.m.-3:00 p.m. before it closes for a few hours. Restaurants will then typically open at around 7:00 p.m.-9:00 p.m. Just some of the must-eat foods include paella, bombas, esqueixada, escalivada, and more.
Public transport in Barcelona
There are a variety of public transport options around Barcelona. If you are departing from your flight from Joseph Tarradellas El-Prat Airport (BCN), you can find a selection of applicable car rental companies and taxi ranks located directly outside of the arrival's terminal. Alternatively, either the Metro, FGC, or the tram and the quickest and simplest ways for visitors, tourists, and residents, wanting to get around Barcelona.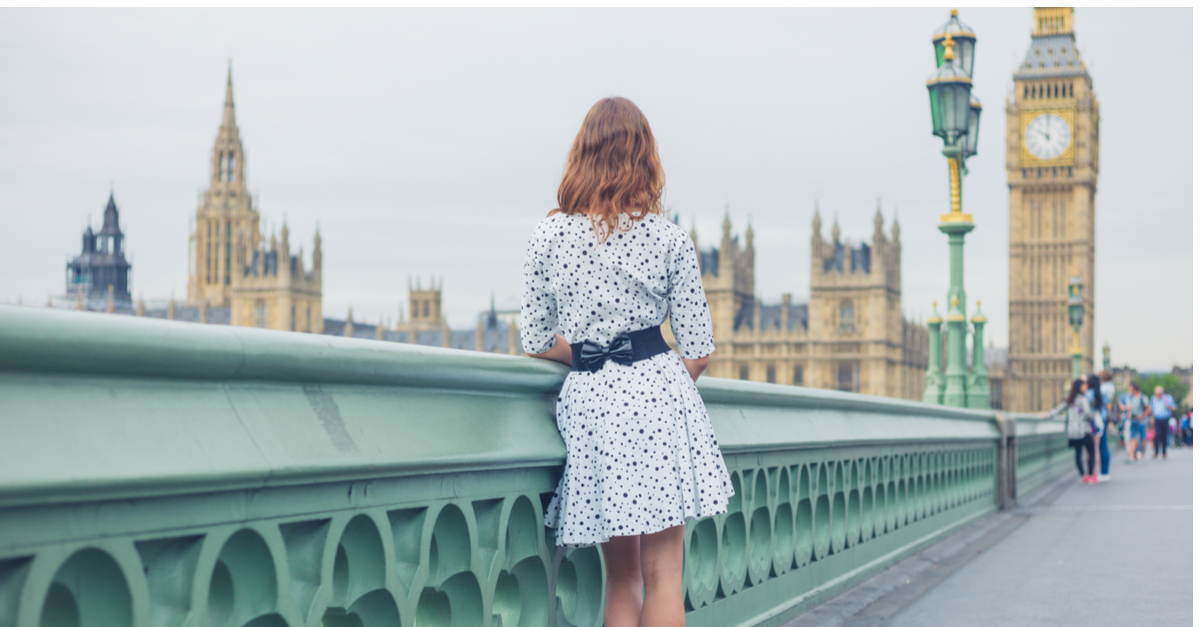 london in Green. Source: Shutterstock
Important bus, train stations & airports to Barcelona
Arrival bus, train, flight station, airport: Depending on your type of transport, you'll have different arrival and departing locations. When travelling via train, your train will commonly depart from London St Pancras and will eventually reach Barcelona-Sants Station. This station is just 1.8 miles (3 km) from Barcelona's city centre. Alternatively, if you plan to travel via coach then your coach will commonly depart from locations like London Victoria Coach Station and reach Barcelona Nord – Bus Station. However, your flight will have a selection of departing locations. Popular departing airports include London Stansted Airport (STN), London Heathrow Airport (LHR), London Gatwick Airport (LGW), London Luton Airport (LTN), and more. Your arrival airport will always be Josep Tarradellas Barcelona-El Prat Airport (BCN).
Which companies travel to Barcelona?
There are multiple companies and providers that travel to Barcelona, including airlines, coach companies, train providers, and more. Flights are the most common option of travel and the most popular airlines include Vueling, easyJet, RyanAir, British Airways, Iberia, Air Europa, KLM, Air France, LuxAir, as well as much more. Some of the most popular coaches include MegaBus, ALSA, FlixBus, BlaBlaCar Bus, Union lvkoni, among others. Your other destination could also be by train where you'll find leading providers like the Eurostar, Renfe SNCR, Renfe Ave, Renfe Viajeros, and more. Routes via train will not always offer direct routes from London to Barcelona but instead routes that require multiple changes. Almost all routes via train will feature the use of the Eurostar. A flight= will always be the quickest form of transport to Barcelona from London with a train coming in at second quickest and travel via bus being the longest form of travel.
ALSA bus to Barcelona
There are multiple coach and bus providers that will travel from London to Barcelona but one of the leading providers is ALSA. There are no direct bus routes to Barcelona from London but instead routes that include the use of a ferry or a train in correlation with your bus transport. Using the provider, ALSA, will mean that you won't require to change coach along your trip, but you will instead need to disembark at Zaragoza and take the train directly to Barcelona-Sants. Before you disembark the coach to catch a train, expect an approximate journey to take 25h 45min. This bus runs twice daily.
Union lvkoni bus to Barcelona
Union lvkoni is one of the leading coach providers that travels part of the journey from London to Barcelona. Whilst there is no coaching direct route to Barcelona but instead routes that require multiple changes. This provider is most commonly accompanying you on your route from London to Lille where you'll then change provider. The journey to Lille from London takes approximately 4h 19min and runs twice a week.
Eurostar train to Barcelona
Although you can travel to Barcelona from London solely by train, without the additional use of taking trains or coaches, you will still require a few stopovers during your trip. You will always travel from London St Pancras to Paris Nord by Eurostar. This journey takes approximately 2h 22min and a passenger can find that the train runs twice daily. This is also applicable on your return to London.
Renfe SNCF train to Barcelona
The train provider, Renfe SNCF, is most common to take you on the last leg of your journey to Barcelona since there are no direct routes with one single provider. Passengers will most likely find that Renfe SNCF will take you to your final destination in Barcelona from departing locations, mid-journey, like Paris Gare De Lyon. The journey from this location to Barcelona-Sants is approximately 6h 34min.
British Airways flight to Barcelona
British Airways are one of the leading providers that fly the route to Barcelona from London. British Airways can be found departing popular locations like London Stansted Airport (STN), London Heathrow Airport (LHR), London Gatwick Airport (LGW), London Luton Airport (LTN), and more. The average duration for a direct route is 2h 10min if you travel from airports like London Stansted. Your flight will then reach Josep Tarradellas Barcelona-El Prat Airport (BCN).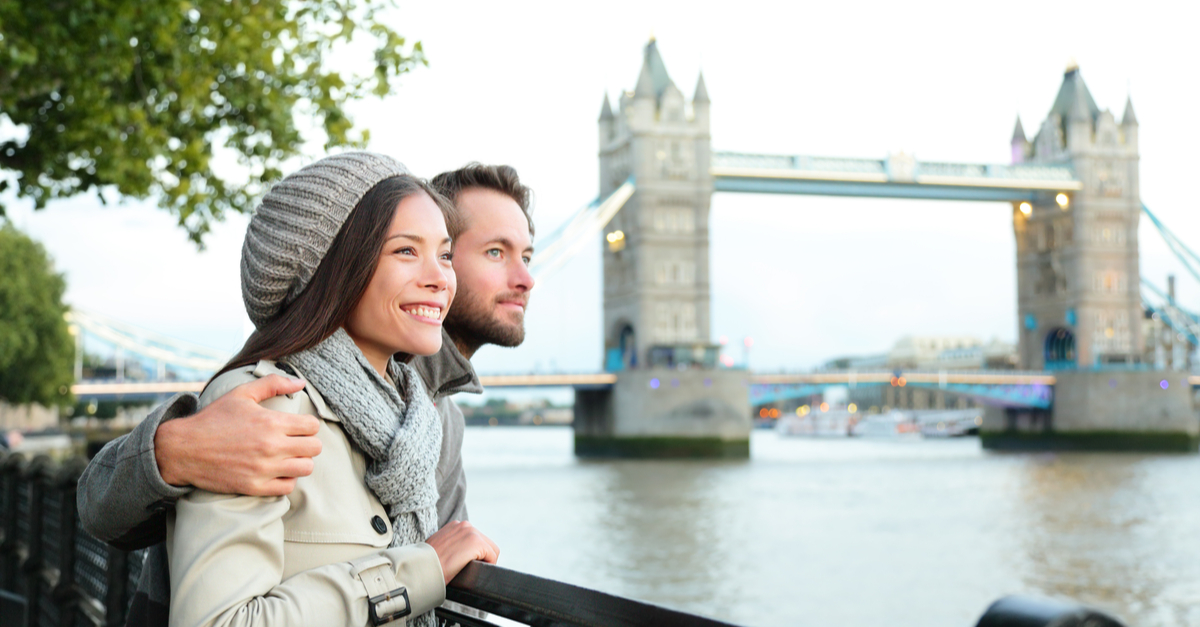 A couple of happiness in London. Source: Shutterstock
Air France flight to Barcelona
The budget-friendly airline, Air France, offers frequent travel to Barcelona from London. A passenger can choose from either direct flights or flights that offer stopovers along their journey. Expect the duration of a journey via the location of Paris Charles de Gaulle Airport to take approximately 4h 25min. These flights run daily.
Travel to Barcelona – travel tips
Barcelona is a great city with lots of exciting attractions, leading retailers for shopping, and a great offering of art and architecture. Intriguing to those travelling with families and children but also those looking to travel with their friends or in a couple, there's something to keep everyone entertained. If you're planning on travelling with children, then consider visiting some of the top and family-friendly attractions like Camp Nou, Aquarium Barcelona, Tibidabo Amusement Park, Barcelona Zoo, FC Barcelona Museum, as well as much more.
Alternatively, if you're looking to enjoy the history of the city and then visit attractions like Temple of the Sacred Heart of Jesus, La Sagrada Familia, Park Güell, Casa Milà, Picasso Museum, Cathedral of Barcelona, Barcelona Museum of Contemporary Art, as well as much more. Or perhaps, you're looking to visit some of the leading venues like bars, clubs, and restaurants. Just some of the top clubs in Barcelona include Macarena Club, Moog, Opium Barcelona Restaurant and Club, Sutton Club Barcelona, Hyde Club, Boulevard Culture Club, and more.
The legal drinking age in Barcelona is 18 and anyone looking to consume any alcoholic beverage should bring proof of legitimate identification like a valid passport or driving licence. Barcelona also has a good option of beaches for visitors, tourists, and residents to enjoy. These include Bogatell Beach, Playa de La Barceloneta, Nova Mar Bella Beach, Playa de la Mar bella, Platja de la Nova Icaria, and more.
London to Barcelona
Finding cheap tickets to Barcelona is easy. Certain forms of transport might also be cheaper than others. There are many budget-friendly providers that travel from London to Barcelona. There is also a selection of money-saving techniques that could make your flight even more affordable. By booking far in advance, you're promised to be a customer of the most affordable flights, buses, and trains. Alternatively, you can alter your dates. By altering your dates, even by just a few days, you can find more affordable transport. Flight prices can even increase on certain days of the week like Friday, Saturday, and Sunday. Otherwise, your chosen transport could increase in price at certain times of the year, like school holidays. Passengers will usually find that direct routes, most specifically flights, will be the cheaper option of travel, more so than buses and trains.