How to Travel from London to Amsterdam?
Flights and trains travel from London to Amsterdam every day, with modes of travel like trains running services multiple times per day. A bus service from London to Amsterdam is available, but on a less frequent basis. London to Amsterdam is a popular route for travellers by air, bus or train, so it is always possible to find the mode of travel which you prefer, at a time convenient for you. The convenience of a trip from London to Amsterdam means it is ideal for a weekend getaway, and it's even possible to visit just for a day trip.
Whatever the duration of your trip, Amsterdam is a great place to explore known for its cultural highlights, museums and fantastic nightlife. Amsterdam is also a great destination for those who love the outdoors with opportunities to explore the city by bicycle or on foot, and perhaps to see its famous tulip fields during the spring. The time it's takes to travel from London to Amsterdam will vary depending on how you travel: a direct flight will take under 2h, while a trip by train will take a little over 4h.
Flights and train journeys are available every day of the week, however bus journeys run less frequently and it's advisable to find out if a bus service is available for the day you want to travel in advance. Several flights depart from London to Amsterdam every day, with this mode of travel offering the most flexibility for your journey.
What is the Cheapest Way To Get from London to Amsterdam?
Depending on whether you intend to travel in peak tourist seasons, a flight from London to Amsterdam is generally the cheapest option. As flights between the two cities are almost always direct, a flight also gives you the fastest arrival time and the best value for money. KLM is the main operator for flights to Amsterdam from London, with flights departing from London Heathrow (LHR) to arrive in Amsterdam Airport Schiphol (AMS) in around 1h 30min.
In order to save money, it's a good idea to check in advance and make an online booking, allowing you to explore options for different departure times. Being flexible with your travel dates will allow you to find a cheaper booking, as some days of the week a generally less popular for travelling. Choosing a less frequent or popular operator for your flight can also save you money: for example, British Airways may offer cheaper flights than KLM. If you're only travelling for a day trip or weekend, you may also be able to save money by only bringing hand-luggage with you.
What is the Fastest Way to Travel from London to Amsterdam?
The fastest way to travel from London to Amsterdam is by air. A flight between the two locations takes around 1h 30min, and Amsterdam airport is around 8 miles (12 km) from the city. Many trains depart from the airport to the city centre, allowing you to travel into central Amsterdam in around 15min. KLM, British Airways, easyJet and several other airlines operate services between the two cities, all of which have Amsterdam Airport Schiphol (AMS) as their arrival point. Departing from London, there are several airports to choose from including Stansted, Gatwick and London City. However, the most popular departure airport for this route is London Heathrow. As one of the largest airports in Europe it has excellent facilities, and several flights operated by KLM depart for Amsterdam every day, approximately every 2h.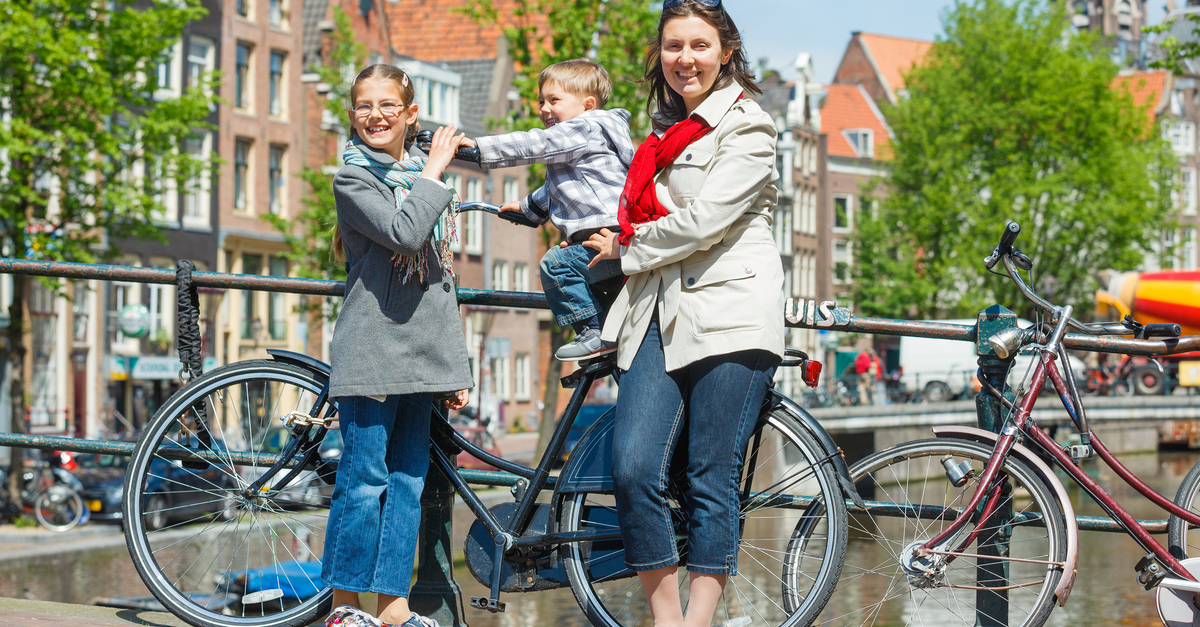 Amsterdam Cycling. Source: Shutterstock
Find the best tickets from London to Amsterdam and book with Omio
Using Omio is a great way to book transport from London to Amsterdam, or indeed for any trip you might wish to take. Omio helps you compare modes of transport which travel between London and Amsterdam including buses, trains and flights - Omio also has options for ferries, if they're available between your departure and arrival locations. You can see a wide range of companies operating in all modes of transport and view the daily departures for each mode side by side, allowing you to compare your options quickly and easily.
Omio also helps you filter for the cheapest or fastest journey between your chosen locations. With reliable timetables and prices, you can book your trip online using Omio whether you wish to travel by bus, train or plane. Omio also has an option for mobile tickets to make your journey easier, which is highlighted for you during your booking process. You can find booking, customer service and information in your chosen language, too. If you're not sure how you want to travel, or what the options out there are for you Omio is a great way to see everything quickly with reliable information on hand. For more useful information and inspiration to help you find a way to travel to suit you, check out the Omio magazine or take a look at the booking page between London and Amsterdam.
Trains from London to Amsterdam
Trains from London to Amsterdam operate each day, departing from London St. Pancras Station. Travelling by train is ideal for customers who want a slightly slower, more relaxed journey, avoiding the stress of airport terminals. You can complete your trip in comfort on long-distance trains with great facilities including free Wi-Fi and an onboard buffet. There is at least one daily connection between London and Amsterdam, provided by Eurostar. These trains are often direct, arriving in Amsterdam Centraal in around 4h.
Alternatively, you can take an indirect train with a stop at Brussels-Midi station which may lengthen your journey by a few hours. Some direct trains also need to stop here while crossing country borders, but this will not add any time to your journey as it scheduled beforehand. Amsterdam Centraal is close to popular tourist areas, alternatively you can reach other parts of the city through the tram network.
Train travel from London to Amsterdam with Eurostar
Eurostar is the most frequent and popular company operating trains between London and Amsterdam. All of their trains depart from special platforms at St. Pancras Station in London, making it easy to find your departing train. You will arrive at Amsterdam Centraal station in around 4h. Eurostar trains are famous for their mid or long distance train services and the facilities they offer, including free Wi-Fi and charging points, magazines on board and a buffet area. If you book a Premier ticket you will receive a complimentary meal on board.
Buses from London to Amsterdam
Buses from London to Amsterdam depart from London Victoria Coach Station, and are operated by several companies including Flixbus and National Express. Generally coaches and buses depart from London to Amsterdam every day, with some companies running several buses per day every couple of hours. The journey by bus takes around 10h, and most bus companies provide on board facilities including Wi-Fi, air conditioning and toilet facilities. Flixbus operates a fast and direct service, completing the journey from London to Amsterdam in around 9h 30min.
Traveling by bus from London to Amsterdam with Flixbus
Flixbus offer 4 buses over the course of each day, travelling between London and Amsterdam. Each bus travels directly and completes the journey in under 10h. Departing from London Victoria Coach Station, buses to Amsterdam usually arrive at Sloterdijk, around 5 miles (8 km) from the city centre. Flixbus offer an excellent long distance bus service including onboard Wi-Fi and air conditioning, places to charge your devices and secure luggage storage. Customers with disabilities can be supported by the customer service team with assistance dogs and wheelchairs welcome on board with advanced notice. You can also bring a bike, which you can pay for during your booking process. While Flixbus only offer one type of ticket for all passengers, you can secure a cheaper ticket when booking online, in advance of your journey.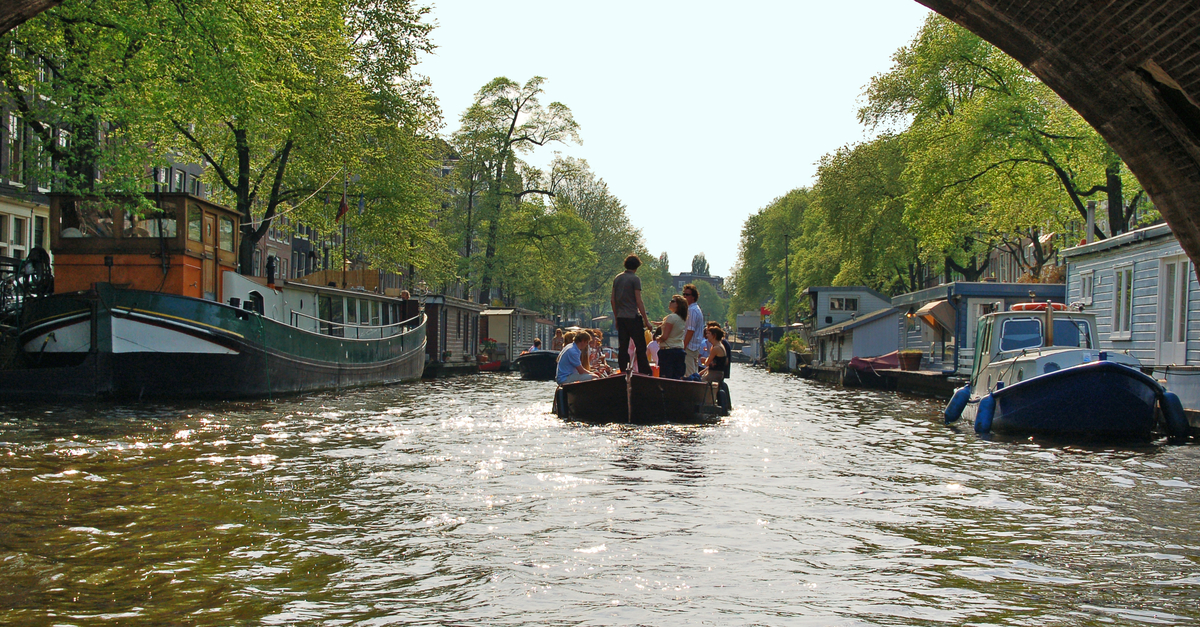 Amsterdam Canal. Source: Shutterstock
Flights from London to Amsterdam
Several companies offer flights from London to Amsterdam, every day of the week. There are often several flights available each day, spaced over a few hours. KLM, British Airways and easyJet operate the route, as do several other airlines. British Airways generally offer cheaper flights, departing from London Heathrow airport, while KLM offers more frequent flights over the course of each day.
All flights arrive at Amsterdam Schiphol airport within around 4h. Schiphol airport is around 8 miles (12 km) from Amsterdam city centre, a 20min drive or a train ride of approximately 15min. Schiphol airport has many facilities for arriving travellers, great customer service teams and taxis available to take you into the city.
Flying from London to Amsterdam with KLM
KLM offer frequent flights between London and Amsterdam each day of the week, flying directly with no stopovers so you can complete your flight in around an hour. Flying from London Heathrow (LHR) airport to Schiphol airport (AMS) means you'll have access to great facilities in 2 of Europe's biggest airports, both of which have excellent public transport links. KLM offer multiple flights each day from morning to evening, giving you the flexibility to choose a flight time which works best for you.
To Amsterdam by train/ bus/ flight—travel tips
London and Amsterdam are both incredible cities to visit whether you're planning a family trip or travelling alone. Both are hubs of culture with numerous museums, galleries and historical sights. Amsterdam boasts the Rijksmuseum and the Van Gogh Museum among many others. You can find food at popular chain restaurants or independent cafes which pop up on every corner.
In Amsterdam it's possible to explore on foot, by bicycle or even by buses which are popular with tourists and tour many popular sightseeing locations. If the weather is good during your visit, Amsterdam has many wonderful public parks to explore, or you explore the beautiful tulip fields which bloom in the spring.