Passengers making the 1265-kilometre journey from London to Madrid can choose to travel by bus, train or plane. A direct flight is by far the fastest option taking around two and a half hours. Bus journeys are overnight and train journeys require changes in Paris or Lyon and Barcelona.
| | Average Price | Travel Time | Cheapest Time to Book |
| --- | --- | --- | --- |
| | £97.90 | 26:15 h | 1 Week Before |
| | £16.98 | 2:30 h | 2 Months Before |
What is the best way to travel from London to Madrid?
Cheapest way to travel from London to Madrid

The cheapest way to travel from London to Madrid is by flying with budget airlines. The cheapest tickets are offered by Ryanair, Air Europa, Norwegian and easyJet.
Fastest way to travel from London to Madrid

Flights are the quickest way to travel from London to Madrid.
Passengers have a choice of over 26 flights a day for the two hour and twenty five minute direct flight to Madrid from London. Services are offered by national carriers Iberia and British Airways as well as by low-cost airlines including Ryanair and easyJet. Flights depart from Heathrow Gatwick or Stansted with most carriers offering daily departures.
Most popular way to travel from London to Madrid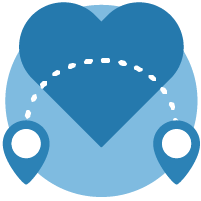 The most popular way to get from London to Madrid is by plane. Flights on this route are both significantly cheaper and quicker than taking the bus or figuring out a route on the train between the two cities.
Not the information you were looking for? Here are some pages that might be more in line with the information you need:
Flights from London to Madrid
Spain's capital, Madrid attracts a wide range of travellers from London every year who want to experience the sights and culture of this vibrant city. The journey from London airports to Madrid can be achieved with great flexibility thanks to the high number of flights that depart every day.
Which airlines fly from London to Madrid?
As a cultural hub and popular tourist destination, there are a large number of travel routes on offer to the city of Madrid. Roughly 30 airlines offer flights including international carriers such as Air France, Swiss, and KLM. easyJet also offers a selection of direct flights to Madrid.
How long is the flight from London to Madrid?
Direct flights like those offered by easyJet< can have passengers at their destination in as little as 2h 30 mins. Indirect flights usually only require a single change and the fastest can arrive in approximately five and a half hours. Common layover destinations include Dublin, Milan, and Edinburgh. Overnight flights extend total journey times and can take as long as 28 hours.
How many flights are there from London to Madrid?
Madrid receives as many as 250 flights from London on a daily basis, although this can reduce to 100 or so on slower days. At peak times there may be as many as 20 flights departing every hour from airports across the city. This affords travellers a high degree of flexibility when it comes to planning their schedule. easyJet offers approximately five flights a day which usually depart between 7:00 a.m. and 7:00 p.m.
What are the departure and arrival airports for flights from London to Madrid?
Departure airport: Airports in London that offer direct and indirect flights to Madrid include Heathrow (LHR), Luton (LTN), Gatwick (LGW), London City (LCY), Stansted (STN), and Southend-On-Sea (SEN). All London Airports can be reached by public transport including the train. Buses to most of the major airports are availble from National Express. Each airport offers a range of facilities and services including WiFi, luggage storage, and long and short-term parking options.
Arrival airport: All commercial flights from London to Madrid terminate in the Adolfo Suárez Madrid-Barajas Airport (MAD). This facility provides disembarking passengers with a range of useful services including internet printing, car hire and children's play areas. The airport is located roughly eight miles outside the city and the city centre can be reached in a number of ways including via a 24-hour free bus service or the metro.