London to Oxford is a very popular route, with a number of transport options available throughout the day. At around 100 kilometres away, and due to a lack of direct flights, it is generally inconvenient to make this journey via plane. However, passengers can take the train or choose from two bus operators. The train journey is often marginally quicker than the bus, both the railway and bus stations are only a short distance apart in Oxford town centre.
| | Average Price | Travel Time | Cheapest Time to Book |
| --- | --- | --- | --- |
| | £16 | 1:40 h | 1 Day Before |
| | £15 | 0:57 h | 3 Weeks Before |
What is the best way to travel from London to Oxford?
Cheapest way to travel from London to Oxford

The M40 London to Oxford route has more services than any other long distance bus route in the UK, with up to 150 journeys per day. There are two companies that run the services: the Oxford Tube and the X90. The Oxford Tube is operated by Stagecoach and runs up to five services per hour from Victoria. The X90 also runs from Victoria, through Baker Street, with up to three services per hour. The journey takes between 1.5 hours to just under 2 hours. The journeys are operated by National Express.
Fastest way to travel from London to Oxford

Trains from London to Oxford leave from Paddington and are operated by Great Western Railway. The first service departs in the early morning and the last train departs after midnight. There are between three and five services per hour with the journey taking approximately one hour. There are frequent direct services, and some requiring one change.
Most popular way to travel from London to Oxford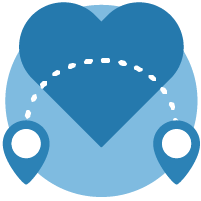 Both bus and train are popular ways to travel between London and Oxford. The sheer frequency, as well as comfort, of Oxford Tube services, mean that for many they are considered an option just as viable as taking the train. There is also the fact that their ticket price doesn't fluctuate when you book on the day, which means they're an ideal choice for a spontaneous trip.
Not the information you were looking for? Here are some pages that might be more in line with the information you need: