Travel from London to Moscow
There are a minimum of about 24 and a maximum of about 30 daily flights from London to Moscow, most of which require connections but you can get at least one direct flight every day. Direct flights require about 3h 45min of flight time while connecting trips can take as long as 29h in a few cases. Major carriers such as KLM and Air France operate the bulk of the flights on this route with some service provided by low-cost carriers.
About Moscow
Located in the west central region of the country, Moscow is the largest and most populated city in Russia as well as one of the largest capital cities in Europe. One of the world's megacities it is a centre for finance, politics, science and culture. The climate in Moscow is characterised by long cold winters (mid-November – March) and warm summers (June – August) with relatively low rainfall totals throughout the year.
Dinner time in Russia is usually about 7:00 p.m. – 8:00 p.m. with many restaurants staying open late, especially in the summer tourist season. There is a thriving after-dark nightlife scene in Moscow with many bars and clubs remaining open until at least 3:00 a.m.
Public transport in Moscow
The Moscow Transport Network is the largest in the country, offering a range of public transport options for residents and visitors to the city. There are five commercial airports in Moscow, four of which are international gateways to the city. The municipal authority is responsible for a rapid transit system which consists of the Moscow Metro, an intercity/commuter rail network (MCD) and a monorail in addition to extensive bus and tram systems. There are also two water passenger terminals as well as car and bicycle-sharing platforms throughout Moscow.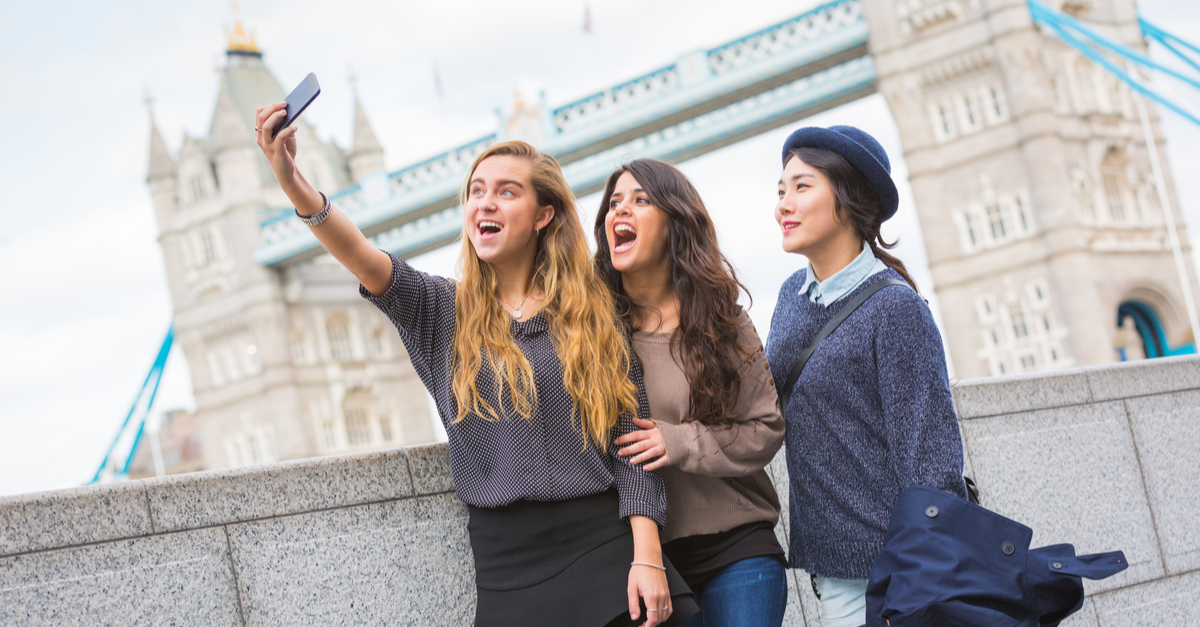 London Friends. Source: Shutterstock
Important airports in Moscow
Arrival airport: Moscow Sheremetyevo International Airport is situated approx. 25 miles (40 km) or about 1h by car from Moscow city centre. It offers good public transport links to the downtown area like Aeroexpress rail and Mosgotrans bus service, so you have options once your flight from London to Moscow arrives. Facilities at this location include airport hotels and lounges, bathrooms with facilities for changing babies, restaurants, shops, foreign exchange offices, ATMs, left luggage facilities, Information Desk, hire car centre and complimentary Wi-Fi.
Moscow Domodedovo International Airport is the second most important airport in the city with a location about 26 miles (41 km) or about 90min by car from Central Moscow. There are also Aeroexpress trains linking this location to major railway terminals in the city like Paveletsky Railway Station. Facilities at this location include hotels and airport lounges, toilets with facilities for changing babies, restaurants, retail shops, ATM machines, currency exchange offices, luggage storage facilities, Information Desk, hire car centre and available Wi-Fi.
Which companies travel to Moscow?
There are about 10 airlines offering flights from London to Moscow. Some like KLM and Air France are major operators while others such as WIZZ Air UK and Air Baltic provide sporadic flights during the week. WIZZ Air UK and British Airways are two carriers offering direct service that will get you to Moscow in less than 4h.
All the remaining providers: Alitalia, Air Baltic, Pegasus Airlines, LOT Polish Airlines and Finnair, in addition to KLM and Air France offer flights involving one or more connections which can be short (about 1h 10min) or extensive (about 24) in duration. KLM and Air France are responsible for at least half of the daily and nearly 75% of the weekly departures from London to Moscow
KLM flights to Moscow
KLM provides a minimum of eight and a maximum of 13 daily flights to Moscow from London for a total of about 80 departures each week. KLM departures from London are either from London Heathrow or London City airports with the destination being Moscow Sheremetyevo or Moscow Domodedovo airports. All of them involve stopovers at Amsterdam Schiphol Airport of between 1h 10min – 24h before continuing on to Moscow. Consequently, the shortest KLM flight is about 5h 40min while the longest is about 29h 45min. The busiest day is Tuesday with about 13 departures and the slowest are Sunday, Monday with about five departures each.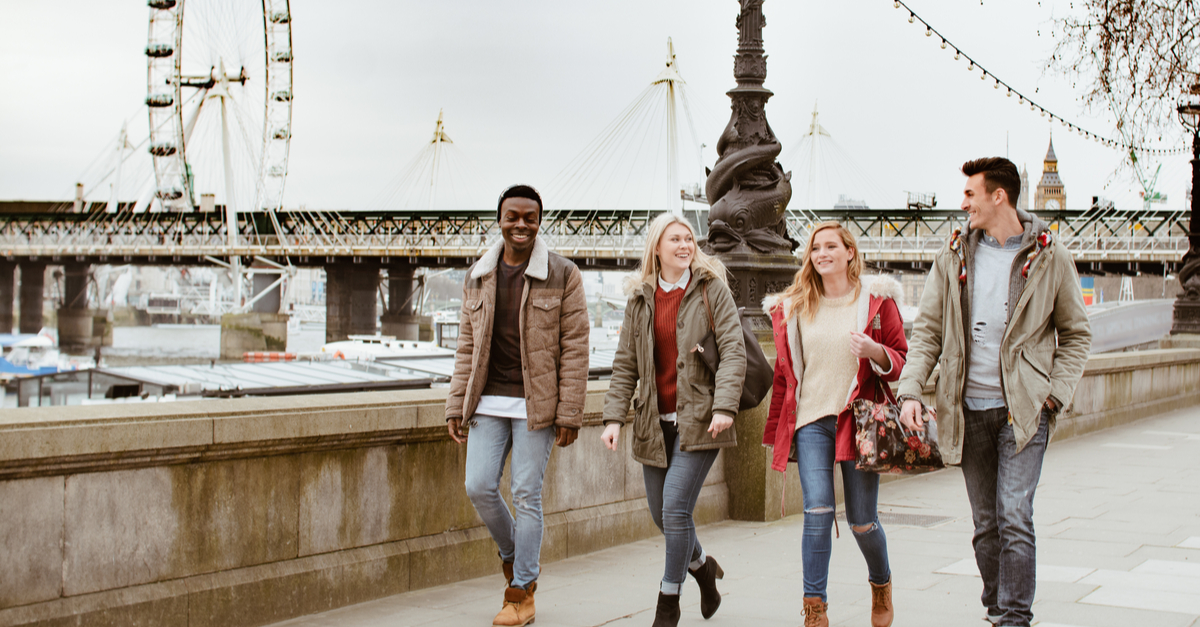 London Group of Friends. Source: Shutterstock
Air France flight to Moscow
Air France accounts for a minimum of five and a maximum of about 14 of the daily flights from London to Moscow, for a total of 71 departures weekly. Heathrow Airport is the only London metro airport used by Air France for flights to Moscow which all arrive at Sheremetyevo Airport. Paris Charles de Gaulle Airport is the connection point for Air France one-stop flights which can last between 1h – 23h 25min while those with an additional connection at Amsterdam Schiphol can last up to 24h in duration. Total flight times for Air France range between 6h – 29h 45min, with the busiest days on Wednesday, Thursday and the lightest days on Sunday, Monday.
How to find cheap tickets to Moscow
To obtain cheap flights from London to Moscow you should make your reservations at least one month in advance when rates are usually at their lowest. Consider being flexible with your travel dates in order to take advantage of late night, early morning or connecting flights which often tend to be lower than direct flights. When travelling with others, be advised that some airlines offer reduced rates for seniors, students, children and passengers with disabilities as well as groups or families which can help keep travel expenses within your budget. Roundtrip airfares and promotional offers are additional ways to lower the cost of airline tickets.
Travel to Moscow – travel tips
You would expect a city the size of Moscow to hold a trove of historical and cultural treasures and there are plenty of both, to be sure. If you're travelling beyond the city limits a car hire or taxi is ideal, but if you really want to uncover the rich heritage of Moscow then public transport or a good walkabout can't be beat. A Troika card works just like an Oyster card and you should definitely pick one up (as well as a universal charging adaptor) after your flight from London to Moscow.
Of course, all roads in the city lead to Red Square, home to the Kremlin – the Russian political seat of power - and the magnificent St.Basil's Cathedral which is surely one of the iconic structures in the world. About 20min' walk from Red Square is Tretyakov Gallery, Moscow's most famous museum with over 100,000 exhibits showcasing fine arts masterpieces by the cream of Russian artists including Kandinsky, Malevich and Rublev.
About 20min on the metro from Tretyakov Gallery is the Exhibition of Achievements of National Economy otherwise known as VDNKh which is a huge open-air plaza dedicated to some of the most important moments in modern Russian history. There's a Cosmonauts Alley and several botanical gardens where you relax for a bit and take in the scene. Shoppers should spend some time at one the flea markets around town for a few curios and souvenirs.
Izmailovsky Flea Market and Danilovsky Market are two that come highly recommended for their variety of farmer's produce, objets d'art and other curiosities. If you're looking to sample the local nightlife, the Tverskoy and Kitay-Gorod sections of town offer awesome bars, banging clubs and few late-night eateries to get your feet.