How to Travel from London to Lille?
You can travel from London to Lille using a choice of transport modes ­– your selection will most likely depend on how quickly you need to get there, combined with your travel budget. The Euralille business district is now the third largest in France and makes Lille a major European business capital, and it was named the World Design Capital in 2020. It's also a large university centre and historical tourist attraction, making it a significant French destination all round.
The most popular way to get there is by train or bus. There are a few indirect flights from London to Lille per week, with the shortest flight taking about 5h 40 min. The fastest daily bus trip takes around 6h, with daily trains taking an average of 3h 20min. There aren't any direct ferries, but on some routes you'll cross the Channel on a ferry as one leg of the journey.
What is the Cheapest Way To Get from London to Lille?
The cheapest way to get from London to Lille is to take a coach bus, operated by Union Ivkoni International a few times a week. This is a direct trip that uses the Channel Tunnel, leaving from London's Victoria Green Line Station and terminating at Gare Europe Station in Lille. You won't have to make any transfers and the journey will take about 6h.
Your other option to travel from London to Lille the cheapest way is to take the same bus route, using FlixBus. This will take about 6h 20min. They depart from London Victoria Coach Station for the same station in Lille. All bus trips either cross the Channel using the Dover to Calais ferry or the Eurotunnel. Other general ways to get cheap tickets from London to Lille are to be flexible with your travel times so that you can get the benefit of last-minute discounts, or book further in advance. The operators also offer travel passes and discounts for seniors.
What is the Fastest Way to Travel from London to Lille?
The quickest way to travel from London to Lille is to take the train. The average train travel time is about 3h 20min, but you'll also be able to find daily trains that take about 1h 40min at the outside. These are direct trips operated on the Eurostar London to Lille line, and leave from London St. Pancras Station headed for Lille Gare Europe station. You won't have to make any changes on the way and they are all direct trips without any intermediate stopovers, travelling via the Eurotunnel. These trains leave London early in the morning and continue until the early evening, which also makes them the most plentiful trips that you can book between the two cities.
Find the best tickets from London to Lille and book with Omio
Omio puts all travel options in one place to make it easy for you to find tickets from London to Lille and book them with a few clicks. You'll receive an e-ticket delivered directly to your smartphone, which you can simply show when you're ready to board. If you prefer you can also get printable versions of tickets. You can get one-way tickets or round-trip tickets, to suit the purpose of your visit. We provide guidance on the fastest routes and how to get from London to Lille at cheap prices, and will also send you price alerts to keep you updated and help you choose the most cost-effective journey. Also check out our Omio magazine for tips on making the best of your stay in Lille.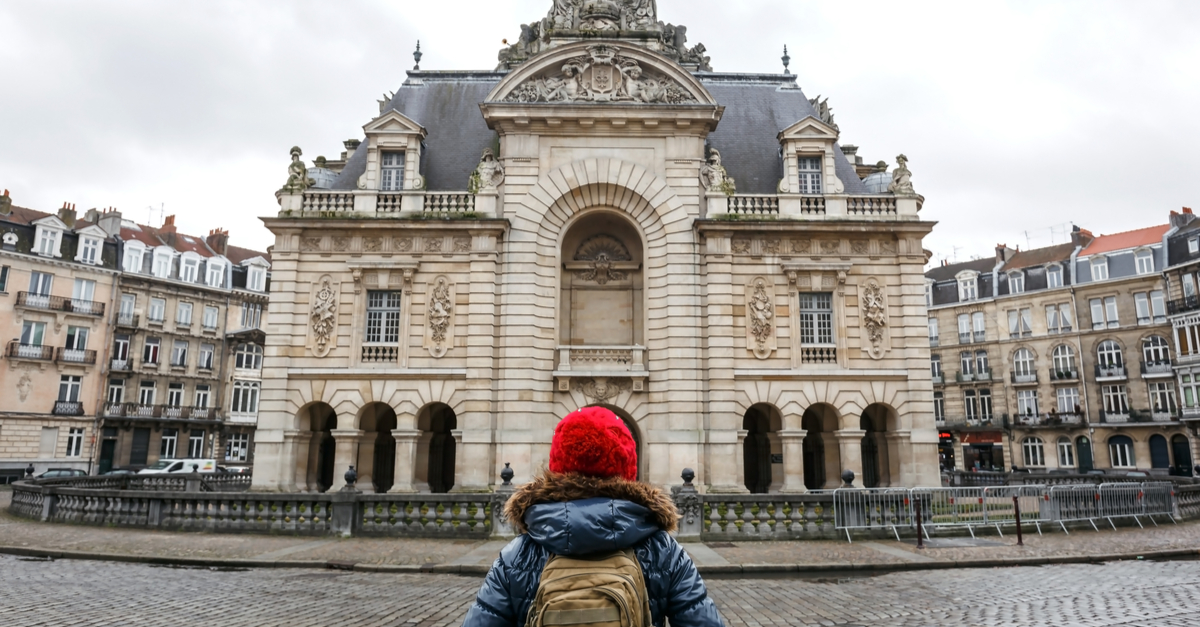 Lille Travel. Source: Shutterstock
Trains from London to Lille
Taking the train offers a few advantages over other modes of transport between these two cities. It significantly reduces travel time from London to Lille for one, and also offers the most trips per week, so it's certainly the most convenient way to make the journey. There are three trains each day, one in the very early morning, one towards midday and the last of the day in the early evening. You'll leave from London St. Pancras Station and arrive at Lille Gare Europe (or Europe Station). You can reach the centre of Lille from the station in about 5min on the L5 public transport bus, or by catching the M1 subway train, which will take about 7min.
Train travel from London to Lille with Eurostar
Eurostar is the main operator of high-speed trains on the London-Lille route. All trains travel from London St. Pancras International Station to Lille without stopping, going through the Channel Tunnel. They can reach speeds of just over about 185 mph (300 km/h), and make the trip in about 1h 40min. All classes offer spacious carriages with carpeting, individual lights and power sockets on each seat, café-bars and free Wi-Fi.
Buses from London to Lille
Buses from London to Lille are operated by Union Ivkoni International and FlixBus. Union Ivkoni offers two bus trips a week, leaving from London Victoria Green Line Station and arriving at Gare Europe in Lille. The total travel time is about 4h 20min. FlixBus offers an overnight bus service that leaves from London Victoria Coach Station and travels to Dover to catch the P&O Ferry to Calais, from where it continues to Lille Gare Europe. This is a longer trip of around 6h, and you'll also stop at a station in Calais and at Grand-Synthe station on the way. Getting from Lille Gare Europe to the centre of Lille will take you 5-7min, on the L5 bus and the M1 subway train, respectively.
Traveling by bus from London to Lille with Union Ivkoni International or FlixBus
Union Ivkoni International offers the better London to Lille cost for its trips, compared to FlixBus, even though the latter is a budget carrier. The reason for this is that it's a more direct express route, making the trip more cost-efficient for the company. They both depart from the same London station and arrive at the same on in Lille, but the FlixBus service makes two intervening stops in France, describing a northwards loop before heading down to Lille. Ivkoni, on the other hand, travels directly from the Calais ferry terminal southwards to Lille.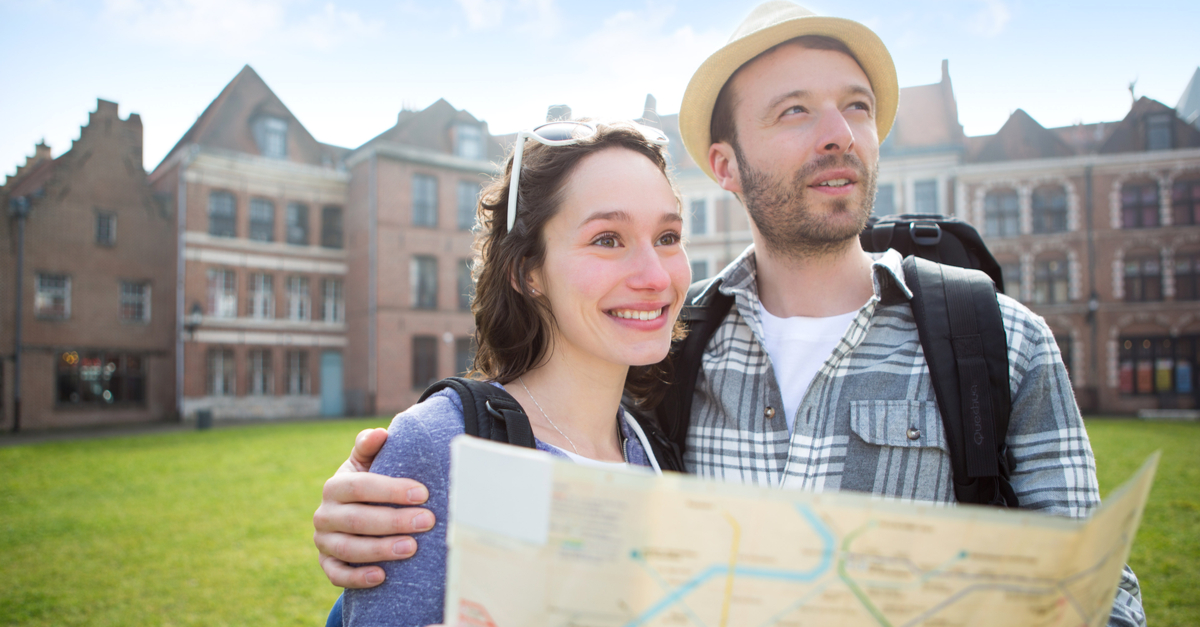 Couple Lille. Source: Shutterstock
Flights from London to Lille
You will also be able to find flights a few times a week from Heathrow Airport, London Stansted or London Gatwick Airport to Lille. These are operated by British Airways, Ryanair, Air France and easyJet. Your flying time will vary from about 5h 30min to over 13h, depending on the route you choose. None of these airlines fly directly to Lille, so choose the ones that make only one stop for the quickest London to Lille travel time and the two-stop flights for a better London to Lille price on the trip. You'll land at Lille Lesquin Airport, which is just over 30min to the city centre on the Line 68 bus, switching to the M1 subway train.
Flying from London to Lille with Ryanair or British Airways
Ryanair operates this route from Stansted Airport, and makes a single stopover on the way, either at Marseilles Airport or at Bordeaux Airport. You'll transfer to Air France when if you fly via Marseilles, and to easyJet at Bordeaux. The British Airways flights leave from Heathrow Airport, stopping over at Nice Côte d'Azur Airport for a transfer to easyJet.
To Lille by train/bus/flight—travel tips
Lille is the old capital of Flanders, so its culture is a mix between French and Belgian, with its culinary heritage tending towards the Flemish side, and this influence also strongly visible in its Baroque architecture. The centrepiece of the city is Place du Général de Gaulle, the main square, where you'll be able to visit the Vieille Bourse, one of the world's first stock exchanges, established in 1652.
The Palais des Beaux-Arts (Fine Arts Museum) plays second fiddle only to The Louvre, and there's also the sleek contemporary Musée du Louvre-Lens. Pride of place in the town goes to the Charles de Gaulle Museum, celebrating Lille's most famous son. You also shouldn't miss the chance to browse at the Lille Flea Market, renowned as one of the best in Europe. Markets have been held here since all the way back in 1127 and today there are over 10,000 open-air stalls.