Trains from Wigan to London
This journey from Wigan to London is one of the more frequent commutes available with trains running seven days a week. The number of trips embarked on per day can vary depending on the day of the week so remember to be flexible with your booking date to allow for a schedule applicable to fewer trips that day. The journey takes approximately 2h 30min which can take longer depending on which day of the week you book your ticket for.
Wigan to London Train Time: Daily Departures
In high peak times, the Avanti West Coast train company can run up to 44 trains on this route per day. However, the average number of trains on this route is approximately 24 per day. 2/3rds of these trips will be direct trips. The timing of the first train to leave changes depending on the day. Weekdays departure time is 5:45 a.m., Saturdays 6:09 a.m. and Sundays 9:11 a.m. the last train to depart will be at 9:11 p.m. on weekdays and 20:17 p.m. on Saturdays and Sundays.
How long is the journey by train from Wigan to London?
Once you have completed this train trip you would have covered 176 miles (283 km) from Wigan to London. The average total time it will take to complete the journey is between 1h 38min and 3h 5min, depending on what time of the day you are travelling. The average time of the trip is 2h 30min. There are two different routes one being direct and one that called for a change of train in Crewe, this one-stop trip is mostly longer and will average around 3h to complete the journey.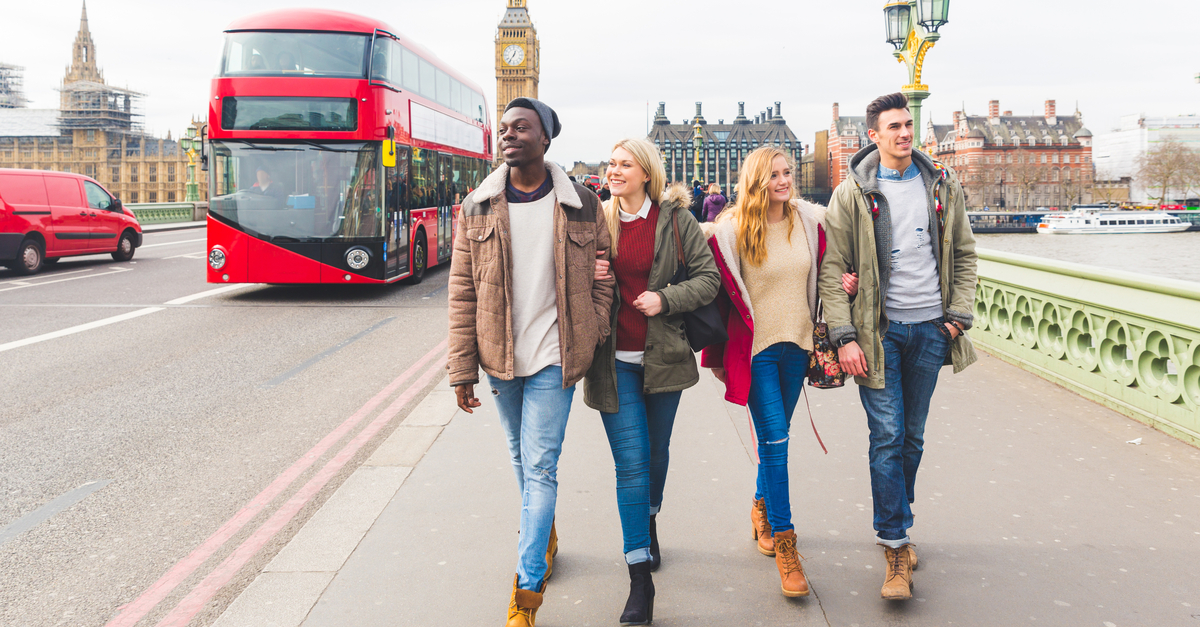 London Bridge Friends. Source: Shutterstock
What are the arrival and departure train stations when travelling from Wigan to London?
Departure train station: There are two train stations in Wigan. Wigan North Western Station and Wigan Wallgate station. The trains travelling the route from Wigan to London will all depart from Wigan North Western Station. The operating hours of this station are from Monday to Friday from 5:15 a.m. till 6:45 p.m., which changes to 8:40 a.m. till 6:45 p.m. on Sundays. This station has 6 platforms and the entire station is step-free making it accessible to any persons with mobility disabilities The station is a 5min walk away from the city centre if you follow the Watergate route. You can also take a bus to the station. The facilities offered at the station are toilets, food kiosks, ATM, a postbox, and public phones both card and cash units. Please note they do not offer national key toilets.
Arrival train station: London Euston Station is the business inner-city station in London. To get there from the city centre you can take six methods of transport for this 21min journey. The subway is the quickest taking 18min. Take the bus line 473 or a taxi, rental car or town car on route A4200. The shuttle will take the longest at 21min. The station offers ATMs, toilets, waiting rooms and 24h security.
Which train companies travel from Wigan to London?
Avanti West Coast trains company is responsible for offering trips between Wigan and London. This company uses high-speed trains for their journies. The company offers a most convenient live tracking onboard information program that will allow you to track the train you are on from your mobile device, a service that can be downloaded via the free onboard wifi. This company has an automatic refund system called Delay Repay, which will reimburse you for your ticket if there is a delay of more than 15min caused by the company, make sure you have booked an advanced ticket type to be legible for this service.
Avanti West Coast trains from Wigan to London
Avanti offers direct trains for this journey and runs high-speed trains to ensure that the trip averages approximately 2h 30min. One of the handy services the company offers is assistance with lost property. Have some information ready when you report the lost item to help quickly retrieve the lost item from a bag to a book. Which trip were you taking? What time was it? Have a description of the item with identifiable features don't forget to leave your contact details, and if you have a photo with you and the item or just the item that would be an added help.
Train Wigan to London: Services on Board
You will find three classes of seating on Avanti West Coast trains. Standard class includes free wifi access, onboard media system for movies, music and games to play while onboard. Phone and laptop charging points at every seat, and you can order snacks and refreshments via the onboard information program which will be delivered to you. Standard premium is the next class tear and offers all the same features as a standard class ticket with the additional benefit of larger seats with extra legroom.
The most premium offering is the first-class seating, with this ticket you are entitled to relax in the first class lounge, you will receive a complimentary menu of locally sourced food products and drinks which does include alcoholic beverages during specified times. The trains have been streamlined for speed and because of this, the trains are slightly narrow, your bag size cant exceed 30 x 70 x 90cm. The company does offer a door-to-door delivery service if you prefer. You can bring your furry friends along and are allowed up to two pets at no extra fee. Taking your bike on the train? You do need to book a space in the bike hold in advance.
London Tower Bridge. Source: Shutterstock
How to find cheap train tickets from Wigan to London?
Booking a ticket
in advance is the ultimate way to make sure you have booked the cheapest ticket possible. The cheapest tickets offered by this company are called advance tickets. These tickets are released up to 24 weeks in advance. But do keep in mind that there are limited numbers of those tickets available. Be flexible with your booking dates and times.
Booking tickets for trains operating during peak times will cause increased ticket prices. Off-peak rates are much more affordable. It is also possible that if you move your date sometimes slightly by no more than one day the price of the ticket will fluctuate. If you are travelling in a group you can find tickets with up to a 20% discount attached, and lastly, you can buy your tickets in conjunction with a money saver card such as your railcard.
To London by train—travel tips
This 2000-year-old city is a jewel in Europe with its rich history, royal architecture, sparkling nightlife, trending fashion culture, and romantic artistry, there are many reasons to travel to London. When in London, do stop by the Great British Library and see the magnitude of the worlds largest national library.
Watching Shakespear at the global theatre would be an experience you will never forget. Performing art at its finest, or take a day trip out to the nearby countryside and have a late lunch in a traditional English pub, don't forget to order extra Yorkshire pudding with your Guinness pie.