Trains from Plymouth to London
There's an average of about 25 trains from Plymouth to London on any given day. Trains on weekdays run more frequently than on weekends. During the week, the first train generally leaves just before 05:00, and the last one leaves around 23:30. On weekends, trains generally run from about 08:00 to 20:00, with a night train available on Sundays. The fastest direct journey is about 3 hours, while indirect journeys with one stop may take around 3h 30min.
Plymouth to London Train Time: Daily Departures
On a weekday, when trains are more frequent, you have about 30 journeys to choose from. Trains from Plymouth to London start departing around 04:40, and there are about two journeys every hour, on average, until about 19:50. There are usually not many trains between 19:50 and 23:50, when the night train departs from Plymouth. On weekends, trains start departing around 08:00, though there are some days with a roughly 06:00 start. There is, on average, one train departing every hour at about 15min past.
How long is the journey by train from Plymouth to London?
The fastest train journey from Plymouth to London takes about 3h. There are numerous direct trips and many of them take around 3h 15min or less. Indirect journeys require a change at intermediate stations, such as Exeter St Davis, and can take roughly 3h 30min or more. Be sure to check how long you have for your changeover; if your first train runs late, you may need to find alternative connections to London.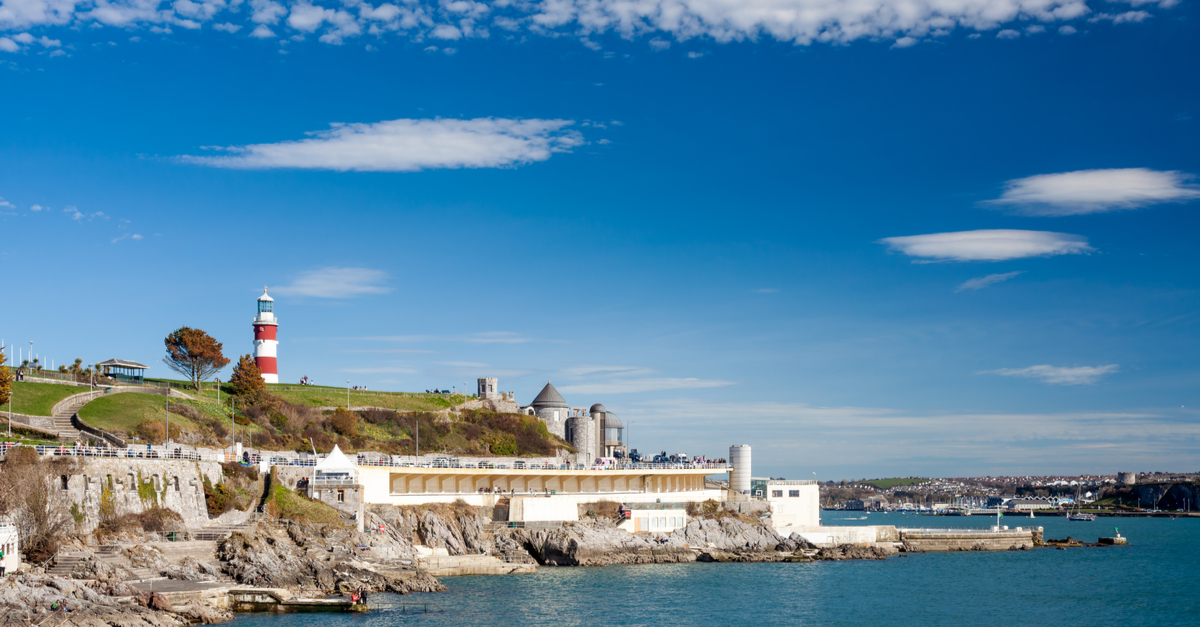 Lighthouse in Plymouth. Source: Shutterstock
What are the departure and arrival stations for trains from Plymouth to London?
Departure train station: Plymouth Railway Station will be your departure station from Plymouth. It is about 0.2 miles (0.3 km) or a roughly 5min walk away from University of Plymouth and about 0.7 miles (1.1 km) or around a 6min bus ride away from central locations such as Theatre Royal Plymouth (TRP), in Royal Parade. At the station, facilities include cash machines, public Wifi, accessible toilets, baby-changing rooms, as well as parking spaces for cars and bicycles. Plymouth Railway Station is step free, and there are wheelchairs and ramps available for use.
Arrival train station: London Paddington Station will be your arrival station in London. It is located near Hyde Park, in West London, about 1.4 miles (2.3 km) away from Royal Albert Hall. Central London attractions like the National Gallery, in Trafalgar Square, are about 2.5 miles (4 km) away, or roughly 16min on the Underground. Paddington Station is open 24h a day, seven days a week, and is served by four Underground lines. It includes facilities such as accessible toilets, baby-changing rooms, showers, free public Wifi, a first-class lounge and several shops and restaurants. Accessibility resources are available, including wheelchairs, mobility scooters and platform ramps. The Heathrow Express leaves from Paddington Station, which takes you to Heathrow Airport in about 15min.
Which train companies travel from Plymouth to London?
The main company operating the Plymouth to London route is Great Western Railway (GWR). GWR runs about 20 journeys daily, including weekends. CrossCountry runs a handful of journeys – around eight a day – but isn't very active on this route on weekends, and most of its journeys require a change. For quick, direct journeys, keep a lookout for GWR trains.
Night trains Plymouth
There are night trains from Plymouth to London departing after 23:30 on all days apart from Saturday. These are typically direct journeys but can take 5-6 hours, which is 2 hours or so longer than most daytime journeys. If you take the night train, you can expect to arrive in London at about 05:00 the next day.
GWR trains from Plymouth to London
Great Western Railway (GWR) operates about 20 trains every day from Plymouth to London. The fastest GWR journey is direct and takes about 3h. Many journeys are under 3h 15min in duration. Most GWR are direct, but there are some indirect journeys requiring change at stations such as Exeter St Davids, Taunton or Bristol Parkway. During the week, you've got about two trains leaving every hour, while on weekends, there's at least one train running every hour.
CrossCountry trains from Plymouth to London
CrossCountry generally operates the Plymouth to London route only on weekdays. Its departures are typically scheduled at about 30min past the hour, between 07:00 and 19:00. CrossCountry journeys tend to take longer than GWR ones because they require a change, usually at Bristol Parkway. Journeys with CrossCountry last around 3h 45min, and the waiting time at intermediate stations is usually about 10-15min.
Trains from Plymouth to London: Sustainability travel
You can rest assured that travelling by train is a more sustainable choice than, for example, driving or hiring a car. Not only does it involve fewer emissions, but you also have the option to bring your bike on board, or you can park it at Plymouth Station. Once you get to London by train, there's an extensive network of buses, Underground trains and Overground trains you can use to continue travelling sustainably.
Train Plymouth to London: Services on Board
On GWR trains, the Plymouth to London onboard services include free Wifi, first-class and standard carriages and pre-booked accessibility options like platform assistance, ramp access and wheelchair and mobility scooter storage. In terms of luggage, you can bring a maximum of three pieces, no larger than 12 x 28 x 35 inch (30 x 70 x 90 cm). You can bring a bike on board, but it's advised to book storage space for it in advance. Up to two pets are welcome; though, they must be on a lead or in a pet carrier, and they cannot enter the dining car unless they're a certified assistance dog.
How to find cheap train tickets from Plymouth to London?
You can find a bargain for your Plymouth to London train ticket if you keep your date and time flexible. To ensure the lowest price, book well in advance and stay open minded to longer or indirect journeys, as well. Try avoiding commute times and other peak-demand departures for lower prices. There are plenty of options to choose from, with more than 20 daily journeys and two companies operating this route. You can get more ideas for your travels by reading the Omio Window Seat magazine.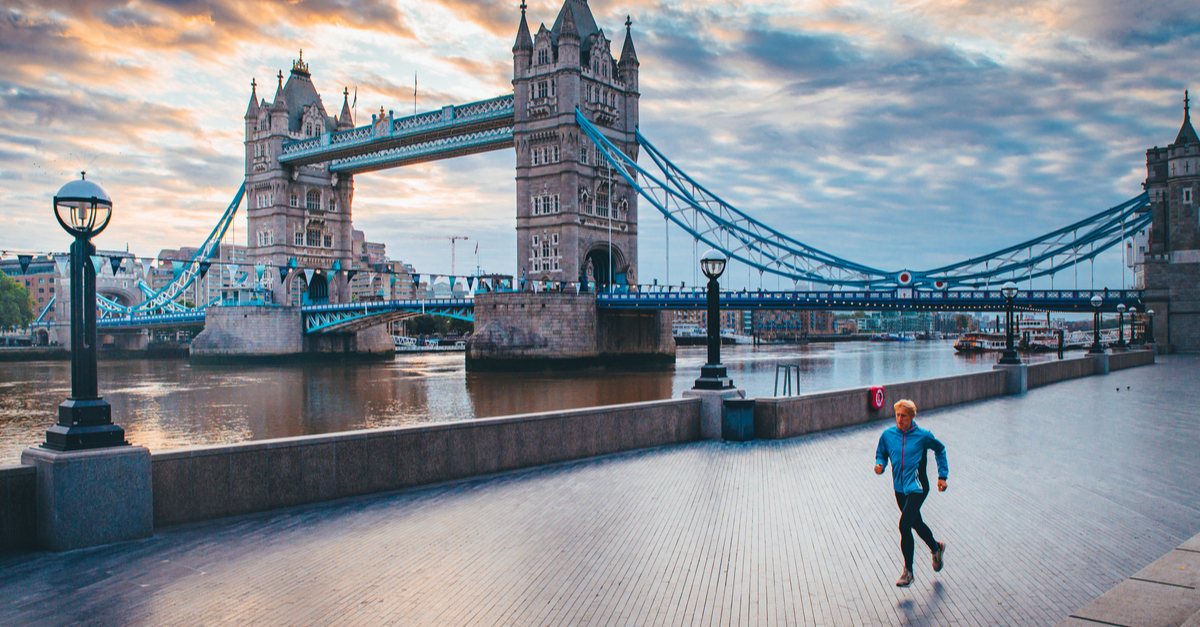 man running in London. Source: Shutterstock
To London by train—travel tips
By far one of the most eclectic culture capitals in the world, London enchants visitors with museum exhibitions, theatre shows, historical landmarks and internationally inspired attractions. To get a sense of British medieval history, start with the Tower of London, a World Heritage site and home to the Crown Jewels. You can also visit chambers inside Westminster Parliament and get a sense of Winston Churchill's World War II operations in the War Rooms at Whitehall. Lovers of international food can head to Chinatown for East Asian restaurants, to Edgware Road for various Middle Eastern cuisines or to one of the many Indian restaurants scattered all around the city. Should you need to escape the city into nature for a few hours, why not head to Richmond Park, Hampstead Heath or Epping Forest for a hike?
West End, for live theatre
Natural History Museum
London Eye
Greenwich Park and Royal Observatory
ZSL London Zoo, in Regent's Park