Trains from London to Loughborough
Trains run from London to Loughborough frequently, with a train departing roughly twice every hour, until the last train just after 23:30. The journey rarely takes longer than 2 hours, and you can reach Loughborough with a direct train. You depart from London St. Pancras International station and cover the 112 mile (180 km) distance to Loughborough. On Sundays, the earliest train runs at around 09:00.
London to Loughborough Train Time: Daily Departures
On average, 21 trains run from London to Loughborough throughout the day, at regular intervals of 5min and 30min past the hour. On Sundays, there are fewer trains travelling the distance between London and Loughborough, on average 29 in total, with the earliest train departing at about 09:00; the latest Sunday train leaves the station at about 23:00 and usually arrives into Loughborough just after 01:00.
How long is the journey by train from London to Loughborough?
The distance between London and Loughborough can generally be made in less than 2h. On Sundays, the fastest trains run from midday onwards, whereas most of the trains running throughout the week stick closer to the 1h 30min mark throughout the whole day. Conveniently, your train ride will be direct, so you will not be required to change over at any point during your journey.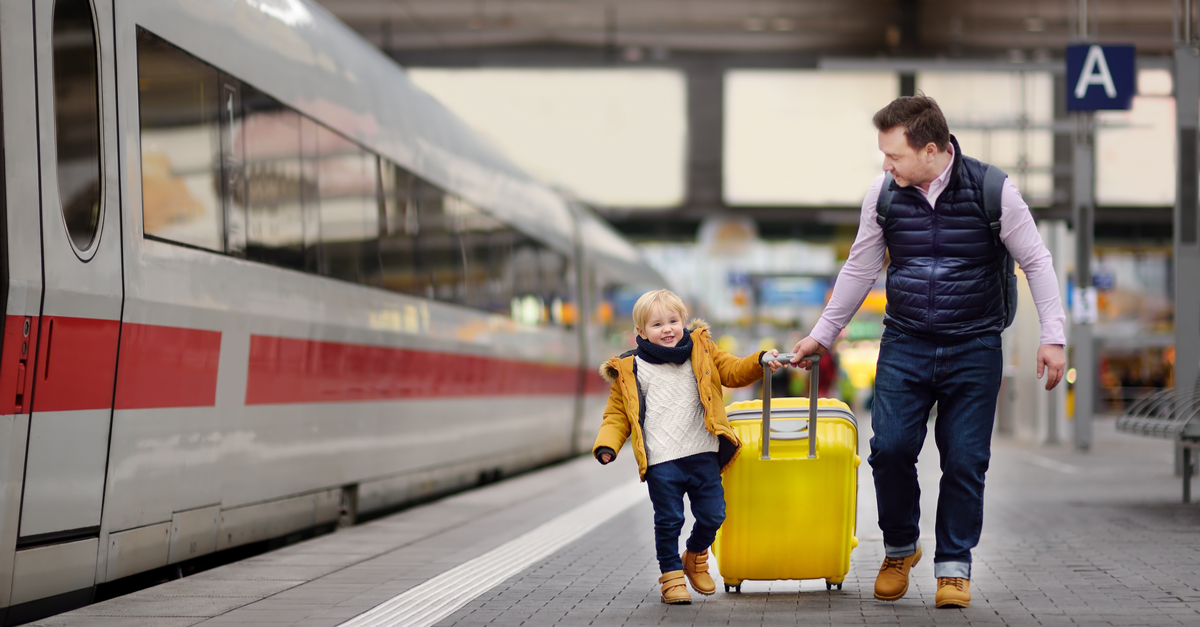 Child pulling a case at the station in London. Source: Shutterstock
What are the departure and arrival stations for trains from London to Loughborough?
Departure train station:You will depart from London St. Pancras International station, located in King's Cross, in the centre of London; it can be reached by the metro. In the station, you can find public toilets with baby-changing facilities. The station provides free WiFi, which you can use to browse our online magazine, The Window Seat, while waiting for your train. There are also public payphones available for use, as well as a number of cash machines and charging points throughout the building.
Arrival train station:Loughborough is the arrival point for this route. The station in Loughborough is located off Nottingham Road, a roughly 14min walk from the centre of town. If you're travelling farther than the town centre, you can catch the public bus from just outside the train station entrance. The station has public toilets, payphones, some refreshment facilities and shops on offer. It is worth knowing that there are no baby-changing facilities or cash machines available within the building.
Which train companies travel from London to Loughborough?
East Midlands Railway services all trains travelling from London to Loughborough. Their service offers a travel time of between 1h 30min and 2 hours. During the week, you'll find the latest train runs at approximately 23:30, generally landing in Loughborough just a bit after 02:00. If you're taking the train to commute for work, the earliest train is perfect for reaching Loughborough before 08:00.
Night trains London
Unfortunately, no late-night trains service the line between London and Loughborough. The earliest you can arrive into Loughborough during the week is just before 07:00, by taking the first train, leaving London St. Pancras International station at approximately 05:30. The trains run on the same regular time schedule from that time onwards, which is convenient for commuting. The latest train runs at about 23:30, reaching Loughborough sometime close to 02:00.
East Midlands Railway trains from London to Loughborough
East Midlands Railway offers direct trains between London and Loughborough. Their service runs frequently through use of commuter trains and their fares can vary. There are five stops during the journey, stopping at Luton, Wellingborough, Kettering, Corby and Leicester before arriving at Loughborough. The train also offers first class for an additional price. This offers more space for passengers, as well as quieter carriages. If you need to charge your phone or laptop, there are power points available, too. Monday through Saturday, first class also offers a catering service with breakfast and lunch options.
Trains from London to Loughborough: Sustainability travel
Shifting from transport by car to transport by rail can make a big difference in reducing your carbon footprint. The time taken to drive a car from London to Loughborough is also roughly the same amount of time it takes on the rail, so you don't lose out on transport time by changing your choice of vehicle. Alongside carbon emission reduction, reducing car transportation also means reducing noise and light pollution in the city.
Train London to Loughborough: Services on Board
On board the train to Loughborough, you will find overhead storage. For services from London, you have seat reservation, to ensure yourself a specific seat. Alongside this, there are public toilets and CCTV on all services. You are able to book space for your bike before your travels; this is highly advised, and it's useful to note that you can only reserve before your day of travel, as you cannot reserve on the day of departure. Pets are welcome on the train; you are permitted to bring two pets with you on board for no additional charge. Domestic animals are allowed and they are required to be kept on a leash or in a carrier throughout the journey. East Midlands Railway is also committed to aiding passengers with disabilities during their travels. If you require assistance, you can book a service that will aid you on your train bookings for any station. This allows the company to be aware of when you're travelling and where you are seated, should you require any aid.
How to find cheap train tickets from London to Loughborough
If you are looking to save money on your journey to Loughborough from London, it is helpful to book your train tickets in advance, in order to avail of any deals. It is also helpful to book your tickets online; you will often find tickets are cheaper when buying online rather than at a ticket box. You can use our website to search for cheap train tickets to Loughborough; the site lays out which journey is the cheapest as well as which journey is the quickest. Being flexible with dates and times of departure will also help with saving on costs of travel. For more information about the services we provide, check out our This is Omio page here.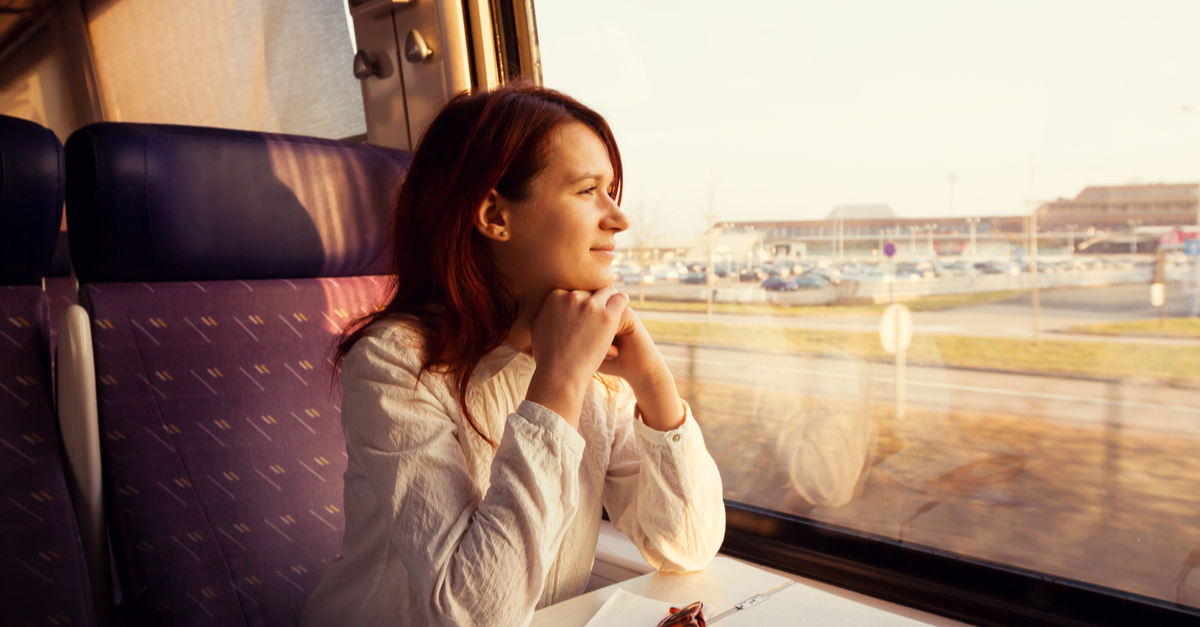 Woman in a train to Loughborough. Source: Shutterstock
To Loughborough by train—travel tips
The student town of Loughborough is home to not only students but also the Great Central Railway, the only steam railway on the UK's mainline hosting a fleet of passenger and freight steam engines dating back to the first decades of the 20th century. You could visit Queen's Park, where you can find the Charnwood Museum and Loughborough Carillon, a memorial built following the First World War. Loughborough is also famous for its bells, homing the world's largest bell foundry and the last one still in operation in England. Here you can visit the John Taylor & Co Bell Foundry & Museum and tour the factory itself. Travelling with children? Consider taking them to the Manor Farm Park and Woodlands, where they can meet donkeys, peacocks, guinea pigs and many more farmyard animals.
Admire the Art Deco architecture
Make your way through the countryside of Beacon Hill Country Park
Visit the Loughborough Town Hall
Admire the nature of the National Forest
Shop at the Loughborough Market on Thursdays and Saturdays