Train to Loughborough
When travelling to Loughborough, you'll find that most of the trains are operated by West Midland Trains and will arrive at Loughborough Train Station, the main train station servicing the Loughborough area. There are three platforms at the station you can use depending on where you're travelling to. If you're travelling from or to Sheffield or Nottingham, you will use the first platform near the barriers in the ticket office.
If your travel is between London and Loughborough, you'll need to use the second platform which is reached via a footbridge. The third platform can also be reached using the footbridge and serves as the arrival and departure platform for travel between Leicester and Loughborough Train Station. Some of the popular routes to Loughborough include trips from London, Manchester, Nottingham, Birmingham, and Coventry.
East Midlands Trains to Loughborough
Train companies offering routes to Loughborough Train Station will depend on where you depart from. If you're travelling from London, East Midlands Trains is the only company that operates train travel between these two cities. Your train from London will depart from London St Pancras station and arrive at Loughborough station and will take close to 1h 30 min to make the trip. When travelling from Manchester, you'll have a choice of several train operators to choose from. East Midlands Trains typically operates the earliest trip leaving close to 8:30 a.m.
First Transpennine Express to Loughborough
This company operates a single train ride per day between Manchester and Loughborough which takes close to 2h 30min with a stopover in Sheffield to swap trains to one operated by East Midlands. These trips generally leave close to 9:30 a.m. every day from the Manchester Piccadilly train station.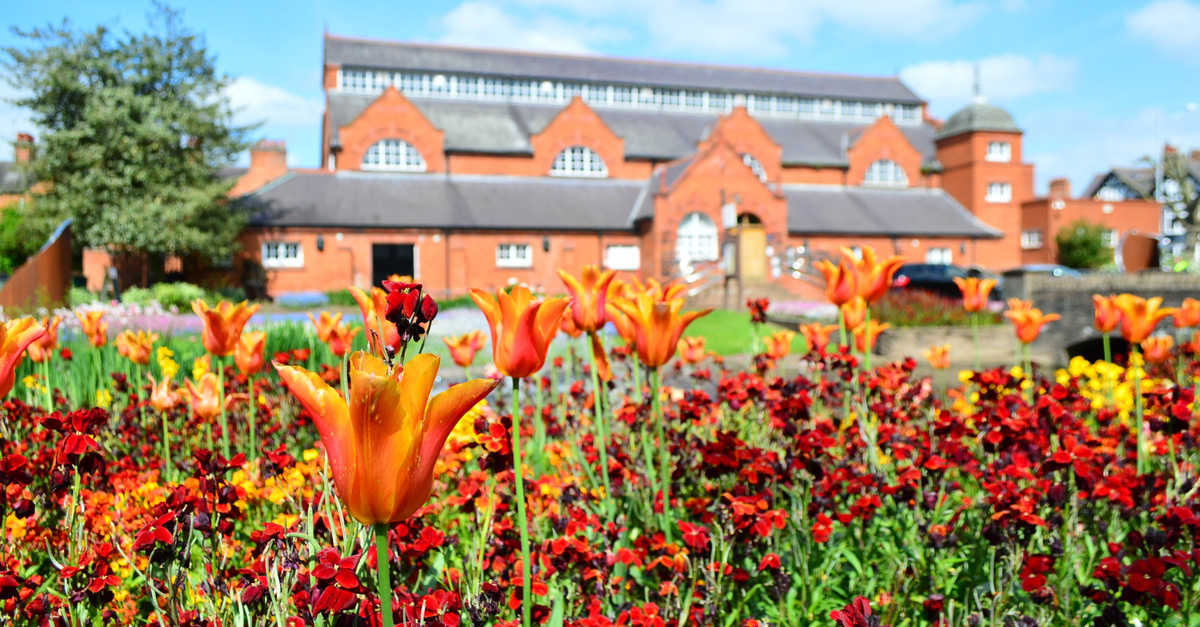 Loughborough Park. Source: Shutterstock
Northern Rail to Loughborough
Northern Rail is another train operator that runs between Manchester and Loughborough. These trips are likely to take closer to three hours and come with a couple of stops. Your first stop will be in Sheffield where you'll switch to another train operated by Northern Rail that'll take you to your next stop in Nottingham. From there, you'll switch to an East Midlands train which will take you the rest of the way to Loughborough.
Main train stations in Loughborough
When taking a train ride to Loughborough, you can expect all of your arrivals to be at Loughborough train station, which serves as a stopping point for trains travelling from London, Nottingham, Derby, or Sheffield, among others. If you're hoping to move from here to the centre of town, you can expect a walk to the town centre to take around 15min, or you can hop on the shuttle bus that departs from Nottingham Road outside the train station. The station offers a variety of services to all passengers including souvenir shops, standard shops, eateries, a post box, and telephones. The ticket office hours at the station operate from 6:00 a.m. to around 7:00 p.m. every day except for Sundays where they're open from 8:15 a.m. to 9:00 p.m.
Onboard facilities Loughborough
If you're travelling to Loughborough in Standard Class, you'll have access to a range of amenities and services offered to make your trip as comfortable as possible. You'll find plug sockets for both your phone and laptop at your seat, toilets that include accessible facilities, complimentary Wi-Fi when travelling to and from London, as well as access to the food and drinks trolley.
If you'd like, you can upgrade to a First Class ticket and experience an even greater level of comfort with more spacious seats that come with a table, quieter carriages, as well as more sockets to use to charge your devices. First Class travellers will also have a wider selection of meals and drinks to choose from. You can choose First Class online or simply upgrade your ticket on the train for a couple of extra pounds. EMR doesn't charge to bring your bicycle on board however, if your bike isn't a folding bike, you may not be allowed to take the bike on board.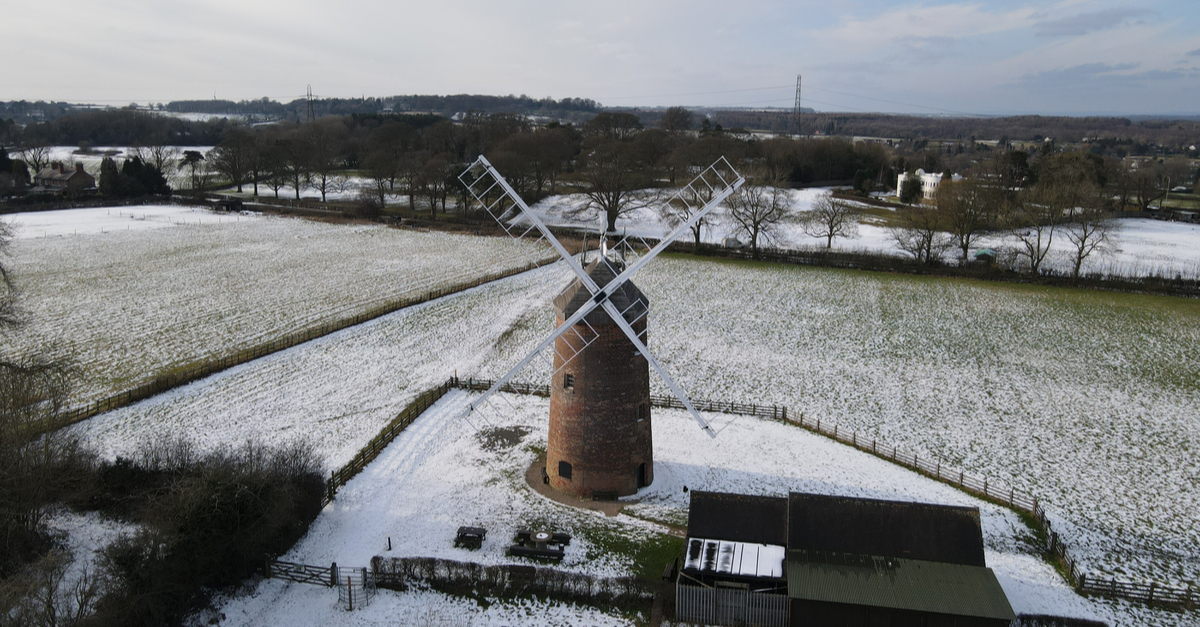 Loughborough Windmill. Source: Shutterstock
Train tickets to Loughborough: useful to know
When purchasing tickets to Loughborough, look out for ticket options that include e-tickets or mobile tickets. These tickets can be used without needing to print them and they work even if your phone has no internet connection. When boarding the train, you'll want to have your Omio confirmation details with you to present at the bus station. If you don't have a mobile ticket, you'll need to print your ticket before arriving at the train station or go to the train company's desk and give them the confirmation details and your ID, passport, or driving licence.
Omio is committed to making ticket sales as easy and seamless as possible. When booking through Omio, you'll be able to store all of your tickets within the platform and access them any time you need them through your Omio account. If you're hoping to save money on train tickets, we suggest booking a standard ticket as far in advance as possible. The closer you get to your date of departure, the more expensive the tickets are likely to be.
To Loughborough by train—travel tips
Loughborough is a charming university town that has an international reputation for its bells. Loughborough and the university have grown tremendously over the last few years, to the point where one in four staying in Loughborough is a student of the university.
Although Loughborough is a small town near Leicester and easily walkable, you'll also have access to public buses in town that run throughout the town. If your commute was by train, once you arrive at the Loughborough train station, you can make your way to the bus stop and catch a Kinchbus to the university campus or hop on one of the local buses.
When looking to travel out of town, we suggest relying on the railway link from the main station in town. These trips are usually just as inexpensive as the bus and will often take much less time to get to your destination. Loughborough is quite central in the UK and offers cheap and easy transport links to most parts of the north and south of England.
Loughborough is a town in the Charnwood borough of Leicestershire, England that offers a rich cultural heritage and history, with a wide range of museums, festivals, architecture, and shops. Whether you're travelling with your kids, your partner, or doing a solo mission, Loughborough offers something for everyone to enjoy. If you're a train fanatic, you'll want to stop past the Great Central Railway which operates the only double track, mainline steam railway in the UK. You'll find these trains running all year round every weekend and also on weekdays during the hot summer months.
Queen's Park is another popular attraction among visitors to this charming town. It was inaugurated to honour the diamond jubilee of the Queens. If you're travelling with kids, you'll find a play area for those under 12, as well as a range of obstacles and swings for the older kids. Queen's Park is also home to a couple of other popular sights in town, including Charnwood Museum and the Loughborough Carillon.
If you're a fan of history and architecture, you have to pay a visit to All Saints Church, the town's oldest parish church. Round off your visit to the church by popping into the restaurant in the old manor house and taste the delectable cuisine on offer.