Train to Skegness
Skegness is a popular seaside holiday destination in the UK on the coast of the North Sea. Popular for young professionals, families and retirees alike the town boasts family friendly activities, large beaches and pleasant walks. They have blue flag beaches including the popular Gibraltar point. Skegness has just one train station and it is located right in the town's centre. At the station there is both a taxi rank and buses available to take you to your final destination if necessary. The Skegness Train Station is connected to Gratham Station which is the main connecting station for travellers from the UK's major cities, as well as Nottingham Station. There usually are no direct trains from major cities, though booking a connecting trip is simple with Omio.
East Midlands Railway to Skegness
East Midlands Railwayprovides trains to Skegness from London. Their trains usually depart from London Kings Cross station and always arrives at Skegness Train Station. They usually change in Grantham, the third stop after Kings Cross. Their trips from London usually take between roughly 3h and 3h 30min. They offer both Standard and First Class Trains. East Midlands Railway travels to Skegness via Grantham every day of the week and there are departures at least every hour between roughly 11:06 a.m. and 8:40 p.m. Generally speaking, other providers that operate on this route will transfer to East Midlands Railway trains for the final leg of the trip to Skegness.
Cross Country Trains to Skegness
Cross Country Trains operates trips to Skegness from multiple English cities including Liverpool and Manchester. Their trips usually change twice, once in London at London King's Cross Station and once in Grantham at Grantham Station. Alternatively they may change in Leeds and Grantham or in Crewe and Nottingham. All their trips will have Skegness Station as their final arrival station. They have departures daily, usually around every hour between roughly 10:20 a.m. and 5:40 p.m.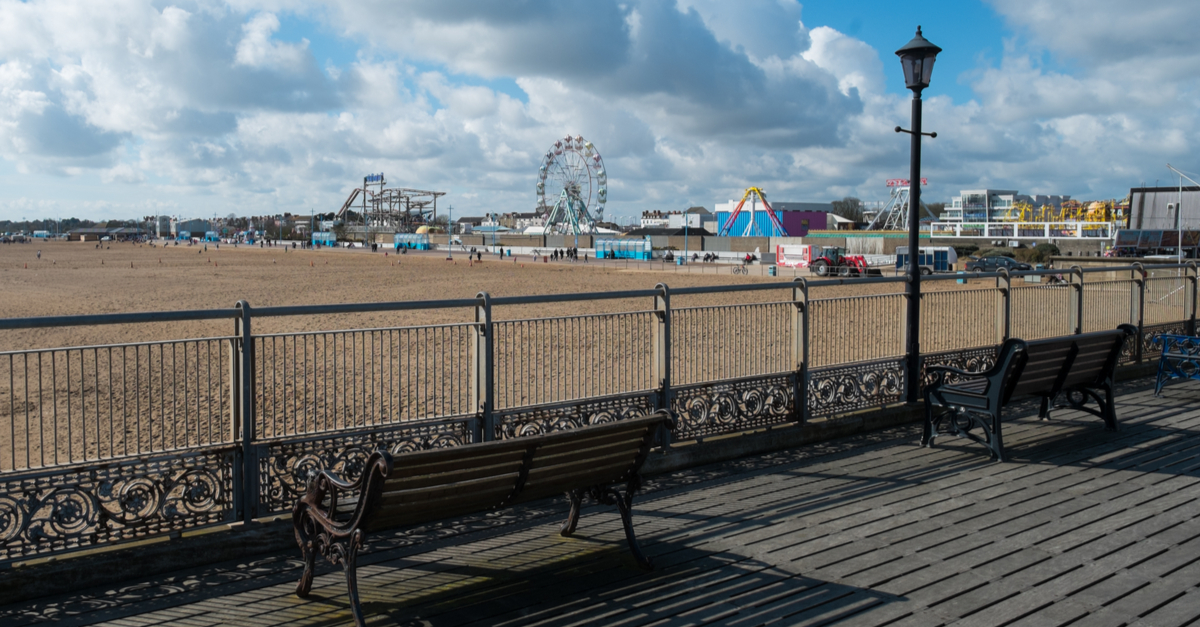 Skegness Beach Amusement Park. Source: Shutterstock
London North Eastern Railway Trains to Skegness
London North Eastern Railway runs trips to Skegness from a number of cities including London and Birmingham. They usually run multiple trains each day with departures throughout the day. Like the other providers they usually change in Grantham and some trips change in Nottingham, instead. London North Eastern Railway trips sometimes use Azuma trains, these are faster trains that provide smooth, quiet journeys for passengers.
Main train stations in Skegness
The main station that trains arrive at in Skegness is Skegness Train Station. It is located, conveniently, right in the heart of Skegness and should be ideally situated for a short trip to your final destination. The main public transport available for getting around Skegness is by bus and buses are available at the station. There is also a taxi rank just outside. Wheelchairs are available if necessary as well as self service ticket machines, public toilets and baby changing rooms. If you plan on travelling by train outside of Skegness, the station has hourly departures to Nottingham with stops in Grantham and Derby. Near the station you will find plenty of shops and cafes to begin your trip in Skegness. Additionally, it is located roughly 5min from the nearest beach by walking so you can begin your seaside holiday right away.
Onboard facilities Skegness
East Midlands Railway's and London North Eastern Railways Standard class carriages include free WiFi, charging sockets and space for bikes on a first come first served basis. In First Class, complimentary catering is available from Monday to Saturday, as well as more spacious seating with tables and quieter carriages. Most of their trains have spaces designated for those travelling using a wheelchair and have a boarding ramp to allow travellers to board and alight comfortably. Staff is usually available on board to provide any assistance necessary. Important travel and safety information can usually be provided both visually and aurally. There are also often baby changing facilities on board.
Cross Country trains also have free Wi-Fi and spaces for bicycles can be booked ahead of time. Food and drink is available on most trains and can be ordered and delivered directly to your seat. Hot and cold drinks, snacks and small meals are all available. On longer journeys, those in first class can receive complimentary sandwiches. First class also provides larger reclining seats with tables to get some work done. All Cross Country trains have wheelchair spaces in standard class, though only some have them in first class. Passenger assistance is available on Cross Country trains if you book at least 6h in advance of your trip. In journeys where part of the trip is operated by another provider they can often communicate with them about continuing your assistance.
Train tickets to Skegness: useful to know
You can use mobile tickets for your trips to Skegness. When you book on Omio you can have your tickets sent directly to your phone. LNER, East Midlands and Cross Country trains don't require you to activiate your ticket, instead, as soon as you've purchased it, it will be available to print or download. You don't need to show ID and can easily buy tickets for others and provide them with the PDF of the ticket. You can choose to scan or show your ticket using either your phone or a printout. It is usually recommended that you print out your ticket if your phone screen is cracked and may interfere with the ticket reader.
On East Midlands Railway trains this may result in you needing to purchase a new ticket, so a backup is always handy. Note that if you purchase a return trip this will usually involve two tickets so take note of which you need for each trip. If you are planning on using your phone to scan or show your tickets make sure that it stays charged and has charge for the duration of the trip, if it runs out of battery you will need to repurchase a ticket. Buying mobile tickets with Omio is easy and you can keep your tickets together in the Omio app for easy access.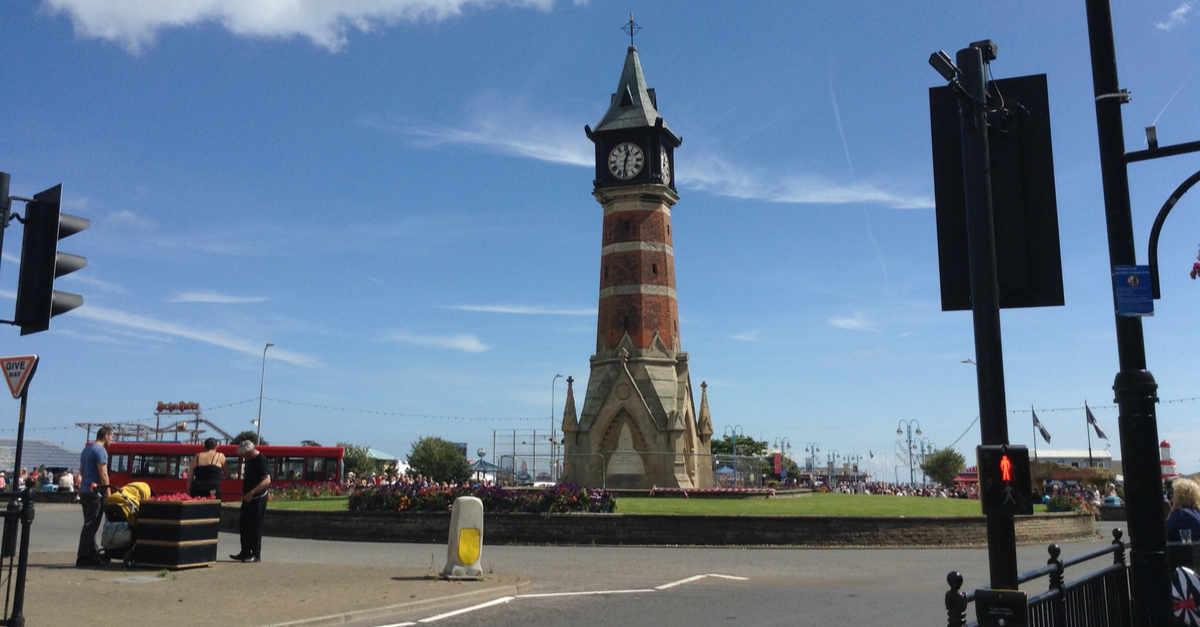 Skegness Tower Clock City. Source: Shutterstock
To Skegness by train—travel tips
Skegness is a beautiful seaside resort, especially popular for young families. The Natureland Seal Sanctuary is a must-see for new visitors, adults and children alike will love seeing these rescued seals found stranded on Lincolnshire beaches. As well as seals, visitors can see penguins, alpacas, tropical birds, meerkats and butterflies. Visiting supports the sanctuary in their efforts to rehabilitate injured seals and release them back into the wild.
To continue the animal tour, visit Hardy's Animal Farm. Kids can take a tractor ride, and a pony ride as well as petting and learning about all the different farm animals. There are many restaurants available, serving classic British pub food such as Fleece Inn, or the Windmill Restaurant as well as Italian at places such as San Rufo's and Tarantino. Many restaurants are vegetarian friendly. Of course, the main attraction is Skegness Beach, a large, blue flag beach with donkey rides, arcades and coffee on the pier available.
The beach is very long and perfect for walking along and the Jolly Fisherman statue near the beach's entrance has become a symbol of the town.