Trains from London to Leicester
With its central UK location and direct Midland Mainline connection from London St Pancras International Railway Station, Leicester is an easy city to reach from any of the major cities in Europe. Average train journey times from London to Leicester are just over one hour, making this fast and frequent service one of the most popular routes. Leicester is the only railway station in the city, but other local stations include Loughborough, Narborough, and Melton Mowbray.
Passengers who are looking to reach Leicester train station from London will find frequently running trains per day with approximately four trains running per hour. The duration of travel can slightly differ depending on a number of factors but expect an approximate journey to be 1h 10min. All train routes are direct and easy to get to with applicable companies that offer great service, as well as good onboard amenities and facilities to their passengers. In addition, trains will always arrive and depart from the same train stations, Leicester Railway Station and London St Pancras.
Which is the main train station in Leicester?
Leicester Railway Station is the main station in the city, and located on London Road which is just a short stroll from the main city centre. There is a taxi rank just outside the station, and several bus stops enable speedy bus journeys throughout Leicester and the central region.
Why travel by train to Leicester?
Some of the major reasons passengers opt to travel by train from London to Leicester are the speedy, direct journeys, and the fact that it's a relaxing mode of transportation. The city is easy to access by rail from anywhere in the UK, due to its central location, London mainline link up, and good regional rail networks.
London to Leicester: Daily Departures
There is a large number of trains running to Leicester from London and approximately four running per hour. On average, passengers can expect approximately 80 trains running from London to Leicester per day. There is no strict schedule that trains run but expect that finding a train between the two locations is easy to source. The first train departs from London's train station at 05:27 a.m. with the last train departing at 11:35 p.m.
How is the journey by train from London to Leicester?
The duration of a train from London to Leicester train station can differ depending on a variety of factors. The time can range from 1h 4min to 1h 56min. However, the average duration between the two locations is 1h 10min. Passengers will most likely find themselves a customer for a longer duration during late-night trains that depart at 11:35 p.m. Trains with a duration of just 1h 4min are commonly found with the early morning trains.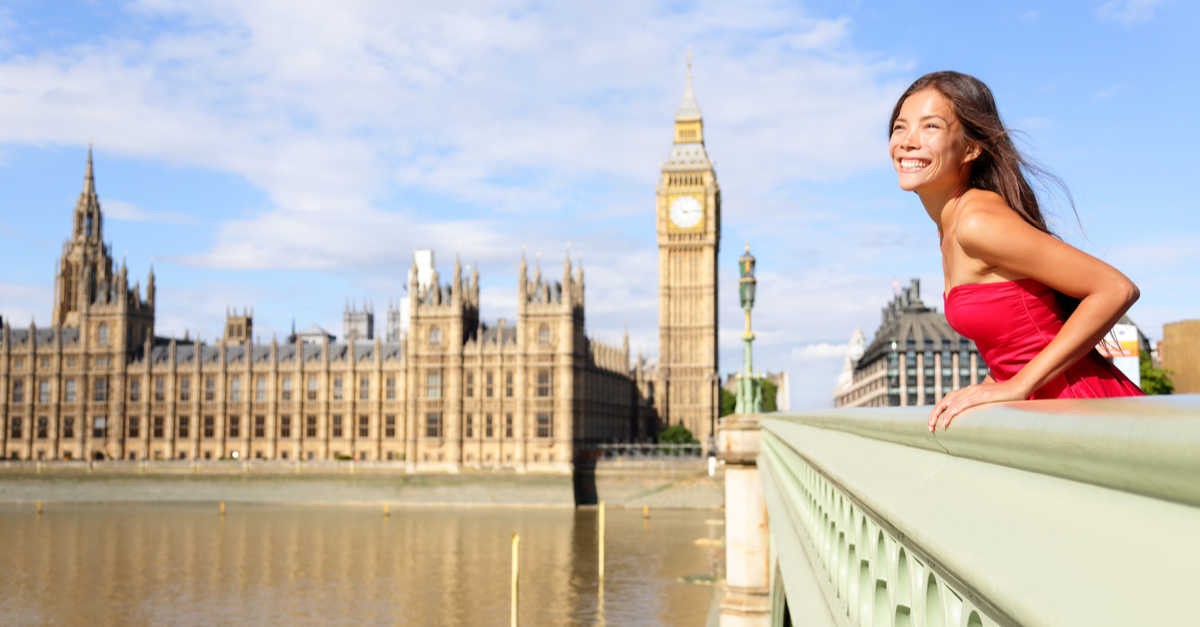 Londoning in Red. Source: Shutterstock
What are the departure and arrival stations for trains from London to Leicester?
Departure train station: Although London is a large area, passengers will always find that their train that departs from London to Leicester will always be from London St Pancras. The train station is well located and is opposite leading railway stations in London like King's Cross. The station is easy to get to and offers good facilities. Guests can find money exchange points, a variety of cafés and restaurants, as well as much more. Passengers will find themselves just 2 miles (3 km) from central London from London St Pancras, a duration of approximately 16min by public transport.
Arrival train station: Trains from London will always reach Leicester's main train station, also known as Leicester Railway Station. This station serves all of Leicester and is the main railway station in the whole of the city. It's managed by East Midlands Railway who offer many frequent trains to and from the rail station. The station is well located and is in close proximity to the city centre. The station is less than one mile from Leicester's city centre and is only a short walking distance.
Which train companies travel from London to Leicester?
Passengers who have tickets to Leicester train station from London will always find that applicable routes will be with East Midlands Trains. Leicester Railway Trains is managed by East Midlands Railway so it's inevitable that there is frequent travel to and from the train station. This leading train provider offers frequent and efficient travel with the added bonus of great onboard amenities and facilities that are offered to all passengers.
Whilst the duration of your train might differ, East Midlands Trains only offer direct routes to Leicester from London, meaning that your train won't be delayed by any possible changes along your route. Trains during peak hours can usually be longer in duration so trains in the early hours of the morning are commonly shorter in length.
East Midlands Trains from London to Leicester
East Midlands Trains is the only provider that offers transport to Leicester from London. Trains run frequently from London and can usually reach Leicester in an average duration of 1h 10min. Direct trains are the only type of train that is offered between the two locations, meaning that travel is always promised to be efficient and easy. Trains are fastest during the early hours of the morning. Passengers looking for the fastest travel with East Midlands Trains should also avoid travelling during peak times.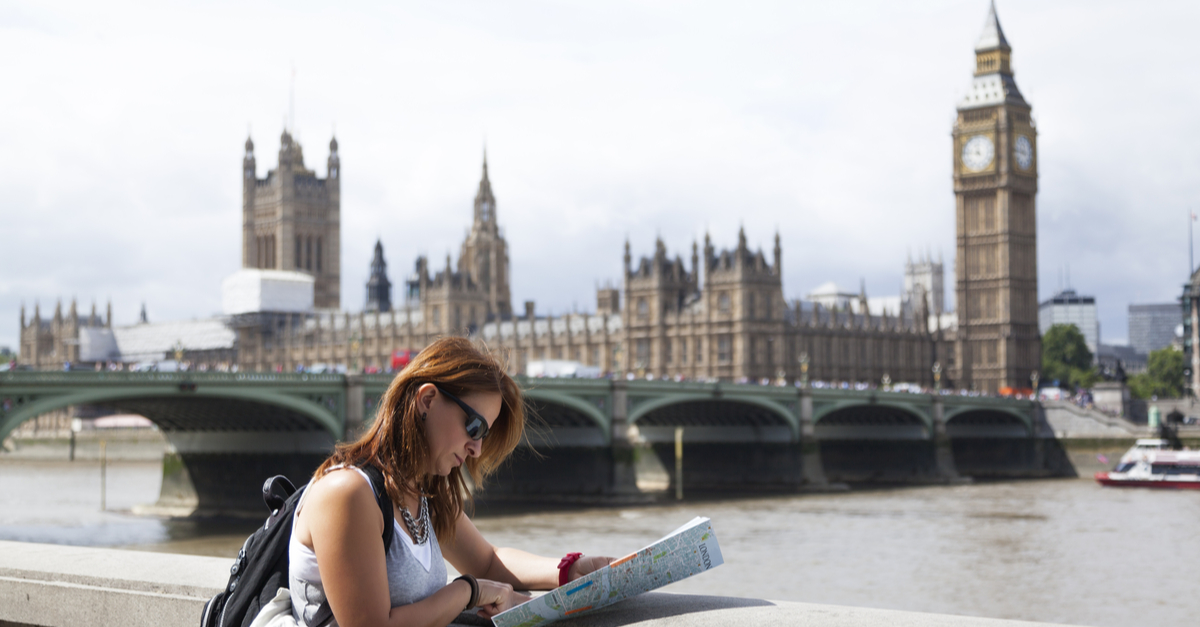 london Navigation. Source: Shutterstock
To Leicester by train – travel tips
Leicester is best known for its versatile offering with suitable attractions, landmarks and activities that are suitable to everyone. No matter who you are due to travel with, you will find lots of possible ways to spend your time. Suitable for families and adults alike, enjoy some of the top attractions like National Space Centre, Leicester Museum and Art Gallery, Leicester Cathedral, The Guildhall Museum, Abbey Park, Leicester Castle, and more.
Alternatively, you might want to visit the Leicester Market which is open six days a week and has been running for over 700 years. It's the perfect way to support some small local businesses and bring back the ideal souvenir from your trip to Leicester. Or perhaps, you're looking to travel with a group of friends and you're looking to enjoy some of the top hot spots in the city centre. Leicester is gifted with lots of popular venues that include some of the leading bars, clubs, and restaurants. The top bars include Revolution Leicester, Manhattan34, 63rd & First Leicester, The Turkey Café – 1901, 33cankstreet, The Bottle Garden Leicester, The Gadabout, Café Bruxelles, as well as much more. Luckily, all of these top venues are located just a short distance from Leicester train station and are only a quick walk or taxi ride away.
Train from London to Leicester
When travelling with East Midlands Trains, passengers can expect a number of great amenities onboard their journey with the addition of great service from staff. When purchasing your ticket to reach Leicester train station, you can choose from either a first-class or a standard ticket. Whilst they're relatively similar in their offerings, first-class tickets offer that bit of additional luxury. A first-class ticket will mean that you will have extra comfortable seating with additional legroom, quieter and peaceful carriages, as well as plug sockets to accommodate your electronic devices.

Passengers who are looking to travel with additional luggage like bikes will usually find that it's dependent on the carriage or specific train that accompanies you on your journey to Leicester. Folding bikes are welcome anytime onboard the trains but full-size bikes can sometimes differ. It's best to prebook a bike space on the train to guarantee availability. Bike spaces must be booked before you are due to travel and can't be reserved on the day.

If you are travelling with a passenger with reduced mobility, then you can expect that there is helpful staff who will provide you with assistance onto the train. Trains can differ in facilities like priority seating but all trains are accompanied by a wheel-chair accessible toilet, wheelchair space, boarding ramp, and more.
Since the journey to Leicester train station from London is only short, averaging between 1h 4min to 1h 56min, passengers usually have access to budget-friendly tickets. However, there is a number of money-saving techniques which will allow customers to save even further on their train tickets. Just one easy money-saving option is by booking far in advance. By booking with appropriate time before you are due to travel you will be guaranteed the best and cheapest fares for your journey.

Alternatively, altering the dates of your booking by just a few days could alter the price of your ticket. This is because it's usual for a certain day of the week to increase your ticket price, most commonly on the weekends.