Trains to Bournemouth
Passengers who are looking for train tickets to Bournemouth from London will be happy to know that transport runs frequently and regularly. The duration of your trip can differ depending on when you choose to travel but commonly tends to average between 1h 45min to 2h 17min. There is no strict schedule that trains follow but passengers can find a minimum of two trains running to Bournemouth per hour.
To Bournemouth train time: daily departures
Trains to Bournemouth from London run frequently. Passengers will find that per day there are 34 trains running between the two locations from the earliest train at 5:30 a.m. and the latest train running at 11:40 p.m. There is a minimum of two trains running per hour and they approximately run every 30min or 40min. The number of trains tends to increase from 5:02 p.m. With no strict schedule of departures, passengers can even find trains departing every 5-10min during the later hours of the day.
How long is the journey by train from London to Bournemouth?
The efficient and punctual service means that passengers will find a duration no longer than 2h 17min and no shorter than 1h 45min. An average journey will take between 1h 45min to 1h 55min but the longest-running train departs 11:35 p.m. with an arrival time of 1:52 a.m. Although travel later in the day may be longer in duration, passengers can find a more frequent running service between the two locations.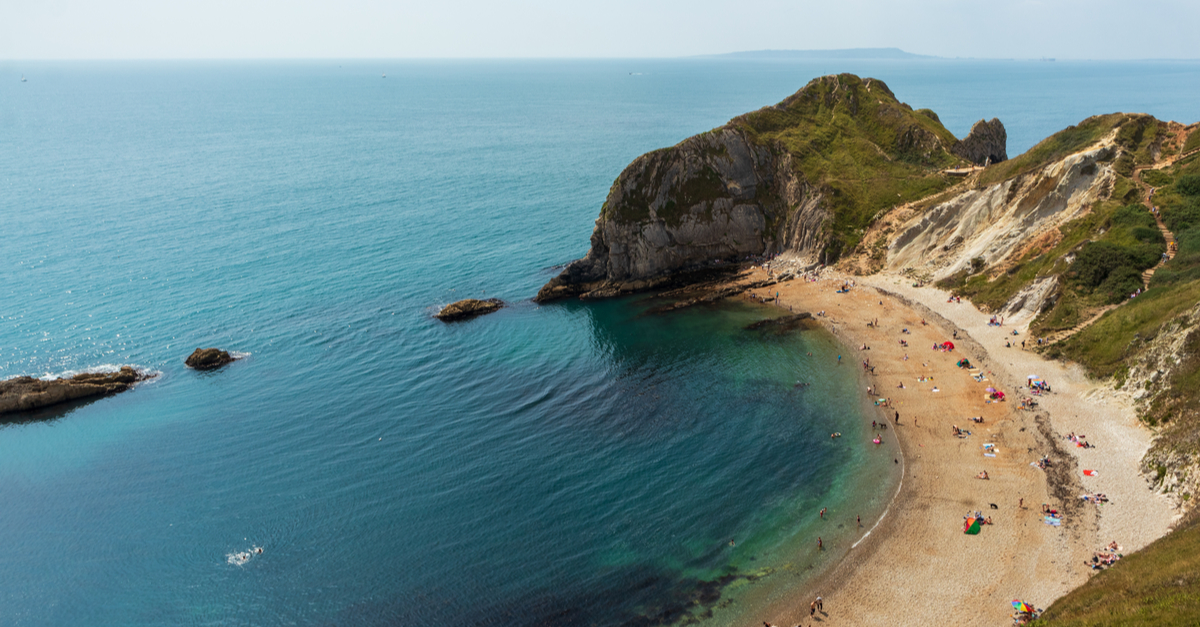 Bournemouth Durdle Door Shots. Source: Shutterstock
What are the departure and arrival stations for trains from London to Bournemouth?
Departure train station: The station in London which serves all of your trains to Bournemouth is London Waterloo Station. This station is one of the busiest stations in London and is well located with additionally good facilities. Within the station, there is wheelchair access, eateries, toilet facilities, ticket machines, and more. Just 1.5 miles (2.4 km) from central London, the distance from London Waterloo Station is best reached by public transport. The quickest option is just 7min via the Northern line towards High Barnet. A passenger will disembark at Charing Cross Station and will then be just a 2min walk from their destination.
Arrival train station: The arrival train station serving all trains from London is Bournemouth Station (BMH.) Passengers who are looking to travel to Bournemouth's town centre directly from the station will find that there is only a short distance of 1.2 miles (1.9 km). Although the journey can be reached by a short walk of 15min, public transport in Bournemouth is easy and frequent. Choose from the regular bus options like Bus Route 1, Bus Route 5, Bus Route X6, and more. The station includes services like eateries, ticket dispensers, ATM machines, toilet facilities, and more.
Which train companies travel from London to Bournemouth?
Passengers who are travelling to Bournemouth from London will only find one train company that operates between the two locations and this provider is South Western Railway. South Western Railway is a reputable company and offers railway networks throughout the entirety of the UK, as well as between London and Bournemouth. There are also useful onboard amenities available to passengers, as well as the promise of great service, punctual and frequent travel, as well as much more.
South Western Railway trains from London to Bournemouth
South Western Railway is the only train that runs between London and Bournemouth. This company offers sufficient and regular travel with only the option of direct routes with no changes needed. Train tickets to Bournemouth with South Western Railway are easy to find with their frequent running trains and punctual travel. Most trains average the same in duration but depending on what time of day you travel, expect it to differ. The train duration commonly varies from 1h 45min to 2h 16min. Passengers can find a minimum of two trains running per hour with the addition of regular and frequent travel throughout the day. The provider usually operates further travel during peak times like the early hours in the morning and during rush hour in the evening.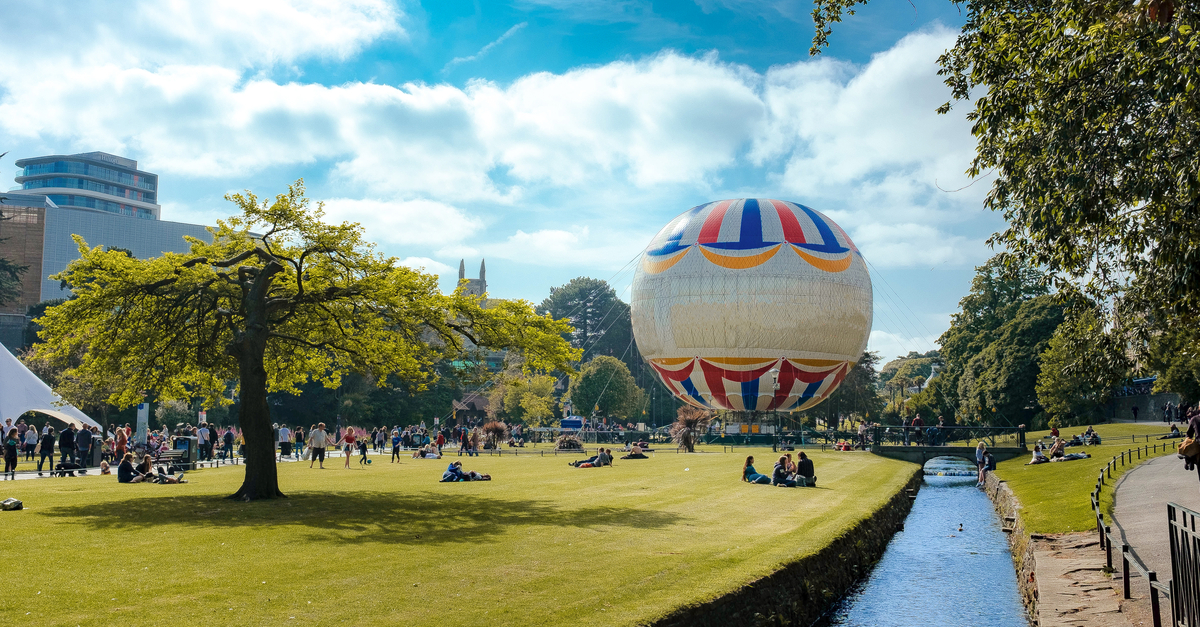 Bournemouth Parks. Source: Shutterstock
To Bournemouth by train – travel tips
Bournemouth is a great destination to visit, and it is popular with all kinds of visitors. Not only will you find lots to do with your friends but there are also attractions that are suitable for men, women, and children alike. Those who are travelling with children and are looking for family-friendly activities should consider visiting some of the top attractions like Oceanarium, Bournemouth Pier, Adventure Wonderland, Russell Cotes Art Gallery & Museum, Splashdown, Poole Museum, Moors Valley Country Park & Forest, as well as much more.
Alternatively, there are lots of popular sandy beaches to enjoy in Bournemouth. Beaches are perfect no matter the occasion and provide endless fun for every visitor, tourist, and resident. Just some of the top beaches include Hengistbury Head Beach, Southbourne Beach, MudefordSandbank, Bournemouth Beach, Alum Chine Beach, Knoll Beach Studland, and more. Or perhaps, you're wanting to visit Bournemouth for some of the popular venues like the leading bars, clubs, and restaurants.
Just some of the leading restaurants in Bournemouth include miXed Bournemouth, Casa GourMex, Westbourne Grill House, Lola's Spanish TapasRestaurant, El Murrino - Italian Restaurant Bournemouth, Moose Kitchen, Arbor Restaurant, and more. Alternatively, if you want to stretch out your travel then trains from Bournemouth to Poole are just a short 9-12min commute. These trains from Bournemouth to Poole will also be reached with the reputable train provider, South Western Railway.
Train to Bournemouth
There are various services on board with South Western Railway that are available to passengers on route to Bournemouth from London. Even before boarding the train, passengers can benefit from the use of an eco-friendly e-ticket. An e-ticket, also known as a mobile ticket, are able to be shown on any electronic device of your choosing and are an efficient way to travel. First-class passengers onboard South Western Railway will be a customer to some great amenities like genuine leather seats which are wider than the usual seats and also have a more luxurious feel. These seats are also accompanied with extra legroom, allowing customers to stretch out their legs, with the more comfortable route on their journey.

Passengers are able to bring bicycles on only some of South Western Railway trains but can differ depending on how busy the route is. In addition, the trains are accompanied by luggage racks to help store larger bags. Rack space isn't always available and can differ on when you choose to travel. Those wanting to bring pets will be happy to know that up to two dogs are allowed onto the train free of charge, as long as they are kept on a lead.
The journey between London to Bournemouth is considered short-haul, meaning that train tickets to Bournemouth and commonly cheap in price and offer budget-friendly fares. However, passengers can also find themselves with even cheaper tickets and save themselves a little bit of money. A simple money-saving tip is booking your train ticket far in advance. Those who are booking their tickets with adequate time before their arrival will find themselves benefiting from cheap train tickets. In addition, passengers should be flexible with their choice of dates. The difference of just a few days when a passenger chooses to travel could mean that they're benefiting from a different price of a ticket. It's common that tickets are usually higher priced on specific days of the week and times during the day. Higher inflation of ticket prices includes travelling on the weekend and during rush hour periods.