Train to Portsmouth
London, the South East and the South West have direct connections by train to Portsmouth; the Midlands and the North can also be reached with indirect journeys. Trains from London to Portsmouth leave every 30min or so, on average, from London Waterloo; there are additional, more infrequent journeys departing from other stations, such as London Victoria or London Blackfriars. The average London-Portsmouth train journey takes around 1h 30min. Other locations with direct connections to Portsmouth include Cardiff, Southampton, Bristol, Brighton, and Winchester. Portsmouth has two main train stations: Portsmouth and Southsea Station, located in the city centre, and Portsmouth Harbour, which is near the ferry links to the Isle of Wight and across the Solent.
South Western Railway to Portsmouth
The South Western Railway service to Portsmouth departs from London Waterloo and ends at Portsmouth Harbour, additionally stopping at intermediary stations including Guildford, Basingstoke, Winchester, Petersfield, and Portsmouth and Southsea Station. The fastest trip duration is around 1h 30min, but some journeys may last around 2h due to a higher number of stops in between. This service runs at least once every 30min, between 5:00 a.m. and 11:00 p.m.; at busy times, there may be 3 or 4 trains departing every hour. Weekend service on South Western Railway can be more limited than during the week, especially for early morning and late evening trains, and journey duration tends to be longer as well.
Great Western Railway to Portsmouth
Great Western Railway trains to Portsmouth leave from Cardiff Central Station and end at Portsmouth Harbour Station, covering intermediary stops including Newport (South Wales), Bath, Bristol, Salisbury, Southampton, and Portsmouth and Southsea Station. There is a Cardiff-Portsmouth train leaving every hour, more or less, typically around 30min past the hour. On most weekdays, this service starts running around 5:00 a.m. and the last train is around 11:30 p.m. The shortest direct journey is about 3h 18min, but trips can take up to 4h or so with changes in Reading and Guildford. Weekend trips with Great Western Railway can be more infrequent and there are fewer direct trains to Portsmouth, necessitating 1 or 2 changes and taking between 4-5h.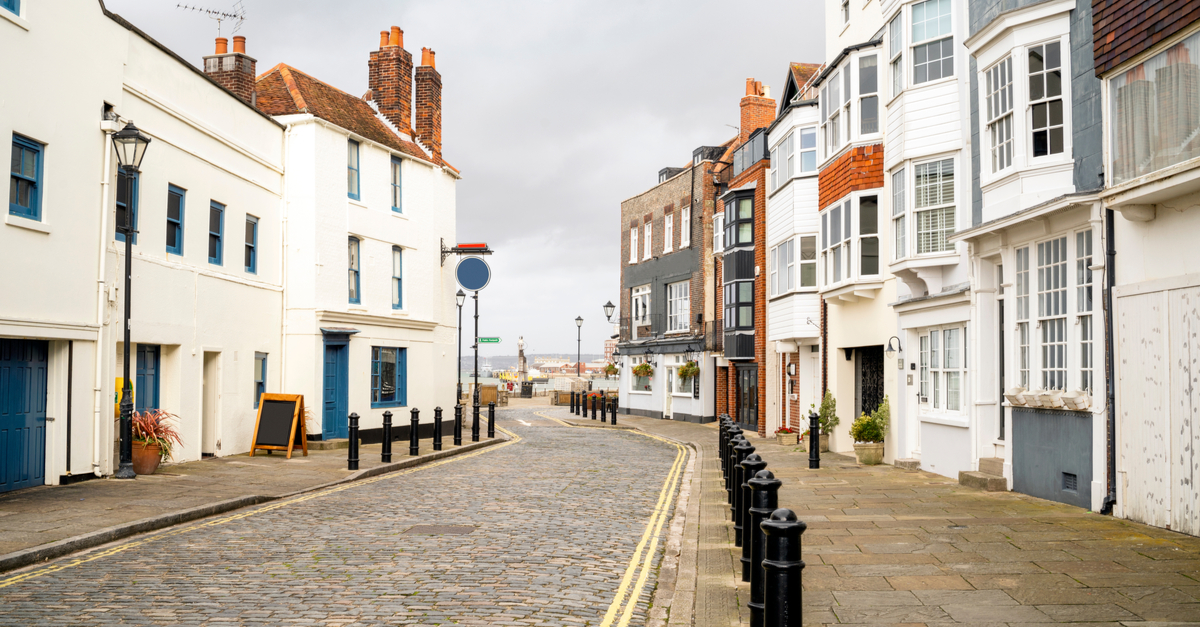 Portsmouth Traditional Housing. Source: Shutterstock
Main train stations in Portsmouth
Portsmouth's two main stations are Portsmouth and Southsea, and Portsmouth Harbour. Portsmouth and Southsea is the main train station, located in the city centre next to Victoria Park, the Guildhall, and various shopping streets. If your main destination is Portsmouth, or you're connecting to another Southern location, this is probably where you'll get off. Portsmouth Harbour is mainly used to continue journeys via ferry to the Isle of Wight and Gosport; alternatively, you can alight at Portsmouth Harbour Station to visit surrounding attractions, such as Gunwharf Quays and the Mary Rose Museum. Portsmouth and Southsea Station and Portsmouth Harbour Station both have facilities including accessibility assistance, ATMs, free Wi-Fi, bike racks, and toilets; however, only Portsmouth and Southsea features a car park.
Onboard facilities Portsmouth
On South Western Railway trains to Portsmouth, you can choose between Standard and First Class, and you also have the choice of Quiet coaches. Onboard Wi-Fi is available on most trains, but there may be some that don't include this service. There are no luggage limitations on South Western Railway trains, and you can also travel with bicycles and pets onboard, with certain restrictions. Accessibility assistance can be booked up to 4h in advance of your travels and includes: wheelchair storage, support navigating stations or trains, luggage assistance, and station induction loop. On Great Western Railway trains, you've also got First Class services available, including food and drink, as well as power sockets and free Wi-Fi. Bikes can be brought onboard only with a reservation and luggage size is limited to 35 x 27 x 12 inch (90 x 70 x 30 cm). Pre-booking assistance for people with disabilities on Great Western Railway trains should be done at least 6h in advance, with services including wheelchair space reservation, support with connecting services, and getting on and off the train.
Train tickets to Portsmouth: useful to know
Portsmouth and Southsea Station and Portsmouth Harbour Station have e-ticket facilities, so you can bring your train ticket with you on your mobile phone. You can also choose to collect your tickets at the departing train station - such as London Waterloo or Cardiff Central. Depending on the type of ticket you purchase, you may have to provide additional documentation; for example, if you're travelling on a 26-30 Railcard with South Western Railway, you should have a form of ID with you to confirm your age.
Furthermore, if you buy an off-peak or super-off-peak ticket to Portsmouth, you should make sure you travel at the correct time of day, or you may not be allowed onboard by the operator. Companies such as Great Western Railway also offer combined tickets that help you save travel costs in Portsmouth if you travel by local bus, for example. To see all travel options by train to Portsmouth and compare prices, dates, and operators, you can use the Omio website; booking is quick and you can even do it in your own language. Your Omio tickets get saved to your account and you can scan them easily from your phone.
To Portsmouth by train—travel tips
Portsmouth is an important Southern transportation hub, with connections to the South East, South West, and to Isle of Wight. It's an old harbour town and its Historic Dockyard gets a lot of attention, with Vice-Admiral Nelson's HMS Victory and Henry VIII's Mary Rose among its star ships. The best way to visit the waterside attractions is to get off at Portsmouth Harbour Station; this is also a good connection point for ferries to the Isle of Wight and Gosport.
To visit the rest of the city, including Old Portsmouth, you can make use of the local buses, which typically run every 15-30min. The south of the city, also known as Southsea, is accessible by bus from Portsmouth and Southsea Station, and features attractions such as South Parade Pier, the Blue Reef Aquarium, and Southsea Common Park. High-speed hovertravel is available from Southsea to the Isle of Wight from Clarence Pier.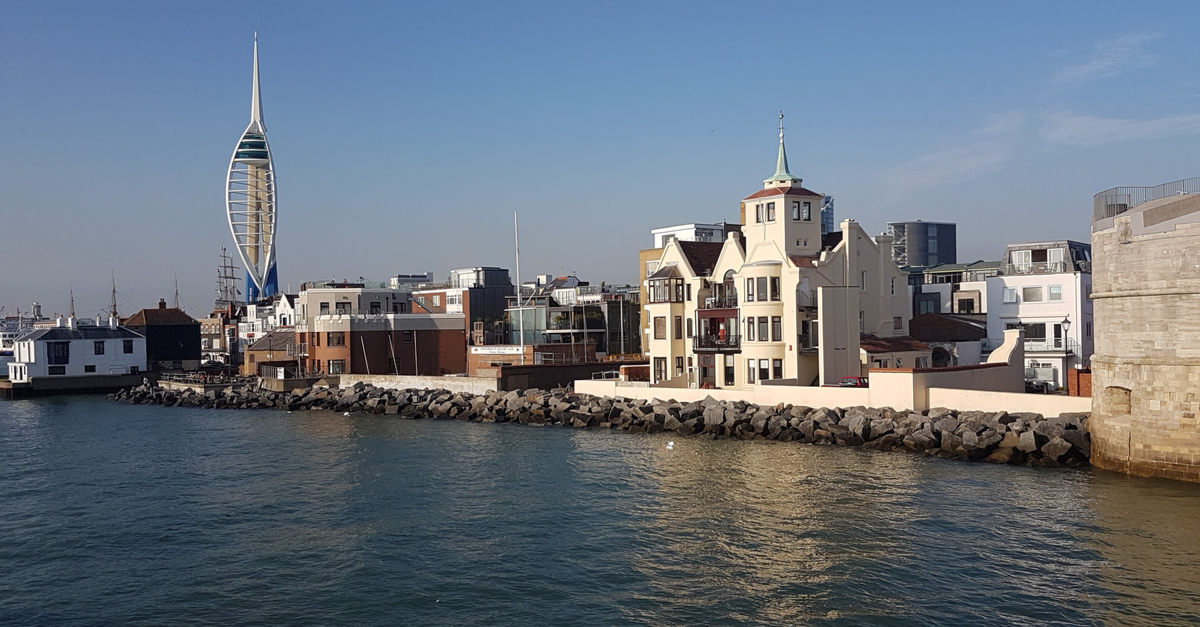 Portsmouth Harbour. Source: Shutterstock
If the weather is on your side, you can hit one of Portsmouth's Solent-facing beaches at Southsea Beach or Eastney Beach, or stroll along the esplanades at Spinnaker Tower, Gunwharf Quays, Clarence Pier, and South Parade Pier. The relics of Britain's naval history are all over Portsmouth: you can see and learn about the imposing ships in the Historic Dockyard, the Mary Rose Museum, the National Museum of the Royal Navy, and the D-Day Story Museum.
For a more culture-filled day, your options start with the Portsmouth Museum and Art Gallery, and can include the Kings Theatre and Portsmouth Guildhall for live shows and performances. Quality food and shopping locations aren't lacking, either: just head to the Gunwharf Quays commercial complex, or the Cascades Shopping Centre a few minutes' walk from Portsmouth and Southsea Station. And, if you're looking for the perfect day trip, take a ferry to the Isle of Wight, where you'll encounter tropical vegetation, quaint villages, and a rich history dating back to prehistoric times.