Train to Salisbury
Salisbury stands as one of England's most charming and quaint cities and has a train service operating from most major cities in the country, including places like London, Cardiff, Brighton, Portsmouth, and Bristol. Regardless of where you're travelling from, your arrival station in Salisbury will be the Salisbury Railway Station, or Salisbury Train Station, located on South Western Road. Salisbury is a lovely city to explore on foot if you choose but you will find plenty of transport options available at the train station too.
Right outside the main station, you'll find the local taxi rank where you can catch a cab to the city or to your hotel. This station is also home to the city's Stonehenge tour bus, as well as the Park & Ride area. If you need to get to the city centre from the bus station, you'll be able to catch a local bus, taxi, or you can walk there. It'll take a couple of minutes by bus or car and around 10min to walk.
South Western Railways to Salisbury
All trains to Salisbury are operated by one of two train companies, the first one being South Western Railways. If you're travelling from Bristol, Basingstoke, or London your journey will be operated by South Western. London's Waterloo Terminal is the home base for SW and they offer routes covering most of England that include top destinations like Richmond, Bournemouth, Dorking, and Reading. Food and beverage services are available on long-distance trips. Do you plan on bringing a bicycle on board? Consider arriving earlier as most of the bikes are accepted based on whoever arrives first. If you have a foldable bike, you shouldn't have any storage issues though.
Great Western Railways to Salisbury
The second train company that handles train rides to Salisbury Train Station is Great Western Railways, or GWR for short. Formerly called First Great Western, GWR currently operates both inner-city and long-distance journeys across the South and South West of the UK. If you're travelling from Southampton, Brighton, Swansea, or Newport, your train services will be operated by Great Western Railways. This train company uses Reading Railway Station as a hub for many of their routes with connections to places like Cardiff Central, Paddington Station, and Bristol, to name a few. They also operate a night train which leaves from Paddington Station and travels to Cornwall every day.
Salisbury Cathedral. Source: Shutterstock
Main train stations in Salisbury
Salisbury is home to only one main train station, Salisbury Train Station, or Salisbury Railway Station which is located on South Western road, just a short trip away from the centre of the city. This station boasts an array of facilities that include baby-changing stations, ATMs, complimentary Wi-Fi, accessible toilets, and refreshment facilities among many others. If you're travelling with mobility issues or another disability, Salisbury Railway Station offers assistance through the station staff, as well as ramps for access to the train, on-site wheelchairs, and step-free access coverage.
We suggest contacting them ahead of time to arrange assistance but if you're unable to, you will still be able to get assistance at the station. When driving yourself to the station, you'll be happy to find access to the station car park that boasts close to 290 regular parking spaces and up to four accessible parking spaces. You can use one of the South Western Railways or Great Western Railways self-service machines at Salisbury Train Station to pay for your parking.
Onboard facilities Salisbury
If you're travelling with South Western Railways, you'll have access to a wide range of facilities and services designed to make your journey as comfortable as possible. If you're looking for a quieter trip, you can grab a seat in one of the Quiet Zones on the train where passengers are requested to avoid using their cellphones and to keep their music down. SWR offers free Wi-Fi on their trains and charging stations at the seat for your mobile devices or laptop. If you find yourself travelling during a holiday or over the weekend, you can request an upgrade online or with the onboard guard and pay a nominal fee for a first-class ticket. Great Western Railways offer many of the same services onboard and also includes a popular trolley service with an array of snacks, treats, sandwiches, and wraps, as well as a wide range of refreshment choices.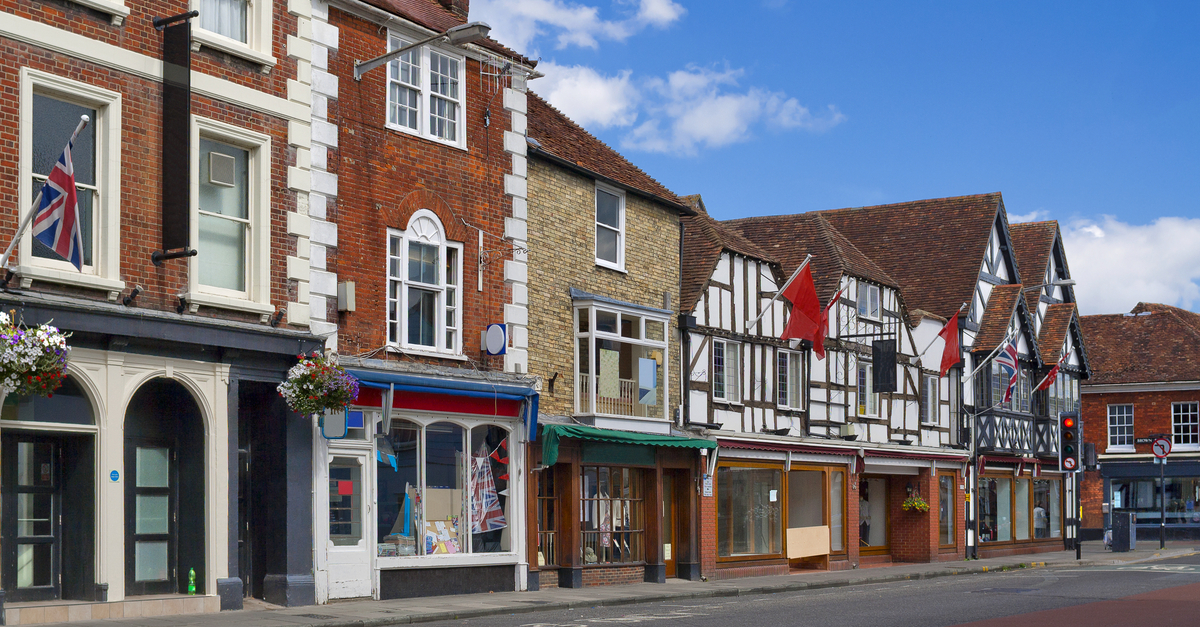 Salisbury Highstreet. Source: Shutterstock
Train tickets to Salisbury: useful to know
Regardless of whether you're travelling with South Western Railways or Great Western Railways, when booking a ticket to Salisbury Train Station, you'll generally find several mobile tickets available. These are paperless, collection-free, and contact-free ticket options that don't require anything else but your cellphone. If you choose a paper ticket instead, you will be provided with confirmation details by Omio after completing your purchase. When collecting the ticket from the station, you'll need to produce the confirmation details and may be asked for an official ID document, like a licence with your photo, a national ID, or passport.
If you end up using the self-service machine at the station, all you will need is the collection number (in your confirmation email) and the card you used to make the online purchase. You can also use the GWR or SWR self-service machines at any of the train stations to purchase a same-day ticket or a ticket for the next day, as well as renew your monthly season tickets. Unfortunately, these self-service machines only allow you to buy tickets that depart from the same station.
To Salisbury by train—travel tips
The city of Salisbury dates back to the 13th century and offers a plethora of Neolithic, Iron Age, and Bronze Age history with a wealth of monuments, cathedrals, burial mounds, and plenty more. Transportation in the city comes in the form of buses and taxis, which you can pick up at the Salisbury Station. Hop in a taxi and make your way to Salisbury Cathedral and climb the 332 stairs to the top for breathtaking panoramic views of the city and surrounding countryside.
Another unique thing to do in the city is visit Arundells, a museum covering the career of the late Prime Minister Edward Heath, who lived in the Grade II-listed house until his death in 2005. If you're up for it, the UNESCO Heritage city of Bath is roughly an hour's train ride from Salisbury and boasts an array of historical sights including the Roman Baths, The Georgian Royal Crescent, and the Abbey.
Salisbury, although quaint, is a popular destination with tourists and seems to offer a new opportunity to discover some of the intriguing histories in the area and to experience new and exciting events happening in the city all the time. Of course, one of the most well-known and not-to-be-missed attractions here is Stonehenge, a prehistoric monument that has baffled historians and architects for years and years. It currently stands as the world's most architecturally sophisticated stone circle.
Salisbury is a history buff's dream with an array of sights to behold. You can take time out of your day to visit Old Sarum with its Iron-age hill fort and Norman ruins, or venture a little further and stop at the gates of Longford Castle and marvel at the architecture and art on display. The Salisbury Museum is another popular stop for those interested in the history of the city. If you're interested in the art scene, why not take the time to visit the Young Gallery art gallery and museum.