Trains from Edinburgh to Musselburgh
The journey from Edinburgh to Musselburgh is a frequently used route by travellers and commuters alike. The train ride will take a maximum of 10min and minimum of 6min to reach your destination depending on the train you are taking and will cover a distance of 6 miles (9 km) in total. Commuters need not worry about missing their trains as there are 16 direct trains a day that operate this route.
Edinburgh to Musselburgh Train Time: Daily Departures
Trains leaving from Edinburgh and arriving in Musselburgh operate Monday to Friday on a set schedule between the hours of 07:14 a.m and 23:21 p.m during weekdays and from Saturday to Sunday the trains operate slightly later from 07:40 a.m until 23:11 p.m. There are a total of 16 direct trains between the two locations with two trains leaving Edinburgh Waverley Station every hour. Most train departures are 40min apart so if you have missed your train you should be able to catch another within the hour. Please be aware that trains may not operate on certain public holidays.
How long is the journey by train from Edinburgh to Musselburgh?
The train ride from Edinburgh to Musselburgh will take an average of 6min to complete with the train covering a distance of 6 miles (9 km). The longest commute will take 10min when there are stopovers but most trains are direct. The train ride between the two stations is direct thus there is no need to exit the train or take another train to complete the journey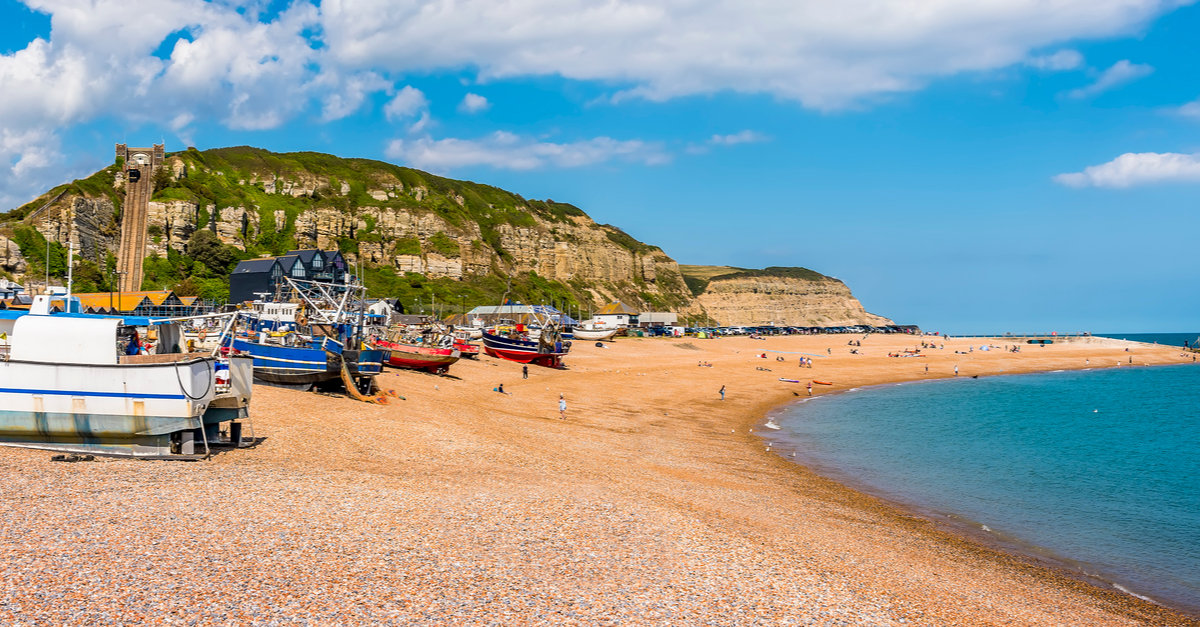 Hastings Beach Curve Boats. Source: Shutterstock
What is/are the departure and arrival stations for trains from Edinburgh to Musselburgh?
Departure train station: Situated in the city centre of Edinburgh, the station is located on Princess Road which is an 11min walk to Edinburgh Bus Station and a 23min car drive to Edinburgh Airport. Facilities in Edinburgh Waverley Station include but are not limited to Ticket booths, Storage Lockers, free public wifi, Parking facilities, Bathrooms and showers, ATM's, a lost baggage counter as well as food and drink kiosks.
Arrival train station: Situated 0.6 miles (1 km) from the city centre, the station is located on Whitehill Farm Road which is a 21min walk or a 5min car drive to Brunton Hall Bus Station while the closest airport is in Edinburgh. Facilities in Musselburgh Station are limited due to the size of the station which only has two platforms. There are waiting rooms for passengers and a parking bay as well as a ticket booth for onward travel but be warned that there are no ATM's or bathrooms available at this station.
Which train companies travel from Edinburgh to Musselburgh?
The main railway company that offers services from Edinburgh to Musselburgh is Scotrail Scotrail. None of the trains require a stop before reaching their destination but some of the trains are faster than others due to Scotland refurbishing their train fleet with newer trains that use less electricity in order for Scotrail to work towards carbon neutrality. The newer model trains often take 6min to reach their destinations but there is still one train that departs at 10:42 a.m which takes 10min to reach Musselburgh. This train is slightly cheaper by a few cents but will not be a deal-breaker for most commuters.
Scotrail trains from Edinburgh to Musselburgh
Scotrail is the sole provider of train services for this route, they have recently refurbished their fleet of high speed trains to use less electricity and have increased their carriage size to accommodate a greater capacity of commuters. All trains along this route are direct and require no stop overs before reaching their final destination as well as having two trains every hour that travel this route.
Train Edinburgh to Musselburgh: Services on Board
Scotrail has first, second and third class options on all its train routes as well as having in-train services such has food and drink catering but due to the short distance between Edinburgh and Musselburgh there will not be any discrepancies between tickets as the drive will only take 6min to arrive at your destination and you will most likely not even have time to finish your meal. Every passenger is allowed three pieces of luggage which includes two large items of luggage such as a suitcase or rucksack and one item of hand luggage.
Bicycles or E-bikes are permitted on most scotrail trains as long as the train has bicycle storage areas where you can hang your bike. Domestic animals are allowed on Scotrail trains, this include dogs, cats and smaller pets like tortoises or birds. You will be allowed to bring a maximum of two pets with you free of charge as long as they are on a leash or in a travel cage, Scotrail only asks that you do not allow your pets to sit on the train seats for the convenience of other travellers.
How to find cheap train tickets from Edinburgh to Musselburgh?
When trying to find the cheapest train tickets there are a few key factors to consider. Firstly you should always try your best to book in advance, time is your friend and looking ahead to book tickets will usually reward you with cheaper or even discounted prices.
Secondly, timing is extremely important, if you are planning to travel on days where there could be events or possibly be public holidays, tickets may become scarce and thus prices will increase so it's always a good idea to look at the prices a few days before or after the date you intended to travel, to see if the prices fluctuate.
Thirdly, taking a longer route or a route that has more stops can sometimes be cheaper than trying to get there the fastest, when a train is slower or has to stop often the train companies will often reduce the price to compensate the commuters for the delays. Lastly one of your best friends when searching for the cheapest prices would be using Omio which organises all prices to find you the cheapest and most convenient option for you.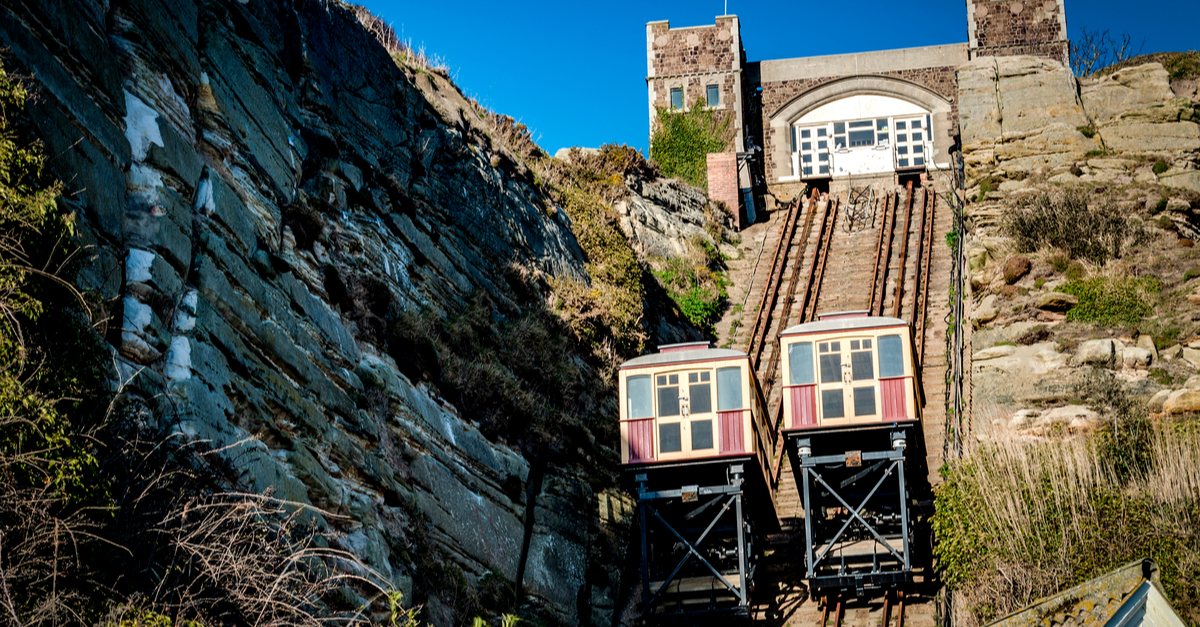 Hastings Hill Railway Tram. Source: Shutterstock
To Musselburgh by train—travel tips
Musselburgh is a beautiful Scottish town nestled on the coast and as such there are so many amazing attractions and activities to explore while you are there, there is a harbour on the coast with some amazing fish and chips shops as well as a lovely coastline that you can walk or watch the sunset on, Musselburgh also has a racecourse where you can bet on horses an possibly earn your vacation money back.
If you wish to do more sporty activities there is a large trampoline park that you can visit and a stunning golf course which is part of the old royal estate that is now available to the public. Perhaps you prefer a more artsy approach then perhaps an evening at the lovely Brunton Theatre or a walk through the local art galleries.
If that sounds a little stiff for you there are plenty of pubs around town that you can go grab a pint at and meet the locals of Musselburgh. There is something for everyone in Musselburgh so it is best to try a bit of everything.