Trains to Aberdeen
Aberdeen is located in Scotland, is the third-largest city in the area. It has a rich local history, one of the oldest cities in the United Kingdom, with human settlers living there since 6000 BC. It is also home to the busiest railway station in North Scotland, outside of the main cities in the south of Scotland. Aberdeen Railway Station connects to cities and towns all over Scotland. It also has routes with connecting lines to major cities in the United Kingdom such as London, Manchester, Bristol, Bath, Cardiff, Liverpool, Birmingham, Leeds, Portsmouth, Newcastle, York, Exeter, and Oxford.
Scot Rail to Aberdeen
ScotRail is the leading train company operating in Scotland that connects trains to Aberdeen Railway Station, with this station as its primary endpoint. Aberdeen Railway Station is connected to four main lines, Aberdeen-Inverness Line, Glasgow-Dundee Line, Edinburgh-Dundee Line, and the Dundee-Aberdeen Line. These lines have five primary endpoints, Inverness Railway Station, Glasgow Queen Street, Edinburgh Waverley Railway Station, Dundee Railway Station, and Aberdeen Railway Station. The other train stations along these lines include destinations such as Edinburgh Haymarket, Inverkeithing, Kirkcaldy, Markinch, Ladybank, Perth, Invergowrie, Stirling, Dundee, and Keith. You can find a train to Aberdeen with ScotRail departing every day from cities all over Scotland.
London North Eastern Railway to Aberdeen
London North Eastern Railway is a United Kingdom train company that connects train lines all over the Britain. When connecting trains to Aberdeen, it uses services along the East Coast Main Line (ECML), departing from London Kings Cross Station, passing through Doncaster, Newcastle, and Edinburgh, and using Aberdeen Railway Station as its primary endpoint. LNER It operates aberdeen train daily, with frequent travel connecting Aberdeen to London.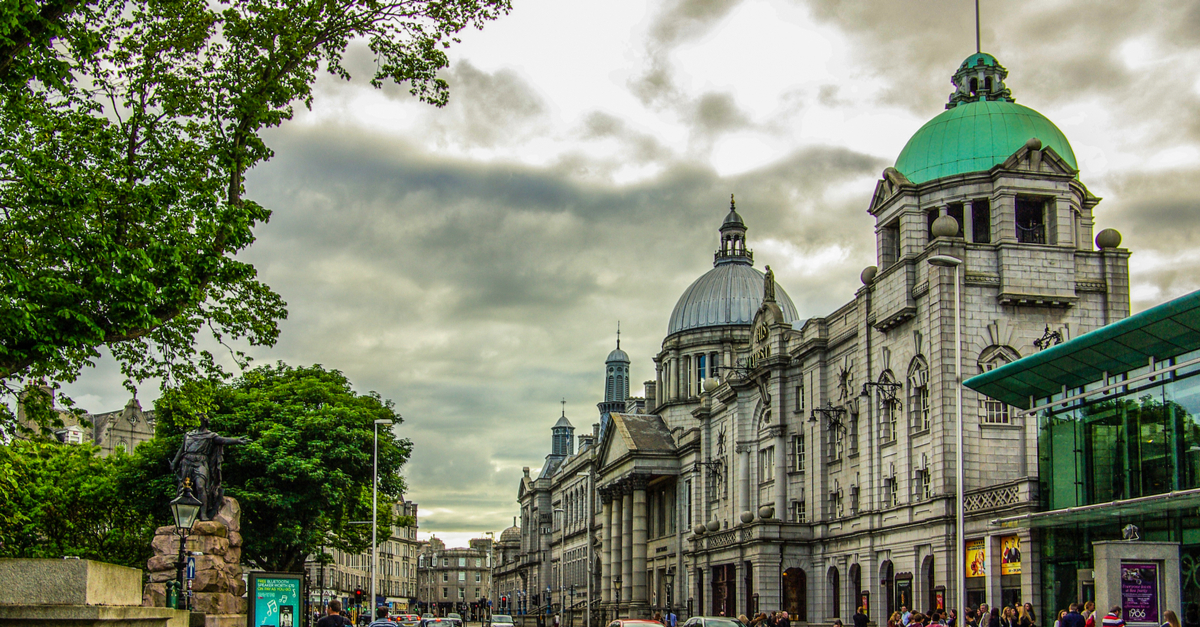 Aberdeen Town. Source: Shutterstock
Main train stations in Aberdeen
There is one train rail station in Aberdeen, Aberdeen Railway Station. When you're looking for trains to Aberdeen, it's best to know about the location and which amenities are offered at the train station. Inside the train station, there is free public Wi-Fi, toilets, trolleys, payphones, ATMs, seated waiting areas, and shops. The station itself has a cafe, a bar, two PhotoMe booths, and a WH Smith newsagent. It is also connected to Union Square Shopping Centre. There is a ticket office open from 6:15 a.m. to 9:30 p.m. Monday to Friday, with an earlier close of 7:00 p.m.
on Saturday, and a later open on Sundays at 8:45 a.m. Aberdeen Railway Station has five entrances to the main concourse, with the primary entrance from Union Square Entrance 1. You can also access Aberdeen Railway Station through Union Square Entrance 2 from the shopping centre, the Travel Centre Entrance, the Accessible Car Park Entrance (also known as Blue badge holder parking), and the College Street Car Park Entrance (multi-storey car park).
The entire station is wheelchair accessible with lifts to the platforms, a Help/Meeting Point at the automated ticket gates, wheelchairs upon request, and unisex accessible toilets. There is also a car park that is designated to 'Blue Badge Holders' for accessibility. The central car park is a multi-storey complex with over 180 available spaces, operating at all hours, Monday to Sunday. There is also sheltered bicycle storage with CCTV monitoring outside the station, and around 80 stands with additional storage on the Union Square side. There is a taxi rank available, as well as bus stations with buses connecting to the Aberdeen city centre, the Aberdeen Airport, and the Aberdeen ferry.
Onboard facilities Aberdeen
ScotRail offers onboard facilities such as Wi-Fi and catering on the train, for long distances. Here you can drinks and snacks of local Scottish produce. ScotRail offers food, hot and cold beverages, and alcoholic drinks between certain times. When travelling with the inter-city services such as between Inverness, Aberdeen, Glasgow, and Edinburgh, most services offer at-seat trolley catering service. If you're travelling first class, you'll get a free hot drink and can buy food and drinks from the trolley service.
With ScotRail, there's also services for seating, wheelchair and accessibility assistance. Pets are also welcome on ScotRail, provided they are on a lead or in a travel cage. If you're travelling with London North Eastern Railway to Aberdeen, you can choose a standard or first-class ticket. It offers onboard catering options for food and beverages catered by local chefs that source its menu from British produce. LNER also provides free Wi-Fi and outlets to charge your electronic devices. There is assistance for those who need it and an LNER mobile application that earns you credit with its loyalty scheme.
Train tickets to Aberdeen: useful to know
Journeys with ScotRail offer collection services for your tickets from a self-service ticket vending machine (TVM) located at the railway station. When you collect your ticket at the train station, you'll need to provide the reference number of your ticket and the credit card that purchased the ticket. The TVM can print your ticket for you to collect. We recommend you always bring a form of identification with you in case of any disputes. This valid form of identification could be a current driving licence, a national identity card, or a passport.
If you are travelling on a train to Aberdeen with London North Eastern Railway, it will offer mobile tickets, which you can use offline. With this type of ticket, you do not need to provide a printed version. These tickets are very convenient as you may show this mobile ticket to the conductor on board the train. When you are buying train tickets to Aberdeen through Omio, the process is quick and simple. For easy and convenient travel, you can store your ticket(s) on your Omio account. This way, you can access all of your information in one place, providing ease of mind and ensuring a smooth journey.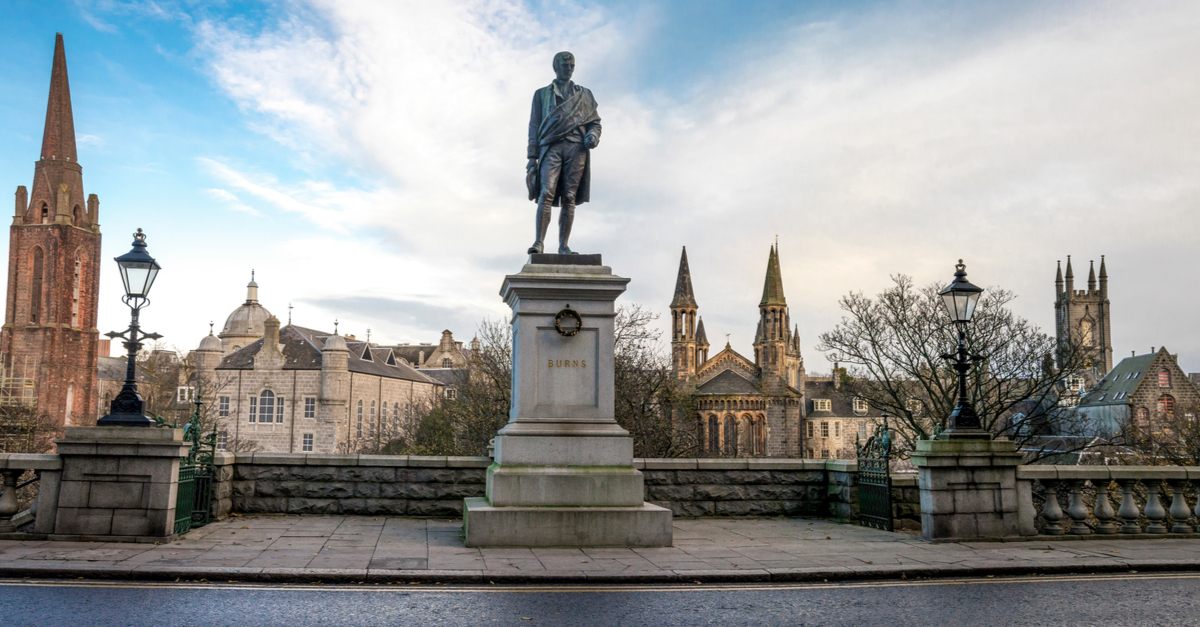 Aberdeen Statue. Source: Shutterstock
To Aberdeen by train—travel tips
Aberdeen is a historic city of the United Kingdom and has had human settlements residing in it for over 8000 years. In 6000 BC, the first settlers of hunters and gathers reached Aberdeen and nested in the meeting of the two rivers, which is one of the largest working docks in the country. Here you can spot dolphins and sharks. Aberdeen's name joins the name of the two rivers, and translates to 'mouth of the river Don' and is the meeting place of the Dee and the Don rivers. This 'Granite City' and 'The Silver City' dubbed for its long-enduring grey-stone buildings, is a surprisingly green city, claiming the 'Britain in Bloom' award 13 times.
Aberdeen is also famous for its distinct Scottish dialect called Doric, which is unique to its region. To get around Aberdeen and see the historic sites is relatively simple with its great public transport system. There are an abundance of bus stops connecting you all over the Aberdeen area. The company First Bus has an application that allows you to buy mobile tickets (mTickets), provides you with information about surrounding stops, and live bus arrival times. There's also the Grass Hopper ticket that allows you easy access to travel to the surrounding areas outside of Aberdeen.
Aberdeen is an interesting city with a lot to offer. It is rated as the safest city in the United Kingdom and the luckiest, with more than 40 lottery millionaire winners. It has a large production of granite and is the United Kingdom's biggest supplier. There is plenty to see, do, and drink in Aberdeen. It is home to over 17 Scottish whiskey distilleries, with most of them being open to the public; they fare for a great day trip. Aberdeen is also a culturally historic city, holding 10% of the Celtic stone circles of the United Kingdom. It has an abundance of nature, with its Cairngorms National Park, a wildlife conservation that doubles the size of Aberdeen's Lake district.
This beautiful environment is famous for walks, bike rides, and golf. While Aberdeen is a paradise for golfers with more than 70 golf courses in the area, it is also home to the oldest bridge in Scotland in Seaton Park built in the 13th century. For big-branded retail therapy, head over to Union Street, Belmont Street, and George Street. However, if you're looking for unique independent boutiques, check out the shops in West End or the Medieval marketplace of The Green.