Trains to Bradford
Located in the northern English county of West Yorkshire, Bradford was once the wealthiest city in the world. It has two train stations that connect trains to Bradford to the rest of Britain, offering direct routes to London, York, Manchester, Leeds, and other main cities. The two train stations are Bradford Interchange Railway Station and Bradford Forster Square Railway Station, which have connecting services to other prominent stations throughout the United Kingdom.
Bradford
Once known as a leading centre for the production of wool, the city of Bradford, in West Yorkshire, is now making a name for itself as a cultural destination. In 2009, it became the first ever UNESCO City of Film, thanks to its history of use as a filming location and the presence of the National Media Museum, where you can see interactive exhibits relating to television, photography, video game production and animation, or watch a movie in its IMAX cinema. In late March and early April, visitors can indulge their love of the silver screen there at the annual Bradford International Film Festival. Each November, the National Media Museum also plays host to the Bradford Animation Festival.Other attractions include the Cartwright Hall art gallery, the historic Bradford Cathedral and an area known as Little Germany, with its attractive Victorian architecture.
Northern Trains to Bradford
Northern (sometimes known as Northern Trains Limited) is a British train company operating in the United Kingdom connecting trains to the North of England. It is the only train company to manage routes to the Bradford train stations along the Caldervale Line from Leeds to London's Kings Cross station. It operates trains from Blackpool North, Manchester Victoria, and Leeds. Leeds station is the primary endpoint for the Bradford train line. The other train stations along the Caldervale Line (sometimes known as the Calder Valley Line) are Preston, Halifax, Rochdale, and Burnley. You can find a train to Bradford with Northern trains running every day of the week.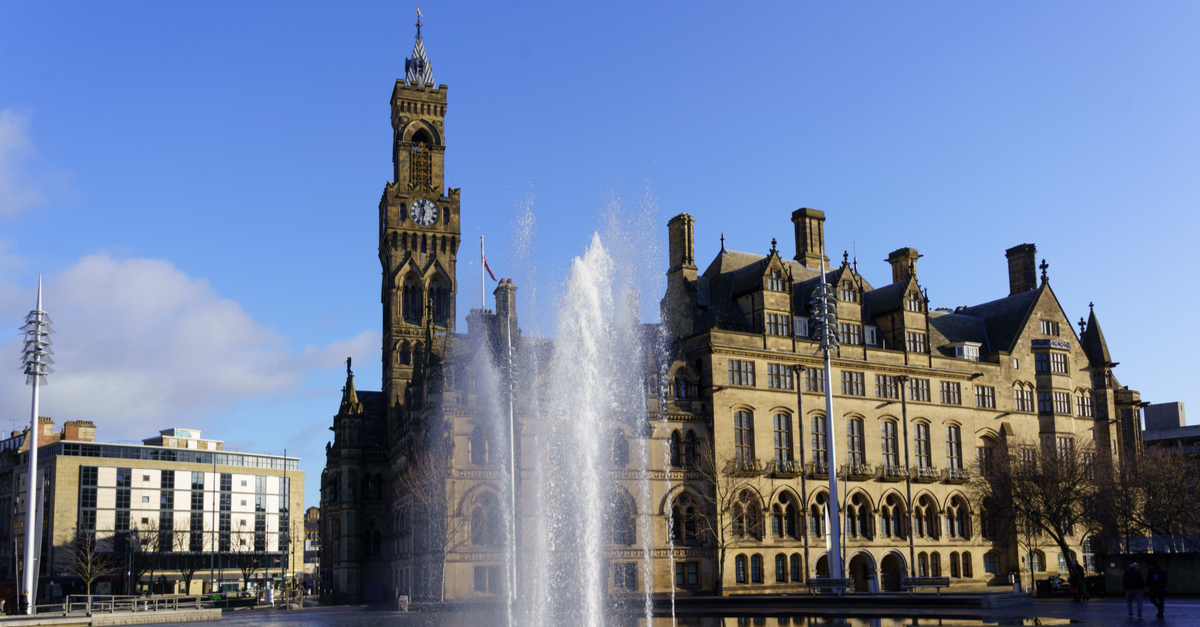 Brandford Town Park. Source: Shutterstock
Main train stations in Bradford
There are two train rail stations in Bradford; the main station, Bradford Interchange Railway Station, and Bradford Forster Square Railway Station. When you're looking for trains to Bradford, it's best to know about the location and amenities offered at the train station. Bradford Interchange Railway Station (BDI) is centrally located near City Park Bradford. This train station has four platforms and a ticket office available from 06:00 a.m. to 08:15 p.m. Monday to Saturday, with a later start at 08:00 a.m. on Sundays. Here you can purchase and collect tickets from the office or the ticket machine. The entire train station is wheelchair accessible and can provide assistant travel. There are trolleys, ATMs, toilets, a post box, ticket barriers, CCTV, and shops. There is a taxi rank outside the station, bicycle parking that is monitored with CCTV storage, a meeting point for booked Passenger Travel Assistance, and the airport bus Airlink 747 to Leeds Airport. A short walk away is Bradford Forster Square Railway Station, with three platforms.
There are ticket offices with operating hours 6:10 a.m. to 7:00 p.m. Monday to Thursday and Saturday, and until 8:00 p.m. on Fridays. On Sunday the hours are 8:45 a.m. to 6:00 p.m. In this station, you can also purchase your tickets from the ticket machines. At the station, you can find ATMs and toilets. There are CCTV, ticketed gates, and lost property. The platforms are wheelchair accessible, and help for accessibility and mobility access is available at the station. Outside the station, there are lockers and stands for bikes, with CCTV and 13 spaces. There is also a car park with 50 parking spots and four accessible spaces for disability parking. These spaces are wider and separated from the other parking spaces. A taxi rank is outside, alongside impaired mobility pick up points, and the stop for the Leeds airport bus, Airlink 747.
Onboard facilities Bradford
Northern trains provide you with various onboard amenities to enhance your journey, such as free Wi-Fi for all ticket holders. You can purchase food, drinks, and snacks from the trolley that passes through, on the train. Trains with Northern are 'Dry Trains', meaning no alcohol is allowed on board. There is a lost property service and Travel Safe workers who ensure public safety on the trains. There are also services to pre-book assistance for wheelchairs and ramps. Northern trains is committed and encouraging of bicycles on trains, promoting cycling as a sustainable and healthy lifestyle. You can bring your bike any time and do not need to make any reservations. There are sections for bikes that you can see from inside and outside the train.
Train tickets to Bradford: useful to know
Journeys with Northern trains offers two means of collecting tickets; with self-serving collection machines located at the train stations or mobile e-tickets. The self-service ticket vending machine (TVM) uses your booking number to collect your tickets. It will print a ticket for your to take on board the train. The mobile ticket is a pdf that is downloaded directly to your phone. You can also choose to print this pdf ticket if you wish. When you need to show your ticket, you may simply show the barcode of the pdf from your phone to the conductor.
We recommend that you bring a form of identification with you, and the credit card used to buy the ticket. An identification card could be any valid form of ID such as your driving license, your passport, or a national identity card. When you buy your train tickets to Bradford through Omio, the process quick and straightforward. For convenient travel, your tickets are all stored together in your Omio account. Both the Omio website and its application stores your travel history in your account. It also updates you with live information about your travel arrangements to ensure a smooth journey.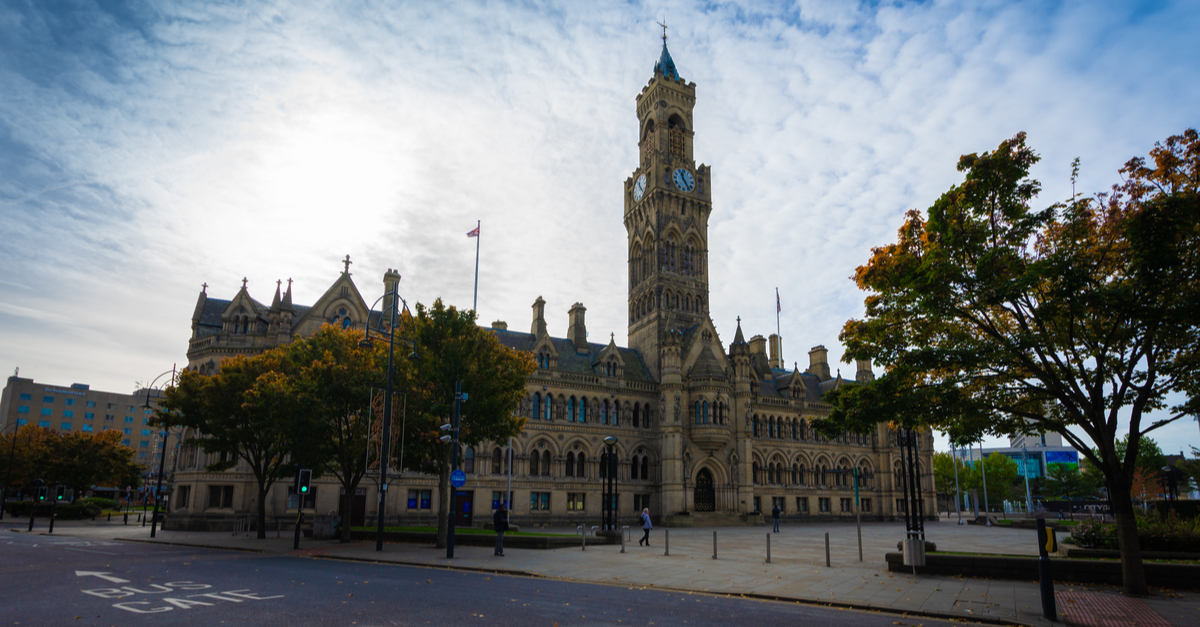 Brandford Town Hall. Source: Shutterstock
To Bradford by train—travel tips
Bradford is an exciting city with many unique qualities. It is known for being the 'boomtown' of the Industrial Revolution which gave it prominence in the textile industry, specialising in wool. It became known as the 'King of Wool', 'wool capital of the world', Woolopolis' and 'Wool City'. It had Britain's first and last trolley bus, was the first city to offer free school meals, invented the Bradford Sling, was dubbed the 'City of Film' as it was the first city to be named UNESCO City of Film and is home to the oldest concert hall in the United Kingdom. It also is home to the largest water fountain in all of Great Britain.
It is simple enough to get around Bradford, with Yorkshire's excellent public transportation system. There are many buses, and bus stops throughout the city for inner Bradford and connects to surrounding cities in West Yorkshire. You can purchase bus tickets on the bus or use the MCard, which comes with a mobile application. This app allows you to buy tickets through your mobile phone and find top-up points for the MCard.
The West Yorkshire city of Bradford has plenty to see and do. There's the Alhambra Theatre which shows an abundance of large scale entertainment such as ballet, opera, comedy, musicals, and theatre. It is known as the North's most excellent touring venue. Bradford also has many speciality museums such as the state of the art National Science and Media Museum, the Bradford Industrial Museum showcasing the history of the tactile industry, the Bolling Hall showcasing unique artefacts, Salts Mill, a former textile mill and now a gallery of local history, and The Bradford Police Museum.
Some interesting sites include the Undercliffe Cemetery, the Shipley Glen Cable Tramway, Saltaire Village, the Bingley Five Rise Locks, and Sunbridge Wells for retail therapy. Bradford is also known as the centre for the best Indian cuisine in Britain, with award-winning Indian restaurants. It has over 50 Indian restaurants and boasts a 'curry trail' all over Bradford. This all started with the opening of The Sweet Centre, established in 1964, which fused popularity for Indian cuisine.