Trains to Derby
The city of Derby is situated in the middle of the UK, making it a central hub for express train routes and connections to many parts of the country. Travellers coming from Scotland can connect at Edinburgh to travel directly to Derby with services provided by CrossCountry. For travellers looking for services in the south, CrossCountry also has trains departing from Reading and Bristol. Derby is well connected to London, with East Midlands Trains departing frequently from London Pancras Station.
Tracing its origins to pre-Roman times, the Peak District city of Derby grew to prominence during the Industrial Revolution and is home to several important manufacturing companies such as Rolls-Royce and Bombardier Transportation. Due to its central location, you can get good service to Derby via CrossCountry, the main operator of intercity network rail service in the Midlands via the Midlands Main Line from its central terminal at Birmingham while the company also provides regional rail service from cities including Southampton and Bristol. East Midlands Railway also operates trains to Derby originating from its main terminus at London St. Pancras International. The city of Derby is served by three main stations: Derby Railway Station, Peartree Railway Station and Spondon Railway Station.
CrossCountry to Derby
CrossCountry is the principal operator of mainline intercity railway service along the Midlands Main Line which connects cities across East and West Midlands to Birmingham and a main provider of railway service along the West Coast Main Line to major cities in Scotland and Wales as well as England. If you are interested in travel by trains to Derby the best place to travel from is Birmingham New Street Station which CrossCountry uses as the centre of its network operations across the region and the UK due to the fact that it does not operate any rail services out of Central London. In addition to Birmingham you can also get direct or connecting train service to Derby from other cities including Reading and Edinburgh. Direct trains depart from Birmingham New Street Station to Derby multiple times per hour daily inclusive of weekends and holidays though on a slightly reduced schedule. The earliest departure leaves around 6:00 a.m. with the last train leaving Birmingham about 11:15 p.m. and you should expect your travel time to average about 35min from origin to destination.
East Midland Railway to Derby
East Midland Railway is a main provider of train service along the East Midlands corridor and operates intercity trains from its main terminus at London St. Pancras International in Central London to Sheffield with calls at Derby Railway Station. This route provides several direct trains per hour daily including weekends and holidays from about 00:15 a.m. until about 11:00 p.m. which is the last departure from London St. Pancras International. Passengers should anticipate the shortest journey from Central London to take approx. 1h 30min while the longest journey generally takes about 3h 15min. Additionally, the company offer regional railway service via the Matlock – Nottingham route which calls at Derby Railway Station as well as Spondon Railway Station as well as the Crewe – Newark Castle route which call at Pear Tree Railway Station in Derby. Both offer direct and indirect scheduled trains about once per hour in terms of frequency during the week with less departures slated on weekend and holiday timetables.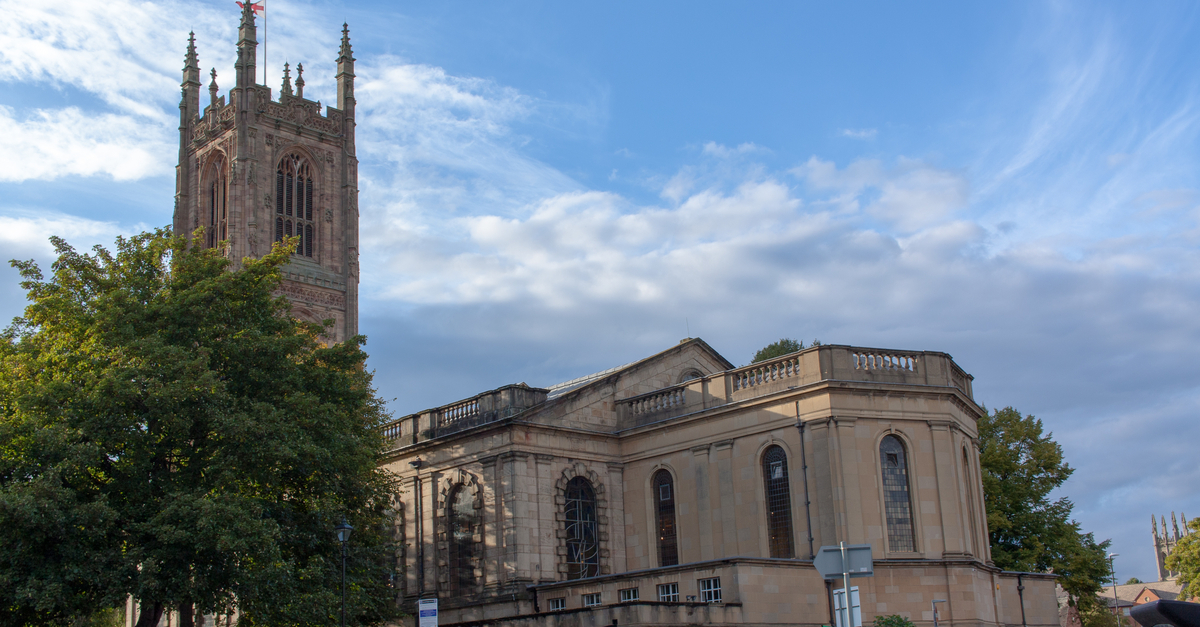 Derby Cathedral. Source: Shutterstock
Main train stations in Derby
Derby Railway Station is the main train station serving the city of Derby and is located about 1.1 miles (1.7 km) from the downtown area. If you travel by train to Derby you should expect a good range of facilities at this location including ticket office with vending machines, WC, First Class lounge (open from 6:00 a.m. to 00:30 a.m., shops, refreshment facilities and post box. Wi-Fi is available in the First Class lounge only and disabled passengers will find it to be accessible to mobility aids. Ticket office hours at Derby Railway Station are Monday to Saturday from 04:55 a.m. to 22:45 p.m. and Sunday from 6:20 a.m. to 11:00 p.m. Spondon Railway Station is situated about 3.3 miles (5.3 km) from Derby city centre and is considered the secondary train station serving the city. Unfortunately, there are no facilities listed at this station. Peartree Railway Station is located about 2.4 miles (3.8 km) from Derby city centre and is the least used of the three major rail stations in the area. Unfortunately, there are no facilities listed at this location.
Onboard facilities
CrossCountry passengers are only permitted one case per person plus a personal bag and these items must be stored in overhead racks or luggage compartments. Complimentary Wi-Fi service is provided but is restricted to basic functions so using streaming media sites is prohibited. Folding bikes are welcomed and can be stored and secured in overhead tracks or luggage compartment however regular bikes must be reserved at the time of ticket purchase or they will not be allowed onboard. You should also be aware that bicycles are not allowed on certain trains during peak hour travel periods. are allowed per passenger can travel with Two small pets provided you use pet carriers and dogs must be attached to leads with exceptions made for service and assistance animals only.
CrossCountry provide a catering car for the purchase of refreshment such as hot and cold beverages and disabled passengers will find CrossCountry trains to be accessible to wheelchairs and mobility scooters. East Midlands Railway provides complimentary Wi-Fi throughout all their trains and allows you to travel with luggage cases and a personal bag which can be stored overhead, in luggage compartments or under the seat. While folding bikes are allowed onboard, some East Midlands trains prohibited the carrying of full-sized bicycles on certain routes as well as on trains from Derby travelling during rush hour periods. When full-sized bikes are allowed you must reserve space for them beforehand or they won't be allowed onboard. Catering services including meals, snacks and beverages are provided on trains and can be purchased from trolleys during the trip. First Class passenger are provided with luxury seating upgrades.
Train tickets to Derby: useful to know
When you travel with CrossCountry you can purchase Advance, Off-Peak and Anytime tickets as Standard options or First Class tickets if you wish to enjoy maximum travel comfort and flexibility regarding your travel choices. Adult single fares are usually offered at discounted prices when purchased online with special rates available for children, students, senior citizens and groups however you should know that students and seniors may be asked to produce ID at time of purchase or in person at the train station. It's a good idea to review the terms and conditions applicable to all ticket types to understand company policy regarding refunds, changes and cancellations before you buy tickets online.
Also, it is recommended that you obtain a printed ticket as e-tickets may not be permitted on some CrossCountry trains and you should carry at least one form of valid ID. On Omio buying tickets to Derby is fast and easy and can be stored in your Omio account. You can purchase basic tickets like Advance, Off-Peak and Super Off-Peak fares for travel on East Midlands Railway trains in addition to Anytime tickets for Standard and First Class travel. Season and Flexi Season tickets are also available as well as special packages such as PlusBus, Rangers and Rovers and Park and Ride which can all save you money on ticket purchases. You can also find special rates for group and business travel plus discounts for disabled passengers, but enquiries should be made regarding offers for students and senior citizens.
Smartcards, mobile tickets and electronic tickets are accepted on all East Midlands Railway trains. Standard passengers can enjoy seating with tray tables and plug-in sockets for charging electronic devices hut reserved seating is only available on train service from Central London while First Class ticketholders get to enjoy upgraded seating privileges in addition to the others. On Omio buying tickets to Derby is fast and easy and can be stored in your Omio account.
Derby Downtown. Source: Shutterstock
To Derby by train: travel tips
There are some remarkable historic buildings, castles and mansion houses in Derby so if you love touring palatial structures with ornate furnishings and fine collections of art and tapestries then you've come to the right place. Chatsworth House, the hereditary home of the dukes of Devonshire is a classic example of all the above and remains one of the finest mansions not owned by the British royal family.
Gulliver's Kingdom theme park is an absolute must if you visit Derby with kids under 15 and offers an array of attractions, rides and activities including Drop Tower and Western World. The M1 and A6 are two of several major road networks passing through or near Derby linking the city to much of England from its central location in the East Midlands.
Arriva Midlands and Trentbarton operate much of the bus services from the Derby Bus Station depot and is a great way to travel around the city to discover its other sights. National Express provides coach service to London while East Midlands Airport, about 24 miles (38.6 km) from Central Derby is the closest major air hub.
Boasting one of the highest spires in all the land Derbyshire Cathedral is an historic building in the city and one of its most famous and often visited landmarks. Bess of Hardwick has her tomb in the cathedral and you can join a guided tour and climb the nearly 190 steps to the bell tower if you have the stamina to be rewarded with breath-taking views of the Derbyshire countryside. Sudbury Hall and the Museum of the Childhood is a fascinating place of interest for families and just about everyone else.
This Restoration-era mansion showcases a Great Staircase and Long Gallery which are among the highlights you can view in addition to the titular children's museum which is part of the National Trust which is a veritable playhouse for kids among its remarkable collection of memorabilia and treasures. Another important historical building in Derby is Hardwick Hall, the birthplace and childhood home of Bess of Hardwick. Often considered one of the most important buildings of the Elizabethan Age, it contains a huge trove of period tapestries and embroideries including many featured the monogram of its most famous occupant.