Coaches to Cambridge
Cambridge is full of beautiful scenes and is an inviting city for its famous landmarks that attract its tourists. There are many attractions that attract those wanting to visit Cambridge. In the city of Cambridge, you can also find beautiful canals that run through. There are a couple of bus stations that you will find in Cambridge if you're looking to catch a coach to this captivating city. Those with coach tickets to Cambridge will usually reach Cambridge Parkside (City Centre) and Cambridge South, Barbaraham Crossroads. Those looking to reach this city should look for locations that offer direct routes. This will commonly be from major cities, airports or train stations.
NationalExpress to Cambridge
NationalExpress is a coach service that offers transport to Cambridge. You will commonly find coaches that reach Cambridge's main coach station, Cambridge Parkside (City Centre.) Their most common starting points are points of call like London Victoria and London Stansted. It's common that when travelling to Cambridge you will find transfer where you have to switch trains. Expect the coach journey from London Victoria to take approximately 3h 45min. OnboardNationalExpress you can benefit from onboard amenities and facilities that are available to their passengers.
MegaBus to Cambridge
Those who are riding to Cambridge in a coach can expect a selection of great service, amenities and facilities. Before even stepping onboard one of MegaBus' coaches, you will be able to benefit from guaranteed low cost and budget-friendly fares. And that is a promise. Not only can do MegaBus offer low-cost fares with coaches available around the UK but they also offer coach transport around the majority of Europe too. And if that wasn't enough and you were looking at how you could spend your time in the UK, or even Europe, look out for MegaBus' sightseeing tours, also known as 'Mega sightseeing Trips.'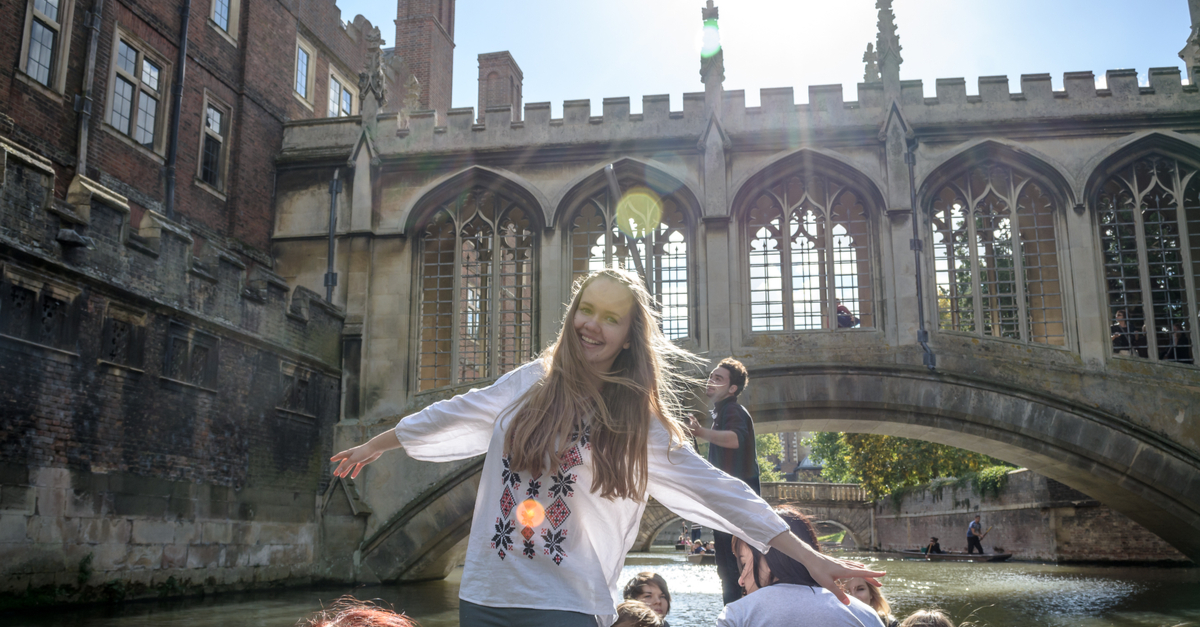 Cambridge Boat. Source: Shutterstock
Main bus stations to Cambridge
Coaches to Cambridge will commonly reach the main coach station of Cambridge, Cambridge Parkside (City Centre.) You might also find that some coach companies who are travelling to Cambridge will reach the bus station, Cambridge South, Barbaraham Crossroads. Commonly, coaches to Cambridge will be arriving from main city centres or airports or train stations. Those travelling to Cambridge will most likely find routes from locations like London Victoria, London Stratford, London King Cross, and London Heathrow.
Those looking to reach Cambridge Parking (City Centre) station from locations outside a city will most likely have to transfer trains. Direct routes will almost always be from a city centre. Cambridge Parkside Station is located in the heart of the city centre and has neighbouring sights nearby that are worth a visit. It's within walking distance of shopping facilities and a few of the universities that the city is well-known for. The station also prides itself on on-time services and comforting facilities inside the station.
Onboard facilities to Cambridge
Coaches to Cambridge not only come with beautiful views along the way but there is also a variety of amenities and facilities on board that passengers can benefit from. Passengers with NationalExpress can benefit from great service from staff, extremely comfy seating with the guarantee of lots of legroom, free Wi-Fi, charging points to accommodate your electronic devices, as well as 44 pounds (20 kg) of luggage.
Those travelling with National Express not only benefit from all of the onboard facilities on their travel to Cambridge but all for the price of low-cost travel. Those travelling with MegaBus can expect similar offerings with good service and a variety of onboard amenities and facilities. Passengers with MegaBus can expect free Wi-Fi, charging points to accommodate all of their electronic devices, as well as 44 pounds (20 kg) of luggage allowance
Bus tickets to Cambridge: useful to know
Those who have coach tickets to Cambridge can expect trips from companies like National Express and MegaBus They both offer the opportunity to use an e-ticket that can simply be presented on a mobile or electronic device. Coach tickets to Cambridge with e-tickets is environmentally friendly and saves paper by not having to print your coach tickets like other companies are adamant that you have to do.
Going paperless with tickets is extremely convenient and by storing them on your phone, you're able to organise future and previous tickets. For those travelling with National Express, please bring a legitimate form of ID that matches the full name on your coach ticket. Examples can be a full and valid driving licence or provisional license, passport, or bank card. This is the same for non-EU passengers. Passengers on the MegaBus will also have to provide a legitimate form of ID in order to travel to Cambridge.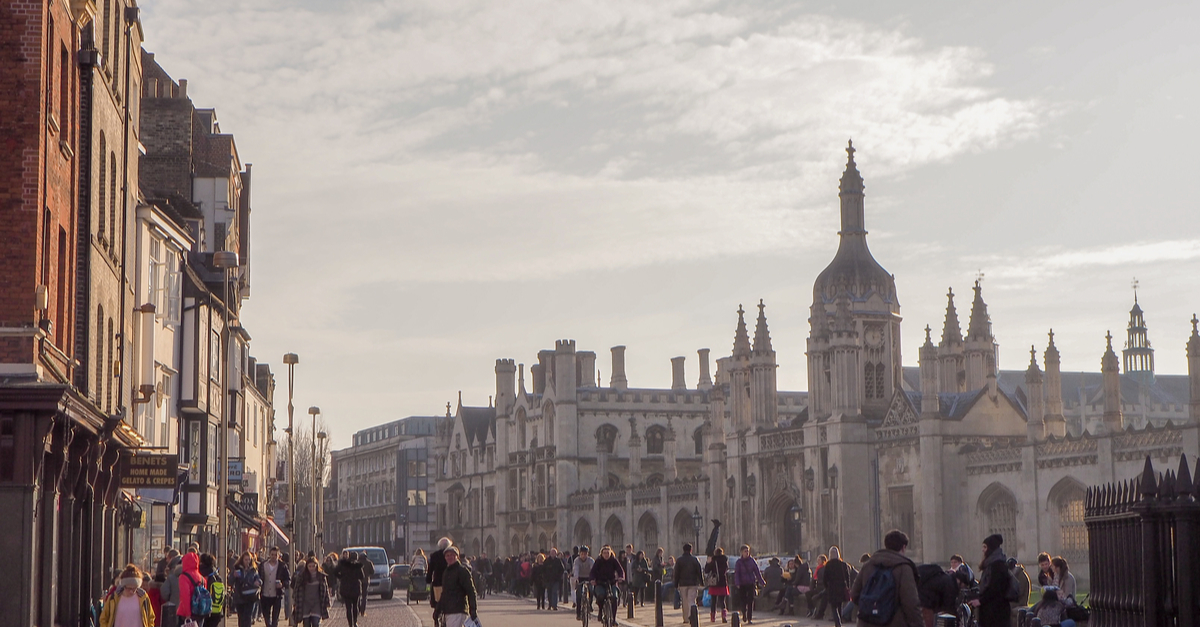 Cambridge Kings College. Source: Shutterstock
To Cambridge by bus – travel tips
Cambridge truly is a beautiful city to visit. Canals align the city. The canals are gifted with punt boats and you have the ability to experience exciting attractions like gondola rides. Students at the neighbouring universities, like the University of Cambridge and Westminster college, will commonly use the boats and act as gondolas to provide personalised tours to tourists, residents and visitors. They do this to earn a little bit of extra cash during their studies. You can pay to have a private ride as they tell you interesting facts about Cambridge during your gondola trip.
Alternatively, you can choose the cheaper option of hitching a ride with other members of the public. Or perhaps, you're feeling confident and want to take a punt boat out yourself, friends and family to travel down the beautiful canals that pass some of the city's most famous and intriguing landmarks.
You do not need to prove or have any previous experience in order to be able to catch ride the punt boat but it might be worth your while to, rather than diving in headfirst. Appreciate attractions as you pass them, like King's College University, as well as the Gothic chapel.
Cambridge is attractable to all kinds of tourists. It is home to some beautiful attractions and is famous for its sights, gondolas and punt boats that you can take down the rivers and canals. It's the perfect city to visit and accommodating to all. There is also a popular area dedicated to shopping in the city centre of Cambridge.
Visitors to Cambridge can enjoy their shopping experience in Cambridge's indoor shopping centre that is home to some of the biggest and world's leading high-street brands. Alternatively, you can appreciate the market in the town square that is accommodated with homemade treats, jewellery, and much more. And if that isn't enough, you also have the opportunity to visit some of the independent boutiques around.
Boutiques normally include a lot of Cambridge merchandise where you can purchase all types of clothing and accessories. Although these boutiques are great to visit and are the perfect option if you're looking at taking a comfortable and wearable souvenir back from your trip, you should also look at visiting the boutiques that sell unique styled accessories, clothing, and much more.
Whether you're planning on travelling in a couple in the hopes of a romantic weekend, or maybe you're travelling in a small group with friends or family, Cambridge is the perfect place to visit and has offerings to anyone and everyone. Similarly, every man, woman and child would enjoy their trip to Cambridge.