How to Travel from Manchester to Dublin?
Travel from Manchester to Dublin is popular with residents of Manchester, the United Kingdom's third biggest city. Only 165 miles (266 kms) and a short trip across the Irish sea separate them. Dublin is a popular weekend destination, as well as being a gateway to the rest of Ireland for longer trips. You can travel directly by plane with a flight time of around 55min.
Alternatively, you can take a train to Holyhead port in Wales, a journey of around 2h 45min and then take a ferry to Dublin. Depending on whether you take the fast ferry or the slower cruise ferry, the crossing will take from two hours to four hours. Flights, trains and ferries operate seven days per week.
Travelling from Manchester to Dublin
A direct flight from Manchester airport to Dublin is the quickest way to travel this route. Just 308 kilometres in distance, a flight will see the journey is completed in the fastest amount of time. However, travellers can also take the bus which is also a simple way of completing the journey, driving directly from Manchester to Dublin with no additional stops.
Click for more information on Journey Details.
What is the Cheapest Way To Get from Manchester to Dublin?
If you book well in advance you'll find the cheapest way to get to Dublin from Manchester is by plane. Ryanair flies directly from Manchester Airport (MAN) to Dublin Airport (DUB). You can also make savings on the train and ferry option by booking well in advance also. There are a number of crossings to Dublin per day and the larger car ferry tends to be cheaper than the so-called fast ferry services. Prices also tend to be cheaper if you take the early morning sailings.
What is the Fastest Way to Travel from Manchester to Dublin?
Direct flights from Manchester to Dublin are the fastest route between the two cities with a journey time of around 55min. However, bear in mind that you also have to travel to the airport in Manchester and arrive 2h in advance of your flight. Then, on arrival in Dublin Airport, you will need to travel to your destination. There's no train connection at Dublin Airport so the quickest way to the city is by taxi or bus. Both city's airports are very busy so allow for transit time within the airport campus too. The train to Holyhead takes around 2h 45min and the fast ferry to Dublin takes 2h and arrives in the port near the city centre. You might find that, despite the short flight time, a train and bus combination can be just as fast.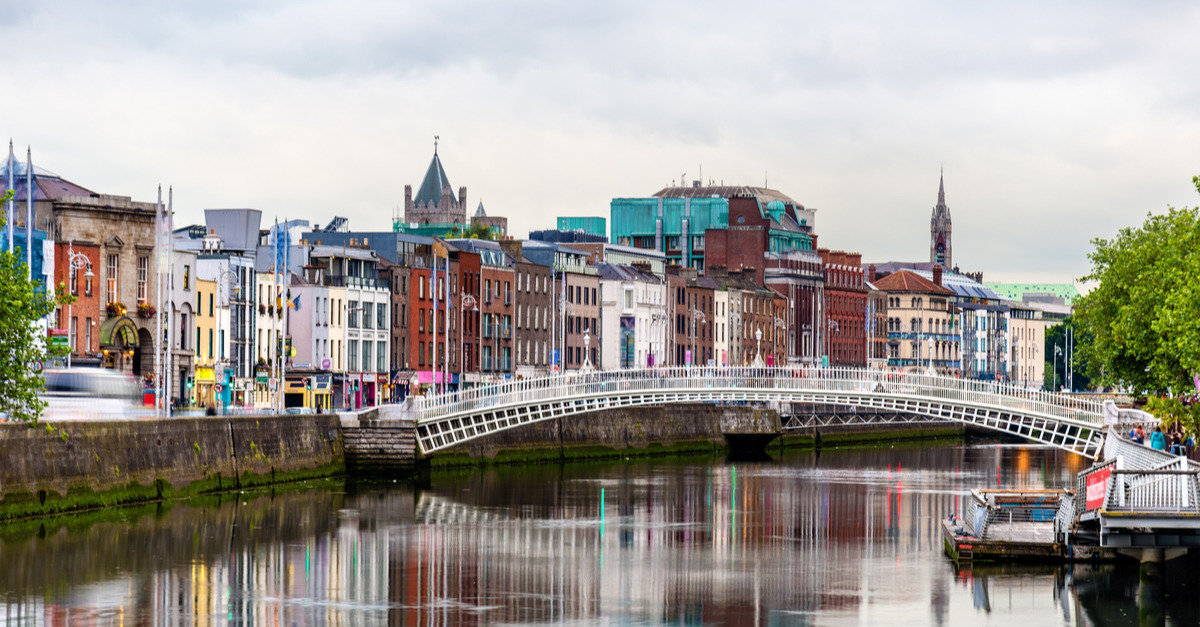 Dublin Bridge. Source: Shutterstock
Find the best tickets from Manchester to Dublin and book with Omio
Omio allows you to compare all route options and tickets from Manchester to Dublin in one place. It conveniently allows you to scan all your travel options in one go, giving you a snapshot of the providers, their routes and the ticket options in your own language. This is a great way to find the best Manchester to Dublin price. The Omio magazine, Window Seat, is also a great way to start planning your trip with travel features designed to spark your imagination.
Trains from Manchester to Dublin
Trains to Holyhead in Wales and onward by ferry to Dublin depart from Manchester Piccadilly and Manchester Victoria. Both departure points have a similar travel time of between 2h 45min and 3h 15min. They connect with ferry services in Holyhead seven days a week. Some of the train services will require a change in Chester. On arrival by ferry to Dublin there is no onward train connection. You will take a bus or taxi the 2 miles (3.3 kms) to the city centre's main bus station (Busaras) and train station (Connolly Station) which are beside each other.
Train travel from Manchester to Dublin with Arriva Trains Wales
Arriva is one of the best-known rail providers on this route. They operate a SailRail service that connects with specific ferry sailing times. Travel times are from 2h 45min to 3h 15min, depending on connections. A complete train and ferry Manchester to Dublin travel time would be around 7h-8h, depending on connections.
Flights from Manchester to Dublin
Ryanair dominates this route with direct flights to Dublin (DUB) from Manchester seven days a week. You can also take an indirect flight from Manchester with British Airways via London Heathrow (LHR). However this will require a transit time of between 4h to 6h in Heathrow. Ryanair's direct flights are the cheapest (when booked in advance) and the fastest. Once you arrive in Dublin Airport (DUB) you have the choice of a bus or taxi to the city centre. There is no rail connection at Dublin Airport.
Flying from Manchester to Dublin with Ryanair
Ryanair is the most popular airline on this route. It offers flights to Dublin from Manchester every day and, if booked in advance, is usually the cheapest provider also. The flights are direct and the airports in both cities are the main airports for those regions with all the amenities you would expect from a major airport, including local transport connections, retail and refreshments.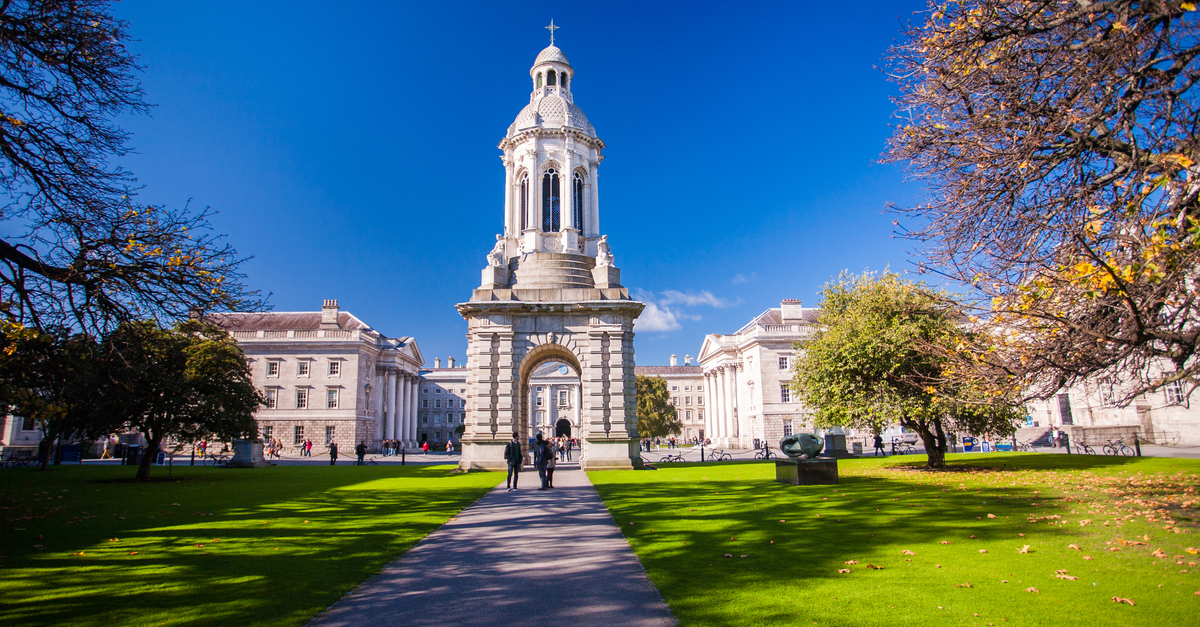 Dublin College. Source: Shutterstock
Ferries from Manchester to Dublin
A SailRail ticket will connect you with Dublin via an Irish Sea crossing by ferry. Two ferry providers operate passenger services on this route: Irish Ferries and Stena Line. Both offer fast ferry services with smaller ferries that take around 2h to complete the journey as well as larger car ferries that take around 4h. On both services you will have access to amenities like restaurants, children's play areas, comfortable seating, bars, retail and entertainment. You can upgrade to executive seating in quiet areas also. There are a number of sailings offered by each company every day. It's a busy route with tourists and business travellers as well as hauliers.
Traveling by ferry from Manchester to Dublin with Irish Ferries
Irish Ferries offer around four sailings per day between Holyhead and Dublin. They operate a cruise ferry and the faster Swift service. Trains from Manchester generally connect with one of these sailings. There is a quick 30min checkin and you will need to be at the desk at least 1hr before your sailing. Onboard you will find food and drink services, children's entertainment - including a cinema on the cruise ferry - and retail.
You will arrive at the Irish Ferries terminal in Dublin Port, which has bus and taxi connections to take you the two mile journey to the city centre. Stena Line is the other main operator on this route, offering similar frequency of sailings and amenities onboard. Stena Line also arrives at Dublin Port but with a separate arrivals terminal. Bus and taxi services are available to connect you with the city centre.
To Dublin by train/ bus/ flight - travel tips
Dublin is a very popular destination for couples from Manchester on romantic weekend trips as well as for larger groups such as hen and stag parties. The centre of Dublin is vibrant and busy with bars, restaurants and clubs as well as an easily accessed cultural quarter that includes museums, book shops and galleries. There are many historical and literary destinations in Dublin such as Trinity College, Dublin Castle and the GPO that offer great experiences for tourists.
The retail heart of the city is Grafton Street where you can listen to buskers and storytellers as you pursue the shops on this pedestrianised route. It's an increasingly international city and you can try almost every kind of cuisine in its busy restaurant scene with lots of outdoor dining options at all times of the year.
Quick Guide to Dublin
| | | |
| --- | --- | --- |
| | Must Know: | Dublin has an extensive bus network, but just a couple of train and tram lines. |
| | Must See: | When in Dublin don't miss going on a tour around the Guinness Storehouse. |
| | Must Do: | Go to see the Book of Kells, written by Irish monks in 800 AD - one of the most beautiful manuscripts in the world. |
| | Did you know? | Dublin is home to the largest walled park in Europe - 5 times the size of London's Hyde Park. |
Not the information you were looking for? Here are some pages that might be more in line with the information you need: