Trains from Manchester to Dublin
Taking a train is a comfortable and eco-friendly way to travel. A train trip between Manchester and Dublin takes between 9-12h, depending on the route you take, and it includes a ferry. The second half of your journey, going northeast from Chester, will take you along the coast of Wales, so you are sure to have great views of the Irish Sea. You will also pass the northern edge of Snowdonia National Park. Trains depart Manchester approximately every 40min.
Manchester to Dublin Train Time: Daily Departures
To travel to Dublin via train, you can take one of two routes. The direct train departs hourly. If you connect via another, there is a train every hour as well. The first train departs at 5:26 a.m and the last train at 11:54 p.m. From Chester to Holyhead, there are hourly trains, the first departure is at 6:44 a.m and the last departure is at 10:57 p.m. For your convenience, the trains are available seven days a week, through different operators. In total, 13 daily trains are available.
How long is the journey by train from Manchester to Dublin?
The journey by train takes approximately 7 to 9h from the time you depart Manchester, until the time you arrive in Dublin. Taking the direct train from Manchester to Holyhead doesn't have any train changes. If you take the second route available, you need to change trains in Chester and continue with the second train to Holyhead. From Holyhead, you have to take the ferry, which arrives in Dublin.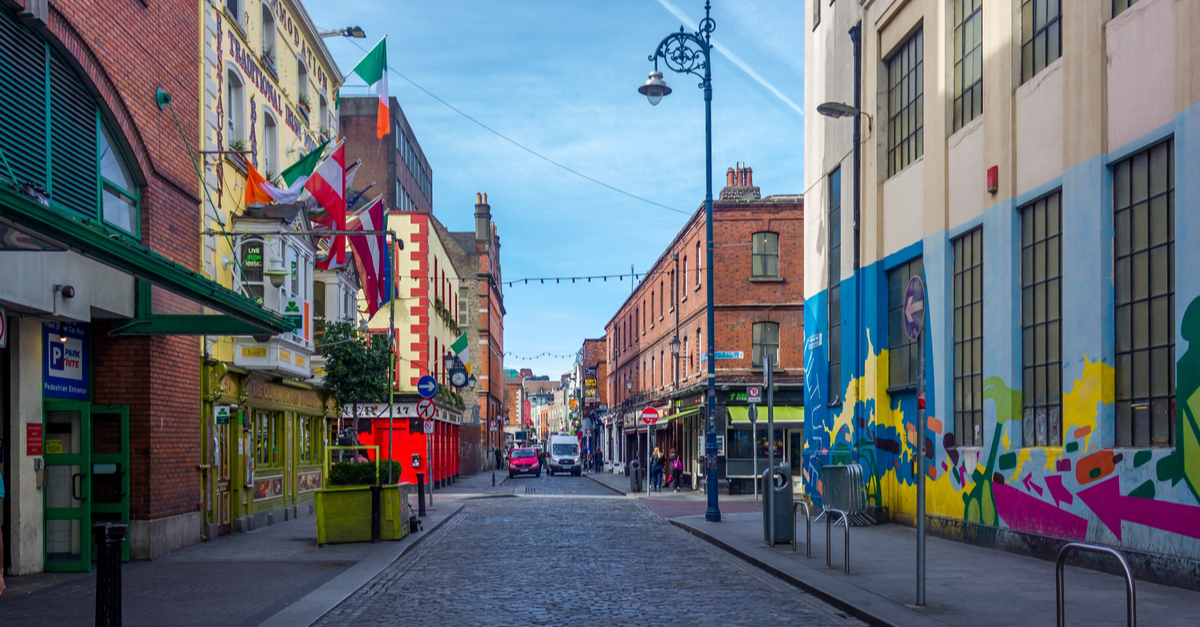 Dublin Street Sun. Source: Shutterstock
What is/are the departure and arrival stations for trains from Manchester to Dublin?
Departure train station: The first station you can depart from, for the direct train, is Manchester Picadilly. It's easy to reach via free buses from Manchester city, which takes approximately 10min by bus or a 5min walk. It is Manchester's main station with restaurants, shops and wheelchair accessibility and assisted travel. Manchester Oxford Road station connects via Chester. A 10min walk from the city centre, with a restaurant and disabled access.
Arrival train station: At Holyhead station on the island of Anglesey before you depart for Dublin on the ferry, you will find a comfortable station with a waiting area, restaurants and a cafe. The station is step-free and fully accessibly if you have reduced mobility or a wheelchair. When you arrive in Dublin at the ferry station, the city centre is a short 10min walk, or 5min bus ride away.
Which train companies travel from Manchester to Dublin?
Many service providers travel on the two routes between Manchester and Dublin. The first route departing from Manchester Oxford Road requires you to change trains at Chester Station or Crewe. The direct route, departing from Manchester Picadilly has no changeovers. Arriva Trains Wales, Avanti West Coast, Transport for Wales and Northern Rail all provide services between Manchester and Holyhead.
In Holyhead, there are two ferry operators to choose from - Irish Ferries, or Stena Line. You might prefer not to change trains, in which case, we recommend taking the direct train, approximately 7h later, you will reach Dublin. The indirect route through Chester or Crewe takes around 8h to complete.
Transport for Wales trains from Manchester to Dublin
Trainsport for Wales (TfW) service the two main routes from Manchester to Holyhead, before you board the ferry for Dublin. The direct train takes just under 3h, and there are three trains per day. If you connect through Chester the journey takes approximately 3h 30min, excluding transfer time.
Avanti West Coast trains from Manchester to Dublin
Avanti West Coast also has trains three times per day, with a change-over in Crewe. Your trip should take around 3h.
Northern Rail trains from Manchester to Dublin
Northern Rail has hourly trains between Manchester and Chester, from where you will need to take an Avanti West Coast or Trains for Wales service. It will take around 3h 15min.
Arriva Trains Wales trains from Manchester to Dublin
Arriva Trains Wales has a direct train that takes almost 3h as well. From Holyhead, the ferry is every four hours and the journey takes 3h15min.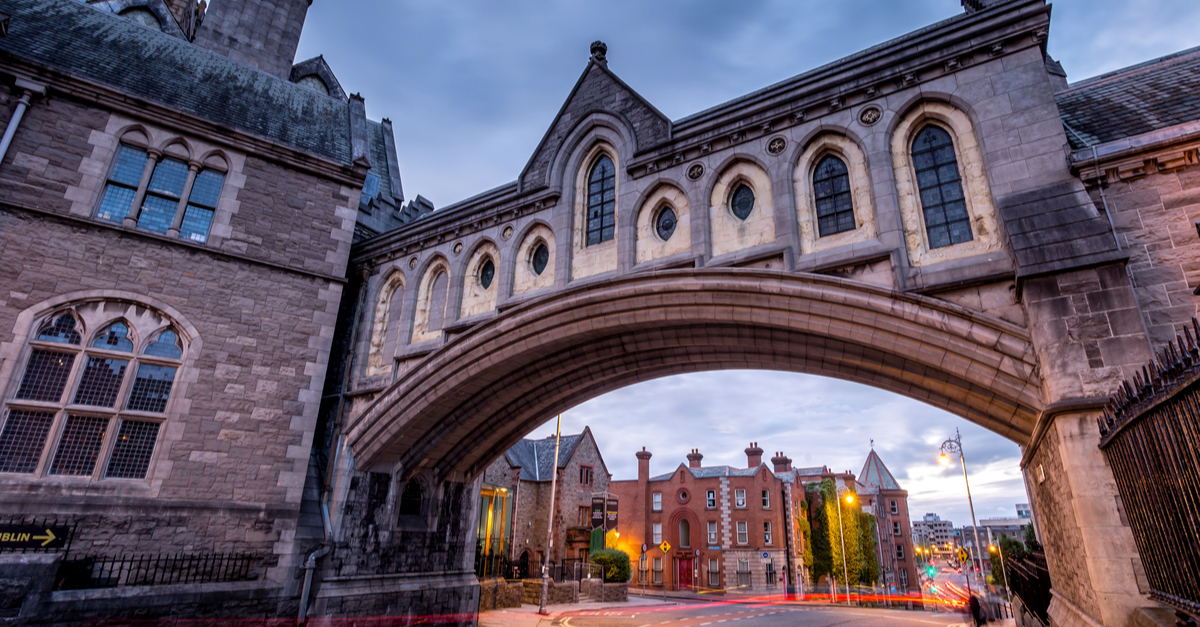 Dublin Building. Source: Shutterstock
Train Manchester to Dublin: Services on Board
Arriva Trains Wales and Transport for Wales have Business Class seats, as well as economy seats available. For a little bit of extra luxury, Transport for Wales offers First Class tickets as well. First and Business class includes meals, drinks and snacks for your journey. All the other providers, like Northern Rail and Avanti West Coast, have economy class seating. If you choose economy, you can still buy snacks and beverages onboard. Avanti West Coast, Arriva Trains Wales and Transport for Wales all allow you to bring your bike, but you need to book in advance, as space may be limited.
If you are travelling with pets, all the carriers allow one or two small cats or dogs, in a carrier, as long as they don't disturb other passengers. For bigger dogs, enquire with each service provider what their regulations and charges are. Wheelchair users and people with reduced mobility can contact the assisted travel office at each company for support. Wheelchairs and service dogs (correctly identified) are allowed on all trains. Every company will advise which train compartment is the best for you.
How to find cheap train tickets from Manchester to Dublin?
The best way to get cheap train tickets is to keep a close eye on Omio. All the rail service providers offer "advance" tickets, which allows you to book tickets in advance at a lower price. Certain dates have more expensive tickets, due to demand.
Keep your dates a bit flexible to get the best deals. Depending on which train service you use, connecting journeys, or even combining trips from different train companies may work out cheaper. However, slower journeys can also be more expensive, so check all your options. Many companies also offer season or regular travel passes, which are cheaper and very useful if you plan on doing the trip a few times. Don't forget to ask about, or look for student and/or senior discounts that are also available.
To Dublin by train—travel tips
Dublin is the gateway to the Emerald Isle, and arriving by train and ferry will allow you to experience a bit of its history in a different way. After a stop at the closest local pub for a pint, explore downtown and the docks area with its rich history as a commercial hub. For a culture fix, make sure you visit the Longroom Library and Trinity College, before continuing the Georgian Architecture theme to Saint Patrick's Cathedral and Audeon's Gate. If you're famished, make sure to pay Glover's Alley a visit for great Irish food.
For a night out on the town, don't miss going to the Little Pig Speakeasy. On a pub crawl? Go to Devitt's Pub or Murray's Bar. Whiskey and beer enthusiasts will also enjoy all the distilleries that offer tours. Take day trips into the countryside, and you might find a leprechaun, or its gold waiting for you in the forest.
Literary fanatics and connoisseurs alike will delight in doing a pub crawl of pubs frequented by some of the biggest literary icons and test your knowledge with quizzes on the way. We're sure you won't regret your trip by train to Dublin.