Trains from London to Swansea
If you wish to cut your travel time and increase your comfort while connecting London and Swansea, trains are the way to go. The cities sit approximately 164 miles (264 km) from each other. Generally, a train from London to Swansea takes roughly 3h to make its trip. However, you may spend 30min more if your ride is slower. London to Swansea journeys are usually comfortable, as the trains are direct. Consequently, you don't have to stress about finding a new ride as it happens in case of a changeover. The London-Swansea route has between 17 and 22 daily departures. Over the weekends, daily trains can be reduced to about 15.
London to Swansea Train Time: Daily Departures
Given that the route from London to Swansea has over 100 weekly trains, made of between 15 and 22 daily departures, you have numerous trips to choose from. If you prefer travelling at dawn, you can catch the first London-Swansea train around 06:00. The morning trip lasts nearly 3 hours, such that you get to Swansea at almost 09:00. At night, the last departure from London exits at roughly 23:00. It is important to note that weekends have a slightly different schedule. The first and last departures start travelling at approximately 06:30 and 21:00, respectively. Usually, one train to Swansea from London makes an exit every hour. During the afternoon rush hour, you might see two trains leaving London for Swansea within an hour.
How long is the journey by train from London to Swansea?
Normally, it takes about 3 hours for trains from London to Swansea to connect the cities. Since these trains are run by a single provider, you can expect a fairly consistent travel time during your trip. Of course, the presence or absence of delays may extend or shorten the duration.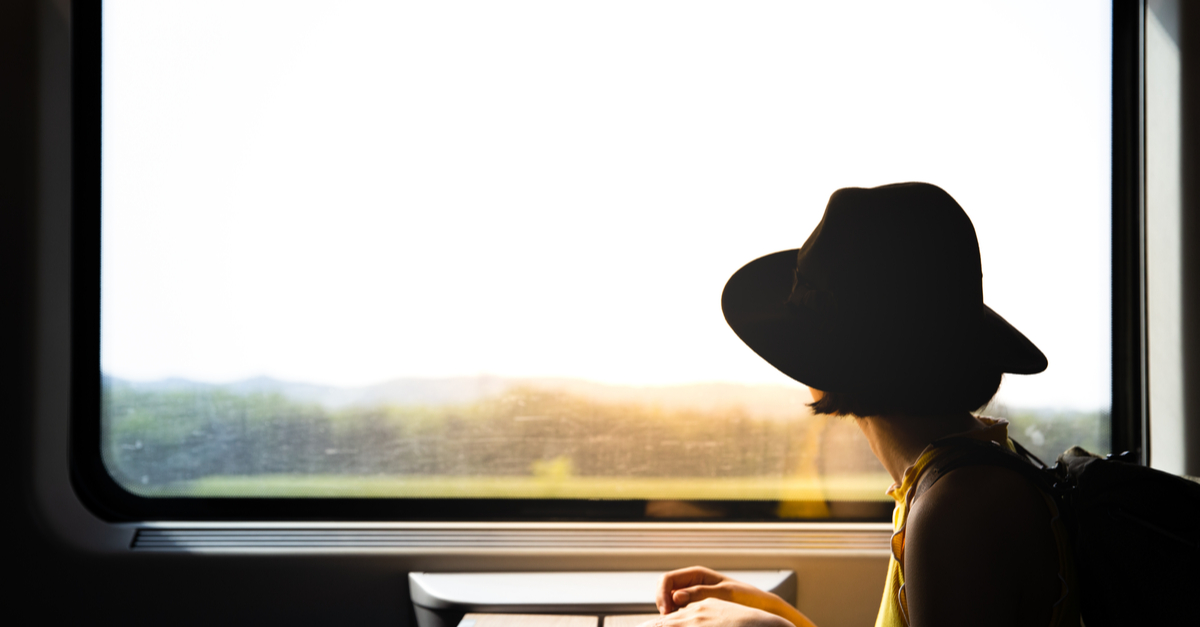 enjoying the view from the train from London. Source: Shutterstock
What are the departure and arrival stations for trains from London to Swansea?
Departure train station: You can catch your London to Swansea train at London Paddington Station. The terminal, which is usually busy, sits in Northwestern London, along Praed Street, approximately 4 miles (6.5 km) from the city centre. If in Central London, you can board a Transport for London bus and reach London Paddington within roughly 30min. Taking a cab may be a better means if you are travelling with extra luggage. At the station, various facilities exist at your disposal. The main concourse presents ticket machines and offices. You can also use showers, payphones, Wi-Fi, a water fountain, photo booth, cashpoint, car and bike parking, shops, waiting areas, a first-class passenger lounge and cafes. There are also toilets designed for men and women, with the latter having baby-changing areas. To cater to disabled passengers, London Paddington provides step-free entrances, tactile strips and assistance personnel.
Arrival train station: After completing the London to Swansea journey, your train's arrival point will be Swansea Railway Station. Situated nearly 0.5 miles (0.8 km) from Swansea city centre, there are two primary ways you can travel from the terminal to central Swansea. Firstly, you can walk within roughly 10min. The other option involves taking a comfortable taxi. The cab requires about 5min to connect Swansea Railway Station and the downtown area. The facilities at the station include ticket machines, cashpoints, toilets and coffee shops. There is also a tourist information office where you can find useful guidance on travel. Swansea Railway Station has trained staff to assist passengers who encounter difficulties due to a disability.
Which train companies travel from London to Swansea?
Great Western Railway operates all trains from London to Swansea. The company is a subsidiary of FirstGroup, a transit conglomerate based in Scotland. Great Western Railway started in 1996 and provides long-distance trains connecting various English and Welsh cities.
Night trains London
Travelling from London to Swansea at night is possible via four departures during weekdays. Around 19:30, you can get the first night train leaving the departure terminal in London. One train generally makes the night trip every hour. The last train to make the London-Swansea trip has its exit time at roughly 23:00. Since its travel time is about 3 hours, you can arrive in Swansea at around 02:00. On Saturdays and Sundays, you may get two nightly departures. The last train leaves earlier, at approximately 21:00.
Great Western Railway trains from London to Swansea
When you journey from London to Swansea by train, you will find that Great Western Railway operates all the trains for the route. The company offers about 15 to 22 trains every day. As they are long-distance locomotives, their top speeds reach about 125 mph (200 km/h). Almost all Great Western Railway trains from London to Swansea offer direct trips and get to Swansea in about 3h.
Trains from London to Swansea: Sustainability travel
One of the ways you can protect the environment while travelling from London to Swansea is by boarding the sustainability-centred Great Western Railway trains. One of the initiatives undertaken by the company to foster greener journeys involves increasing recycling rates to about 75%. Great Western Railway consistently improves its trains' technology to increase energy efficiency. Moreover, the company works with several partners to assess the effectiveness of environmental conservation policies.
Train London to Swansea: Services on Board
During your time on the affordable trains from London to Swansea, you can benefit from several onboard services. The trains have Standard and First-Class coaches. If you travel in the Standard class, prepare for spacious seats with a power point on the arm. The legroom is also adequate. If you need to check something on the internet, free Wi-Fi is available. At the end of the cabin, free-to-use toilets accessible by persons with disabilities are available. If you have a First-Class ticket, you can enjoy all Standard cabin perks plus the seats are comfier. There is also a table where you can place electronic devices and magazines. If you prefer having a bite, First Class offers foods, snacks and dining services. On the London-Swansea trains, you don't have to pay for luggage transportation if you have two or fewer bags. Also, if your bike folds, there are no charges imposed to bring it on the train. For non-folding bikes, be sure to pre-book a spot, since few storage spaces exist. For passengers with pets, it is mandatory to keep them caged or on a lead. A person may have up to two animals. The companies operating London-Swansea trains have favourable policies for persons with reduced mobility. They provide accessible trains and offer staff members to help if the traveller calls in advance.
How to find cheap train tickets from London to Swansea
Trains from London to Swansea are cheaper for passengers who book in advance. Thus, you can buy up to seven days before you travel and save. Also, if you can make your trip during an off-peak time, you might find cheaper tickets. It is advisable to acquire flexible tickets that allow you to transit whenever fares are low.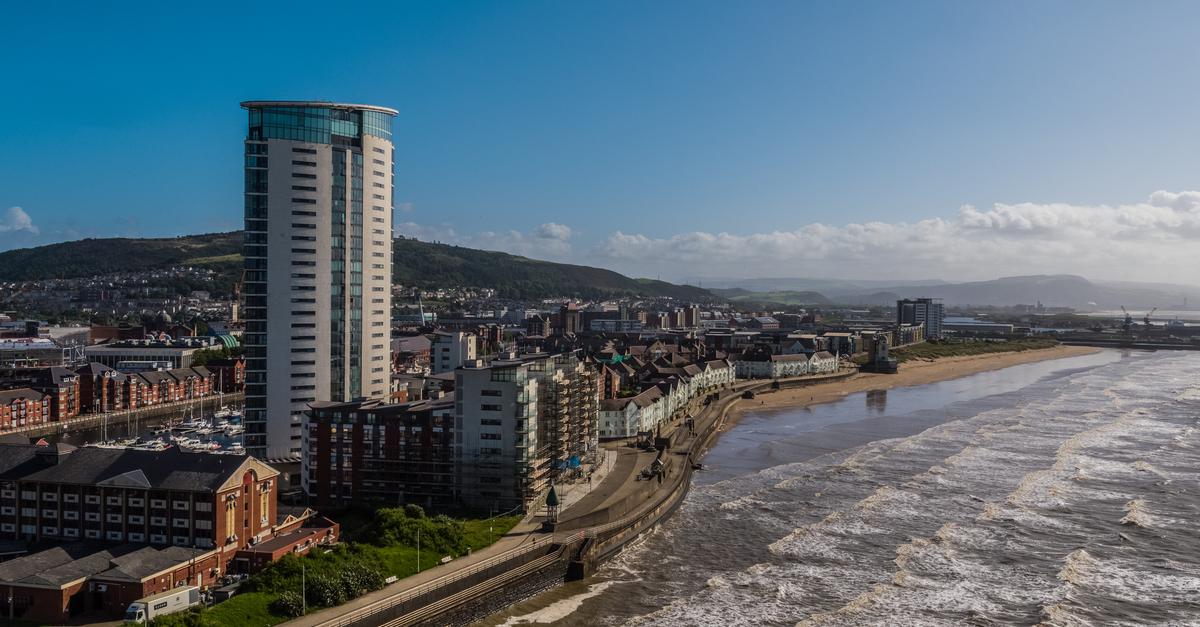 Bay of Swansea. Source: Shutterstock
To Swansea by train—travel tips
Zealous campers, heritage admirers and beach enthusiasts will find a piece of heaven in Swansea. Spend a night under the stars near the soothing shores at Three Cliffs Bay. You can also take a roughly hour-long walk on the site. If you enjoy arts, Swansea has much to offer. Be sure to check out Swansea Grand Theatre and Glynn Vivian Art Gallery. The outdoors of the city should also be one of your must-visit places. Take a breather at Swansea Beach or the green fields at Clyne Gardens. Besides its culture, Swansea has a rich history that you will find fun to explore. Tour the National Waterfront Museum or the Dylan Thomas Centre. While at it, remember to have a peek at the castles that defined ancient Swansea.
Swansea Castle
Pennard Castle
Weobley Castle
Oxwich Castle
Oystermouth Castle
Loughor Castle