Trains from London to Paignton
Trains run from London to Paignton every day of the week with multiple departures each day. There are no direct trips, but it is very close to nearby seaside towns with direct trains. It is generally easiest to first travel to either Torre, or Torquay before taking a short trip on a bus or car and travelling on to Paignton. Multiple providers make the trip and they usually involve one change in Newton-Abbot or Exeter-St Davids.
London to Paignton Train Time: Daily Departures
There are upwards of around 30 trains each day. The first train departs at around 6:37 a.m. and 11:35 p.m. Between around 6:37 a.m. and around 7:04 p.m. the trains usually depart multiple times each hour. Sometimes multiple trains depart at the same time, taking slightly different routes, some arriving in Torre and some arriving in Torquay. There are usually four departures between 9:00 a.m. and 10:00 a.m. and four departures between 4:00 p.m. and 5:00 p.m.
How long is the journey by train from London to Paignton?
The journey by train includes between roughly 2h 45min and 3h 22min on the train. This depends on which train you take and if it is arriving in Torre or Torquay. Once you've arrived at either station it takes roughly 9min to 20min to get to Paignton. Buses travel between the cities is available or you can travel by car. This brings the total travel time to roughly 2h 54min to 3h 42min.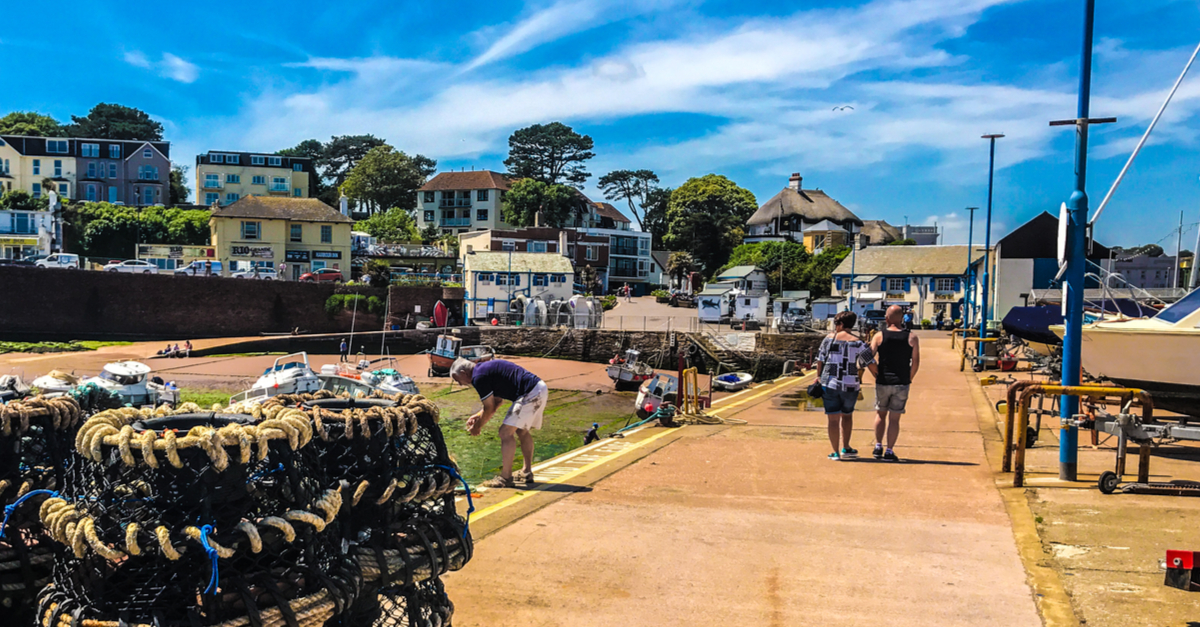 Paignton Harbour Fish Market. Source: Shutterstock
What is/are the departure and arrival stations for trains from London to Paignton?
Departure train station: The departure station is usually London Paddington station. It takes roughly 20min to reach the station from the city centre by train, you can take the Bakerloo line from Charing Cross Station. All entrances to the station are step free and mobility assistance vehicles are available. Ticket machines are located around the concourse. Toilets can be found before the ticket barrier and there are two breastfeeding rooms and baby changing facilities.
Arrival train station: One of the arrival stations is Torquay Railway station. It is an old fashioned railway station and has a tea room available for drink and food. It takes roughly 11min to reach the Paignton city centre from the station by bus or car. The other arrival station is the Torre Railway Station Also an old fashioned railway station located in Torquay, it is just a bit further away from Paignton. Luggage storage is provided at this station and there is a payphone located near the entrance. It takes roughly 15min to reach the Paignton city centre from the station by bus or car.
Which train companies travel from London to Paignton?
Great Western Railway provides most of the journeys from London to Paignton by train. Their trains operate multiple times an hour for most of the day. They provide the shortest available journeys although the complete length is different for each trip. Cross Country trains also runs trains from London to Paignton, but usually only around one or two trips a day, usually in the afternoon at around 3:00 p.m. Both companies depart from London Paddington Station but while Great Western Railway arrives at both Torquay Station and Torre Station, Cross Country usually only arrives at Torquay Station.
Great Western Railway trains from London to Paignton
Great Western Railway trains run upwards of roughly thirty times each day. Their trains depart multiple times an hour most of the day with the most frequent departures between 9:00 a.m. and 10:00 a.m. and between 4:00 p.m. ad 5:00 p.m. You will have the option to choose trips that arrive at Torre Station and trips that arrive at Torquay station. On average their journeys take roughly 3h to arrive at one of these stations so on average the total travel time to Paignton is around 3h 20min. Their trains usually have one change in Newton Abbot or Exeter-St Davids. Some of their trips to Torre Station have no changes.
Cross Country trains from London to Paignton
Cross Country trains provide trips from London to Paignton much less often than Great Western Railway. There are usually one or two departures each day, usually in the afternoon, around 3:00 p.m. Their trips usually take around 3h 20min to arrive and usually make one stop in Newton Abbot. Some trips make two stops, one at Bristol Parkway station and one at Bristol Temple Meads station.
Train London to Paignton: Services on Board
Great Western Railway and Cross Country trains both have the option of economy or first class tickets. Food and drink are available in either class, as well as free Wi-Fi. Great Western Railway has trolley service so your food is served at your seat. Both companies allow you to bring a bike on board but you do need to make a reservation first. First-class includes larger seats with more legroom as well as tables and power sockets for every seat. You can pre-book travel assistance if you need any assistance in either the train station, boarding the train or on the train itself.
How to find cheap train tickets from London to Paignton?
You can find cheaper tickets from London to Paignton if you are able to be flexible with your travel plans, specifically departure days and times. The cost of tickets fluctuates throughout the day and you may be able to find a cheaper ticket at a less ideal departure time. Tickets tend to be at their cheapest in the middle of the day and after 7:00 p.m. Choosing economy over first class will also allow you to get cheaper tickets and while you can purchase Any Time Day Single tickets for greater flexibility these will cost more.
It will also likely be cheaper to travel from the train station to Paignton city centre via public transport as opposed to by taxi. Booking your tickets ahead of time can also help you secure cheaper tickets as they may rise in price closer to the departure day and time. Keeping an eye on the different tickets available on Omio allows you to compare different providers and trips, letting you find the right tickets for your budget and travel needs.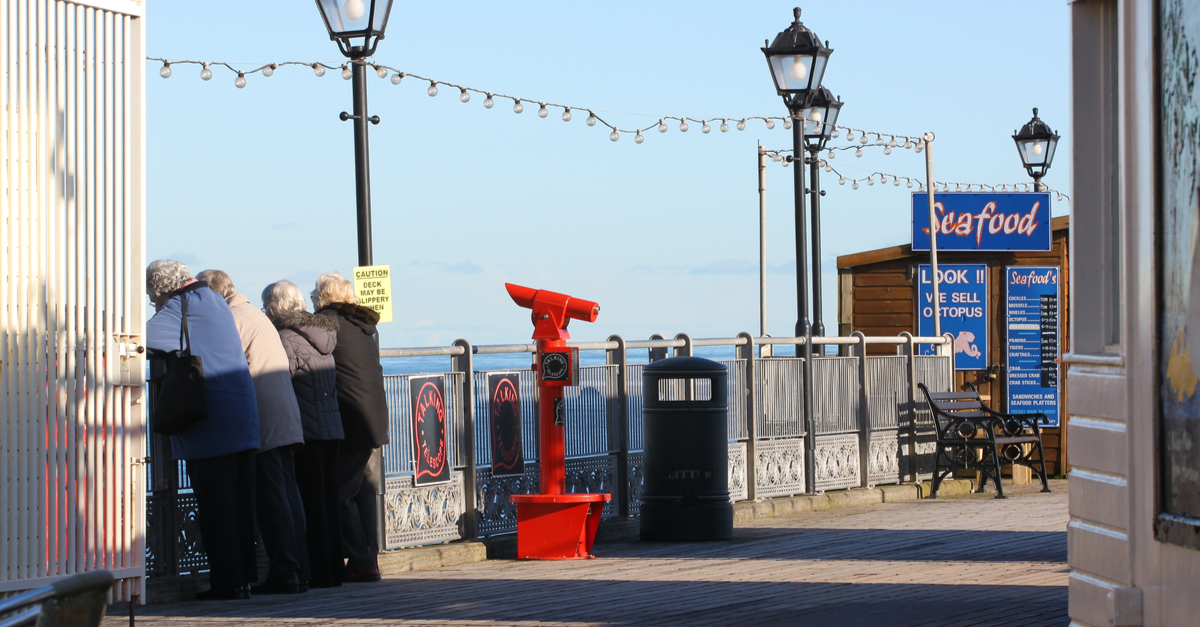 Paignton Port Binocular Tourists. Source: Shutterstock
To Paignton by train—travel tips
A quaint seaside town, Paignton is one-third of the borough of Torbay, also known as the English Riviera, along with Torquay and Brixham. A very popular tourist attraction for its beaches alone, the town boasts a variety of activities for any visitor to enjoy. The Paignton Zoo has a variety of animals, including exotic species and is an attraction that visitors could easily spend a whole day at. Alternatively, Occcombe Farm is close by with farm animals as well as a popular cafe and nature walk.
The city also has a thriving nightlife with plenty of pubs, bars, and restaurants to visit. There is an old-fashioned steam train that runs from Paignton out to Dartmouth where fans of mystery novels can visit Agatha Christie's Greenway residence. Paignton Harbour dates back to the 18th century and has a variety of boats on display at all times as well as several restaurants and cafes where visitors can sample the local fish, freshly caught. Be sure to check the festival schedule for your trip as events are often occurring, especially during the peak holiday season.