Trains from Edinburgh to Livingston
There are many direct train journeys from Edinburgh to Livingston throughout the day. Sundays sometimes see a reduced service, but on most days, Monday to Saturday, you've got several trains departing per hour. Train rides can take between 18min and 31min at most and the approximately 17 mile (27 km) journey may have intermediary stations along the way. Most trains to Livingston can be boarded at both Edinburgh Waverley and Edinburgh Haymarket stations. In Livingston, your train can arrive either at Livingston North or Livingston South.
Edinburgh to Livingston Train Time: Daily Departures
On almost any day, you've got between 40 and 50 trains departing from Edinburgh Waverley and arriving at Livingston South or Livingston North. On average, that's a train leaving every 20min or so. The first journey of the day is at or around 05:50 a.m. and the last one is typically scheduled at or around 11:21 p.m. There are exceptions, though. For example, Sunday train service may only have one departure every hour, typically at 40min past, and trains may only run between 08:00 p.m. and 08:00 p.m., departing from Edinburgh Waverley.
How long is the journey by train from Edinburgh to Livingston?
Journey time between Edinburgh to Livingston varies, but it shouldn't take much longer than 30min. All journeys are direct and most of them are between 21min and 24min. Quicker journeys tend to arrive at Livingston North station and have fewer stops en route. The shortest journey of the day tends to be the service leaving at or around 07:58 a.m. from Edinburgh Waverley, taking just 18min. The longest train rides generally depart from Edinburgh Waverley at 05:50 a.m. (30min) and 10:27 p.m. (31min).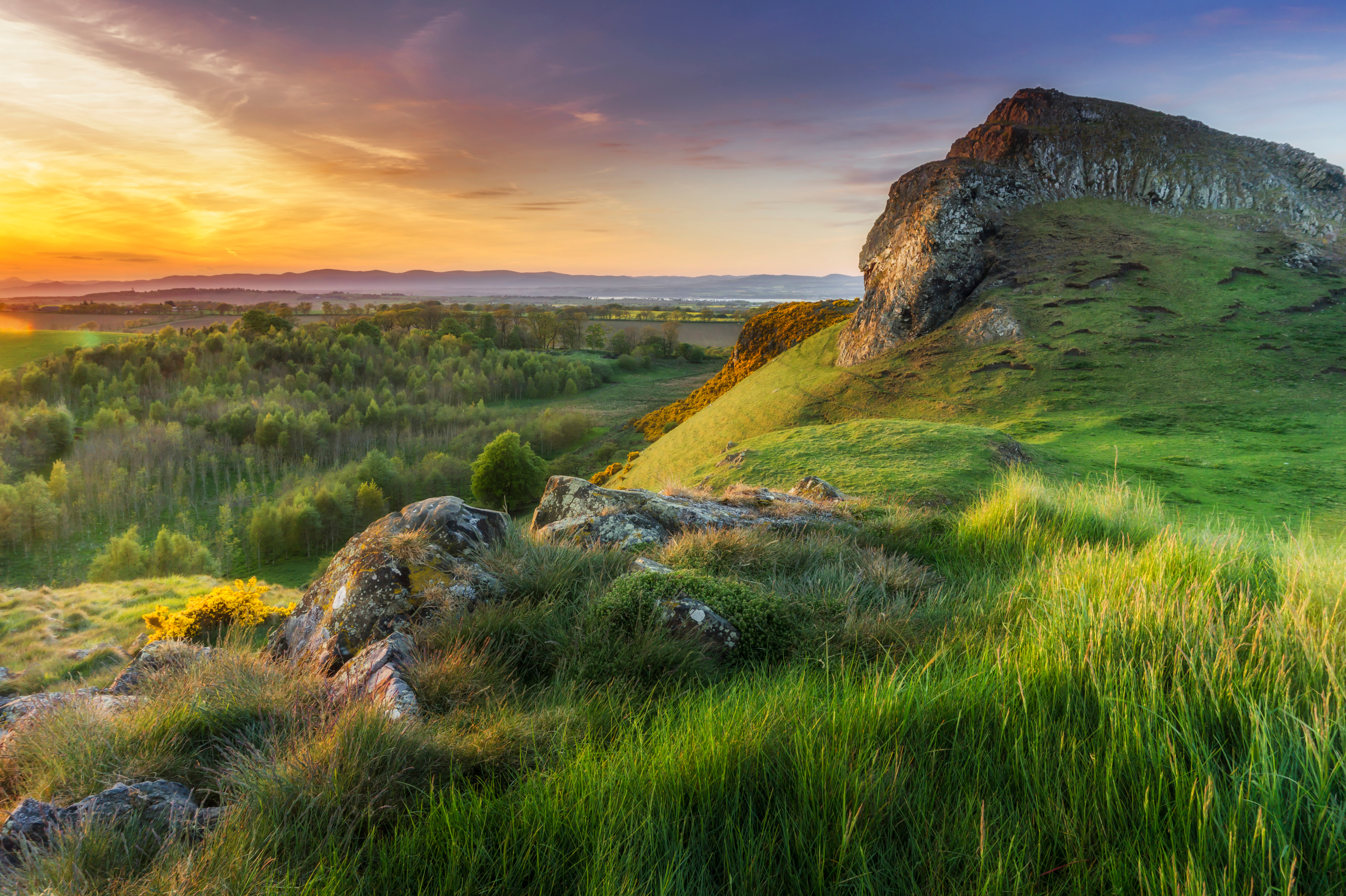 Livingston Countryside . Source: Shutterstock
What are the departure and arrival stations for trains from Edinburgh to Livingston?
Departure train station: Both Edinburgh Waverley and Edinburgh Haymarket stations have train connections to Livingston. If boarding at Edinburgh Haymarket, your journey is 5min shorter on average than boarding at Edinburgh Waverley. While both stations are quite central, Edinburgh Waverley is closer to Old Town and New Town (about a 5min walk to each). Edinburgh Haymarket, however, is about 18min away from the centre when using a tram and about 30min away by foot. Both stations feature basic amenities including Wi-Fi, ATMs, bathrooms, and food and drink shops, but Edinburgh Waverley is better equipped with facilities such as trolley points, showers, car hire, and passport photo booths.
Arrival train station: Both Livingston North and Livingston South are reachable from Edinburgh's train stations. Their respective distance to the town centre is comparable: Livingston South is about 1.8 miles (3 km) away, which is approximately 35min by foot or 30min by local bus, while Livingston North is about 2 miles (3.2 km) away, or 30min by foot and 22min by local bus. Bear in mind that Livingston South and Livingston North are relatively small train stations and do not have facilities such as bathrooms, ATMs or Wi-Fi.
Which train companies travel from Edinburgh to Livingston?
You can get from Edinburgh to Livingston by using the ScotRail train operator. ScotRail manages this route as part of its cross-Scotland service, with final destinations including Glasgow Central, Helensburgh Central, Bathgate, and Milngavie.
As many of these can be long-distance routes, bear in mind there can be multiple stops along the way and a prolonged arrival time to your destination. If you have specific travel requirements, which may relate to travelling with children, pets, prams, luggage, wheelchairs, mobility scooters, or bicycles, you should always refer to your train provider's guidelines and pre-book additional storage space in advance, particularly on busy or long-distance routes.
ScotRail trains from Edinburgh to Livingston
ScotRail operates frequent train connections from Edinburgh Waverley and Edinburgh Haymarket to Livingston South and Livingston North, up to about 50 journeys a day. Journeys are quick and require no changes, with the fastest being 13min between Edinburgh Haymarket and Livingston North and most journeys taking between 21min and 24min when departing from Edinburgh Waverley.
You cannot purchase a first class ticket for this journey, but, if you book your ticket in advance, you have the freedom to pick your seat and carriage before departing. Anytime day tickets are sold on this route, allowing you to hop on any suitable train throughout the day (however, double-check your ticket, as it may only be available on super-off-peak trains).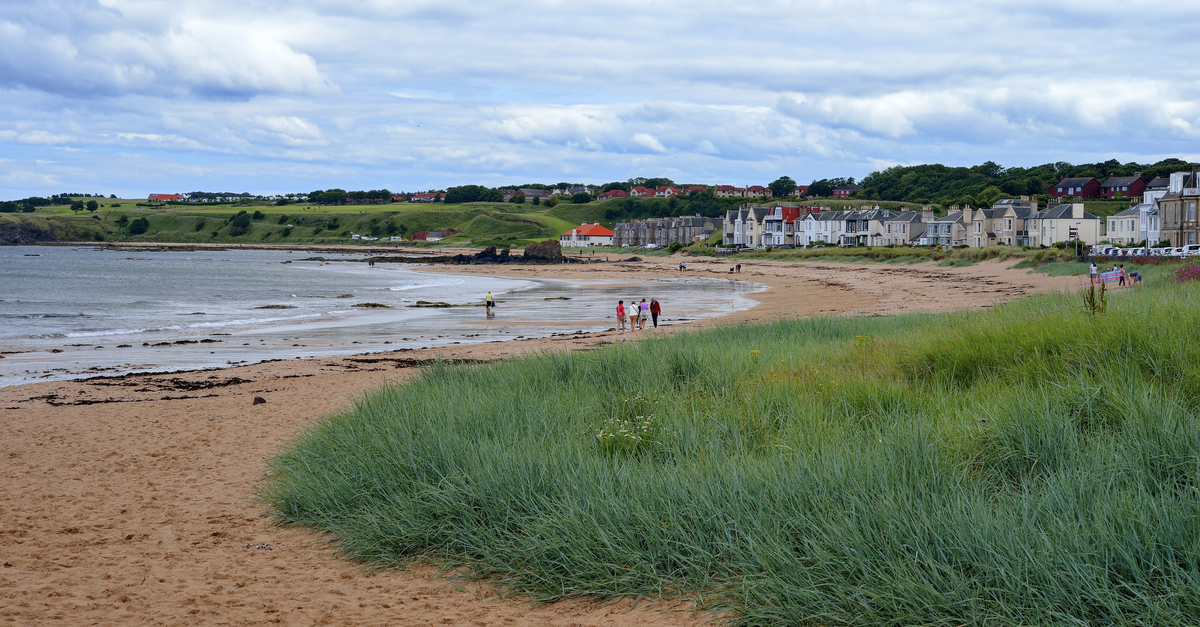 Livingston Beach. Source: Shutterstock
Train Edinburgh to Livingston: Services on Board
While there are no first class tickets being sold for the Edinburgh to Livingston route, you may be able to sit in a quiet coach if the service is long-distance and has sufficient carriages. On ScotRail trains, you're allowed two large items of luggage and one piece of hand luggage on board. You can also have a pram with you and, if travelling with pets, you must ensure they are either on a lead or inside a pet carrier.
For wheelchair users, most trains have designated wheelchair spaces, staff trained in providing accessible service, and access ramps to get on and off at stations. Mobility scooters are also accepted on ScotRail trains; they must be stored in the wheelchair area and users should check before booking whether the scooter's dimensions fall within the train provider's sizing guidelines. If travelling with a bike, check in advance whether you're able to bring it on board: some services, particularly the long-distance or peak-time ones, may require booking bike storage in advance.
How to find cheap train tickets from Edinburgh to Livingston
Ticket prices are relatively consistent on Edinburgh to Livingston routes, but there can be variations based on the time of day and the duration of travel. For example, longer journeys starting from Edinburgh Waverley (between 27min and 31min) tend to have more intermediary stops and might be offered at a lower price. These trains usually depart at or around 26min past the hour, arriving at Livingston South exclusively.
Prices aren't substantially different if you leave from Edinburgh Waverley as opposed to from Edinburgh Haymarket, but you're more likely to find a cheaper ticket from Edinburgh Haymarket, which is closer to the destination. We recommend booking your ticket in advance and being flexible with your departure date and time if you want to get the cheapest train tickets to Livingston.
To Livingston by train—travel tips
If you're spending some time in Livingston, you'll have no shortage of things to do. This town in the West Lothian region of Scotland has some breathtaking scenery that you can explore by foot with your family, friends, and pets; some examples include Linhouse Glen, Murieston Trail, Dedridge Ponds, and Breich Water.
If you're on a bike, you can give the 7 Mile (11 km) Cycle Ride a go around Livingston's surrounding natural habitats, which should take you about 30min to 45min to cycle. If you're a retail lover, head over to The Centre - one of Scotland's five largest shopping centres - where you can browse through famous high-street brands, as well as try one of the many food and drink vendors.
Finally, if you're looking for fun activities to do with loved ones, check out the Paradise Island Adventure golf course, the Almond Valley Heritage Centre featuring farmyard animals, and Howden Park Centre for an evening of theatre, music or comedy, all of which are accessible via local bus routes.