Buses from London to Bath
There are about two buses every 2 to 3h from London to Bath on a daily basis. The frequency is higher from Friday to Monday, at about 17 buses per day. From Tuesday to Thursday, there are on an average 15 buses per day. All buses are direct on this route, without requiring any transfer. On an average, it takes 2h 50min to travel by bus from London to Bath.
London to Bath Bus Time: Daily Departures
The first bus departs London for Bath between 06:30 to 07:30 from Friday to Monday, and from Tuesday to Thursday, it leaves between 07:30 and 08:30 in the morning. The last bus of the day is a little after 22:30 every day of the week. On an average, there are two buses every 2 to 3h, 15 to 17 buses per day and 115 buses per week from London to Bath.
How long is the journey by bus from London to Bath?
It takes approximately 2h 50min to cover the 96 mile (155 km) journey by bus from London to Bath. The fastest bus will get you to Bath in about 2h 35min from London, but it can take roughly as long as 3h 35min on a slower bus. No transfer is required on this route, as all buses run direct to Bath. The duration of the journey depends on the time of day and also on the day of the week.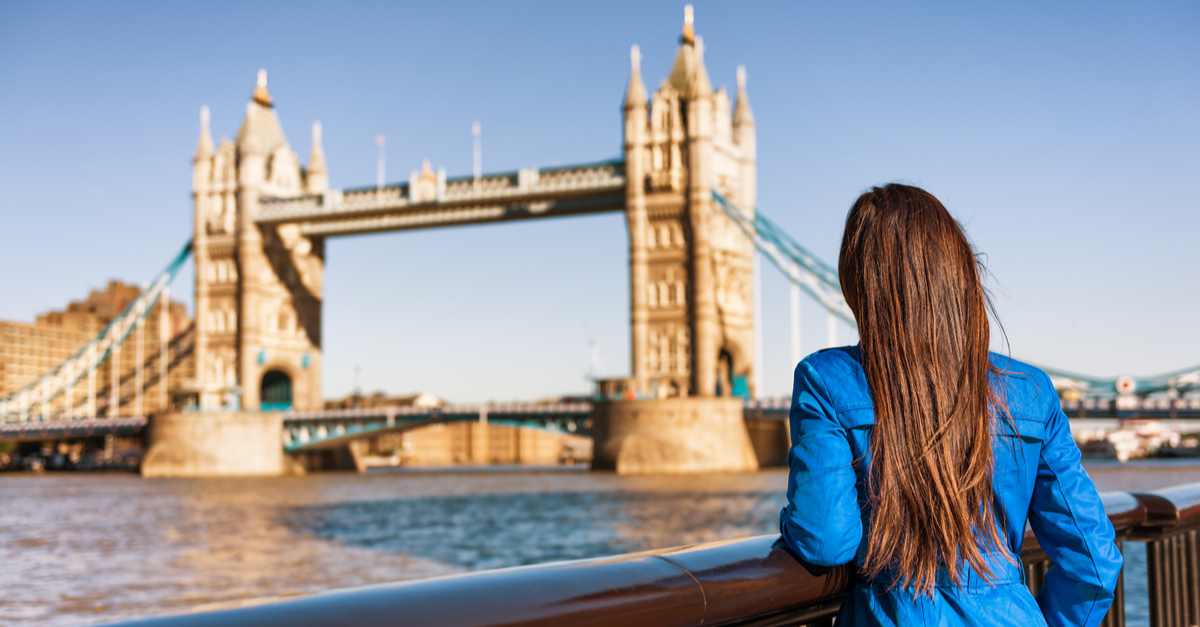 blue detail of the towers in London. Source: Shutterstock
What are the departure and arrival stations for buses from London to Bath?
Departure bus station: Buses from London to Bath depart from Victoria Coach Station. Victoria Coach Station is about 1.8 miles (2.9 km) from the city centre. There is a taxi rank and a bus stop outside the station and Victoria rail station is roughly just a 300 metre walk from here. There are various amenities at this station, like baby-changing rooms, toilets, shops, refreshment facilities, pay phones, cash machines, accessible toilets for passengers with disabilities, luggage porters and a left-luggage facility.
Arrival bus station: Buses arrive at Bath Bus Station and at London Road stop. Bath Bus Station is located about 482 metres from the city centre, and the train station is approximately 180 metres from here. At the station, you can find toilets and a waiting area. If you're feeling peckish after your journey, there's a coffee shop, fast-food restaurants and kiosks close to the station. The London Road stop is 1.2 miles (1.9 km) from the city centre; you can catch a bus from the nearby Lambridge bus stop to get to the city centre from here.
Which bus companies travel from London to Bath?
National Express is the main bus company that travels from London to Bath. The National Express buses depart from Victoria Coach Station in London and take, on an average, 2h 50min to 3h 15min to complete this journey. They always run directly to Bath. The longest time it takes on the National Express buses from London to Bath is roughly 3h 35min and the shortest is about 2h 35min, on a night bus. There are about 15 to 17 National Express buses on this route per day.
National Express buses from London to Bath
The National Express buses from London to Bath operate about twice every 2 to 3h throughout the week. From Friday to Monday, there are approximately three to four buses more per day than on the other days of the week, and the frequency of buses increases in the peak hours. Depending on factors like time of day and day of the week, it can take roughly any time from 2h 35min to 3h 35min to reach Bath from London by bus. There are at least three night buses every day on this route, which depart London generally between 22:30 and 23:00. In fact, the last bus to depart is usually the fastest bus on this route. Passengers do not need to transfer anywhere in between.
Bus London to Bath: Services on Board
If you are travelling by bus from London to Bath with National Express, you can bring up to two medium-sized pieces of luggage or one large suitcase, weighing no more than 44 lb (20 kg) with you. A small piece of hand luggage is also allowed. In addition, folding buggies can be brought on board free of charge, and the buses have designated space for wheelchairs and mobility scooters. They also have toilets at the back of the coach. Only trained assistance dogs are allowed on the buses on this route, and no other pets can accompany you. There is plenty of legroom and free Wi-Fi for passengers on board. You can book Assisted Travel, if you need assistance on the bus from London to Bath. You will also be able to control your air conditioning from your seat and charge your devices on the USB ports available to you.
How to find cheap bus tickets from London to Bath
To find cheap bus tickets when you are travelling from London to Bath, make sure to search a couple of weeks in advance. If you are flexible with your time and date of travel, there is more of a possibility to find cheaper tickets for this trip. On our website, you can find cheap tickets for the National Express bus service to Bath from London. Also, travelling at off-peak hours during the day will help you find a cheaper ticket. The fastest bus is probably a bit more expensive as compared to the one that takes much longer to reach Bath. The key to finding the best deals is flexibility. You may find sometimes that last-minute cancellations can be offered as cheap tickets, too. Click here if you want to search for cheap bus tickets from London to Bath.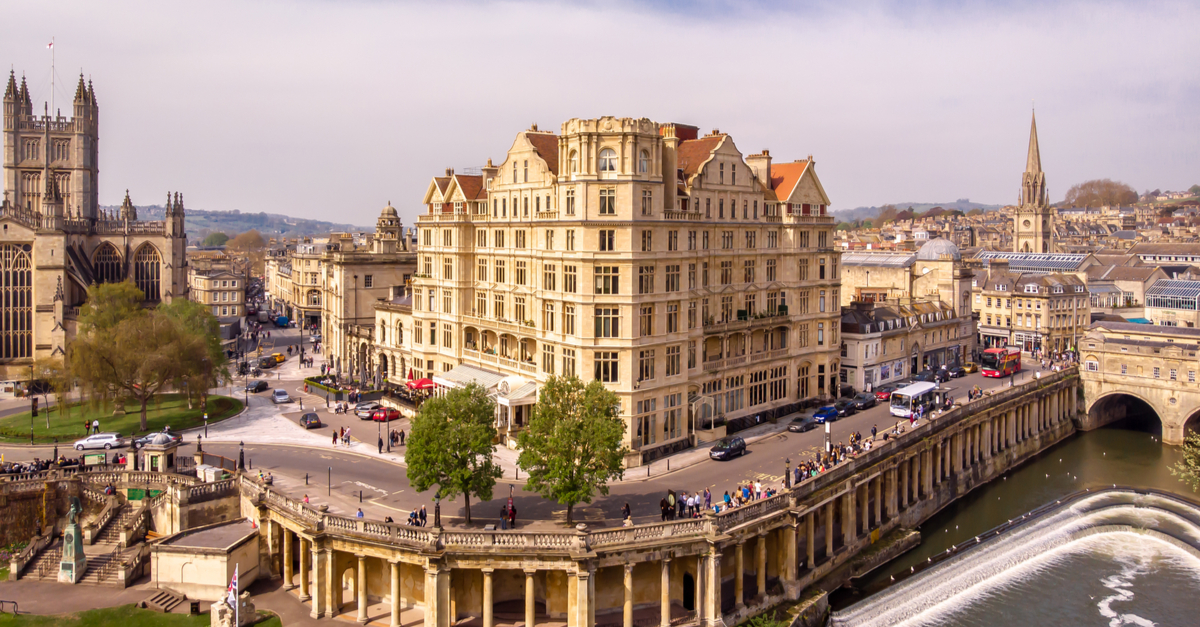 Buses from London to Bath: view of the abbey in Bath. Source: Shutterstock
To Bath by bus—travel tips
The city of Bath was named after its Roman-built baths; therefore, visiting the old Roman Baths that are more than 2,000 years old should be on top of the list of things to do in Bath. You can visit the Great Bath and taste the spa water which is rich in minerals. The Roman Temple and the Beau Street Hoard are worth a visit, too. 17,660 Roman coins from 32 BC to 274 AD are on display here. Along the River Avon is the Pulteney Bridge, which has a lot of shops, cafes and restaurants inside it. It is quite a rare piece of architecture, with only four more like it around the world. Bath is known for its Georgian crescents, especially the No. 1 Royal Crescent. It is a museum that has been decorated and furnished to display the lifestyle and fashions of the 18th century. Take a dip at the Thermae Bath Spa while you are in Bath; it also has an open-air rooftop pool. You can also visit the Bath Gin Company, where you can sample about 230 different kinds of Gin. The Bath Abbey can be seen as a dominant feature of the Bath skyline, be it day time or night time. It was built in the 1500s, and its Gothic architecture with a 161-foot bell tower is spectacular. For more travel tips for your trip to Bath, do visit our online travel magazine, The Window Seat.