Coaches to Huddersfield
Huddersfield is an inviting town and has a lot of historic and free to visit attractions that make the town what it is. Visit for a peaceful and relaxing time in this town, located in West Yorkshire. This market town is easily accessible by coach and is home to two main coach stations. These coach stations are Huddersfield Coach Station and Huddersfield Market Street. You will most likely find that your coaches to Huddersfield will reach and terminate either of these two stations. These stations most likely see coaches from most major cities, airports, or even train stations. Places like London Heathrow, London Stansted, London Victoria, and London King Cross are the most common starting routes.
MegaBus to Huddersfield
If you're looking to book a coach to Huddersfield with Huddersfield, then you'll be met with great service. Megabus prides itself on its promise of budget-friendly fares and low-cost travel tickets. Not only are these tickets at low costs but they're also paperless and you can find access to them on your electronic devices. Onboard facilities include free Wi-Fi, 44 pounds (20 kg) of luggage allowance, and so much more! As well as their variety of onboard facilities, MegaBus is a hugely successful company that not only offers coach services around the UK but Europe as well. And if that wasn't enough and you were seeking a fun activity during your time in Huddersfield then why don't you take up the opportunity to sightsee. MegaBus offers a fun service, also known as 'Mega Sightseeing Trips.' Those wanting to benefit from this great experience with MegaBus can find their sightseeing activities in most major cities and towns. Keep a lookout and you might just see one pass by!
National Express to Huddersfield
National Express is a great coach service that provides transportation to Huddersfield. The coach company offers faultless service to their guests and those travelling with National Express can also benefit from the large range of facilities on board the coach that also comes at the price of your ticket. With the promise of low-cost travel, they pride themselves on sufficient and frequent travel. And if that wasn't enough, National Express are proud on their commitment in doing their part to help the environment. They are the most sustainable intercity network in the whole of the UK. Not only does National Express offer coaches to Huddersfield but you can also find their public transportation around most places in the UK. They are one of the UK's leading bus companies and are accommodating to all types of passengers.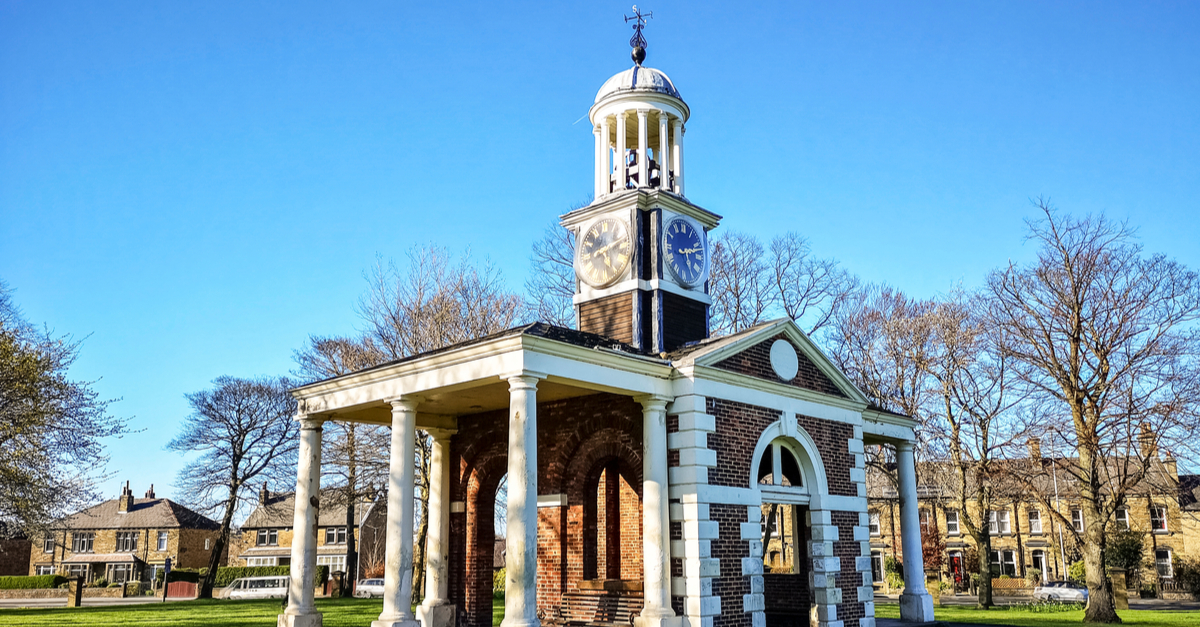 Huddersfield Clock Tower. Source: Shutterstock
Main bus stations to Huddersfield
Coaches to Huddersfield will commonly reach either of the two coach stations located at Huddersfield, Huddersfield Coach Station and Huddersfield Market Street. Although both coach stations welcome all types of coaches from near and far, it is most common that you will find your coach of choice reaching Huddersfield Coach Station, out of the two that are available. These coach stations will commonly find coaches arriving from larger cities, airports or even train stations. It may be quite common if you're travelling to Huddersfield from the outskirts of either of these places that you might need to transfer coaches. Coaches will commonly happen at places like London Victoria, London King Cross, London Stratford or even London Heathrow, depending on where you're visiting from. But don't worry, coach transfer is easy to do and is very common for most travellers and passengers.
Onboard facilities to Huddersfield
Coaches to Huddersfield will range with their onboard facilities depending on what company you're travelling with. Despite whom you choose to ride with, they all promise great views as you make the trip to Huddersfield. Most companies offer similar amenities and facilities onboard but can slightly differ from time to time. If you're choosing to travel with MegaBus then have access to their onboard and free of cost Wi-Fi, charging points and plug sockets for all of your electronic devices, as well as 44 pounds (20 kg) of luggage allowance. Those travelling with National Express can expect similar facilities with their offering of free Wi-Fi and also their charging points. National Express also offer extra comfy seating with coaches to Huddersfield to provide a good and comfortable coaching experience. The coach seating also a promise of extra legroom for all of their passengers.
Bus tickets to Huddersfield: useful to know
Many coach companies can differ with their requirements of tickets and actual identification in order to board any of their coaches. MegaBus and National Express both offer a paperless feature with e-tickets that can simply be shown on a mobile device. This electronic ticket is extremely useful and easy to use, no matter where your destination may be. If you're travelling with either MegaBus or National Express, make sure to bring a legitimate form of identification that matches the name on your ticket. Forms of identification can range from anything like full driving licences, provisional driving licences, passports or even a bank card. This is the same for all passengers and if you fail to provide this identification then you may be refused access to your coach. If you have an e-ticket, then Omio makes it extremely easy to use and navigate. Omio allows you to store all of your tickets in one place on your mobile device and makes it extremely to navigate by keeping all your ticket in the same place for easy use.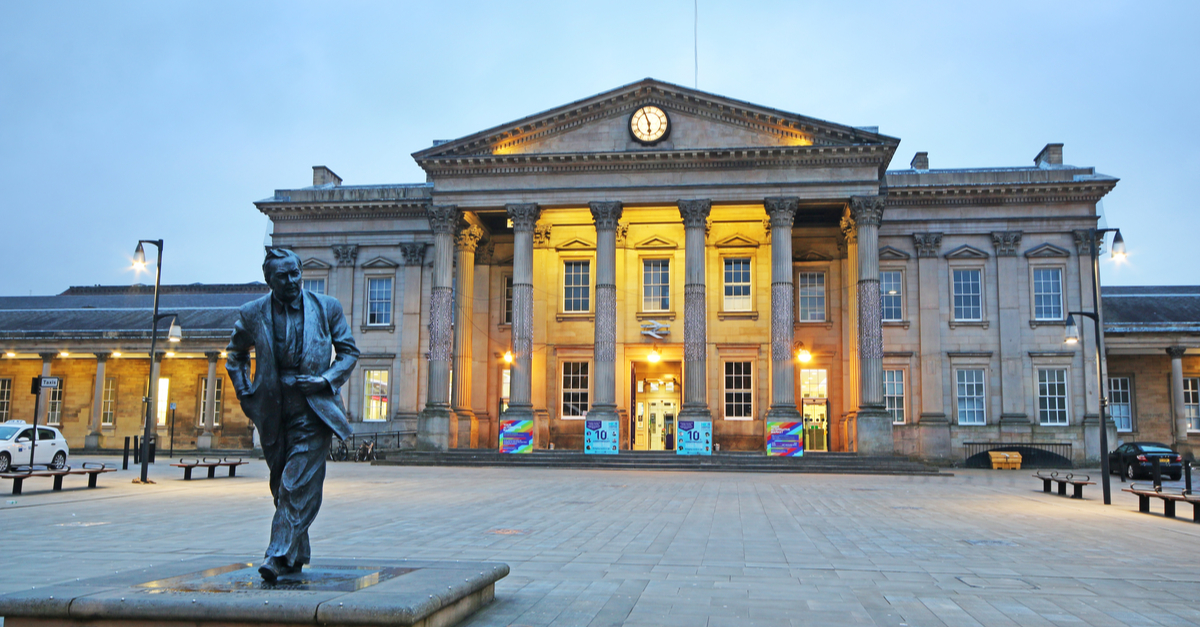 Huddersfield Train Station. Source: Shutterstock
To Huddersfield by bus – travel tips
Those looking to visit Huddersfield should benefit from the large historic town by visiting some of the town's best and historic attractions that make up the town for what it is. Visitors and tourists should consider visiting locations like Castle Hill, Beaumont Park, Greenhead Park, Tolson Memorial Museum, and much more.
These attractions are a great choice if you're looking for historic attractions that can tell you more about this attractive town. Castle Hill is an intriguing sight that comes with high recommendations to visit. It's a scheduled ancient monument that gives you the perfect overview of Huddersfield. The attraction has been there for approximately 4,000 years.
If you're wanting to benefit from the public transport that's available within Huddersfield, then you can so from the variety on offer with reasonably priced and low fares. A popular form of transport in Huddersfield is by bus and there are frequent buses that come to and from the bus stations.
Huddersfield has a lot to offer all of its guests and tourists. Whether you want to visit some of the historic attractions within the town or perhaps you're looking for something more, you'll be able to find a lot on offer. Accommodating to adults and also children, you will find a lot to do in this market town. The town is peaceful, quiet, and perfect for the ideal getaway if you're looking for that ideal peace and quiet.
When you visit Huddersfield, make sure to visit some of the cafés and restaurants to enjoy a good meal or warm cup of tea with a slice of cake to take in the surroundings around you. Your choice of coach will add to the perfect trip to Huddersfield as you have access to the beautiful sites from your own seat.