Trains from London to Cordoba
Trains from London to Cordoba run at pretty regularly, departing two to three times a day. They're concentrated at midday and in the early evening. The journey stitches together a number of legs, stopovers, train changes and operators, with the shortest trip taking a little under 16h, and the standard trips taking an average of roughly 1d 12h. You'll certainly get to see a lot of the countryside from west England through France to Spain on this route.
London to Cordoba Train Time: Daily Departures
There are about three trains from London to Cordoba on average per day, but make sure you check the Omio timetables, as there are days when only two run. On weekends you'll find one train a day. This gives you roughly 15 trains a week that ply the route. There are usually two trains at night and one during the day, with the first one leaving around midday and the other two at about 8:00 p.m. and 9:30 p.m., respectively.
How long is the journey by train from London to Cordoba?
There are effectively two distinct types of trains from London to Cordoba – the quick one and the rest. The 16h-trip leaves London and heads to Paris for two sequential train changes, from where you'll travel through Barcelona to Cordoba. All the other journeys take between 1d 10h 20min and 1d 13h. These all also require two changes in Paris, plus one in Barcelona and a final transfer in Madrid. Unfortunately there is currently no way of travelling directly between the cities without any changes.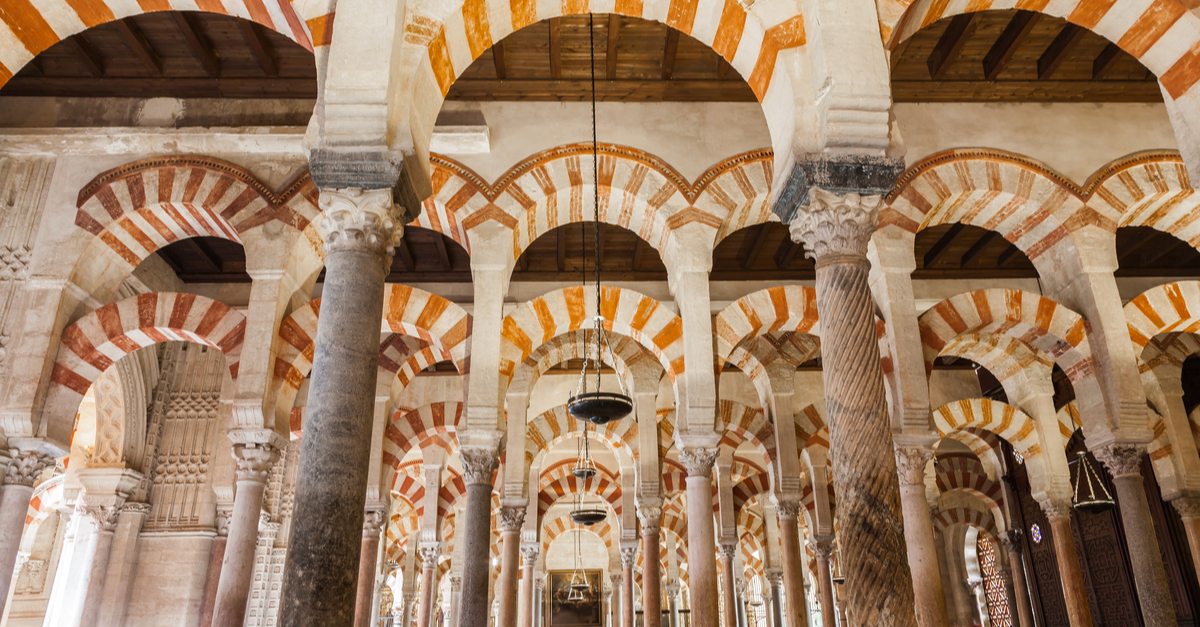 Cordoba Mosque Interior. Source: Shutterstock
What are the departure and arrival stations for trains from London to Cordoba?
Departure train station: Trains to Cordoba depart from London St. Pancras Station. This is roughly 1.5 miles (2.4 km) from Central London, which will only take around 6min on the London Underground Piccadilly Line. Otherwise catch the Line 91 bus that takes about 13min. St. Pancras handles millions of passengers annually and has modern facilities, with accessibility and baby change amenities, free Wi-Fi and cash machines. There are also a plenty of shops and food and drink outlets, including Carluccios, The Barrel Vault, Marks & Spencer, Boots and high-end boutiques.
Arrival train station: Your train from London to Cordoba will arrive at Cordoba-Central Station. It has a commercial gallery containing car hire offices, flower and sweet shops, a pharmacy, newsagents and souvenir shops. There are also a few cafes and bars, and a restaurant. The station is right in the city centre – about 1.2 miles (2 km), to be precise. You can walk there in about 20min if you just have a backpack to carry, or catch a taxi for a ride of about 3min. Due to the very short distance, there isn't any public transport.
Which train companies travel from London to Cordoba?
The London to Cordoba train trip relies on a number of national train companies and their regional services linking up to create a route. Essentially you book from London on Eurostar, no matter what route or time you choose. The faster trip crosses to France via the Channel Tunnel and changes to Renfe SNCF's Transilien service in Paris for a short cross-city ride and another change, to a Renfe SCNF TGV train bound for Barcelona. Here you'll change again, this time to Renfe AVE, to complete your journey. The long trips also leave London on Eurostar, changing to Renfe SNCF TGV in Paris to travel to Barcelona and onwards to Madrid, before transferring to Renfe AVE for the final leg. These trips are a combination of high-speed and standard trains.
Eurostar trains from London to Cordoba
Eurostar is the only provider that operates trains from London to Cordoba, in practice. It hands over to the other operators once you've crossed the channel, but to all intents and purposes you'll book all your tickets with this carrier if you're in the UK. It's a high-speed train service, and the entire journey takes either about 16h or roughly 1d 12h. You won't travel on Eurostar all the way, so these travel times are also dependent on the legs of the journey run by the other train operators.
Renfe trains from London to Cordoba
Renfe is Spain's national rail carrier, and is extremely reliable and efficient. It's also cost-effective, so don't be alarmed if you only see Basic tickets available, as this is the equivalent of what other operators call Standard class. These are high-speed trains that can travel at around 190 mph (305 km/h). Renfe is only responsible for the second portion of the train journey from London to Cordoba, completing the trips begun in London by Eurostar, which either take about 16h or about a day and a half. There are a few different types of Renfe trains, the SCNF TGV high-speed INOUI trains and the newer AVE high-speed trains.
Train London to Cordoba: Services on board
Eurostar offers three classes: Standard, Standard Premier and Business Premier. Both Standard and Standard Premier classes let you take two items of hold luggage and one carry-on item and you can buy snacks and drinks on board in Standard. With Standard Premier you'll enjoy a free light meal. Business Premier offers more of a bespoke journey, with extra-wide seats and a full gourmet meal designed by an eminent chef, accompanied by champagne.
Travelling on Renfe you can take a foldable bicycle or scooter with you inside a cover, and you can travel with a pet under 22 lbs (10 kg) in a cage or container. The trains also offer PlayRenfe, a free Wi-Fi and entertainment system, through which you can do whatever you need to online, or access a variety of live sport, and the latest series, movies and news.
All seats have recharging power outlets and foldable work tables. There are baby changing facilities on board too, and food is available from a buffet. This is all available in Second class. First class offers wider seats individual reading lights, and head- and foot-rests, with extra space between them. You'll also have access to the comfortable Club Lounges at stations while you wait for your next connection.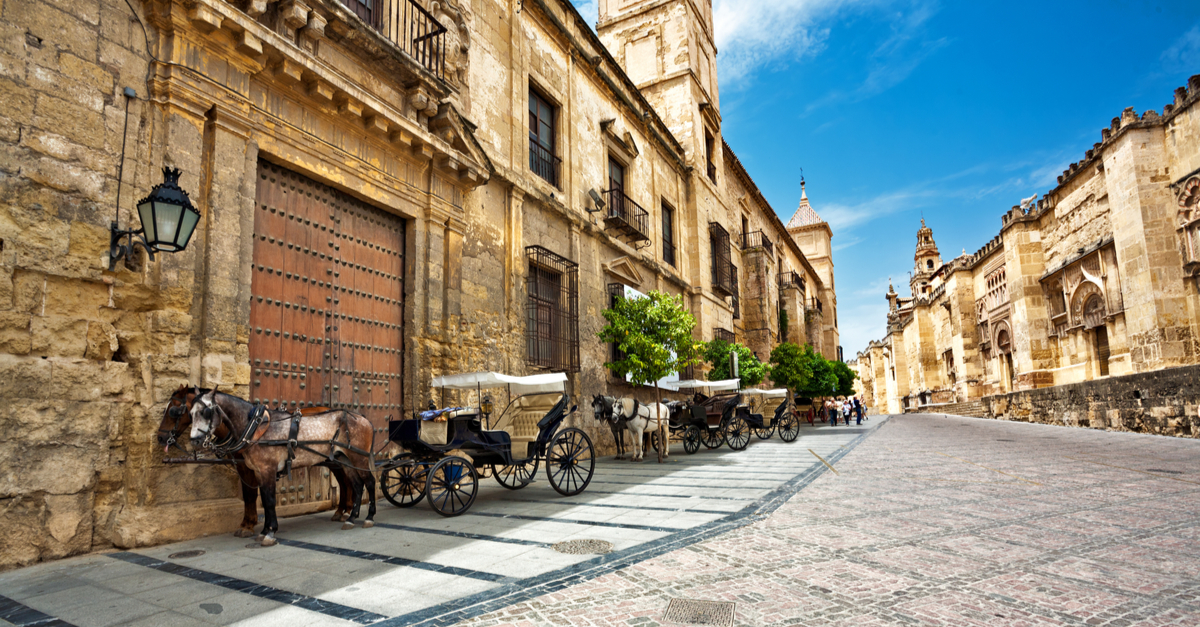 Cordoba Street City. Source: Shutterstock
How to find cheap train tickets from London to Cordoba?
There are a few tips and tricks you can use to increase your chances of scoring cheaper London to Cordoba train tickets. Normally you can save money by travelling at non-peak hours, but in this particular case, with only two or three trains a day, this isn't really an option.
However, you can save a bit on your ticket if you choose the night train rather than the one that departs at midday. As to other ways – use Omio to book well in advance, as ticket prices often tend to peak closer to departure time. By the same token you can also wait as long as possible, remaining flexible about when you leave, so as to take advantage of any last-moment deals as they become available. Once again Omio is your friend when it comes to that.
To Cordoba by train—travel tips
Cordoba's most famous tourist attraction is La Mezquita, or the Great Mosque. It's a UNESCO-listed building, built in the 8th century in what was then the Moorish kingdom of Andalusia. It has a strikingly elaborate interior.
To explore more of the city's history, visit the Old Jewish Quarter, which retains the city's distinctive traditional white-washed houses with patios filled with flowers. There's even a patio flower festival, Fiesta de los Patios de Córdoba, where locals compete for the most beautiful patio award. Puente Romano, or the Roman Bridge, and Calahorra Tower are also worth seeing, built by Julius Caesar after defeating Pompey.
There are also a good few fine arts museums, and nature lovers can relax in Jardín Botánico de Córdoba, the city's botanical gardens. Another tourist highlight is Palacio de Viana, a 15th-century palace with date palm groves, fountains and orange trees filling its grounds.