Trains from Derby to Leeds
It's easy to get a train from Derby to Leeds, with there being a frequent service throughout the week. You can catch around 22 trains per day between these two cities, depending on which day of the week you travel on. There tends to be about 21 trains on Mondays and Saturdays, 22 per day Tuesdays to Fridays and 16 on Sundays. The average train time is approximately 1h 16min, with there being some faster and slower trains too. There is a mix of direct and indirect trains on this route, so check before you book to ensure you choose a train which is suitable for your needs.
Derby to Leeds Train Time: Daily Departures
With up to 22 trains per day, you should be able to find a train which matches your schedule. On Mondays the earliest train departs at about 4:47 a.m., whilst on Tuesdays to Friday it normally leaves at around 1:48 a.m. During the weekend trains depart a bit later, at approximately 6:45 a.m. on Saturdays and 9:45 a.m. on Sundays. The last train of the day departs Derby at around 10:29 p.m. Monday to Friday, 11:05 p.m. on Saturdays and 10:45 p.m. on Sundays. Whilst most of the trains on this route are direct, there are some that require changes along the way.
How long is the journey by train from Derby to Leeds?
The train journey from Derby to Leeds is very fast, so you'll arrive at your destination in no time at all. The average time for this journey is 1h 16min, so it doesn't take long to travel between the two cities. The fastest train takes approximately 1h 13min, whilst there are also journeys that take in excess of 2h. The duration of the journey normally varies depending on which provider you travel with and if you need to change along the way. All trains depart from Derby trains station and arrive into Leeds train station, so there will be no confusion of the day you travel.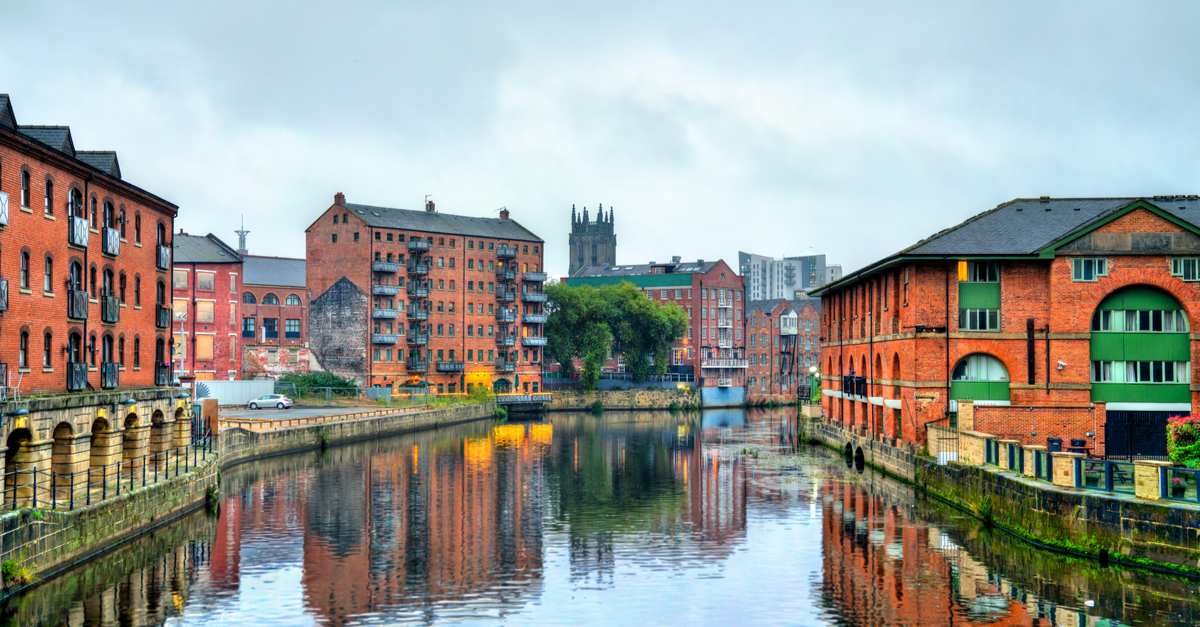 Leeds City River. Source: Shutterstock
What are the departure and arrival stations for trains from Derby to Leeds?
Departure train station: All trains depart from Derby train station, which is close by to the city centre. You can get to the trains station from Derby Museum and Art Gallery, for example, in around 25min. At the train station you will find food and drinks stall, shops toilets and waiting rooms, so you'll be all set for your journey to Leeds.
Arrival train station: All trains arrive into Leeds train station, which is in the centre of the city. You can get to popular tourist areas, such as Leeds Corn Exchange in about 6min by foot. At the train station there are lots of facilities that you can use when you arrive. There are toilets, cash machines, food outlets and coffee shops which you can access before you leave the station.
Which train companies travel from Derby to Leeds?
There are four companies which operate on this route, but only two of them offer more than one service each day. The two main services are from Great Northern Railway and Crosscountry, which operate the vast majority of the daily trains. Great Northern tends to operate up to 4 trains per day, depending on the day of the week, whilst Crosscountry operate approximately 16 trains each day. East Midlands Trains and LNER also provide one route daily during the week, with LNER also offering one train on a Saturdays too. In general Crosscountry trains tend to offer the fastest trains, with some arriving in as little as 1h 13min. The other trains tend to take from 1h 20min to over 2h, depending on which service you opt for.
Crosscountry from Derby to Leeds
Crosscountry offers the most frequent service between Derby and Leeds with there being around 16 trains departing on a daily basis. On Mondays to Fridays there are 16 trains departing each day. On Saturdays there are about 17 trains, whilst on Sunday there are about 14 trains that leave for Leeds. The earliest departure on this route is normally about 6:45 a.m. Monday to Saturday, with the trains leaving a bit later on Sundays at about 9:45 p.m. The last departure from Derby to Leeds is 9:52 p.m. on weekdays and Saturdays, whilst it is approximately 10:45 p.m. on Sundays. Crosscountry trains tends to be direct too, so you won't have to change along the way. Whilst the average time to travel between these two cities is about 1h 16min. Whether you're after a one-way ticket or a round-trip ticket, Crosscountry offers a comprehensive timetable that will suit your schedule.
Great Northern from Derby to Leeds
Great Northern are the other main provider on this route, operating up to four trains on a daily basis. On Mondays and Saturdays there are three daily trains, between Tuesdays and Fridays there are four trains each day, whilst on Sundays there are two trains. The earliest train tends to depart at 4:47 a.m. on Mondays, on Tuesdays to Fridays the first train is about 1:48 a.m., whilst on Saturdays it tends to be later in the evening at about 9:32 p.m. On Sundays the first train normally departs Derby for Leeds at around 11:50 a.m. The last train that leaves Derby between Mondays and Fridays in normally around 10:29 p.m., with there being a slightly different schedule over the weekend. On Saturdays the last train to Leeds is around 11:05 p.m., whilst on Sunday's it's about 1:51 p.m. Great Northern trains tend to require a transfer on this journey, which is often at Sheffield train station. For this reason the journey duration is longer, with the fastest train being about 1h 45min and the slower trains being 3h or more.
Train Derby to Leeds: Services on board
Both Crosscountry and Great Northern offer a brilliant service on board trains from Derby to Leeds, making it a great route to rake. You can get First Class tickets, which offer more spacious seating, whilst there is also Wi-Fi for all passengers. Bikes are permitted on board the trains, but due to limited space it is best to call up in advance. There is no limit on how many folded bikes can be on the trains though.
The luggage limit for Great Northern is that your bag can be no bigger than 30cm x 70cm x 90cm and no heavier than 50 lbs (23 kg). On Crosscountry trains you should only bring one item of luggage that you can carry yourself. If you have a disability and need assistance when travelling, it is advised that you call up in advance of your journey so that the provider can ensure a member of staff is on hand to help. Pets can also be taken on board too, provided you keep them on a lead or in an animal carrier.
How to find cheap train tickets from Derby to Leeds?
It's easy to find cheap tickets from Derby to Leeds, with there being a few ways to do so. Begin you search as early as possible because the closer you get to the departure date, the more expensive tickets tend to be. It's also helpful if you're flexible around your journey. For instance, if your preferred travel day is a Tuesday, you might find departing on a Monday or Wednesday could be cheaper. Railcards, such as a senior railcard, are also great for helping you get lower price tickets, with discounts of around one-third being offered on most journeys.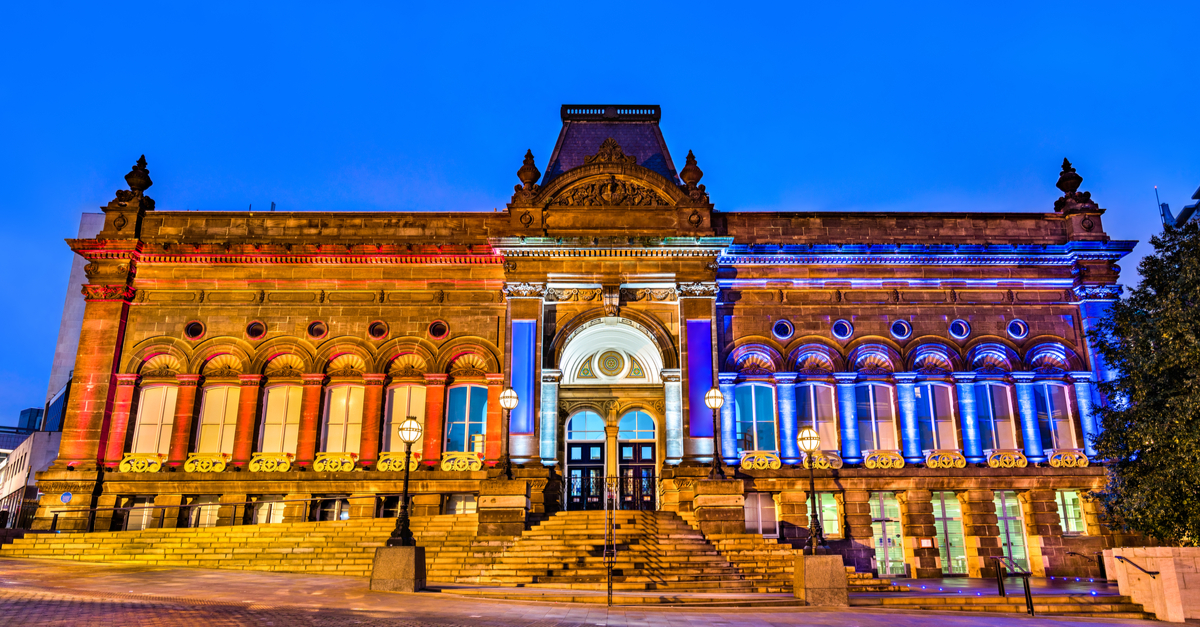 Leeds Museum Night. Source: Shutterstock
To Leeds by train – travel tips
Leeds is a thriving city with loads to see and do, so before you arrive it's a good idea to prepare an itinerary so you don't miss anything out. Start you trip at The Royal Armouries Museum, which is has a crossbow range so you can test your accuracy. Harewood House should be next on the list, where you can enjoy walking around the historic house and walled garden.
Kirkstall Abbey is another great site to go and visit, which oozes in history and culture. Then enjoy some great food at one of the many restaurants that Leeds city centre boasts. Finish off your trip by walking off your meal at St Aidan's Nature Park, where you can see a diverse set of habitats and spend some time amongst nature.