Coaches to Rome
Rome, nestled in amongst surrounding hills, is an enchanting city steeped in thousands of years of history and culture. It acts as a major transport hub for the south of Italy and is accessible via a number of different coach networks that link the city to various major hubs within the country such as Florence, Naples and Milan and further afield to other locations in Europe. There are various operators that run coaches to Rome including companies such as FlixBus and MarinoBus which both have terminals at Rome Tiburtina Bus Station on Largo Guido Mazzoni.
As well as having a broad network of stops in Italy, MarinoBus also has routes to Rome from cities in France, Switzerland and Germany. FlixBus covers these areas but also has links further afield including Spain, Turkey and the UK. Rome has between a number of bus terminals in the city and while Rome Termini is the biggest transport hub overall, coaches tend to stop at Rome Tiburtina Bus Station.
FlixBus to Rome
FlixBus, which operates coaches throughout Europe, provides a network of services to Rome from other locations. FlixBus runs routes into Rome both from major hubs and smaller more touristic destination, within Italy and outside the country. The network has a network of connections that cover Europe and reach as far afield as London, a journey which will take just over 30h, usually with a stopover in Paris. Most FlixBus services terminate at Rome Tiburtina Bus Station, one of the biggest coach stations located in the east of Rome, while some services stop at Rome Anagnina which is a station on the Line A of Rome's metro network. Rome is one of the biggest FlixBus hubs in Italy.
MarinoBus to Rome
MarinoBus runs a network of coaches to Rome on a daily basis from a number of main locations around Italy and Europe, including journeys from local hubs such as Milan, Florence and Turin. This network also links Rome with some of the favourite tourist destinations including Gallipoli in Southern Italy and Spoleto in Umbria – popular destinations in the height of the tourist season. The MarinoBus services terminate at the Rome Tiburtina Bus Station which is one of the main coach terminals in the city and which has excellent public transport links to other locations.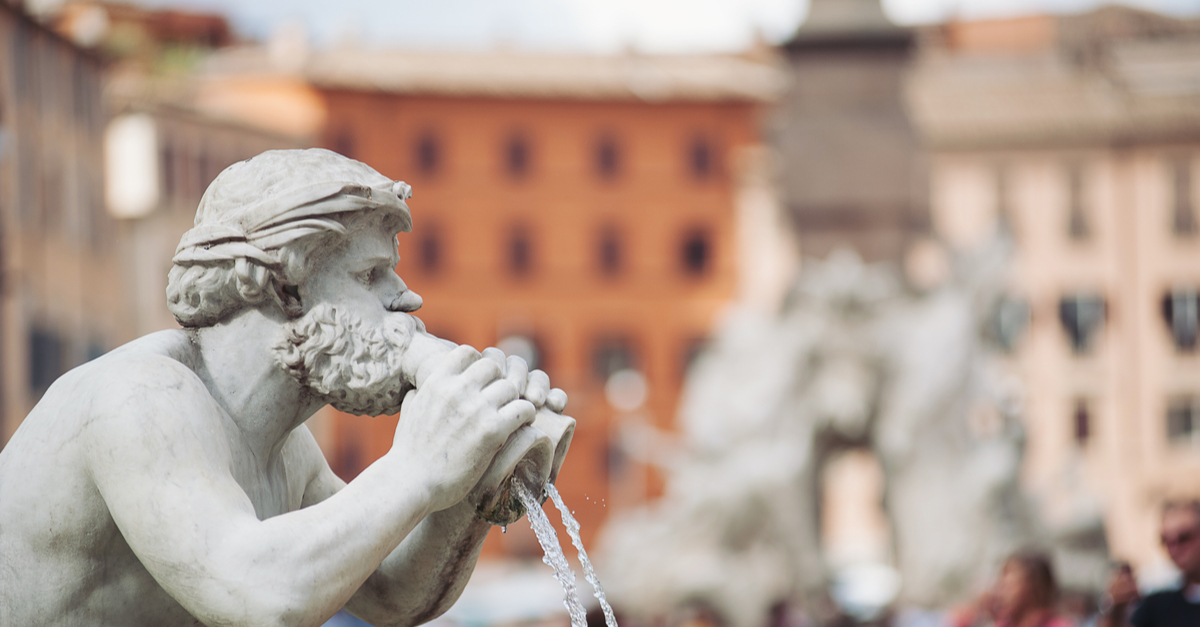 Rome Statue. Source: Shutterstock
Main coach stations in Rome
Rome, due to its size and layout, has a number of coach stations scattered around the city. While the biggest transport hub for trains, metro and buses is Rome Termni, the Rome Tiburtina Bus Station which is situated on Largo Guido Mazzoni, is one of the main coach terminals. This coach station is just 2.7 miles (4.3 km) from the centre of Rome and has excellent links with the public transport network of the city, including metro, train and local bus services. It is also within a 5min walk from the Rome Tiburtina Train Station where you will find regional and high-speed trains to other destinations.
For newsagents, toilet facilities and bars/restaurants walk from the bus to the train station where you will also be able to buy tickets for onward journeys. Another terminal for FlixBus coaches is the Anagnina Station, a metro stop that lies about 30min from the centre of Rome. From here you can get a shuttle directly to the airport. The station also has bars, shops, toilet facilities and ticket machines.
Onboard facilities Rome
FlixBus and MarinoBus coaches to Rome both offer onboard facilities such as air conditioning, free Wi-Fi, and spacious seats with plenty of legroom. On FlixBus there are USB and electrical ports to keep your devices fully charged, Toilet facilities exist on board and both coach providers have a luggage allowance of two bags for the cargo hold and one piece of smaller luggage that can be carried on board. On longer journeys FlixBus provides onboard snacks and drinks for passengers at an extra charge. Once you have purchased your ticket for either of these coach lines you will have a seat guaranteed for you by the coach companies. While you can purchase tickets onboard for MarinoBus we would advise you to purchase them in advance to give you peace of mind.
Coach tickets to Rome: useful to know
As soon as you have purchased your MarinoBus ticket you will receive an email confirming the booking and giving you a e-ticket code which you will need to show your coach driver on your smartphone or tablet when you board the coach. You will also need to carry a valid photo ID with you to show the driver along with your e-ticket. Remember that if you have booked a discounted ticket you will need to have a document showing proof of age.
FlixBus encourages passengers to download an app which will enable you to receive your ticket on your phone and you can then show this to the driver upon boarding the bus, along with the relevant photo ID. It is straightforward and hassle-free to purchase coach tickets to Rome on Omio. Once you have purchased the coach tickets you can store them all safely in your Omio account for ease of access.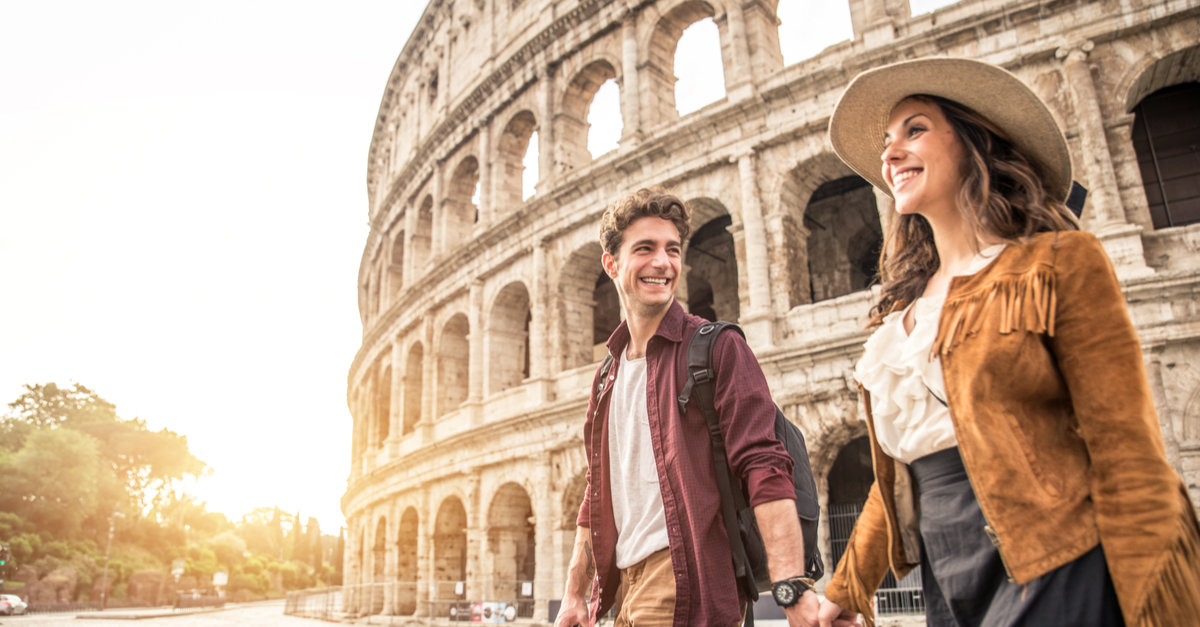 Rome Collosseum. Source: Shutterstock
To Rome by coach—travel tips
Rome Tiburtina Bus Station is one of the main transport hubs in Rome and coaches arrive in the city on a daily basis from other cities in the region and from around the country. It is also the terminus for coaches from around Europe and the UK. Once you have arrived in Rome you will want to start your sightseeing immediately and you will not be disappointed as the coach station is well-connected to the rest of the city through the public transport network of bus, train and metro.
You will be able to buy an integrated ticket that allows for choice of travel on the trains, buses and metro and tickets can be bought according to duration – from one day through to 72-hour tickets. These tickets can be bought at kiosks and newsagents inside or near the bus and train stations. Within half an hour's journey of the station you will be able to see the Pantheon and the Roman Forum as well as the Colosseum.
Alternatively travel on bus or metro to the Trieste district where you can visit the Quartiere Coppedè, an area known as the that contains an eclectic mix of architecture with an overriding Art Nouveau influence. Explore this quarter, full of Art Noveau Palaces and be delighted by the discovery of Ancient Greek and Roman Baroque influences.
A city imbued with culture and history, a bustling lively atmosphere and the energy to take you back into the past, Rome is one of the most-visited cities in Europe. There is something for everyone in Rome. Indulge in the joy of trying out different foods, eating gelato in the sunshine or sampling the rich range of Italian cuisine from carpaccio to bruschetta, gnocchi to saltimbocca. Explore the ancient past of this city, walking through the historical districts to take in the architecture or visit the Vatican Museums and Sistine Chapel to see various collections that showcase some of the finest Italian masterpieces.
Next to the Vatican Museums is St Peter's Basilica with its distinctive dome acting as a landmark in Rome. You could stop for a bite to eat in one of the bustling squares, surrounded by restaurants and cafes – Piazza Novona with its three elaborate fountains is surrounded by traditional restaurants that spill out on terraces around the square while Campo de' Fiori, a bustling fruit, vegetable and flower market during the mornings becomes an evening meeting place filled with lively bars and restaurants.