Bus to Tipton
Tipton is a handy stop-off for travellers looking to explore the West Midlands when travelling from mainland cities like London. Tipton Bus Station is serviced by local buses and is less than a 10min drive from the town of Dudley, where you can also catch a 30min bus service to Birmingham.
From Birmingham there are plenty of opportunities to discover the UK's buzzing capital city, with direct coach journeys to London terminals including London Victoria Coach Station and London Heathrow Airport Terminals.
Megabus to Tipton
Most megabus coach services from London to Tipton depart from either London Heathrow (Terminals 1, 2 and 3) or London Victoria Coach Station. These then go directly to Birmingham, ending up at either Birmingham Airport or Birmingham Hill Street/Railway Bridge.
national express to Tipton
national express buses from London to Tipton leave from London Victoria Coach Station and travel to Dudley, Birmingham Street. Some journeys are direct while others will require you to change buses at either London Heathrow Airport (Terminals 1, 2 and 3) or Birmingham Coach Station.
FlixBus to Tipton
Some FlixBus coach services leave from London Victoria Coach Station and travel directly to either Birmingham's Station Street or to Birmingham Street in Dudley. Others depart from London Finchley Road Station and go to Birmingham Station Street.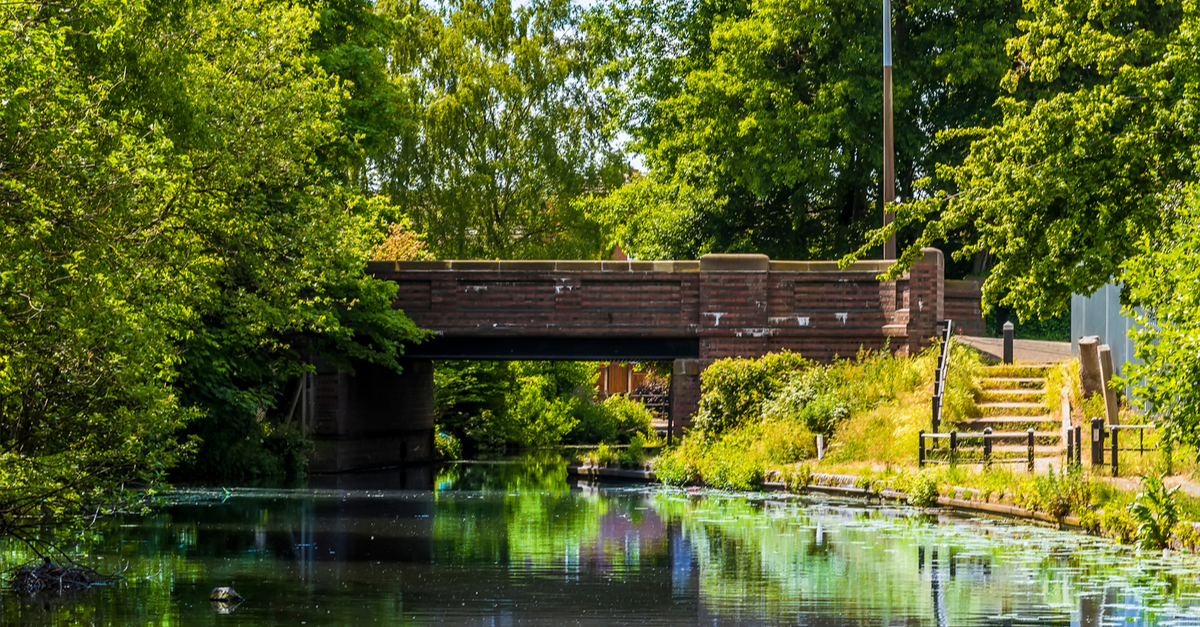 Tipton Bridge Reflection. Source: Shutterstock
Main bus stations in Tipton
Tipton Bus Station is serviced by local buses, which can take you in less than a 10min taxi ride to Dudley Bus Station/Birmingham Street. Although Dudley Bus Station is closest to Tipton, if you're travelling from London to Tipton, you might be better off ending your journey in Birmingham, taking advantage of the direct bus services to London.
There are bus stations in Birmingham, Station Street (8 miles/13 km from Tipton), Birmingham, Hill Street/Railway Bridge (10 miles/16 km away) and Birmingham Airport (25 miles/40 km away). Birmingham Station Street and Birmingham Hill Street/Railway Bridge stations are both slap bang in the city centre, with Birmingham, Hill Street/Railways Bridge north of Birmingham New Street Railway Centre and Birmingham, Station Street south of the train station.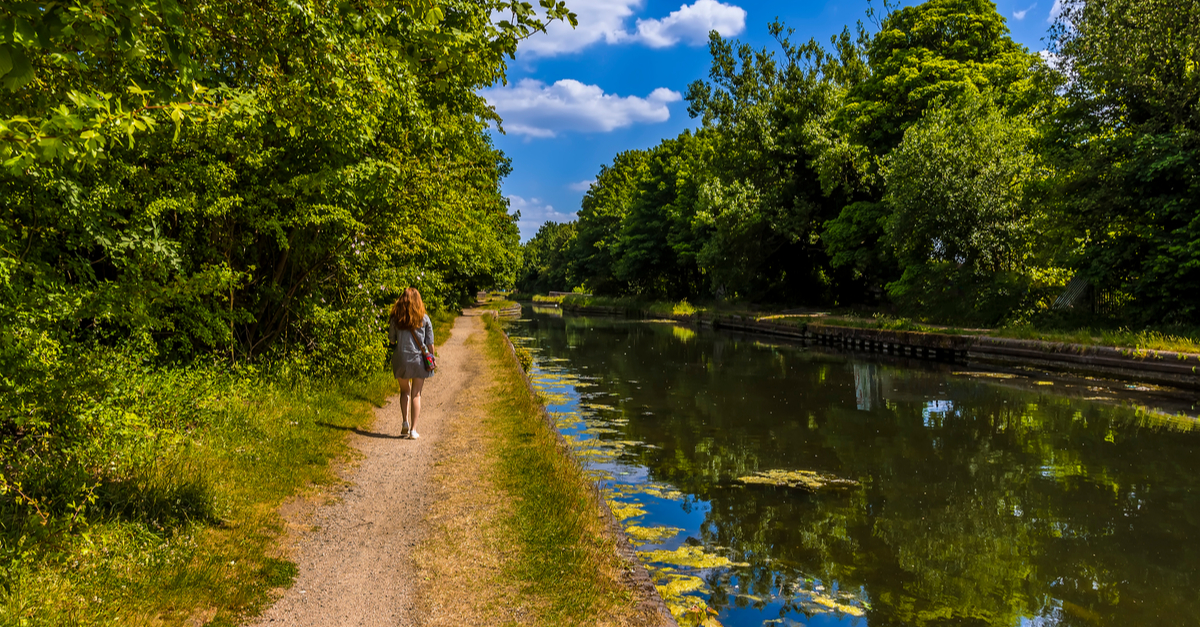 Tipton Girl River. Source: Shutterstock
To Tipton by bus–travel tips
Tipton is an industrial town in the West Midlands, just 10 miles (16 km) north-west of Birmingham and a 30min drive away. It has a rich history, having served as a key transport hub for ironstone and coal during Britain's Industrial Revolution. It's also where the world's first successful steam pumping engine was built by the industrialist Thomas Newcomen.
Getting around Tipton is easy thanks to Dudley Canal, which connects both Tipton and Dudley and makes for a pleasant walking and cycle route. Tipton's canal networks played an important part in establishing the town as 'the Venice of the Midlands', with over 13 miles (20 km) of canal networks at its height. Tipton has two railway stations – Tipton and Dudley Port – both with direct train services to Birmingham along the West Midlands Railway line.
The train ride to Birmingham takes around 20min and drops you off at New Street Station, right in the city centre. Tipton is also well serviced by local buses and has a bus station at Tipton Train Station, with direct services running to nearby towns like Dudley, Wallsall, Sedgley and West Bromwich, among others.
Tipton has plenty of canals, green spaces and attractions to discover - perfect for families, history fans and those who like to stay active. At the heart of the town is Victoria Park, with playing fields, tennis courts, a skate park, playground, outdoor gym and a large lake with plenty of waterfowl. For nature and wildlife enthusiasts, Sheepwash Nature Reserve offers 39 hectares of woods, grasslands, pools and rivers to explore, or you can enjoy a woodland walk at Moorcroft Nature Reserve, keeping an eye out for bats and wild flowers. Tipton's town centre is situated across the river and a short walk from Tipton Railway Station.
While Indian takeaways are as popular here as anywhere else in the West Midlands, there are a few different choices. Pologne Hut serves hearty Polish fare including pork goulash and fried dumplings while Mad O'Rourke's Pie Factory is a pub that specialises in quirkily named pies (fancy an Andy Murray or a Wham Bam, Thank You Lamb pie, perhaps?). If you're looking for somewhere to have a relaxed drink, you can't go wrong with Tivi Ale Micro Bar, serving a wide range of beer, wine and gin alongside tempting bar snacks including crusty cobs (sandwiches) and samosas. Tipton is also just a 10min drive from Dudley, with attractions including Dudley Zoo and Castle, with plenty of animals and reptiles amid the grounds and ruins of an 11th century castle.
Another popular attraction is the Black Country Living Museum in Dudley. This 26-acre open-air site transports you 300 years back to the Industrial Revolution and features rebuilt buildings, including shops and houses, and a replica of the world's first steam engine, the Newcomen Steam Engine House. For the adventurous there's Dudley Canal Tunnel & Limestone Mines, offering 45-minute trips exploring the town's underground waterways and fossil remains. For fantastic food and drink in Dudley town centre, try The Old Glasshouse, a cool, contemporary restaurant and bar that serves British classics like fish and chips alongside more exotic dishes like Greek lamb, and has a great selection of wine and beer to boot.
Bus tickets from London to Tipton
Megabus offers a ticketless service which means that when you buy your ticket, you'll receive an e-mail with your booking confirmation on it which you can then print, save to your phone or simply make a note of – whatever is easiest. Tickets for National Express coach services can be booked online. You'll receive an order confirmation email which you'll need to print out and bring with you before you board. You can also choose to receive an e-ticket which can be shown on your smartphone or tablet or have an SMS ticket sent to your phone.

FlixBus tickets are also ticketless so all you have to do before your board is show your e-mail with the booking confirmation on it. Buying bus tickets from London to Tipton using Omio is fast and easy and it's possible to store all your tickets in your Omio account.
Onboard facilities when travelling from London to Tipton with megabus include extra legroom, free Wi-Fi and charging points, air-conditioning and toilets. You're also given a luggage allowance of 44 lbs (20 kg) which you can store in overhead lockers. National Express buses from London to Tipton allow you to take two 44 lbs (20 kg) suitcases and one piece of hand luggage on board with you.

Each seat has plenty of legroom and air-conditioning controls so you can kick back and relax. There's also free Wi-Fi and USB ports to help you charge your devices and toilets on board too. Onboard FlixBus, you get free Wi-Fi for surfing the web. Seats are comfortable, with extended legroom, and adjustable backrests suitable for longer trips. There are also toilets and some services allow you to purchase snacks and drinks from the driver. The luggage allowance is 44 lbs (20 kg) per suitcase and 15 lbs (7 kg) per hand luggage.