In the UK, there are several ticket types you can choose from, which confuses even well-experienced travellers. This makes it a challenge to immediately decide on which type of train ticket you need to buy. Train fares vary depending on when you choose to travel and on the distance from A to B. If you reserve in advance, you're naturally more likely to get a better deal. It is possible to find much cheaper train tickets if you travel during off peak train times, use a rail card and book a few weeks in advance.

We, at Omio, want to make navigating your way around the UK as easy as possible - that's why we created this train ticket guide to define which tickets exist, to highlight the 'pros and cons' and to identify important parts of the train ticket. If you have the right information, you can buy the ideal ticket for your journey - without spending more money than you need to.
What types of train tickets are there?
In the UK there are 4 types of train tickets, which vary in price depending on what time you travel and where you travel to. Below we reveal a breakdown of the 4 ticket types and each of their pros and cons. This way you can buy a train ticket that suits you best and is the right price.
Train Tickets Explained
Anytime:
These tickets offer the most flexibility as they are valid at any time on Peak and Off Peak services. They are useful tickets to buy if your plans tend to change.
Pros: Travel whenever you want, valid on any service, route or provider.
Cons: Usually more expensive due to its flexibility, but will remain at a fixed price.
Advance:
These tickets are cheaper because they are only valid on a specific service, at a specific time, during Peak and/or Off Peak times. If you have a seat reservation, you must carry the seat reservation ticket with you for your ticket to be valid.
Pros: Get much cheaper tickets booking 12 weeks in advance or even 1 hour beforehand.
Cons: Restricted to a certain train time, meaning you cannot take an earlier or later train if your plans change. They are non-refundable but can be amended for a fee.
Off Peak:
These tickets are valid on trains that depart outside of busy commuting hours. Passengers must travel outside of peak times, or on exact train time printed on the ticket. If you have a seat reservation, the ticket is only valid if you also carry the seat reservation ticket with you.
Pros: Cheaper tickets during 10:00-15:00 and again at 18:35.
Cons: Need to be aware of restrictions to avoid Peak travel hours for the train company - check before you travel.
Super Off Peak:
These tickets are always the cheapest option, but they carry the most time restrictions. This type of ticket is only offered by a some UK train companies. Travelling with a Super Off Peak requires the passenger to travel at very specific date, time and train. If you are flexible with your time so you can travel at around 10:00-13:00, then this ticket is for you.
Pros: These tickets are the cheapest available, great to keep costs down.
Cons: Limited availability and most restrictions; you must travel on the specific train you booked.
Train Ticket FAQs
Peak and Off Peak Times Across Different Train Companies
Train Ticket In Detail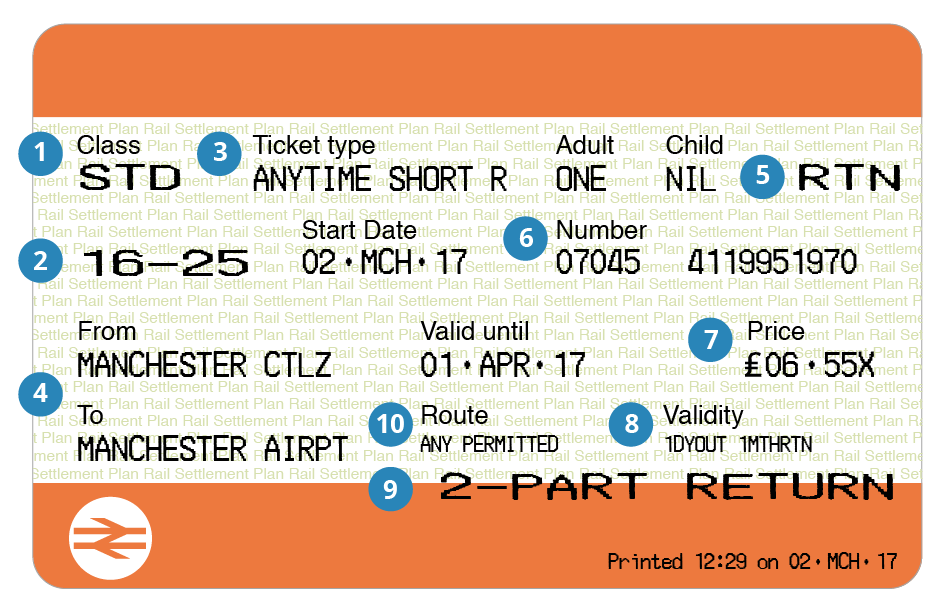 | Number | Description: |
| --- | --- |
| 1. | Class: Choose either First or Standard Class carriages for your journey. |
| 2. | Railcard: This part of the ticket shows you if any discount or railcards have been applied to reduce the price. |
| 3. | Ticket Type: Your ticket type shows if you have any of these four: Anytime, Advance, Super Off Peak or an Off Peak Ticket. |
| 4. | To/From Station: This shows where you are travelling to and your final destination. |
| 5. | Single/Return: This tells you if the ticket is a single or a return ticket. |
| 6. | Ticket Number: Your ticket number is a unique number which marks your ticket. |
| 7. | Price: The cost of your train ticket for that ticket; if it's a single ticket it will be the price for each ticket. |
| 8. | Validity: The validity signifies when your ticket is valid for e.g. a day or return within one calendar month. |
| 9. | Type: This part means if you have purchased a single or a return journey. |
| 10. | Route: Check the route you are allowed to take (e.g. via London or not) as certain ticket types may be restricted. |
Collecting Your Train Tickets
Buy your tickets using the Omio App in just a few clicks, then collect them at the Ticket Collection machine in the station (the queue is much smaller).
1. Pick up is simple: Select 'Collect Tickets' on the machine menu.
2. Enter your 8-digit booking reference number. You will find it in your confirmation email.
You will need the same card that you used to purchase your tickets.
3. Several tickets may fall out; keep them all with you & you're ready to travel!
Nice To Know: Navigating Your Way Around Train Tickets


In the UK, you can validate your ticket by showing it to the ticket controller who will stamp it (or mark it with a pen). This means you can continue your journey as normal, but you cannot use that same ticket again.
You can upgrade to First Class with certain providers for as little as £5 with certain providers, such as Virgin Trains.
Remember that if you get on a 'Peak' time train or with the wrong provider, you may be charged the full price of the fare by the ticket controller. Check your ticket before travelling.
Upon collecting, you will receive an 'OUT' ticket, a 'RETURN' ticket, a receipt and tickets with seat reservations, if applicable. You should keep all of them safe until you complete your journey.
If you travel via another route than the one indicated on your ticket, you may be charged the cost of a full price of that ticket.
Get Cheaper Off Peak Tickets With A Railcard
You can combine a Railcard with your ticket (either Advance, Off Peak or Super Off Peak) to save more money to spend on other things during your travels. You can get up to 30% cheaper train tickets if you link your railcard to your ticket. If you travel frequently, consider getting one; take a look at the different railcards available in the UK and pick one that would suit your travel needs best.