Train to Stoke-on-Trent
Stoke-on-Trent is located in Staffordshire in west-central Europe and is known for turning out ceramics and pottery. The art form has made the area famous with its household well-known brands like Wedgwood, Royal Doulton and Emma Bridgewater. There is one train station to be found in Stoke-on-Trent named the same and is found in the Stafford to Manchester branch of the West-Coast Main Line. The main areas which connect to Stoke-on-Trent are Cheshire, Staffordshire and Derbyshire. The station has can be accessed by bike, taxi or bus. It is served by 5 different train companies and has three platforms. The main entrance and ticketing office can be found off of Station road to the east side.
East Midland Trains to Stoke-on-Trent
East Midland Trains are one of the five companies that provide services train services to Stoke-on-Trant train station. This company uses high-speed diesel-electric trains on the lines moving from Stoke-on-Trent to other popular cities in Europe such as London, New Castle and Cardiff. Northern Rail is another popular choice when booking a train from Stoke-on-Trent. This company uses the main platform in the station and operates diesel trains. London Midland is a train provider company owned by Govia, you can to a ticket from the ticketing counter at the train station and all trains depart from platform three for this company. Cross Country is a train service provider also found servicing Stoke-on-Trent and is well-known for their easy process with last-minute bookings or booking changes which can be made through the Omio trains booking page. The final service provider to this specific station is Virgin Trains who is the youngest of the operators to offer services too and from this station, they are using high-speed electronic trains that boast a small environmental impact.
Main train stations in Stoke-on-Trent
There is one main train station in Stoke-on-Trent and it is situated off Station Road, which is the main road leading all around the city. At the station, you can plan the next leg of your travels by requesting the bus schedule and map from the ticketing office. The station has three different parking lots that can hold approximately 550 parked cars and operates 24h a day. It also offers a bike lot on platform number one that can house approximately 65 parked bikes at any one time. Here you are welcome to park your bike and know it will be safe until you return. If you are planning on hopping on a coach you need to step no further than the main exit of the building, where you will find the coaches waiting to receive passengers.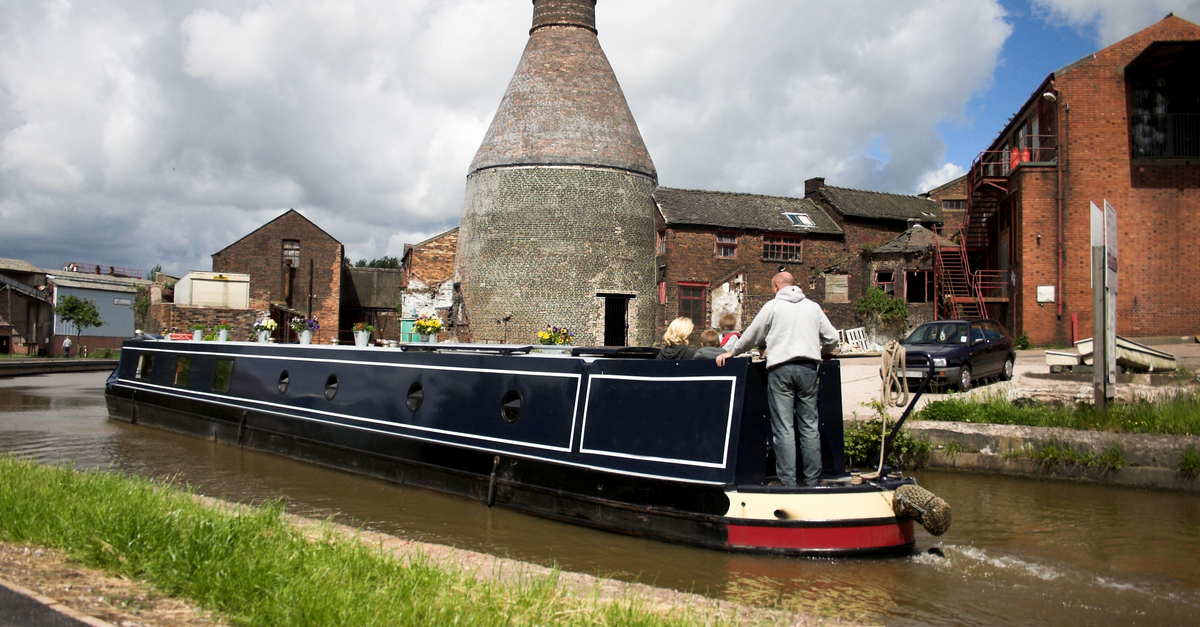 Stoke on Trent Boat. Source: Shutterstock
Onboard facilities Stoke-on-Trent
When looking at onboard facilities offered by the different companies servicing the Stoke-on-Trent train station you can expect the same level of offering as any major train station. Most trains will have the same standard facilities for their standard or entry-level ticket holders, such as plug points for laptops and mobile devices, free Wi-Fi, CCTV cameras for safety purposes and basic toilets that are fitted for people travelling with disabilities. The differences in facilities offered by a particular service provider become visible when you start to upgrade your ticket class.
In first-class you will be treated to a cooked meal through the companies gourmet catering service. All the companies servicing Stoke-on-Trent station offer a complimentary meal with a first-class ticket, being, breakfast, lunch or diner, depending on your travel time. First-class cabins are also much more spacious and quiet for a more peaceful journey. They usually have access to bigger bathroom facilities and have 24h staff in the know on duty to make sure any questions you have are easily answered, or to assist with any issues you might run into.
Train tickets to Stoke-on-Trent: useful to know
Make sure you are picking the right category of tickets for your travel requirements. The advance ticket lets you book your ticket well in advance to reap the benefits of discounted offers. There are usually a limited amount of tickets available. Anytime tickets have a window period attached to them that can stretch over up to 5 days, meaning you can board any train scheduled for that period. Season tickets are designed for travellers who will be travelling the route multiple times over a short period. Off-peak tickets are great for a quiet journey, and you can buy them right up until boarding.
Roaming tickets are perfect for exploring the area, allowing you to cover multiple stops from one payment. If you are not staying within walking distance to the station buy a plus bus ticket which includes a bus to your final destination in one payment. Most ticket desks at the station will allow you to pay for a ticket in cash, however, you are making your booking online you will need to produce a valid credit card issued from a globally recognised company such as Visa, Maestro or American Express.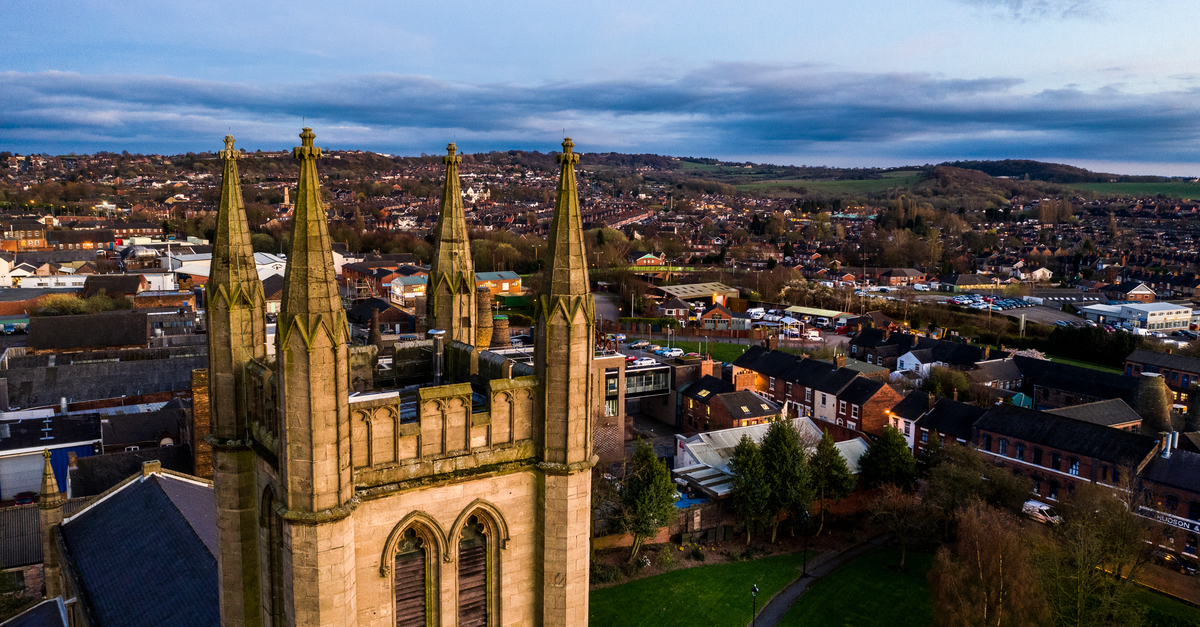 Stoke on Trent Church. Source: Shutterstock
To Stoke-on-Trent by train—travel tips
Whether arriving in Stoke-on-Trent by bus or by train you are more than likely going to be dropped off in the biggest of the five smaller regions of the city, Hanley, especially when coming from London. When travelling out of Stoke-on-Trent to one of the major cities around the area such as Liverpool or Blackpool we recommend looking at a train that has multiple stops if you are budget conscious, as direct tickets can be very expensive. These trips can be much longer but you are going to have a post-card perfect view training by train, so why not relax a bit, do some work or read a good book and save some money by spending some extra time.
A unique way to travel to Stoke-on-Trent is via narrowboat. These are canal boats that come to the city via the Caldon Canal and can be a wonderful experience during the summer months of June, July and August. We do feel that getting around in the city once you have arrived by train, the best option for you is to get hold of a bus routes map which you can do from the train station, as the bus network is most efficient and easy to use.
Stoke-on-Trent is a pottery lover dream come true! Its history is deeply rooted in the craft of pottery making, so why not get your hands dirty and try to make your ceramic momentous at the Gladstone pottery museum, which has a wonderful family-friendly master class available. Board a bus and head to the popular tourist attraction Trentham Gardens and play with the animals at the petting zoo or let the kids run around the children play park.
The gardens have an expansive lake which offers boat trips and jetski rides when the weather is good! Soccer season coming up soon? Make sure you book your ticket in advance because the 30 000 capacity stadium will be jam-packed in no time for Stoke City FC.
Make sure your bus tour stops at one of the many oatcake shops around the city to try oatcake desert which is a local favourite for those of you with a sweet tooth, and finish the tour off by bar hooping to the quirky and delightful bars dotted all around the city.