Which train companies travel from Santander to Edinburgh?
Passengers looking for train tickets to Edinburgh from Santander will find a variety of train providers that will take you on part of your route. However, none of these providers will offer a direct route but instead routes that require a number of stopovers on the route. Just some of these companies include Eurostar, TV inOui, SNCF, LNER, and more. Each provider will take you on a different section of your trip to Edinburgh and they will all differ in their duration. Your serving provider that will depart directly from Santander will depart from the main train station in Santander, also known as Santander Train Station. This station serves all of Santander and sees the leading providers depart and arrive. Your chosen provider will then take you to the main airport in Edinburgh, also known as Edinburgh Waverly Station. Both of these stations are well located and are within close proximity to their cities.
LNER trains from Santander to Edinburgh
A passenger will not be able to find a direct route from Santander to Edinburgh but instead routes that require multiple stopovers and even different forms of transport like buses and ferries. Providers like LNER trains will take you on the last leg of your trip and takes you to the final destination in Edinburgh, specifically Edinburgh Waverly Station. A passenger will pick up the LNER train from London Kings Cross Station and the duration will take approximately 4h 20min.
TGV inOui trains from Santander to Edinburgh
A passenger can expect to pick up trains with TGV inOui from popular destinations like Bayonne Station. The duration will take 1h 48min as it reaches Bordeaux St-Jean Station. Departing from this station and arriving at Bayonne Station will have to be completed with train travel from different train providers as there is no direct route to Edinburgh from Santander.
Eurostar trains from Santander to Edinburgh
The leading company, Eurostar, will commonly take you from Lille Europe Station to London St Pancras Eurostar Station. This duration takes 1h 22min and the train runs once daily. Getting to Lille Europe Station and getting from London St Pancras Eurostar Station will have to be with different train providers as there is no provider that offers a direct route to Santander.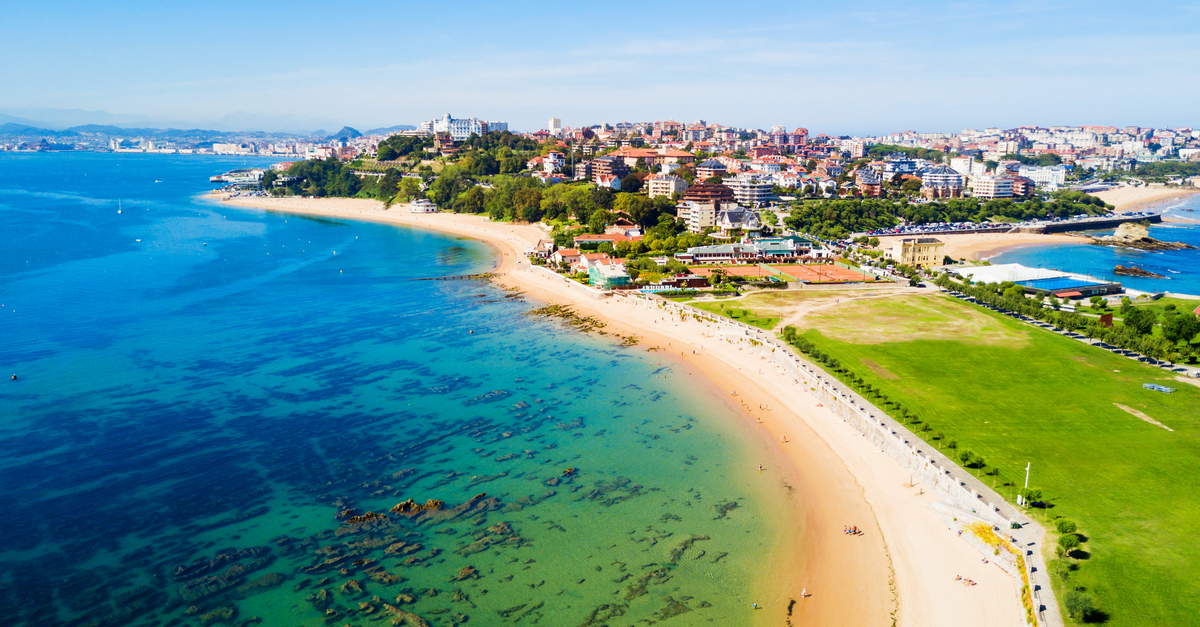 Santander Beach. Source: Shutterstock
Train Santander to Edinburgh: Services on Board
A passenger who has tickets from Santander to Edinburgh will find a great number of onboard facilities during their trip. In addition, a passenger can benefit from great service from staff on and offboard their coach. Prior to travel, if you are boarding with a passenger with reduced mobility then make sure to pre-book any additional help that you may need. Staff will help a passenger on and off of the coaches and will be there to answer any additional queries that you might have. The serving providers to Edinburgh also have the option of either first-class or standard class travel. Whilst they both offer good amenities, first-class provides that little bit of extra luxury. First-class includes comfortable seating, extra legroom, access to snacks and beverages, as well as much more.
How to find cheap train tickets from Santander to Edinburgh
Finding cheap train tickets to Edinburgh from Santander is extremely easy with just a few money-saving tips. When looking for your trip to Edinburgh then make sure to book with enough time in advance so that you're not facing last-minute price inflation. Price increase last minute is usually when a passenger is looking for tickets with days or hours in advance before they are due to travel. To make sure that you're facing the best fares for your trip then book either weeks or months in advance.
If you are already looking for tickets with enough time in advance, then consider altering your dates of travel by just a few days. Travel can usually increase on certain days of the week like Saturdays and Sundays, meaning that weekdays can be your cheapest price of travel. Alternatively, certain times of the year, like children's holidays and bank holidays could also increase your ticket price so it's best to check your time of travel before you're due to depart from Santander.
To Edinburgh by train – travel tips
Edinburgh is gifted with lots of exciting attractions, venues, landmarks, and more, all of which are attractive to every member of the family, as well as every tourist, visitor, and resident. The capital is packed with lots of exciting activities to keep every man, woman, and child entertained. Just enjoy some of the top family-friendly attractions like Edinburgh Zoo, Scottish National Gallery of Modern Art, National Museum of Scotland, Scottish National Gallery, The Edinburgh Dungeon, Deep Sea World, and more.
Alternatively, consider visiting some of the top landmarks that contribute to the history of the town. These landmarks include Edinburgh Castle, St Giles' Cathedral, Lauriston Castle, Craigmillar Castle, Rosslyn Chapel, as well as much more. Or perhaps, you're visiting Edinburgh for its good nightlife. There are lots of leading bars, clubs, and restaurants that aligns with the city centre.
Just some of the most popular include The Bongo Club, Why Not Nightclub, Club Tropicana, The High Five Nightclub & Venue, Cabaret Voltaire, Lulu Bar and Nightclub, Sneaky Pete's, and Bourbon. No matter how you choose to spend your time in Edinburgh, you'll be quickly anticipating your return.