Trains from Madrid to Ciudad Real
It takes around 51min to travel from Madrid to Ciudad Real by train. The distance between the two cities is approximately 100 miles (160 km). At least 15 trains travel from Madrid to Ciudad Real per day. A train ticket to Ciudad Real from Madrid by train can cost a few dollars if booked in advance.
Booking a train on the travel day can be more expensive than booking in advance. The travel cost can also vary depending on the class, route, and travel time. AV-City trains, Avant, Ave, and Renfe are the top providers of train transport between Ciudad Real and Madrid.
Madrid to Ciudad Real Train Time: Daily Departures
The first direct Renfe train from Madrid Atocha to Ciudad Real departs at around 09:35 a.m. and arrives shortly before 10:25 a.m. The cheapest Renfe train to Ciudad Real from Madrid departs at around 10:35 a.m. and arrives at around 11:28 a.m. Expect to pay more if you decide to travel at this hour.
The last train to Ciudad Real from Madrid Atocha departs at around 08:20 p.m. Most trains that depart very late in the evening and early in the morning may be a little expensive. Their departure time also tends to vary during holidays and weekends.
How long is the journey from Madrid to Ciudad Real by train?
On average, a journey from Madrid to Ciudad Real takes around 51min. However, trips between the two cities may be longer during holidays and weekends so check in advance. The fastest train to Ciudad Real from Madrid Atocha takes around 51min. Renfe Ave and Renfe Viajeros operate trains from Madrid De Atocha to Ciudad Real-Central. On average, 99 trains run between the two cities weekly, although the trains can be fewer during holidays and weekend.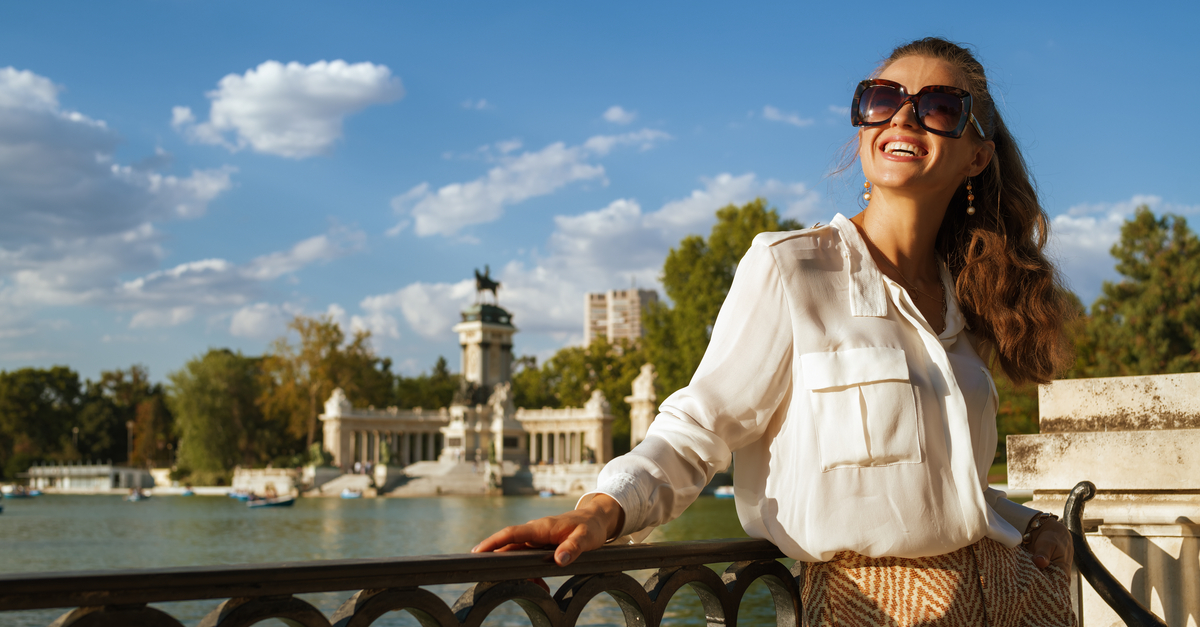 Madrid Happy Girl. Source: Shutterstock
What are the departure and arrival train stations from Madrid to Ciudad Real?
Departure train station: The Madrid city is served by two major train stations. Located in the south, Madrid Atocha is the city's biggest train station. The station is a hub for commuter trains, high-speed services, and regional train services from all over the country. The northern part of Madrid City is served by Madrid Chamartin train station. The Madrid Atocha train station features a verdant garden dating back to 1992. The garden sits on an abandoned land that once served as the old Atocha train station before the expansion of the station to include high-speed trains. Nature enthusiasts will enjoy exploring over 260 species and 7,000 plants found in the garden.
Arrival train station:strong>The main railway station in Ciudad Real is the Ciudad Real railways station. It the main destination for high-speed trains and commuter trains from Madrid Atocha. The Ciudad Real railway station was originally opened in 1880, but later rebuilt in 1992 following the arrival of the AVE line from Madrid. The shorter travel time to Ciudad Real from Madrid has via the high-speed line has brought significant development in both cities.
Which train companies travel from Madrid to Ciudad Real?
Renfe Viajeros operate direct trains to Ciudad Real-Central from Madrid Atocha every 4h. The price of tickets varies, with the journey taking around 54min. Renfe Ave operates direct trains in this route every 4h. Renfe offers direct train tickets from Madrid to Ciudad Real. With these trains, you won't have to change trains while on the way. A train journey from Madrid to Ciudad Real offers unmatched convenience. The over 15 trains that run between the two cities daily allow for flexibility and convenience. However, sometimes there could be fewer direct train tickets to Ciudad Real from Madrid based on your travel time and departure date.
Renfe Viajeros trains from Madrid to Ciudad Real?
Renfe is the main train companies between Madrid and Ciudad Real. You can travel to Ciudad Real from Madrid on any of Renfe's trains. The company operates high-speed trains between Madrid and Ciudad Real. Renfe trains travelling on special tracks can travel on a speed of up to 199 mph (320 km/h). The train has spacious legroom and its seats face the same way.
Renfe is a state-owned train service operating trains to most places in Spain. Renfe trains range from the humble to grand trains such as the excellent Euromed and Feve regional trains. It also operates suburban and local trains throughout Spain. Renfe trains features air conditioning systems and a café area. Also, most have Wi-Fi and a power plug at every seat. Top speed for trains operated by Renfe is 124 mph (200 km/h).
Train Madrid to Ciudad Real: Service on Board
Renfe trains offer two classes, namely Turista Plus (1ST class) and Turista (2nd class). However, top high-speed trains, including EuroMed and AVE, offers premium 1st class, which features access to club lounges and at-seat meal services. If you're in a wheelchair, Renfe have all your needs covered.
The train service offers H-seat service that ensures all the disabled are placed in a designated area where they can move around while seated on their unique seats. Renfe trains allow all types of pets whether birds, cats, or dogs. However, the pet must be on a lead and shouldn't exceed the weight limit. Pets travel free and don't need a ticket. But you have to put them in a carrier or cage.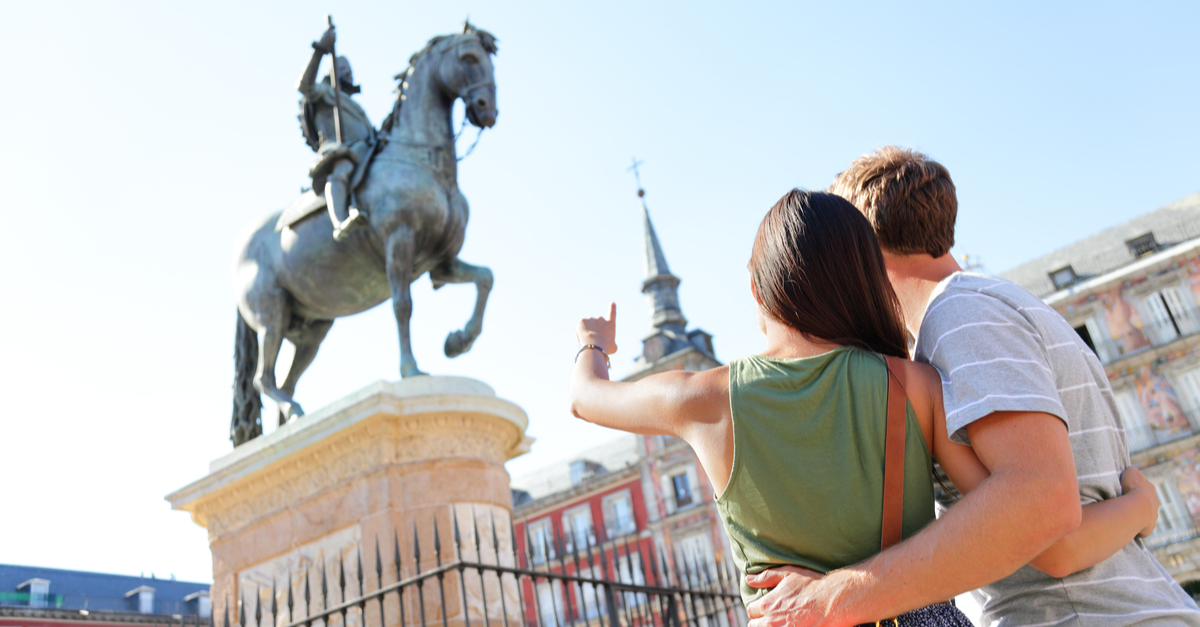 Madrid Couple. Source: Shutterstock
How to find train tickets from Madrid to Ciudad Real?
Train tickets from Madrid to Ciudad Real can be bought directly from Spanish Railway. However, for a seamless booking process, consider booking for your Madrid train to Ciudad Real online with Omio. Cashless payment is recommended when booking a Renfe train ticket on Omio. Online check-in and booking is also recommended.
If you miss a trip, Renfe provides an option for a full refund or be provided with a new ticket for any travel date and time free of charge. You can cancel a ticket for free at least three day before your departure date. You can save on a train ticket by booking online with Omio in advance. Also, being flexible on the travel date can also save you a few bucks. For example, avoiding holiday trips can be cost saving.
To Ciudad Real by train travel tips
Ciudad Real is known for its spectacular cuisine include wine, cured meats, and cheese. You will also enjoy exploring the city's churches galore and ancient walls. Shops and open air markets in Ciudad Real open as early as 10:00 a.m. and close as late as 9:00 p.m. throughout the week. However, there might be exceptions especially on holidays and weekends.
The beautiful city of Ciudad Real is just a 99 miles (160 km) train journey from Seville and Madrid cities. A trip to Ciudad Real would be incomplete without touring the Gasset Park. It is well-maintained and pretty park convenient for hot day picnics. The best part is that the park is situated only a short distance from Ciudad Real city centre. You can't miss a visit to Santa Maria de Prado Cathedral during your stay in Ciudad Real. This is the city's largest church. Despite being one of the most spacious churches in the city, it maintains simple architecture. It is a nice place to meditate after a long, tiresome day.