Train to Lewes
Lewes is in East Sussex. It's a small but historical town, best known as the site of the Battle of Lewes in 1264. You can still see buildings standing from the time, including old Lewes Castle, which was the seat of the defending force. Trains to Lewes are all operated by Southern Rail, which connects the town with other small villages and towns in the area on the East Coastway Line and the Seaford Branch Line. These include Plumpton and Cooksbridge, Polegate, Falmer, Glynde and Berwick, Southease and Newhaven Town, and Barcombe. You can also catch trains from Lewes to some of England's larger cities, like London, Eastbourne and nearby Brighton. There is one train station in the town, Lewes Railway Station.
Southern Rail to Lewes
Southern Rail operates all the local, regional and inter-city trains that either terminate at or pass through Lewes as they criss-cross the area of East Sussex. It uses Lewes Railway Station, with two main end points: the "London Branch" of the station has London as the termination point for Southern Rail trains from Lewes, while the station's "Brighton Branch" serves Southern trains that terminate in Brighton.
Southern is the main train provider that connects London with the East Sussex region, and all the way down through Brighton to Southampton. You can also get direct trains to Lewes from London, which will get you from the hustle and bustle of the capital to this little Medieval town in the South Downs that could have come straight out of a Jane Austen novel in just under 1h. Southern offers a selection of Railcards, appropriate for different travel needs at different times of the day, so choose the ticket that offers the best value for money for your specific purposes.
You can also book DaySave, Off-Peak or Super Off-Peak tickets to save on your train fare. In the case of Super Off-Peak you can get up to a third off. If you're travelling with a party of friends, book a GroupSave ticket to enjoy the same discount for groups of three to nine people.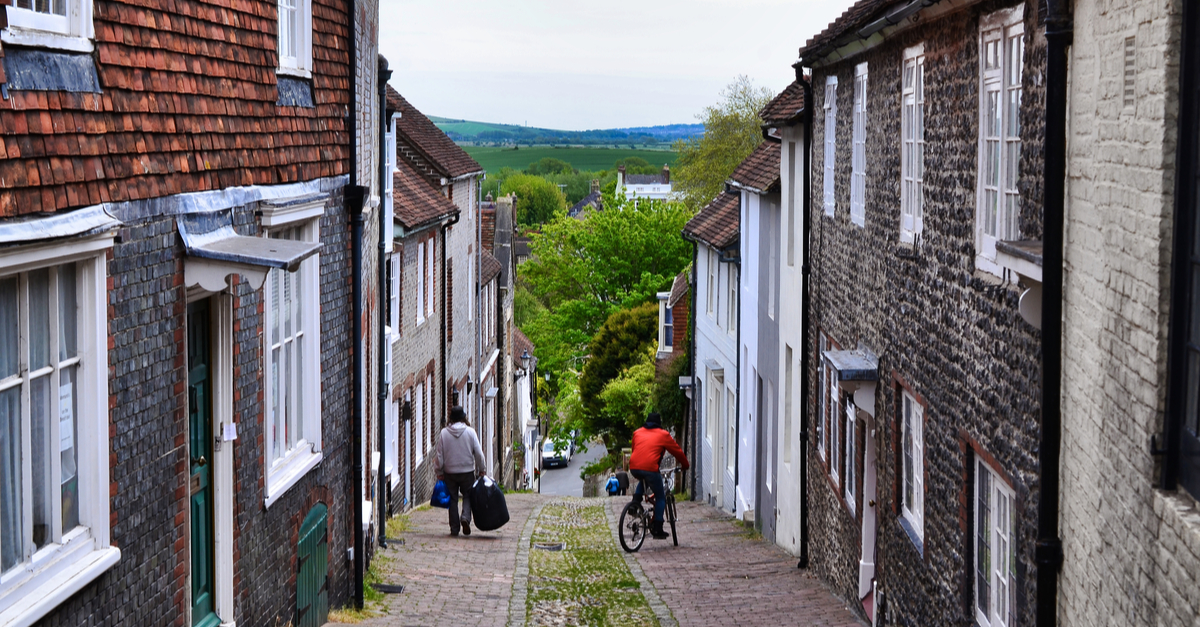 Lewes Street Houses Village. Source: Shutterstock
Main train stations in Lewes
There is only one train station in the town, Lewes Railway Station. It's a charming Victorian era station, where you can step straight off the platform and into an old world milieu. It's filled with quaint old churches, local cafés and eateries where serving afternoon tea is still an immutable daily tradition, as well as all manner of fascinating little shops selling local produce. Lewes Railway Station has free public Wi-Fi, accessibility amenities including toilets, and baby-changing facilities. There's a comfortable waiting room and all platforms have covered areas.
The waiting room offers a basic buffet if you've arrived early for your train and feel a bit peckish. As a Category B2 accessibility certified station, staff operated wheelchair accessibility ramps have been installed and ramps are available for safe, step-free access to trains and platforms. The station's "London Branch" contains platform 1 for trains leaving London and passing through, bound for Hastings and Eastbourne, and platform 2 that connects to London Victoria Station and Gatwick Airport. Platforms 3-5 are on the "Brighton Branch", connecting Lewes with Seaford and with west-bound trains heading for Brighton.
Onboard facilities Lewes
Southern Rail offers a standard range of onboard facilities on its trains to Lewes. The trains don't have luggage carriages, so you'll keep everything you take with you. While there aren't specific weight of size restrictions, exercise reason and be aware that no luggage is allowed to block the aisles. Some trains have luggage racks or overhead shelves where you can stow a couple of small items.
Passengers with limited mobility can request assistance with luggage a day in advance of travelling. You can take a proper fully folding bicycle with you at any time, and during non-peak hours on quieter routes you can bring a non-foldable one. You can also take up to two domestic pets, as long as they fit into a travel container that's limited to 85 x 60 x 60 cm. Slightly larger dogs are allowed, provided they're on a leash, and service dogs are welcome without a size restriction.
Train tickets to Lewes: useful to know
There are a number of ticketing options with Southern Rail travelling to Lewes by train. First off you can get traditional printed tickets at the ticket offices of larger stations from which Lewes trains depart. You can pay for these by credit card, debit card and Cash, or in National Rail vouchers. You can also get tickets printed out from self-service machines at stations that have them, once again using cash, or a credit or debit card. Otherwise you can book online, which is especially convenient.
In this case you can collect your tickets at a station ticket machine, or get a Key Smartcard, to which e-tickets are transferred once you've purchased. You simply swipe this card at station turnstiles. You won't need to present any ID when purchasing single tickets, but if you want to buy any kind of rail pass or rail card, you'll have to provide photo identification. If you have an Oyster card you can also use it on Southern Rail trains in zones where it applies. As an additional perk, if you buy an Off-Peak or Super Off-Peak ticket, you can travel with up to four children aged five to 15 for a nominal fee, rather than full price. Buying train tickets to Lewes is fast and easy with Omio, and you can safely store all your online tickets in your Omio account.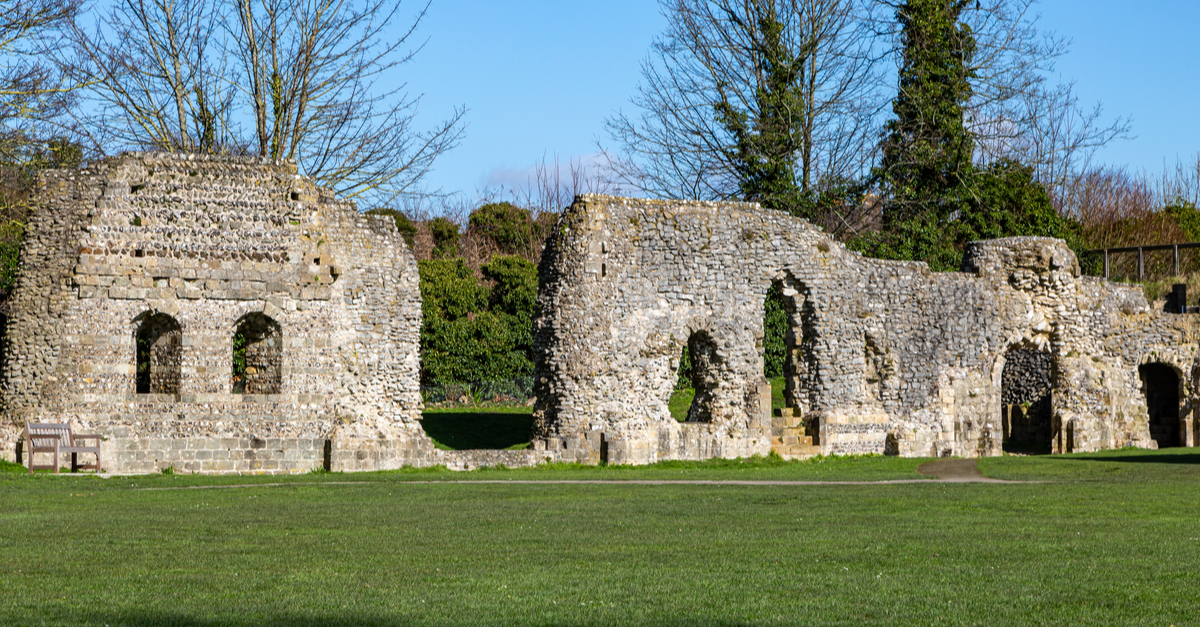 Lewes Historical Ruins. Source: Shutterstock
To Lewes by train–travel tips
Lewes is best known for its unique 1,000-year-old castle, Lewes Castle. This is a very well-preserved Norman castle that also boasts commanding views over the town and far across the countryside beyond. The town's other unique claim to fame is Harvey's Brewery, which is the oldest independent brewery in the county of Sussex. It's become a very popular tourist attraction in the town, with tours available, and brewery shop selling not only its own produce and associated souvenir clothing and merchandise, but also local wines and spirits.
Public transport in Lewes is exclusively by bus, as the train services only connect the town with the outside world. Look for the No. 167, 28 or 29 buses, as these run on the main routes through the town, and you'll be able to get pretty much anywhere from where you're staying on these lines.
To Lewes by train–travel tips
Besides its famous castle, Lewes also has a number of other tourist attractions. One that may surprise you is a collection of artworks by luminaries such as Picasso, Delacroix and Renoir, tucked away in a farmhouse that used to be a gathering place for progressive writers and intellectuals like T. S. Eliot and Virginia Wolf. It's known simply as Charleston, and its fine gallery is well worth seeing.
For shopping in the town's quaint stores, head to Cliffe High Street, which is pedestrianised, allowing you to browse at your leisure.
Opera evenings, classical concerts and contemporary music festivals are held at the late-Medieval country house of Glyndebourne, with a special touch added by providing a picnic instead of an interval in performances.
Another building that takes pride of place among the town's tourist attractions is Anne of Cleves' house, an original timber-framed Wealden house built in the 1400s for Henry VIII's fourth wife.