Trains from Halifax to Leeds
There are multiple train connections between Halifax and Leeds each day. The two cities are 14 miles (22 km) distance from each other and the train journey will take approximately 35min to complete. It is a direct route with no changes required.
Halifax to Leeds Train Time: Daily Departures
There are up to three trains per hour on this route from Halifax to Leeds, ensuring multiple connections. The first train leaves Halifax at 06:53 a.m. and the last train departs Halifax at 11:38 p.m. The journey takes around 35min and is a relatively busy route throughout the day and into the evening. At weekends the number of carriages is reduced and many more families and tourists use the connection between the two locations.
How long is the journey by train from Halifax to Leeds?
Travel time from Halifax to Leeds is around 35min. It is a direct service and there is no requirement to change along the route. The route is mostly through urban areas although there are some stretches of Yorkshire countryside to observe. It stops in Bradford to collect passengers but there is no need to change trains. Halifax, Bradford and Leeds are all on the edge of a very large tract of national park with thousands of acres of parkland and hillside as well as rivers and valleys to explore.
What is/are the departure and arrival stations for trains from Halifax to Leeds?
Departure train station: The departure point in Halifax is Halifax Train Station. It's located in the city centre and easily accessed by local transport or on foot. There is parking at the station and at the Eureka National Children's Museum, adjacent to the train station. It is well served by public transport, including buses and taxis. It's a relatively small station with waiting areas and toilets and free Wi-Fi.
Arrival train station: Arrival is at Leeds Railway Station, a large central station in the city centre. It has good local transport connections and is within easy walking distance of all the amenities of the city centre. The station itself has waiting areas, retail units, food and drink facilities and an information desk. There is wifi available in the station.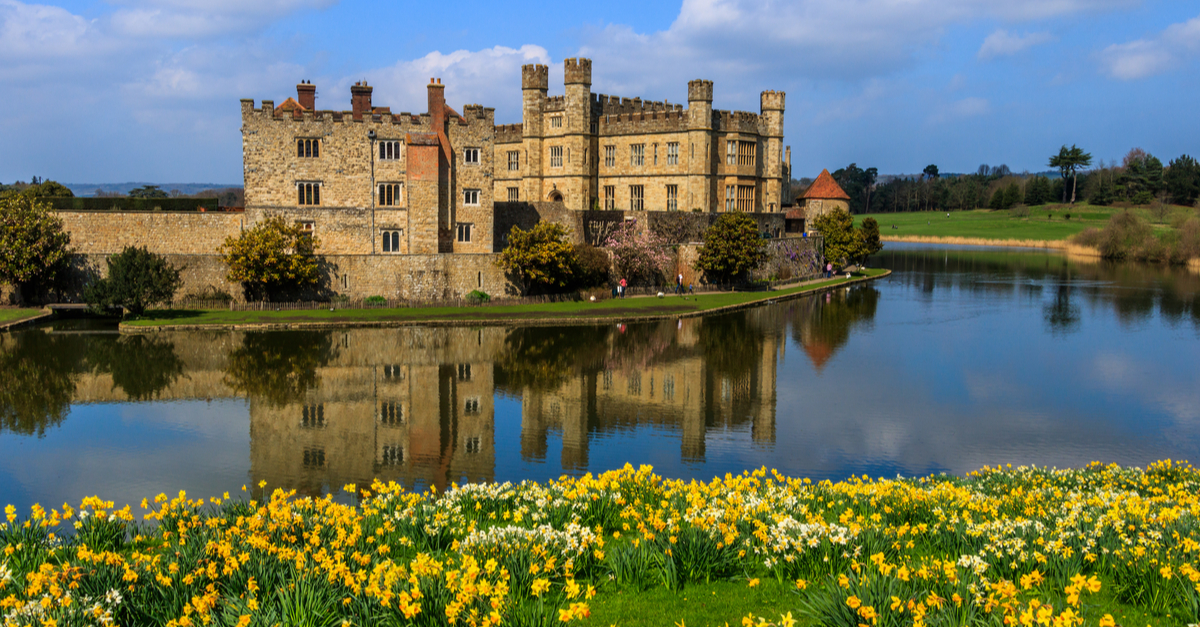 Leeds Castle. Source: Shutterstock
Which train companies travel from Halifax to Leeds?
Northern Rails Limited operate the train services along this route. It is a publicly owned company. It operates a modern fleet of trains with good quality services and facilities onboard. Northern is the only operator on this line.
Northern trains from Halifax to Leeds
All of the train services between Halifax and Leeds are direct and very frequent throughout the day, seven days a week. The 35min journey does not require any changes and is a standard train service. There are no first-class carriages. It is essentially a commuter or local train service linking the two cities.
Train Halifax to Leeds: Services on Board
Trains on this route service travel between these two neighbouring locations. They connect the two city/town centres and operate a second-class or standard class service. There are toilets on board. You can take a bicycle onto the train but it is advised that you confirm this at time of booking or when buying your ticket in the station. There is limited capacity for passenger's bikes. The trains are almost all designed to be accessible to passengers with limited mobility. There are still some older trains that are less accessible but all trains have accessible toilets and if you do happen to travel on one of the remaining older trains the conductor onboard will be able to help you locate facilities.
Staff in the station in Halifax and in Leeds can help passengers with issues related to sensory conditions or any other issues. Northern operates an assistance team who can help with any mobility issues or other problems that you might face as a passenger. The team operates from 6:00 a.m. to 11:00 p.m. seven days a week. It's advised that you alert the team at least six hours before your journey although they will endeavour to help you at any time even with short notice.
Small pets such as cats and dogs can be carried on the service and are very welcome. Northern Rail publishes a series of tips and recommended destinations to bring your dog and these include pubs on the rail network that accept pets and parks and other areas where dogs are free to roam. Dogs must be on a leash while onboard and cats must be in a rigid cat carrier.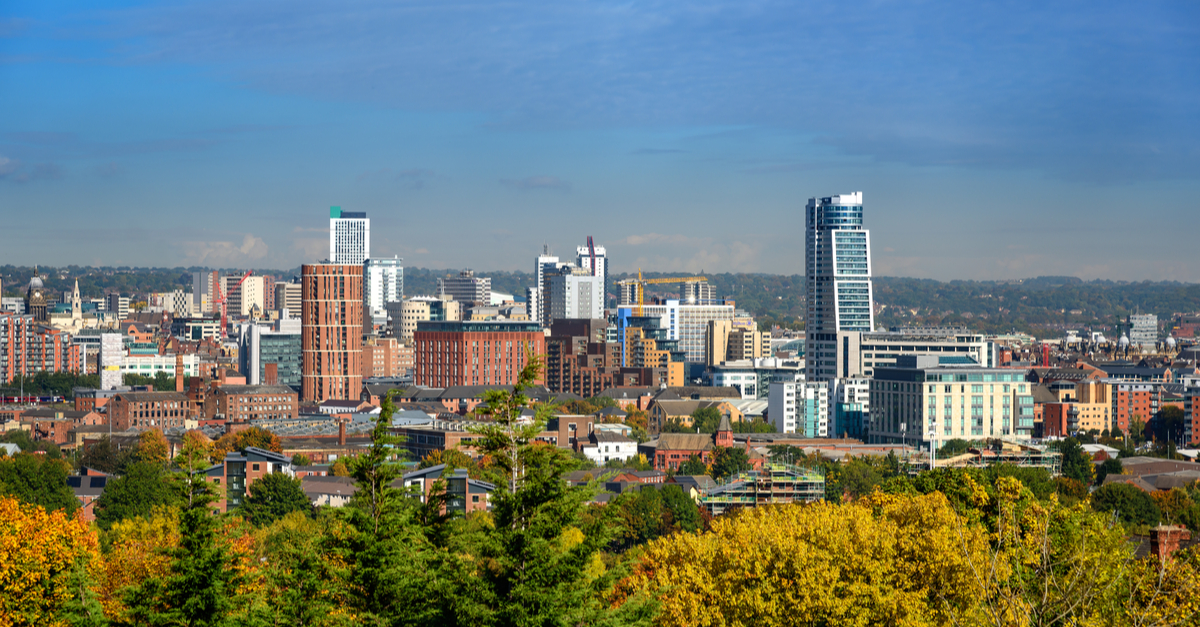 Leeds Skyline. Source: Shutterstock
How to find cheap train tickets from Halifax to Leeds?
Train tickets from Halifax to Leeds are relatively cheap as they are for a local train service connecting two neighbouring locations. You can save by buying student tickets, pensioner fares or family fares at time of booking. You may also make savings by booking well in advance but the nature of this route is that people use it frequently and at short notice when they decide to visit the neighbouring town. If you are booking in advance it is advised to buy single tickets each way to avail of the best discounts, rather than a return ticket. Commuters can avail of weekly, monthly and annual discount cards. Northern customers can also save on other local transport when travelling by train. You can purchase a combined train and bus ticket for use on the bus network in Leeds.
To Leeds by train - travel tips
Leeds is the largest city in the West Yorkshire district. It has tourism and commercial sectors and the city centre is built around these with specific business districts as well as a number of cultural and tourism related areas. The city has a long and diverse history. In the 17th and 18th centuries it was largely an agricultural town, then became a mill town before evolving into the modern city it is today. It's now a popular weekend break destination and has a vibrant creative industries sector as well as galleries, museums and theatres.
The restaurant scene is very strong and offers many different world cuisines as well as traditional English fare and fusion menus. The bars in the city centre are very busy at weekends with nightclubs and music venues attracting people each week. The river and canal network in Leeds has been developed in recent years with living accommodation, tours and entertainment thriving along its banks. There are many hotels in and around the city centre and the city is often host to music events and festivals.
Families will enjoy the parks and gardens of Harewood House which offers climbing routes, climbing towers, bouncing swings and slides. The Go Ape family facility in nearby Temple Newsam is a treetop climbing adventure for all ages with rope bridges, zip wires and Tarzan swings. Leeds sailing and Activity Centre is another family favourite for those seeking outdoor activities with water sports, sailing, orienteering and bush craft courses.
The majority of restaurants in and around the city centre offer children's menus or child-size portions of adult meals and are well-resourced for young children as well as teenagers. Shopping is a major attraction in Leeds with its small walkable city centre and its pedestrian areas making the experience of visiting the many high street stores very enjoyable. There are also attractive enclosed shopping centres such as Trinity Leeds with its 120 retail units and restaurants. There are also many independent retailers including the craft and handmade local products for sale in the Corn Exchange.