Daily departures and the first and last trains vary daily on this route. Generally speaking, first trains from Glasgow to Preston depart around 04:20 from Monday to Friday, with services running roughly every 40-60min until around 20:00 when the last train leaves Glasgow Central station. Train services also infrequently depart from Glasgow Queen Street (connecting in Edinburgh Waverley). At weekends, first trains also depart at around 04:20. The next available train normally leaves at 07:00, with departures after that roughly every 2h until the last train at about 18:30.
Direct trains from Glasgow Central to Preston can take between 2h 20min-2h 40min, on average, making them the fastest services on this route. Some services depart from Glasgow Queen Street station, with a change in Edinburgh Waverley station, and take around 3h 30min to Preston.
--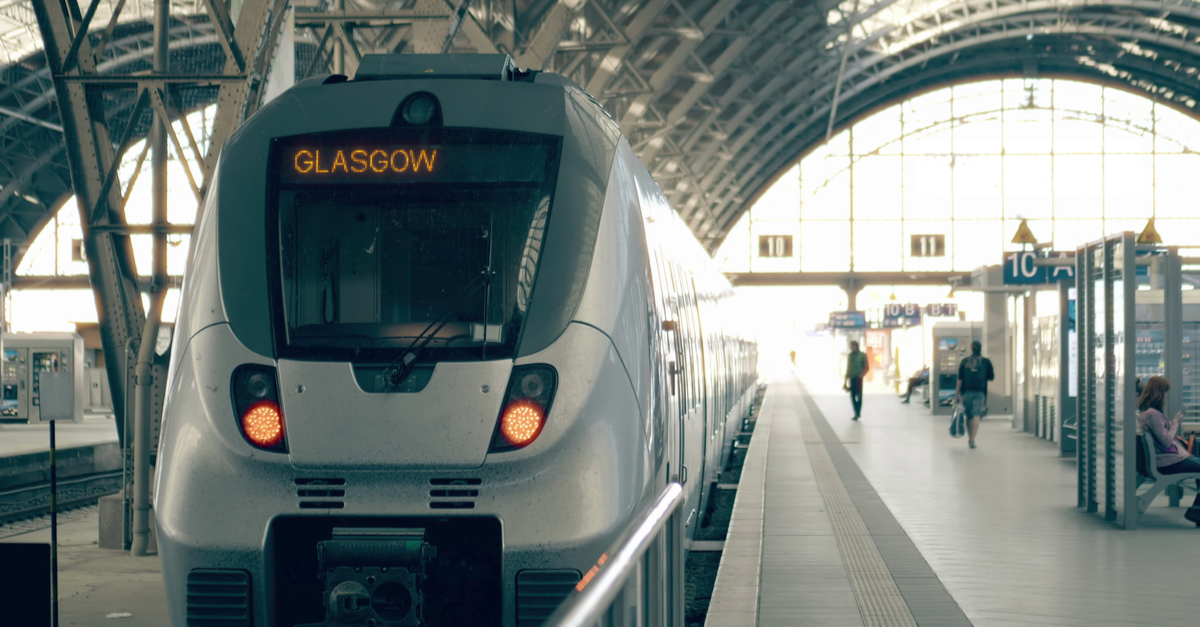 train from Glasgow. Source: Shutterstock
What are the departure/arrival stations for Glasgow trains to Preston?
Departure train stations:Trains to Preston generally depart from Glasgow Central station, with a few services also operating from Queen Street. Both Glasgow Central and Queen Street stations are located right in the city centre. Glasgow Central is only a 4-min walk from Princes Street Shopping Centre, whilst Queen Street is 1min from George Square and 6min from the Buchanan Galleries. There are various public transport options near the stations, including rail and bus services. Both stations feature plenty of stores, coffee shops and restaurants, as well as accessible seating areas, toilets and step-free access throughout. There are also customer help points available to assist passengers with disabilities or reduced mobility.
Arrival train station: All trains arrive at Preston Railway station, just a short walk from Fishergate High Street. Here, you'll find Fishergate Shopping Centre (5-min walk) and St. George's Shopping Centre (10-min walk). Preston station offers step-free access to all platforms, and wheelchairs are available upon request. There are also accessible toilets, seating areas, as well as baby-changing and bike storage facilities.
Which train companies travel from Glasgow to Preston?
The main companies operating trains to Preston from Glasgow are Avanti West Coast and TransPennine Express. Both companies operate direct and 1-stop services to Preston, with trains departing at similar times, intervals and with around the same total journey times.
Night trains Glasgow
There aren't any overnight trains from Glasgow to Preston, although first services begin around 04:20 daily, usually arriving in Preston at about 07:00. Last trains depart around 19:00-20:00 on weekdays and weekends.
Avanti West Coast trains from Glasgow to Preston
Avanti West Coast trains depart frequently from Glasgow Central, with their first service available at 05:30 and running hourly until about 20:00 on weekdays. At weekends, their trains to Preston run hourly from about 04:20 until around 15:00. As schedules can change frequently, always check in advance the first and last trains for your chosen dates, especially if opting for a same-day return ticket.
TransPennine Express trains from Glasgow
Trains run by TransPennine Express depart frequently from Glasgow Central on weekdays and at weekends, with their first service beginning around 04:20 and their last finishing around 19:00 on different days of the week.
Trains from Glasgow to Preston: Sustainable travel
Are you concerned about the environmental cost of travelling? We have good news! Trains are the most sustainable way to travel nowadays, both for getting around inside your city and discovering the rest of the country. People who choose to commute by train instead of using cars or buses drastically reduce their carbon footprint, and they can make the best of their available free time on their journey to rest or keep themselves entertained. With frequent trains servicing this route, you'll see that this is an efficient and practical mode of transportation. You can research affordable fares for trains from Glasgow to Preston on Omio.
Train Glasgow to Preston: Services on Board
TransPennine Express and Avanti West Coast trains have First- and Standard-Class seats available, with First-Class areas offering Wi-Fi and catering on most services. Avanti West Coast also offers Standard Premium seating, which is more comfortable and provides access to Wi-Fi and Avanti media. If you're travelling with a bike, you'll need to reserve your spot in advance with both providers, as there is limited availability for bike spaces on board. Your pet can travel with you - but bear in mind that they may be required to travel in a pet carrier or at least be on a lead. Both companies limit the number of pets you can bring to two per passenger. Assistance animals travel free of charge. If you need help during your trip, you can use Passenger Assist on First TransPennine Express and Avanti West Coast trains, a service for the elderly and passengers with reduced mobility or disabilities.
How to find cheap train tickets from Glasgow to Preston?
As a rule, the best way to save on train fares is to travel outside peak hours, generally in the late morning to early afternoon (from 10:00-15:00) and again in the evening (from 19:00 onwards). Choosing to travel during the early morning or late evening can be cost-efficient as well. Travelling at weekends and on bank holidays also tends to be more expensive, so if you can travel around these dates, you'll be more likely to snatch a good deal. Opting for midweek journeys, booking your tickets in advance, and being flexible with your travel dates is also helpful to get good deals. If you're looking for inspiration for your next destination after securing your tickets to Preston, visit our online travel magazine The Window Seat.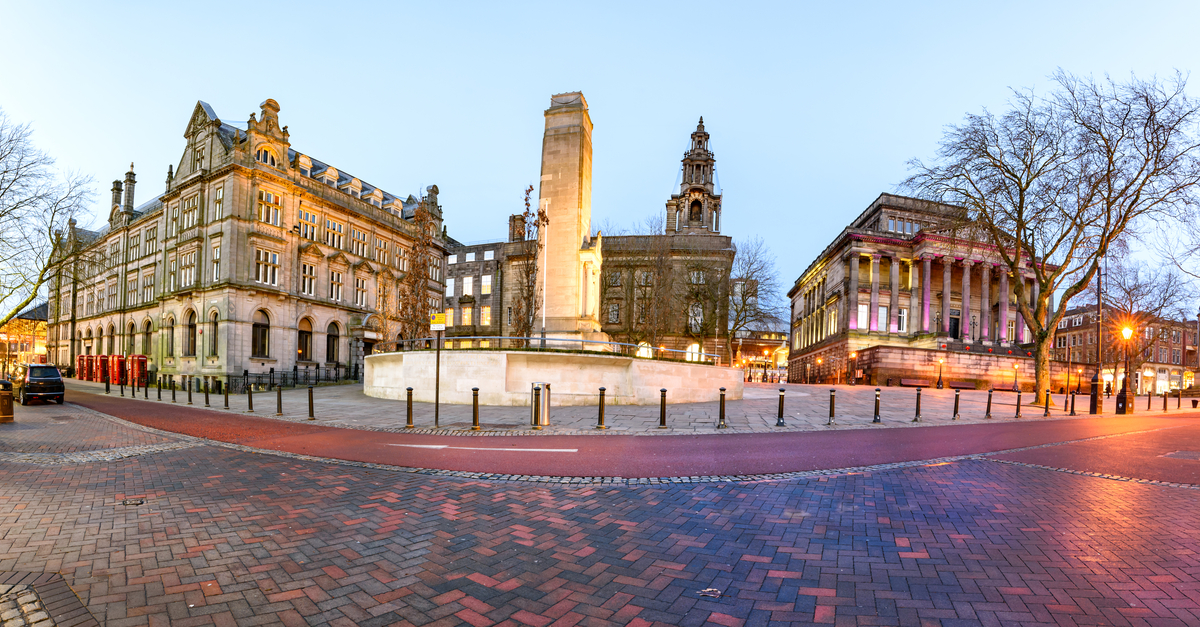 most iconic monuments in Preston. Source: Shutterstock
To Preston by train—travel tips
Preston is a charming city with beautiful green spaces, such as the Avenham and Miller Park near the river, particularly popular with families and those who enjoy the outdoors. In the park café, visitors can also sit down for hot drinks during the summer months. There are several other popular parks in the Preston area, including Moor Park, Haslam Park and Ashton Park. Anyone passionate about wildlife might want to head to the Turbary Woods Owl and Bird of Prey Sanctuary or the Brockholes visitor centre. If you want to know more about the history of Preston, here are some other museums and historical places you should check out:
Harris Museum: Visit this art gallery and museum located in the heart of the city
Ribble Steam Railway and Museum: Go on a 3-mile return trip and discover more about the history of locomotives in Preston
Samlesbury Hall: Visit this historic building with a long history dating back to 1185. Guided tours are available, and a Heritage Café serves traditional breakfasts and afternoon tea
Museum of Lancashire and Lancashire Infantry Museum: These two museums offer a glimpse into the history of Preston and the history of WWI and WWII
Preston Cenotaph, a monument to soldiers who died in the wars, located at Market Square